I got these simple, white magazine holders awhile back from a local organization supplies store. I knew I'd be able to do something cool with them…I just wasn't quite sure what. I've been seeing lots of craft projects involving spray adhesive and figured since I already had some that I'd give it a go and give my magazine holders a makeover with some pretty fabric from my stash.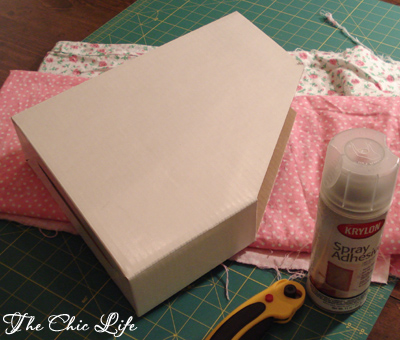 I gathered my materials and selected a couple fabrics. The magazine holder came partially pre-assembled so I couldn't easily make a template as it wouldn't lie completely flat (and I didn't feel up to taking it apart and re-gluing it later…lazy me, I know). I figured I'd "cheat" and just do two colors – one on each side and and another corresponding color around the narrow edges.
I started by cutting my fabric pieces and giving them a quick ironing as they had been pre-washed and were a bit wrinkly. Then, I laid newspaper over my dining room table and sprayed one side of the magazine holder with the glue. I let it dry for approximately one minute (per the bottle) and carefully applied the first side, gently spreading the fabric to help keep it nice and smooth.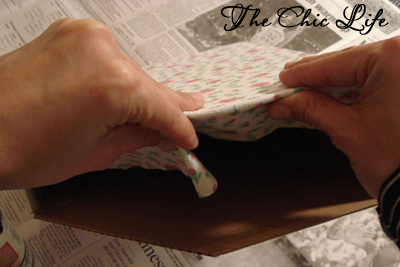 As I didn't want the inside of the magazine holder to be sticky and this spray adhesive is a bit hard to control without covering stuff up, etc., I decided to use my friend, hot glue, to tack down the sides and stick the fabric down on the inside. I repeated the previous steps for the other side of the magazine holder.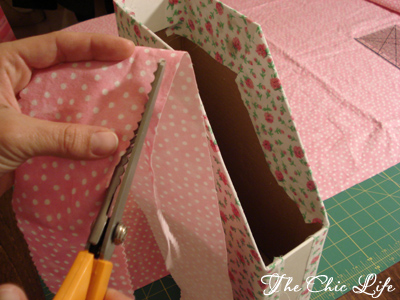 Then, I took a long piece of fabric just a tad wider than the narrow width of the magazine holder and trimmed the sides with my scallop-edge pinking shears to give it a decorative edge as I wasn't sure I could hide the raw edges. I figured if they were going to show, they might as well be cute, right? Anywho, b/c I was feeling a tad lazy, I decided just to use hot glue to glue down the long piece along the narrow edge of the magazine holder. The spray adhesive is rather messy and gets everything sticky if you're not careful, and I didn't want to be bothered with the newspaper sticking to me and stuff.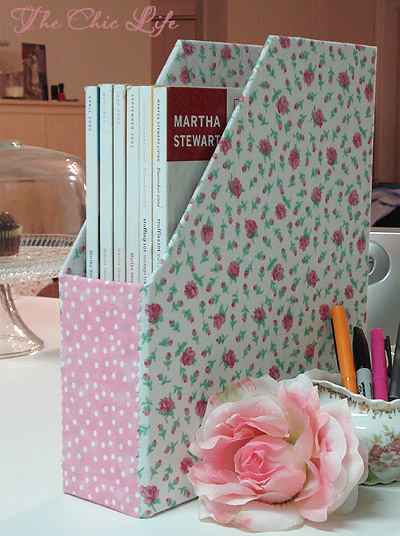 What do you think about the finished product? I have soooo very many magazines, I think I could possibly spend a lifetime making these little holders to contain all of them, but alas…I do not have such free time. Maybe I'll make one here and there?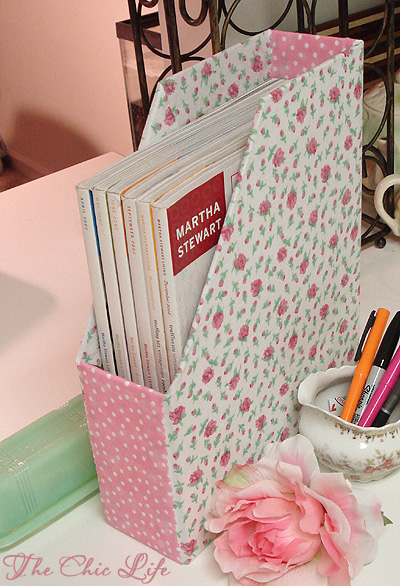 I can be a bit slow with my crafting at times, so I'm not sure if tonight was the case or whether this project is just a bit lengthy, but this one took about two hours to complete. I guess that's not really too bad, but two hours more than I typically have every night! lol. I guess if I'm lucky, I'll make at least one more…haha. Hey, at least I finished a project for once, right? 🙂