Wow – things have been so crazy. As much as I'm looking forward to my wedding and honeymoon, I can't wait for it to be over so I can have some free time again! There are so many things to do, it seems, that all I have time for craft-wise is to gaze longingly at my growing fabric stash and other craft goodies without any real time to do anything with them. Maybe I'll be able to squeeze some time in this week? I hope so.
Recently, one of my fave clients asked me about a set I had already sold on my web site called, Tahitian Glow (click here to see the original necklace & bracelet). She ordered the earrings earlier but was interested in getting the matching necklace and bracelet, which are marked as "sold" on my web site. Happily, I told her that they were only sold b/c I didn't have the pendant I needed for the necklace, and I wasn't sure if I had the clasp for both, but that I could look into finding some of the necessary components. Turns out, I had the clasps in my jewelry goodie box and I was able to get a great faceted, red carnelian pendant at a local bead store. It's not the same as the pendant on the original, but it is the same gemstone and I think, an even better fit with the other beads in the necklace!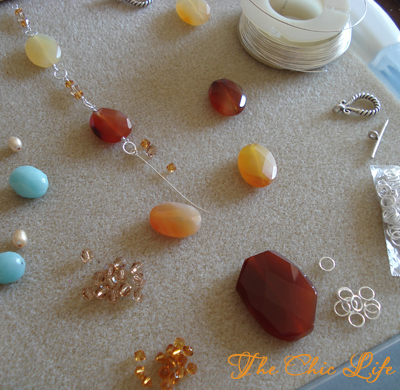 I gathered all the materials on my "bead board" (aka the top to a plastic bin) and got started. See that spool of wire to the back right? I cut small pieces off of that and use my jewelry tools to wrap the wire to form hoops and what not, connecting all the beads together bit by bit. See there in the top left – I've started connecting some of the Swarovski crystals to some of the gemstones.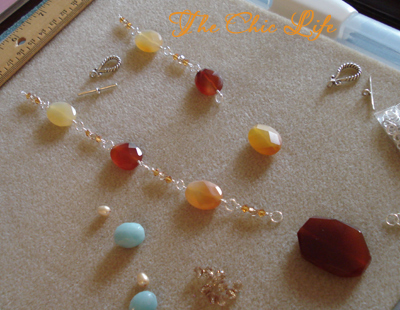 It's a lengthy process, which is why these types of designs cost more than some of my others, but the result is so pretty. It's also a bit meditative and relaxing…kinda like knitting, but with different materials. (Don't mind those blue-ish green beads to the left – those are laid out for a different design I'm working on in my head…maybe I'll put that together this week?)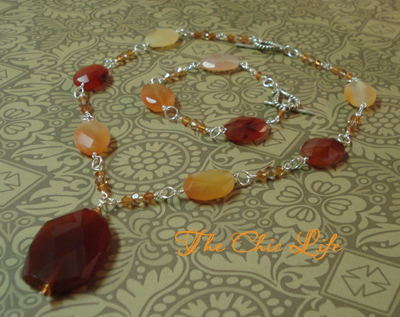 Here's the finished product – the necklace and the bracelet. Not too shabby, eh? I love the warmth of these red carnelian gemstones and how the Swarovski crystals add a touch of bling to the look. The sparkles get me every time.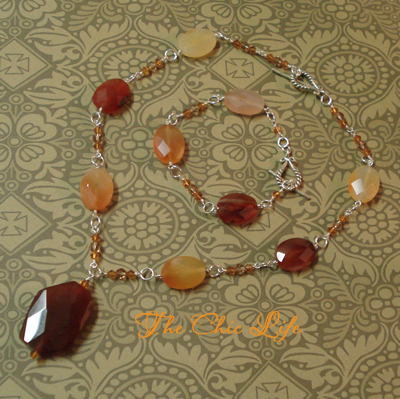 Here's another view. I hope she likes it!