So, I think I mentioned before being newly fascinated with slow-cooked things.  Dishes that seem to go hand-in-hand with roasted foods are casseroles (since people seem to use cooked leftovers in casseroles quite often), and I've been on the look-out for family favorites.  It seems like the ones you grew up with are the best ones, so I'm looking for the ones other people have grown up with.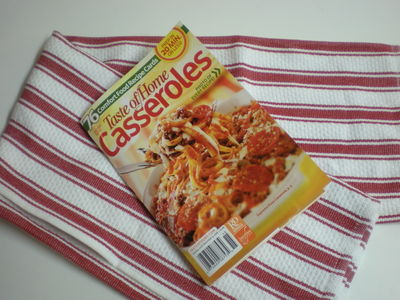 I recently purchased the Taste of Home Casseroles magazine b/c Taste of Home features recipes sent in from their actual readers.  I believe some recipes are from the TOH kitchens, but it seemed like all the recipes in the Casseroles magazine were sent in by regular people.  Each recipe even featured a photo and a blurb from the person who sent the recipe in, which gave a little more insight into each recipe.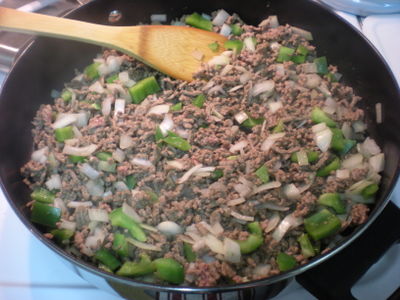 I decided to try out the recipe called "Marzetti" for dinner last night.  (I am heating up the leftovers in the oven as I type b/c we all know what huge portions casseroles seem to make).  "Marzetti" is basically comprised of beef, onion, green pepper, canned tomato products, and a couple soups…with noodles.  I reserved some of the uncooked onions and green peppers for breakfast today.  The recipe called for only 1/3 of the green pepper, so I figured I'd set aside some onion, too and try to utilize my leftovers.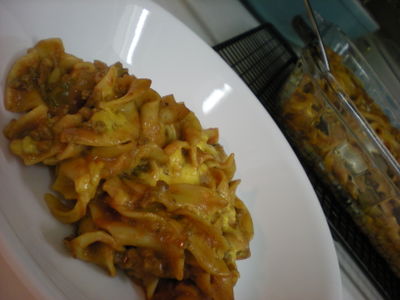 The dish was pretty easy to throw together.  I served it with garlic bread (we love the frozen kinds you can get at the grocery store) and it turned out to be a nice, simple, weekend dinner.  "Marzetti" was pretty nice on the pocket, too!  
Ok, I'm off to get ready for the work week while my casserole warms up.  Toodles!