We got back from visiting hubby's mom and the rest of his family late-ish Sunday night.  We stopped mid-way to grab Cracker Barrel for dinner, and I got my usual – Grilled Chicken Tenders with corn and macaroni and cheese and, of course, a biscuit with honey to add a sweet ending to the meal…yum!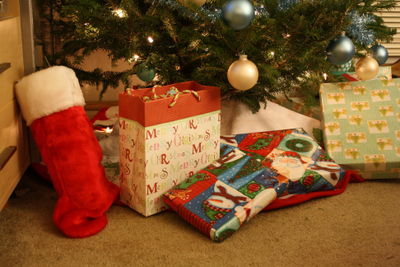 Hubby wanted to open Christmas presents later that night, so I had to unpack and then wrap all his gifts up and add them under the tree.  I had planned to make a trip to Target for some stocking goodies, but hubby made me promise I wouldn't buy anything extra to try to make up for the camera.  He also told me he didn't do a stocking for me, but do you see that red, fuzzy-looking thing just under our tree?  Doesn't that look like a stocking to you?  He had all his gifts hidden with my stocking and only took them out while I was busy in the other room, so I totally believed his story.  Sneaky guy!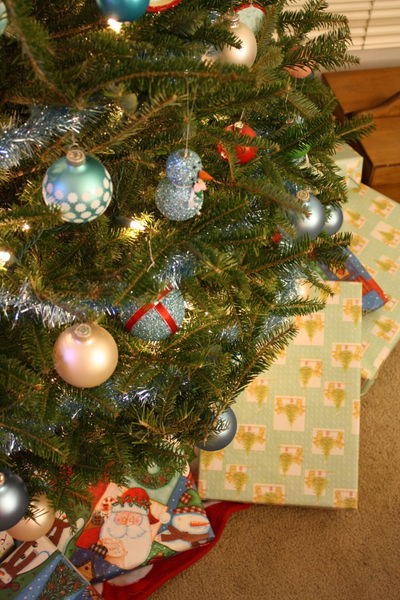 I couldn't believe Mr. Chic had anything more for me to open for our fourth Christmas, since I opened my camera with his family, but he had a couple small gifts left for me – some pretty socks, white T's I asked for from Gap, and tickets to the circus, which should be fun.  I haven't been in ages!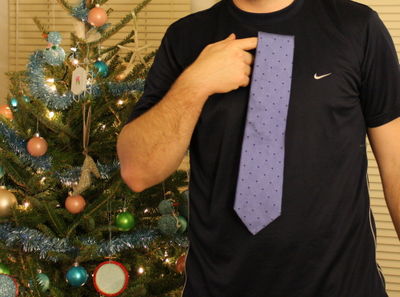 I got hubby some stuff from Brooks Brothers, a sweater from Banana Republic, a graphic tee, and this adorable polka dot tie!  I probably shouldn't call it "adorable", but I really do just love it and I think hubby will look rather dashing with it, too!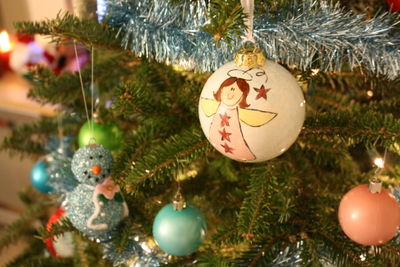 After we finished opening our presents, we had some time to unpack a few goodies from our Christmas stash.  My new ornament (that I mentioned yesterday) from hubby's mom fit perfectly with our tree's color scheme.  I swear the pink in the angel's dress matches those little pink balls to a 'T'!  My MIL got it from a cute boutique that features handmade goodies from women.  Someone actually handpainted this ornament – isn't it the cutest?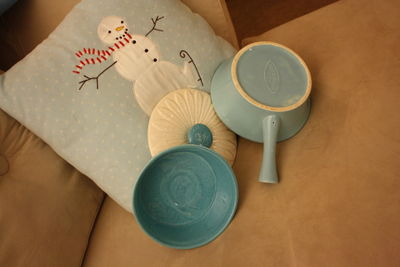 And, here are those vintage-y goodies (I mentioned yesterday) that hubby's sis searched out for me for my Christmas present.  The left two pieces go together – a turquoise bowl with a daisy-like top.  The right piece looks like some sort of ceramic pot.  Aren't they pretty?  They will go nicely with my vintage/thrift collection.
Anywho, I had another post or two I could do tonight, but I'm truly exhausted.  I got to work at 8am (relatively early for me), took a quick break to catch up with a friend whilst walking for bagels, had lots of meetings, had lunch with a co-worker from last year's project, and started transitioning my knowledge from the recon project I'm working on to the dude who's going to take over my work when I leave.  My new last day on this project is the 31st (tomorrow).  I also stayed late to create some documentation for this guy to refer to since I won't be there to answer his questions after tomorrow.  There are a couple people on the project who can answer any questions he may have, but these people barely have time to eat, let alone answer lots of questions.  Anywho, I left work at 6:15pm, cooked dinner, cleaned around the house, worked on this blog post, and now I'm going to finish my cozy, bedtime tea and hit the sack.  Phew!  G'night!