When I came to a hard stop on my dad's scarf, due to the broken yarn, I lucked out by having another ball of yarn, needles, and a pattern I found for free at the yarn manufacturer's web site, which I brought with me to my parent's house…juuuuust in case.  With the pressure of finishing a Christmas gift off, I was able to look forward to starting a new knit WIP.  Actually, I'm pretty proud to say that I taught my sister (the crocheter) how to knit this past Saturday, and she worked her garter stitches into the beginning of a scarf, while I started on my own scarf.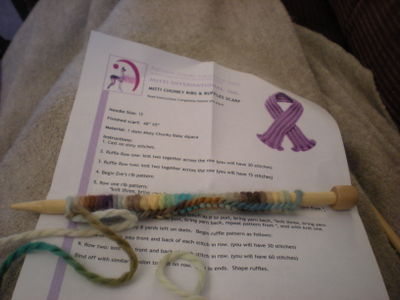 The yarn is Misti Alpaca Hand Paint Chunky – Baby Alpaca in the beautiful colorway, that I simply couldn't resist, called Havasu.  At $21.95 per ball, the yarn was quite the splurge, but I did luck out by finding a scarf pattern on Misti Alpaca's web site for free that also looks super cute.  The pattern is called Misti Chunky Ribs & Ruffles Scarf, which can be found here.  I also rationalized the purchase of the uber-luxe yarn be deciding to make it for someone special who I think deserves only the best of the best.  Can't say who yet…I haven't given it to them.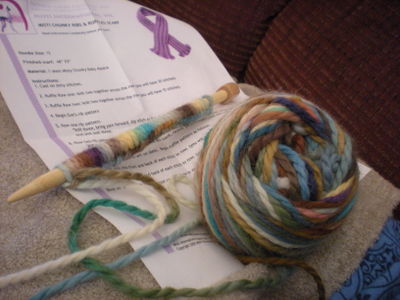 The baby alpaca yarn is so soft and amazing to work with and the pattern is shockingly simple.  The pattern looks so much harder than it actually is – I highly recomend giving it a whirl, though you may want to see the finished product first, eh?  Anywho, my fave thing about this yarn is the combination of colors.  At first glance, the yarn looks quite neutral, but when you start working with it, you see briliant turquoises, deep purples, and even gentle pinks, in addition to the other lovely neutral colors.  I probably won't be able to work on this project again until after the holidays (priorities, priorities), but I can't wait to see the finished product!
Ok, I'm off to do some laundry and package a jewelry order.  G'night!