Since we just live in a tiny apartment, our decor is pretty minimal for the moment, but this will be our third-ish (I think we've gotten three trees so far…or was it four?) Christmas tree.  Last year, I picked up a ton of Martha Stewart Christmas decorations from K-Mart and also made a bunch of ornaments.  I made some sparkly snow(wo)men, some glittered spheres, some jazzed up embroidery hoops, and some simple snowflake circles ornaments.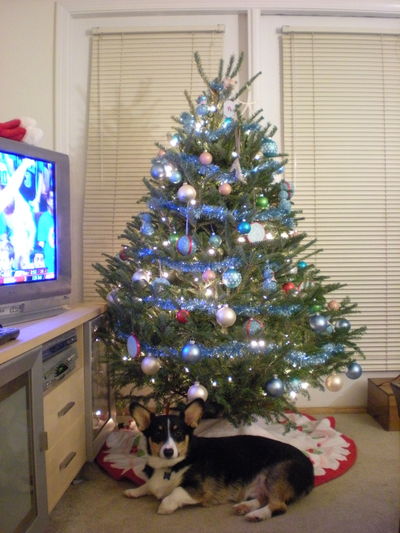 For this year's Christmas tree, I used all the same ornaments from last year and even added some sparkly turquoise garland that I actually bought last year, but just now put up.  I'm going for the traditional Christmas colors with a twist by pairing the classic red, green, and white with pink and turquoise.  I wish I had some more pink and red ornaments to put on the tree, though.  I ran out of crafting time this year, but hopefully, I'll have time to make more next year.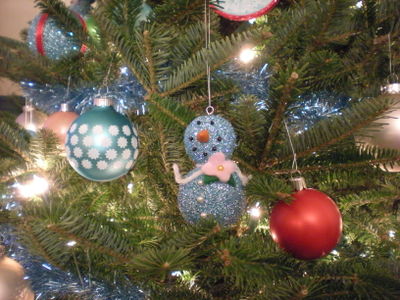 Here's one of my snow(wo)men ornaments with some of those pretty Martha Stewart ornaments.  You can see the tips of some of my other handmade ornaments in the edges of the photos.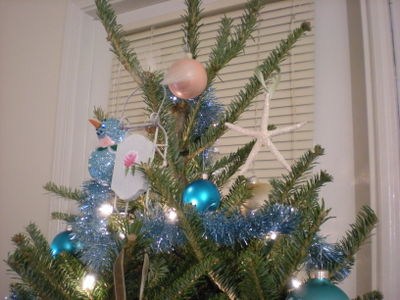 And here you can see our new ornament addition – a glittered starfish, which we purchased at The Atlantis on our honeymoon in the Bahamas.  Isn't she gorge?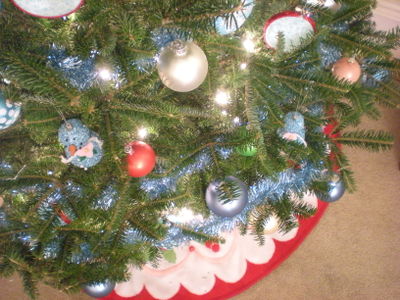 Oh, and I almost forgot to add this photo looking down the tree so you can see the tree skirt.  This is another purchase from last year's Christmas decor spree from Martha's K-Mart line.  I wanted to make a tree skirt, but I'm glad I got this one for now.  The tree skirt is super cute in red, white, pink, and green with adorable holly berries and a scalloped-looking edge.
What colors are you doing for your Christmas decor this year?