We left on Christmas Eve to visit Mr. Chic's family for the Christmas weekend.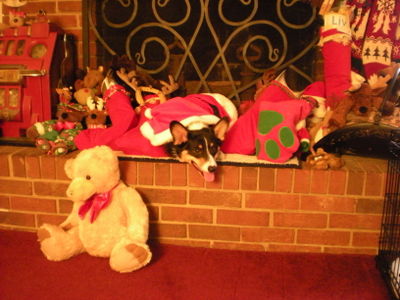 We arrived at hubby's mom's house around 7PM, and while hubby decorated the tree with his mom and brother on Christmas Eve night, I wrapped up the rest of my presents for the next day.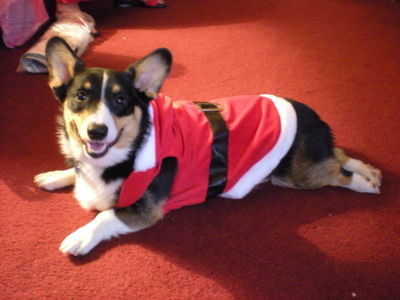 Bailey hung out in his Santa costume most of the night.  We got him a large Santa costume, but I  think doggie clothes are just not made for a corgi's long and thick body shape.  We couldn't get the velcro closed on this costume.  Perhaps I'll try to make him one for next year.  Could be a fun project, no?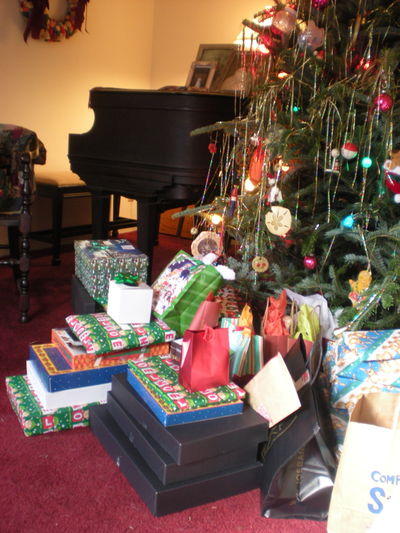 On Christmas morning, we spent our second Christmas opening presents with hubby's mom and brother.  Mr. Chic's mom loves to shop, so she had a plethora of goodies for us to open Christmas morning.  Dan got (practically) a whole new wardrobe and lots of other great gifts.  Among many other fabulous things, I got Giada's new cookbook (yay!) – Giada's Kitchen, a pretty new ornament, one of those digital picture frames (it holds up to 2,000 photos…wow!), some gourmet socks, and some fun (pastel turquoise – my fave color!) stationery.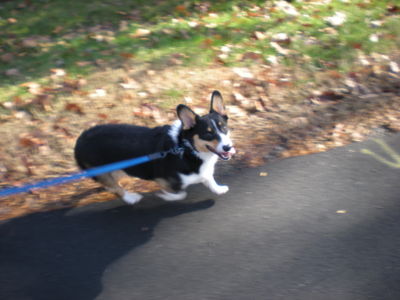 After all the present-fun, we took Bailey for a quick walk around the block.  Here's a shot of the Bails running.  He always looks so happy and playful when he runs…especially when his tongue hangs out of the side of his mouth like it is in this photo.
After settling back into the house and relaxing for a bit, Mr. Chic and I went to town preparing those pecan bars for Christmas Dinner at Uncle D's and Aunt S's house.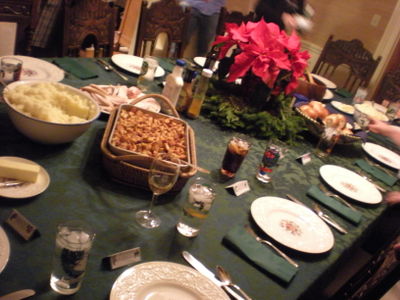 Dinner was amazing, as always, and the table was uber-festive in a rich, Christmas tree green.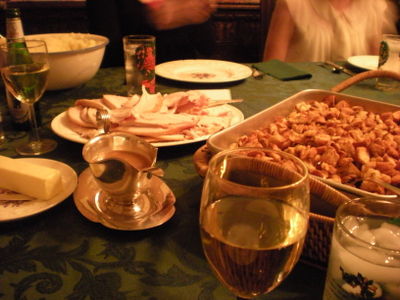 I had a glass of white wine and a great seat next to hubby's mom's famous "dry dressing."  I also enjoyed a wonderful meal of turkey, gravy, dry dressing, salad, and mashed potatoes, but I was so hungry, I ate everything before I thought to take a picture.  Oopsie!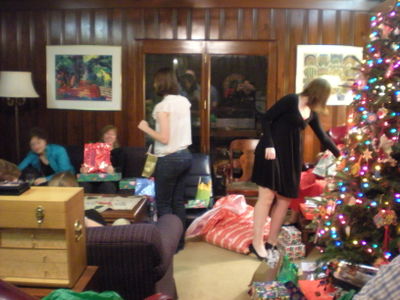 We had a blast opening presents.  I was most looking forward to seeing how everyone liked the presents I worked so hard making and purchased for them, but hubby threw me for a loop by sneaking my new camera into the group of gifts.  I didn't even see it coming, but I opened the zoom lens box first.  The box didn't say zoom lens, it just looked like some sort of strange electronic box, so I figured someone had used a box from something else to wrap something totally different inside.  Seeing my confusion, hubby stopped me halfway from opening the rest of the lens and directed me to open the larger box, which I was shocked to see was the camera I was hoping to open when we got home.  I got it early!!  We said we'd open presents when we got home, but Mr. Chic wanted me to open the camera on this night since some of my "new" fam helped make this camera possible for me.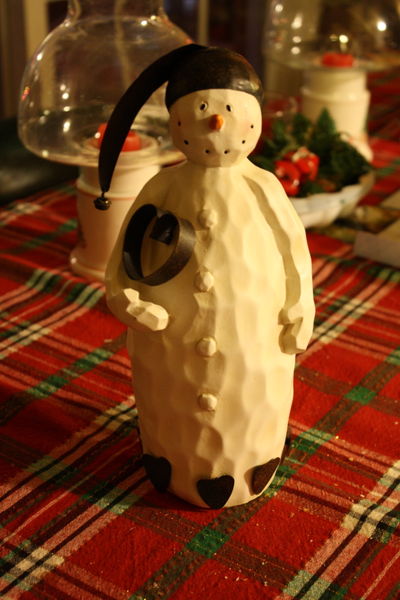 Besides the camera, I got a cute snowman statue, two (count 'em…TWO) Barefoot Contessa cookbooks (yippee!) – Barefoot Contessa – Back to Basics and The Barefoot Contessa Cookbook, and some cute vintage-style stationery.
The day after Christmas was spent playing with my new camera and doing a little shopping with Mr. Chic.
The next day, we grabbed a quick Dim Sum brunch, and I talked hubby into stopping by the yarn shop, Yarns Etc., so I could get my yarn fix.  I got two new balls of yarn, which I forgot to photograph, but I can tell you they are super yummy!
We also stopped by the Whole Foods Market, which was next door to the yarn shop.  I was just going to pick up an apple to snack on, but was stopped in my tracks by the fresh fruit juice stand at the front door.  Whole Foods had one of those juicer machines that squeezes all the juice from fresh veggies and fruits.  After having a small sample of each of the four pre-made juices, I opted for the Strawberry Orange flavor.  Yummy!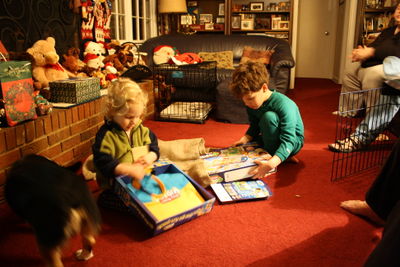 Hubby's sis and her fam came into town later that night, and the kids got to open a sack of presents from Santa.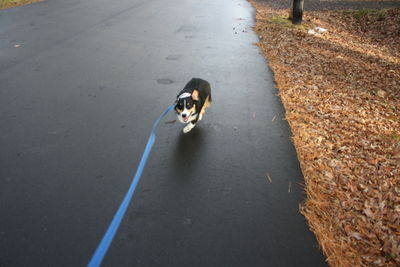 The next day, I woke up early and took Bailey for another walk around the block.  I usually like to try to sleep in as much as possible when I'm on vacation, but I have to say the warmer-than-normal morning was a welcome surprise, and the fresh air left me feeling invigorated for the day.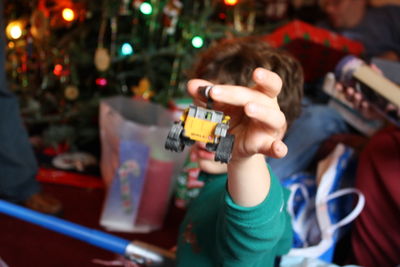 Once everyone was awake, we celebrated our third Christmas by opening presents with hubby's sister and her family.  Nephew A got the Wall-E toy he's been asking for for the last year and a light saber (in the background), which he played with the remainder of the weekend along with the other toys he received.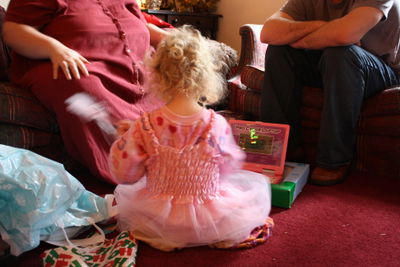 Niece C got a pink laptop toy along with lots of other pink goodness – the dress she's wearing, a fairy wand…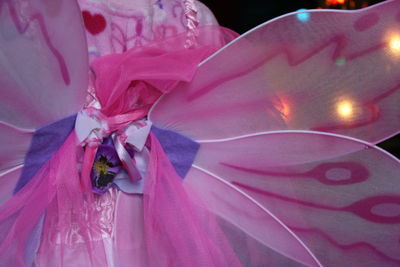 …and some pretty pink wings!  She got lots of other stuff, but if I tried to name everything everyone got, I could go on forever.  We have some serious shoppers in our families!
Hubby and I got a set of cordless phones, which we really needed, from his sis A and her hubby M.  His sister also made a trip to her town's new consignment shop in search of turquoise goodies.  She found two amazing finds, which I photographed tonight and will post later this week.  I didn't think any one would actually go thrifting for me, but A did, and I'm so thankful for her thoughtful gesture.
In fact, I'm thankful for all the thoughtfulness that went around our families this holiday season.  I don't think one can fairly capture in words how grateful you are for the time spent with family over the holidays, the fun, the food, the conversations…everything!  This was was of the best Christmases to date, and yet Dan and I still had one last Christmas to share…ours. 🙂