My mom is a pretty hands-on kinda person, so her real b-day dinner was take-out from PF Changs Saturday night.  Getting take-out is often the only way to get her to sit still and attempt to relax, rather than spending the entire night in the kitchen.  I forgot to take photos of everything from PF Changs because I was too hungry to wait, so here are photos from Sunday night, which is when mom made lasagna and Sissy and I baked her b-day cake.
We started with a lasagna recipe from an old Disney cookbook we have.  I used this cookbook when I was kid to cook some of my first ever dishes.  This was my first time my mom ever made lasagna (which I was shocked to learn).  We followed the directions to a 'T', but it came out a bit dry.  We'll have to add more sauce if we make this again.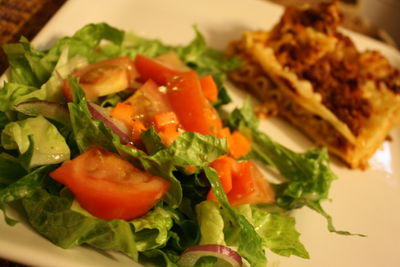 Mom served the lasagna with a nicely sized romaine-leaf salad with red onion and tomato.  I used some Olive Garden salad dressing they had on hand to top mine off.  I keep forgetting you can buy the stuff (mental note: buy OG salad dressing next time you're there).
Sis doc'ed up a regular ole' box of Butter Pecan cake (our mom's fave flavor) using a recipe adapted from The Cake Doctor (which I can't post b/c i don't have it!   Oops!) to make the cake extra moist.  Mom shared a trick to getting exactly half of a batter in each of two baking pans – weigh them.  It seems so obvious and yet, I didn't think to try it last time I baked in two cake tins.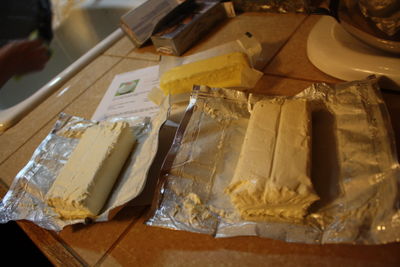 After the cake was done baking and while the cake cooled, I was in charge of the frosting.  I had a vision in my head of how the finished cake would look.  I had this really cool Praline-kinda cake a couple years ago (ok, several pieces of this cake, but over a few months) and it was a delicious two-tiered cake with sloppy layers of frosting that casually and lop-sidedly (that's a word, right?) draped the sides of the two layers of cake without completely covering them.  It had this nifty mad-hatter look to it that made it look as though it had put together without a care for what it looked like, but it looked tasty to me.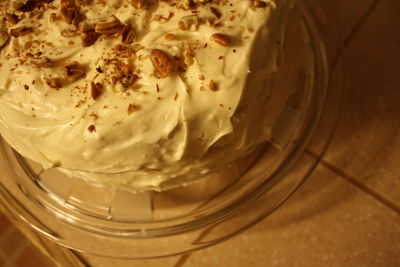 I layered the first cake with what I thought would be enough frosting to squish out the sides, but it wasn't.  I barely eeked out of one side, so I scrapped my original idea and just frosted the whole thing like a regular two-tiered cake.  Maybe next time I'll be able to re-create my magical praline cake?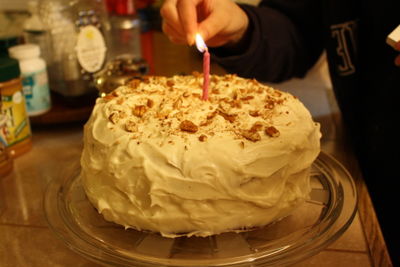 We only found one candle for the cake.  It was broken, too, but it worked.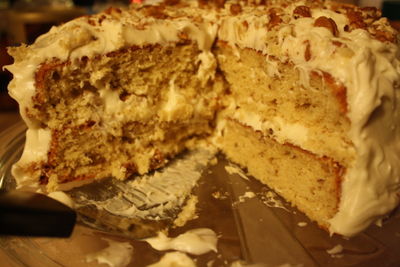 You can excuse all the large-sized cake photos, right?  You know the sweet-tooth in me likes to see these sugary photos as big as they get. :)  (Psst…the photos get bigger if you click on them!)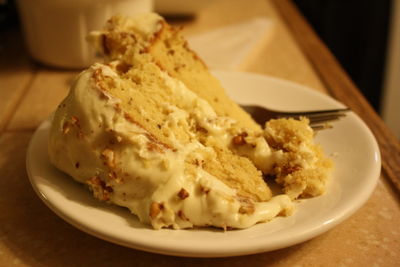 My slice of the cake…yum!  Happy Birthday, Mom!