It's snowing again today!  This is a bit unusual for us southerners to have a couple snow days in a row!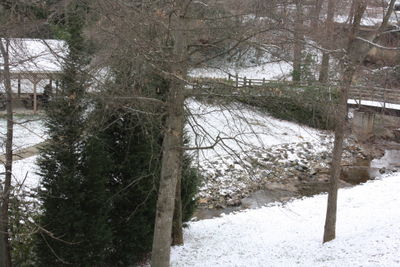 Luckily for me, I already took today off.  Actually, I took the whole week off…sorta accidentally.  See, I was supposed to take a week off during Christmas, but didn't get to due to my short time on a client site and the large amount of work they needed me to complete.  I decided that instead of taking Christmas week off, it would be a good idea to take a week off in January to get my life back in order.  Anywho, I had been bouncing the idea around and mentioned the dates to my boss who emailed me Saturday with a vacay summary that included me taking this whole week off.  I never actually, completely requested these days off (at least I don't think I did), but maybe this is a sign I should take them?  Hubby wants me to save my vacay days for later in the year, but I think I really need this week to get things in order.
You see, my life is in a bit of a mess right now.  I don't mean anything tragic is serious is going on, I just mean, literally, my house is a wreck!  I originally started this blog with the intention of only showing the good or "chic" things in my life, but now I'm thinking maybe I can use it to help me journal my journey of getting organized?
And since every journey has a beginning, here are some photos depicting the state of things in our house.  And, yes, I am QUITE embarrassed to be sharing these, so neat people, please don't laugh at me too-too much (though, some giggles are certainly deserved).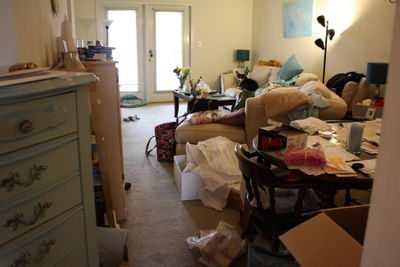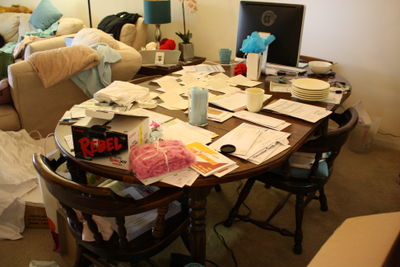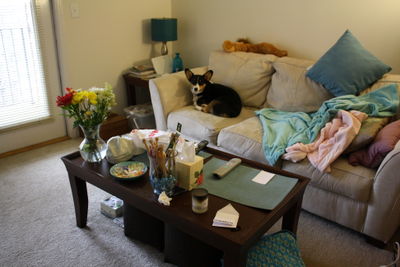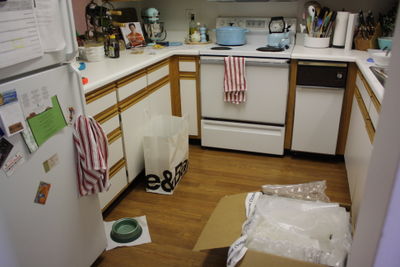 I've been trying to figure out how it got to this point and all I can guess is that I'm just a hoarder, like my Dad.  I have a hard time letting go of things.  I also have a lot of interests, so I have lots of things for my various interests.  You should see the craft room!  We aren't going to go there today…lol.
Anywho, today, I'm going to buckle down and try get lots of good chores & errands done around the house.
This week's To-Do:
Laundry
Finish packing up old plates
Thank you cards
De-Clutter Calendar
New File System (for new year)
Empty dishwasher
Pick up around house
Sort things to keep, donate, trash
Vacuum House
Swiffer Floors
And since this is my vacation after all, I'm hoping to do a couple fun things, too.
For fun:
Watch DVR'ed FoodTV, Cold Case shows
Knit/Crochet
Make granola bars
Try Namaste Yoga on FitTV
Read
Sew
I have a lot of work ahead of me, so wish me luck!  I think I'm going to need it!