I did really good finishing my blog posts early last night and made it to the bed by 10:30 pm. Hubby and I decided to trade back rubs for a bit to relax more. I got 5 minutes, then he got 5 minutes, then I got 5 more minutes, and he got 5 more minutes. By the time our back massages were over, it was 11 pm and I still wanted to read some of my book, Eat, Drink, and Be Healthy, so I stayed up another 45 minutes reading. Oops! So much for getting to bed early!
7:30 am – Coffee – First Signs of Hunger (4)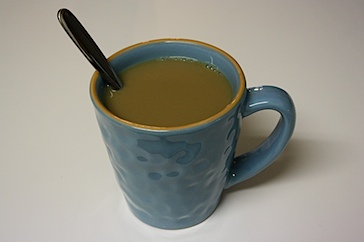 I did ok getting up today and had coffee by 7:30 am – Breakfast Blend with sugar and 2% milk.
9:30 am – Luna S'mores Oatmeal – First Signs of Feeling Full (6)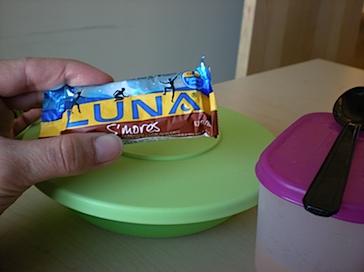 I haven't yet opened my can of pumpkin (am saving it for a dinner dish), but I wanted to do something different for breakfast this morning. I decided to try out a mini Luna bar over oats a la Kath (thanks girlie!).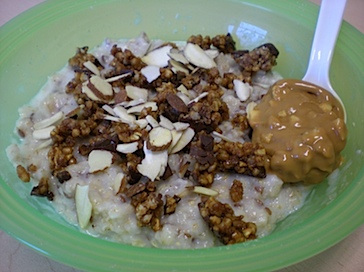 Pre-cooking:
1/4 cup 1-minute quick cooking Quaker oatmeal
1/2 cup water
1/2 tsp flax seed
1/2 tsp sugar
Post-cooking:
1 tbsp 2% milk, stirred in
1 mini S'Mores Luna bar, broken over top
1 tsp sliced almonds, on top
1 tbsp of Barney Butter, on the side
The mix was quite good and a nice change from the norm. It will be interesting to see what other things I can put over the oats.
I even gave one of my co-workers a taste. I'm hoping to spread the oatmeal love and get one of them hooked! heehee
12:15 pm – Spinach/Chicken Salad – Content (5)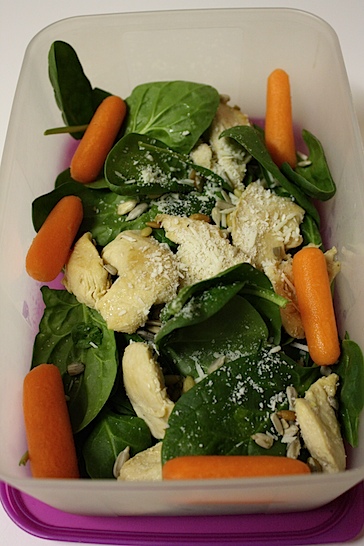 When I cooked dinner last night, I cooked extra chicken to put over salads for lunch today. The chicken really helped make the salad filling, reinforcing the planning I did last night to help out today.
In the salad:
About 2 cups of baby spinach
About 1/2 cup chicken
6 baby carrots
1 tsp sunflower seeds
1 tsp pine nuts
1/2 tsp parmigiano reggiano
To dress it, I drizzled the salad with Drew's Rosemary Balsamic. I seriously need to try another dressing. I've been eying the Annie's Green Goddess at the grocery store lately and may give it a go.
I forgot to take a picture of the salad before eating, so the above is hubby's salad, which I shot after work. He didn't eat his salad, so I may have it tomorrow for lunch.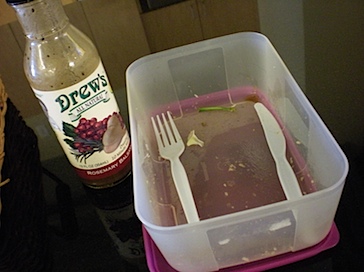 I had no trouble finishing this deliciousness off.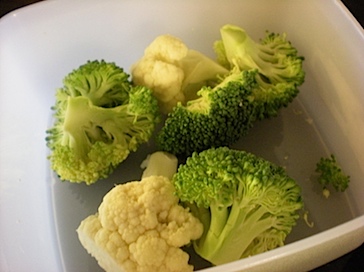 I also munched on some cauliflower and broccoli (raw). I forgot to take a picture of the before, so this is the after. I ate about half a container's worth.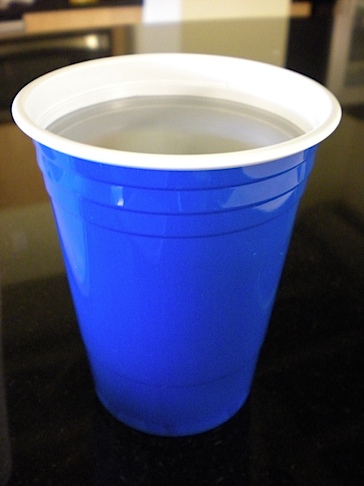 I had a big cup of water with lunch, but didn't drink anything else (shame!). I need to work on consuming more liquids during the day.
1:30 pm – Kashi 7-Grain Crackers – Content (5)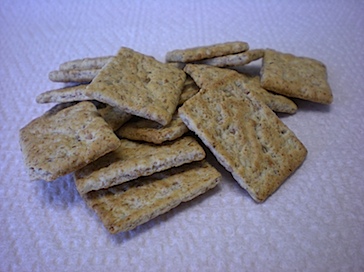 For a post-lunch snack, I had a serving of Kashi crackers. I am counting them out for awhile and then will start to estimate.
3:30 pm – Cranberry + Walnut Bar – Content (5)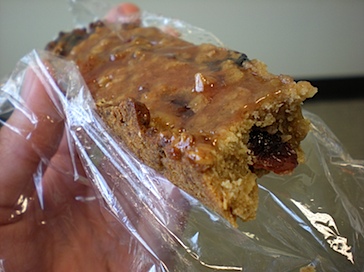 I had my last cranberry + walnut bar. *sad face* These were awesome snacks, so I'm excited about making more some time, but maybe I'll try a different recipe?
5:30 pm – Great Harvest Bread Sample – Content (5)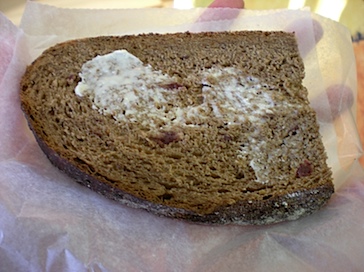 For those of you who have never been to Great Harvest Bread Company, they have an amazing tasting board available for all customers where you can have a sample of any and all breads they currently have available. I've been craving some GH bread since I ran out this past weekend and have been dying to make it to the store all week. Tonight, I got a sample of the cherry rye and it was uber soft and quite tasty with nice hints of chewy cherry here and there. Yum! I ended up purchasing a loaf Dakota bread with our joint and bought a cookie for hubby with my money.
7:30 pm – Breakfast for Dinner – First Signs of Feeling Full (6)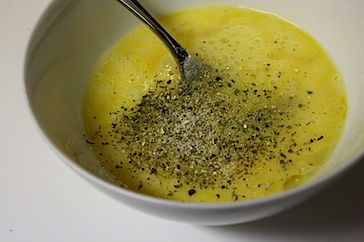 Hubby and I are trying to budget our money better, so we're going to be eating as cost-effectively as possible through the end of the month. Tonight, we had breakfast for dinner, featuring a jacked-up egg scramble.
In the bowl:
4 eggs
dash Italian seasoning
dash salt
dash pepper
dash garlic salt
dash 2% milk
Mix up bowl ingredients and scramble away. I added some onion and spinach for more nutrition, then melted cheddar cheese at the end.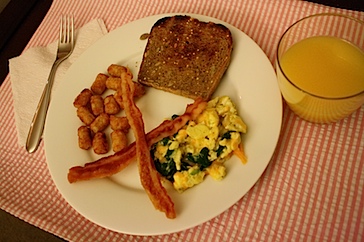 We also had some tater tots, bacon, toasted GH Dakota bread (with butter), and OJ to drink. Mmm…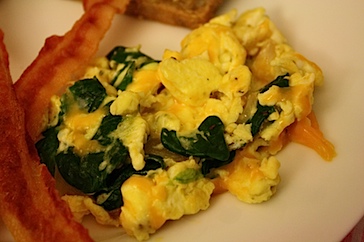 Check out the egg scramble!
8:30 pm – Pink Lady Apple – First Signs of Feeling Full (6)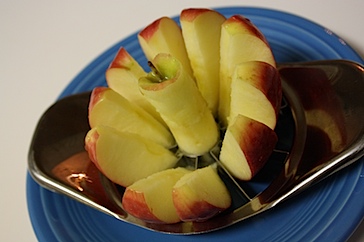 Post-dinner, I had a pink lady apple, but not before cutting my finger on the apple cutter that was upside down in the drawer…ouch!
Hubby and I split this…he had about 3 pieces and I ate the rest.
10:00 pm – Cookie + Milk – First Signs of Feeling Full (6)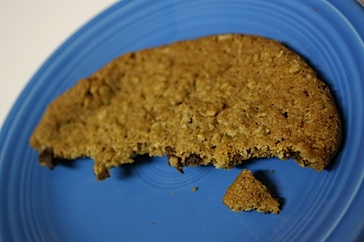 I've been trying to get this blog post done, ignoring the rest of my dessert – a piece of the cookie I got for hubby that he saved for me. Aww…I am also having a little bit of milk.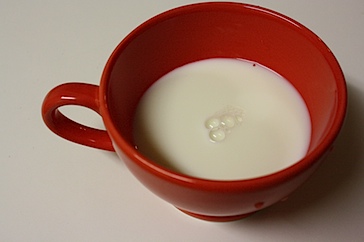 Nothing better than cookies and milk!
I'm off to enjoy…toodles!