I got done with my blog posts pretty early last night, but ended up staying up late to watch the last of the Academy Awards. I ended up sleeping in a bit longer than intended and was running late most of the morning.
8:15 am – Coffee – First Signs of Hunger (4)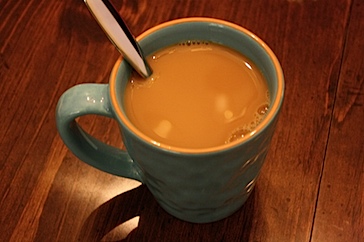 I started today with a much-needed mug of Fresh Market brew – 1/2 Breakfast Blend + 1/2 Hazelnut with 2% milk and sugar.
10:00 am – Starbucks + Pumpkin Spice Oatmeal – Content (5)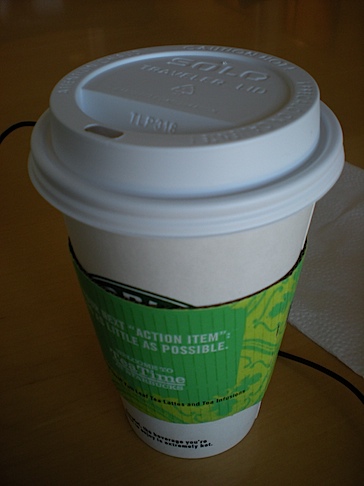 I was running too late to do Bagel Day Monday, so I decided to switch things up this week and have Starbucks Day Monday and I'll get my bagel on Friday. I had a grande hazelnut nonfat latte.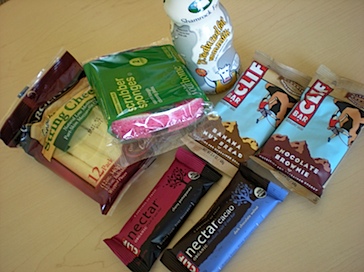 I got Starbucks because I needed to swing by the grocery store on the way to work and there was a Starbucks already inside.
At the store, I picked up:
2 new Clif Bars (Banana Nut Bread + Chocolate Brownie)
2 new Clif Nectars (Cherry Pomegranate + Dark Chocolate Walnut?)
String Cheese
A mini 2% milk
Sponges
I got these groceries with my money since our joint budget was out and this was all for me to eat anyways.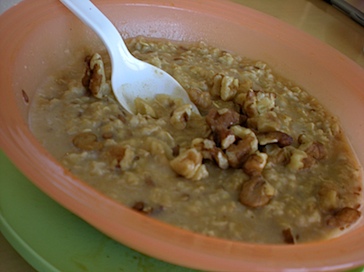 For breakfast I made Pumpkin Spice Oats.
Pre-cooking:
1/3 cup 1-minute Quaker oats
2/3 cup water
1/2 tsp flax seed
1/2 tsp sugar
1 tbsp TJ's organic canned pumpkin
sprinkle cinnamon, nutmeg
Post-cooking:
2% milk, stirred in
Topped with walnuts
I don't like TJ's organic canned pumpkin as much as the regular stuff at the grocery store. It's a bit dark in color (not nearly the usual vibrant orange, though I wonder if the darker color is technically "better") and has a different flavor. I also think this bowl could have used a stir in of some brown sugar.
11:00 am – Green Tea + Water – Content (5)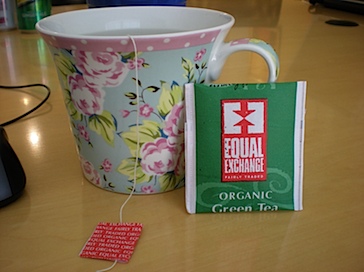 We had a 4 hour long conference call today, so I grabbed some hot green tea 1/4 way through to warm up. I also added some honey.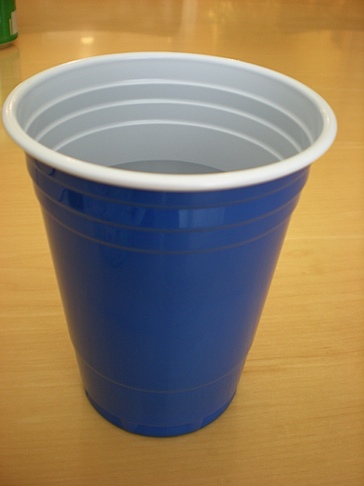 I also had a big cup of water.
1:15 pm – String Cheese + Almonds – Content (5)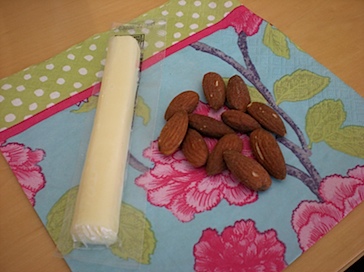 By 1:15 pm, I was getting antsy for some food. I grabbed a quick snack of almonds and string cheese, which held me through the meeting nicely. The meeting was scheduled to (and actually did) end at 2 pm.
2:15 pm – Subway + Sweet Tea – First Signs of Feeling Full (6)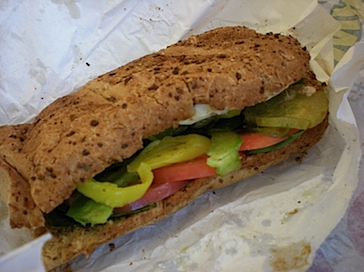 I went with a co-worker from the meeting to Subway, which is really close to our office. They totally got me with their $5 lunch combo deal because I didn't need a drink or chips, but the thought of sweet tea was appealing once it was in my head.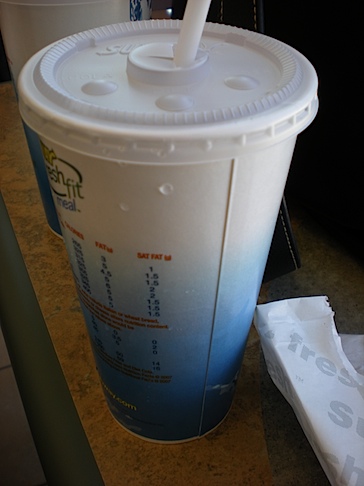 I got the roasted chicken breast sub with spinach (I normally get lettuce, but this seemed better nutritionally), tomatoes, green peppers, pickles, banana peppers, salt + pepper, spices, oil + vinegar (a little) all on the 9 grain bread. I ate all of the sub but the last nub of bread.
My co-worker had to run some errands afterwards, so I took the opportunity to walk back to the office. It was a short walk, but it was nice to get some fresh air and burn a few calories in the process. The weather was chilly but the sun was shining and the sky was blue and so pretty.
3:15 pm – Cookie + Milk – Content (5)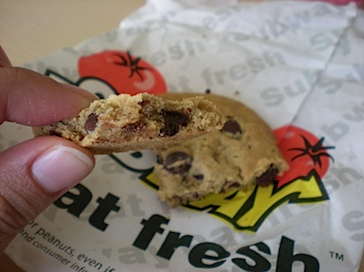 I ended up trading in my chips for 2 cookies. I gave 1 cookie to a co-worker and saved the other one for when I was feeling hungry after lunch, which was about an hour later. The cookie was to make up for the one Friday that I wanted so badly and didn't eat and it was delicious!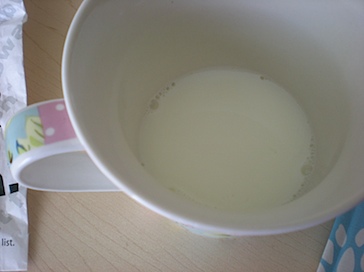 I had the cookie with a wee bit of 2% milk – about 1/4 cup.
6:15 pm – Coffee Sample – Content (5)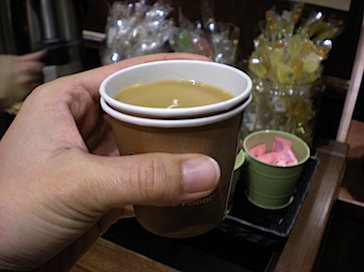 After work, I swung by the Fresh Market to grab a couple groceries for dinner/the week. I love FM because they always have coffee out to sample and getting a coffee sample is always the first thing I do when I get to FM. Today they were sampling their Winter Blend, which I mixed with some sugar and cream. It was pretty good, but I still like their Breakfast Blend the most.
At the store, I picked up:
Bananas
1 yellow onion
2 Wallaby yogurts
I went over budget with this purchase, but only by $5. It will have to come out of one of the other budgets we still have left.
8:30 pm – Bean + Veggie Soup with Buttered GH Toast – First Signs of Feeling Full (6)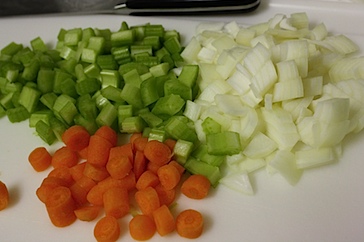 I don't think I mentioned before, but I did some quick menu-planning to ensure we could make it through this last week of February on as little as possible, mostly using pantry ingredients. Tonight's dinner plan was veggie soup, which worked out well calorie-wise (more on that in a minute).
The soup called for some fresh veggies.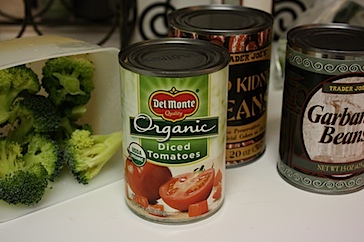 I also used some canned tomatoes and beans and some broccoli I chopped and froze over the weekend.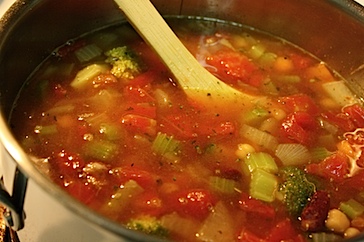 I made a big pot of soup loosely following an Ellie Krieger recipe but with the ingredients I had on hand.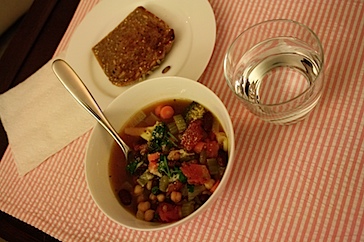 Dinner was simple but tasty and served with some water…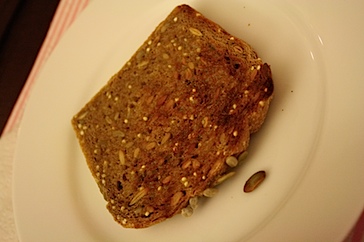 …and the last of the GH Dakota bread toasted with a bit of butter.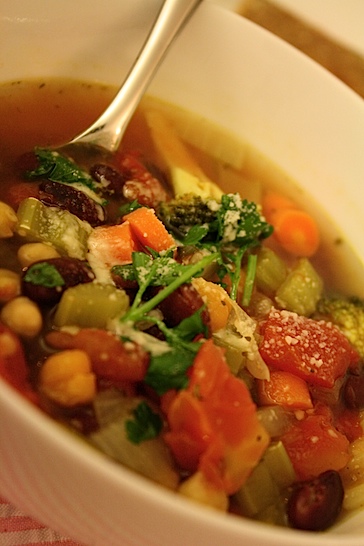 The soup was topped with a sprinkling of parm and some fresh parsley. Yum!
I ended up doing something for the first time tonight – portioning. I may have done it before and forgotten, but I can't really remember a time when I portioned my food. I don't think it's a necessity to portion out all food, but it can be a helpful exercise when you're trying to be more mindful of what you're eating.
Tonight, I portioned exactly 1 1/2 cups of soup, the recommended portion, and worked on eating as intuitively as possible (something I didn't do as well as I should have during the week #2 I was supposed to follow it for SCBR). It was hard to listen to my body. I felt hungry and full at the same time, so I decided when I had eaten most of the food but 1/2 cup of soup to take a break from eating. I figured I could re-heat the soup later, if I wanted. It turns out that I must be full from all the eats today because I still haven't gone back for that leftover soup. It makes me wonder how many times I've actually overeaten before. Hmm….
Anywho, on a random note, I totally got suckered into watching the Millionaire Matchmaker show tonight. It was fascinating and a complete waste of time all at once…lol.
Calories Consumed (estimated): 1657
Calories Burned (estimated): 101
Net: 1556
Calorie Counting
Thank you so much to everyone who contributed comments with tips on calorie counting! I was eager to check out one of the solutions today and decided to try out fitday.com.I wanted to try one of the calorie counting sites out on my lunch break and by lunch time, most votes/comments were in favor of fitday.com.
Early Frustrations: At first, I was put off by fitday's food tracker. I started by wanting to add my coffee with milk and sugar, but I wasn't expecting to have to add 3 separate foods to do so. It seemed so cumbersome and silly to have to break things out at such a level and I wanted a faster solution.
Getting the Hang of It: I wasn't ready to give up on fitday just yet. I decided to just try the site out for at least one whole day before making any decisions about checking out other options. Today alone, I ended up adding 25 line items of food, mostly because of all the ingredients in the oatmeal and on the sub, but it wasn't so bad once I got used to the process. I saw an option for creating "custom foods" and may consider trying this option out for stuff I eat a lot like my morning cuppa joe.
Opening My Eyes: I have to say that my eyes were really opened to how calories added up. I consumed way more calories early in the day than I normally would have realized. I consumed a whopping (roughly) 450 calories between my Starbucks latte, sweet tea, and chocolate chip cookie. There were more calories in those 3 items than in my dinner! Just like with budgeting money, the little things really do add up. I've also opened up to the idea of calorie counting in general. I can't believe how much my mind has changed about calorie counting, food, and exercise by this "little" project of counting calories. I feel like I've been given the opportunity to view things from a totally different POV. For any one who's never counted calories before and is interested in health and nutrition, I highly recommend trying it out, even if it's only for 1 day. You will learn a lot!
Setting a Goal: Whilst browsing around fitday.com today, I noticed a section for setting goals. I've told people I started doing SCBR not to lose weight but to be healthier overall and to fit into my clothes better (I have a stack of pants that don't fit me, but I do think it's possible to slim down without actually losing weight since muscle weighs more than fat and all that good jazz). I didn't want to start a diet that would have me obsessing about my weight again. But, as I've been researching health and nutrition, I've noticed that for my height and weight, I am actually in the upper echelon of the healthy BMI for my size. I actually think I could stand to lose weight, but not too much, and I want to do it the healthy way – through proper eating and exercise. I'd like to get my BMI closer to the low-middle section of healthy BMIs, which means that I actually do need to lose some weight – about 10 pounds. I want to accomplish this by not only watching what I eat calorie wise, but by incorporating foods that will be good for me and by exercising.
I've been hesitant to post my personal size stats, but here goes:
My height: 5'4″
My current weight: 131
My goal weight: 120 (Why 120? I dunno…because I like even numbers, this # put me in the low-mid BMI range, and 10-ish pounds sounds like a reasonable goal. Losing 5 seemed too little and more than 10 seemed too aggressive.)
My goal weight date: 5/24/09
According to fitday.com, my current BMI is 22.49, my healthy BMI range is 18.5 – 25, and my goal BMI is 20.6. My "Calorie Restriction Per Day" is 428. According to the site, the "Calories You Can Eat" is 1,437. The number is definitely lower than what I normally eat, but I think I can have a healthy diet while still staying under the max…especially once I factor in exercise. 🙂
Also in the Works
A Deep Post: I'm currently working on a post about me and my story with food, diets, health, weight and all that fun stuff. It's a long one, but hopefully a good post. It's harder than I expected to recall the details of me and my relationship to weight and food from as far back as I can remember to now.

A Week/Month Without Processed Foods Challenge: I'm also considering another challenge idea – a week or a month or something like that of living without processed foods. Doesn't that sound like fun?! Ok, maybe not, but I think it would be pretty cool to try. 🙂
Wrist: PS My wrist is killing me today! I so should not have done those pushups yesterday. I'm going to take it easy on the wrist so no pushups and sadly, no knitting or crochet. 🙁 I want to use it as little as possible for awhile. Guess this gives me more time to think about food! Yum!