7:30 am – Coffee – First Signs of Hunger (4)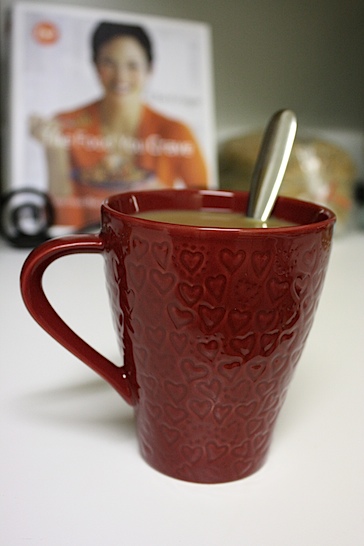 I woke up pretty easy this morning. I usually feel incredibly tired and like I didn't get enough sleep, which is part or maybe most of the reason I want to try to get on a regular sleeping schedule. I'm tired of feeling like that when I wake up in the AM.
Coffee this morning was good – Fresh Market Breakfast Blend with sugar and 2% milk. So good first thing in the morning!
10:30 am – Elvis Oats – Content (5)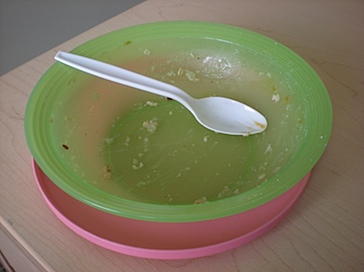 I don't know how I get so distracted right after I get to work, but I didn't end up making breakfast till almost lunch time! I also forgot to take a photo of my eats, too, because I got to talking to a co-worker about what all goes into the bowl. I am trying to get my co-workers hooked on healthy foods…heehee. Anywho, after giving a sample, I got called into a meeting and…well, I just ate the oats and forgot the photo, so here's the "after." There's a photo of my original "Elvis Oats" from exactly a week ago here (click).
Pre-cooking:
1/3 cup 1-minute quick cooking Quaker oats
2/3 cup water
1/2 tsp flax
1/2 tsp sugar
Post-cooking:
1 tbsp 2% milk, stirred in
1 small, sliced banana, 1/2 stirred in, 1/2 on top
1 tbsp sliced almonds, topped
Spoonful of Barney Butter on the side
Sprinkle cinnamon (this week's challenge ingredient!)
What's up with the Peanut Butter on the spoons?!: I don't know if you're new to food blogging, but I remember when I first saw the spoonfuls of Peanut Butter, Almond Butter, Barney Butter, and all those other butters photographed by the spoonful on bowls of oatmeal. I wondered what the PB/AB was all about. At first, I figured it was just some trend that someone (probably Kath) started and everyone copied. Now, I'm learning that it's a smart way to add protein to your breakfast (though maybe everyone copied anyways?). You can get a good serving of whole grains by eating oatmeal for breakfast, but adding some protein makes it more of a complete meal and according to this article by Whole Foods, the protein helps to lower your glycemic index. The article is a great read and has some other good ideas for breakfast. Check it out if you have a moment! 🙂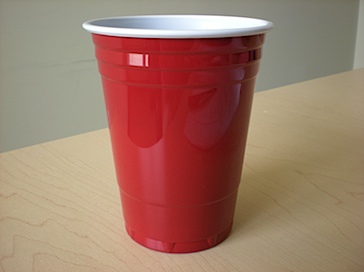 I also had some water with breakfast…so refreshing!
12:15 pm – Pizza + Coke – First Signs of Feeling Full (6)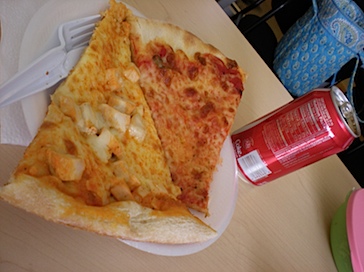 I had originally planned to have the leftovers that I was supposed to eat yesterday for lunch for today's lunch, but my company ended up bringing pizza in for everyone and who can resist pizza? Besides, since we're running out of money for this month's grocery budget, I find it hard to pass up a free meal.
I grabbed a slice of cheese and a slice of Buffalo Chicken (super spicy!).
For drinks, I found a co-worker to split a coca-cola classic with me. In general, I don't drink a lot of sodas (I've promised someone a post about how I weaned myself off of sodas, so look for that in a future post), but there are some things that I must have soda with. I must have coke with pizza, hamburgers, and fries. I usually must have sprite with Mexican. I don't know why…that's just how I roll.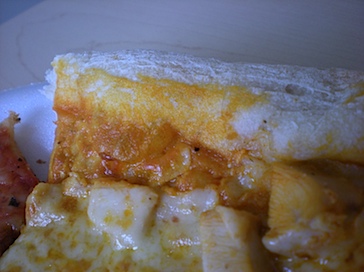 See that orange staining the crust there? That's heat! And it's hot! And it's soooo good!
I tried really hard to eat as intuitively as possible with today's lunch (something I was supposed to start doing weeks ago for SCBR), which was really hard because I know that, in general, I usually eat 2 slices, so I usually just eat 2 slices without thinking about how full I am. Today, I worked really hard on listening to my body to see if I was full before the 2 pieces were eaten.
When I had about a 1/2 slice worth of pizza left, I decided to take a break. I set the pizza aside and drank some water and told myself that if I was still hungry in a few minutes that I would eat more, but there was no reason to eat it all right that moment. You know what? I realized that I really was full. This little exercise made me wonder how many times before I'd overeaten mindlessly. Hmm…interesting results for sure!
I set the pizza aside to either snack on later or take home to hubby. I also only had about 1/2 of the 1/2 of coke, which means I only drank about 1/4 cup. Even when I do drink soda, I don't really like too much of it. Those mini cokes are perfect for me although I still usually don't even finish those!
2:00 pm – Green Tea – Content (5)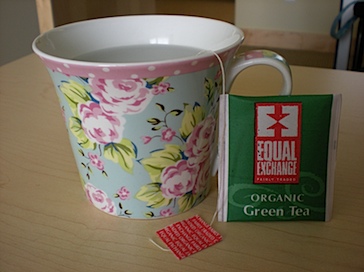 Later on in the day, I made a quick Equal Exchange Organic Green Tea with some honey. So nice and light!
4:00 pm – Leftover Pizza Snack – Content (5)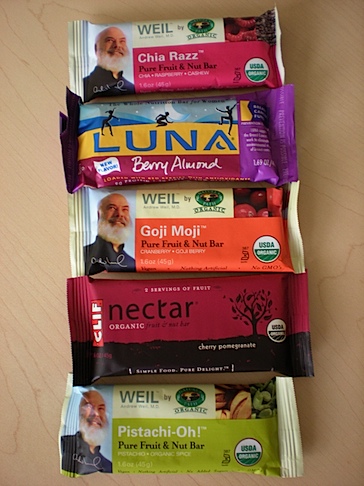 I skipped lunch (as far as breaks go) and ate my pizza at my desk because my co-worker needed a report made as soon as possible. So, I took a late break to exchange a Clif Nectar bar I got on Monday that was expired. Eww! I found a few new bars I've never seen before to try out – the brand is Weil by Nature's Path and I got 3 flavors – Pistachi-Oh!, Goji Moji, and Chia Razz. Can't wait to try them out! I first noticed the dude on the packaging of the bar because I think he's the one featured in a Natural Health mag I almost bought at Barnes & Nobles a few weeks ago. I'll have to look for it again now…I still want it!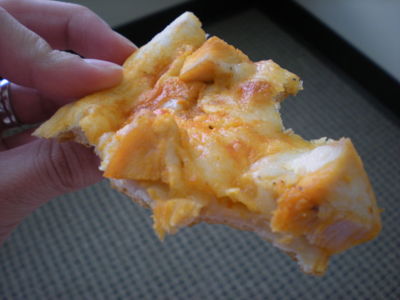 After my quick errand, I finished up the rest of that Buffalo Chicken pizza. It was so good, even cold, and I don't like cold pizza, in general.
5:15 pm – Goji Moji Bar – Content (5)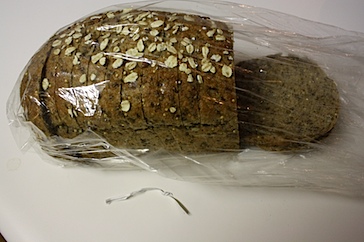 I stopped by Great Harvest Bread Company after work since I didn't get any bread yesterday, but I'm still sad I didn't get any Flax Oat Bran (and they only make it on Tuesday!) because I think that is my favorite.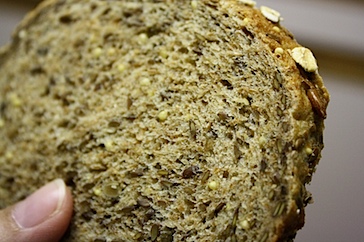 I've been a long time fan of whole wheat bread, but I've grown to prefer Great Harvest because of the high quality of craftsmanship and especially the ingredients. Watching Get Fresh with Sara Snow has me wanting to go more and more green and is kinda freaking me out about all the chemicals and what-not that seem to be in conventional food products. GHBC doesn't use preservatives or artificial ingredients…yay!
Plus, look at all those great ingredients in there that give the bread such great texture – flax seed and millet. I like how they put some of the ingredients on top of the bread, too, so you know what you're getting.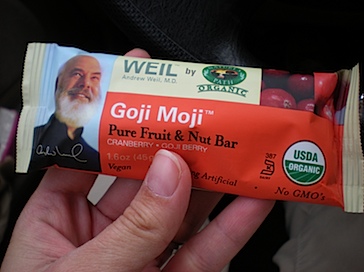 On my way home from GHBC, I dove right in to my Goji Moji bar. A woman I used to work with drank a tea made with Goji berries and I always thought they looked interesting. They sell them in bulk at the health food stores, so I may check it out some time.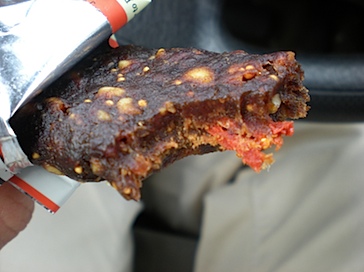 The bar was delicious and tasted like a Fig Newton bar but with a hint of citrus, more texture and sooo much better! I'll definitely be getting more of these. I hope the other flavors are as good as this one!
5:30 – 7:00 pm – Walking, Jogging, Strength Training, + Stretching – Tired but Good
As soon as I got home, I changed and took Bailey for a longer than normal walk. I tried to add intermittent bursts of jogging, but they didn't last long. Like I've said before, I'm not a fan of running, but just like with foods I don't like (think mushrooms) I'm willing to keep giving them a try in hopes of changing my mind. The funny thing about tonight's workout was that each time that I tried jogging again, it seemed both easier and harder at the same time. Hmm…hopefully it just starts to get easier. It seems I would be able to more efficiently burn calories if I could do so.
Once we got home, I did 15 minutes of the strength training exercises outlined in my SCBR book, including wall squats, which are like torture. Between those and the lunges, my muscles are feeling the burn. I had to skip the pushups due to my wrist…grr…hopefully that heals up soon.
After the strength moves, I did 15 minutes of stretching, which is probably my fave part of any work out. Love it!
7:45 pm – Leftover Soup + Buttered Toast – Content (5)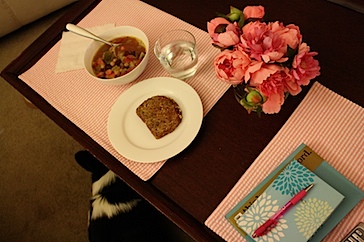 Check out the new flowers I got from Target! They make me smile. I love having flowers around, but I prefer fresh ones. I like to grab the big pretty bunches they have at Farmer's Markets, especially. When we finally get our house, I want to have a cutting garden so I can have fresh flowers around all the time. These faux ones will have to do for now.
I'd also like to grow my own vegetables and herbs like my parents did when I was growing up.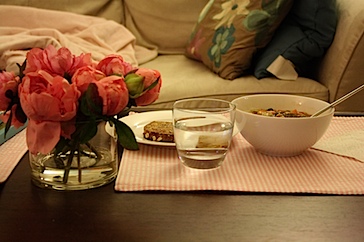 Another POV…I first saw these flowers at a Target display several weeks ago. I thought they were pretty and didn't think much of them. Afterwards, I couldn't get them out of my head. Every time I went to a new Target, I checked to see if they were there and they were always gone. *sad face* But, earlier this week, I finally found some and snatched them up. I think they look great with those seersucker place mats!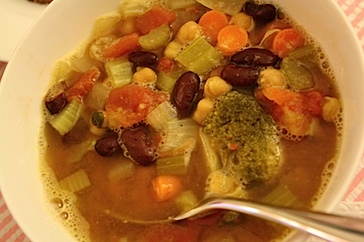 I fiiiinally had that leftover soup that I've planned to eat 2 times this week and skipped! It was really good. The beans must be extra filling because I only ate 1/2 the bowl, which was a 1 1/2 cup portion. I don't plan to portion out all my meals, but I think it's good to try it out once in awhile so you know what you're putting into your body. It helps with the calorie counting, too.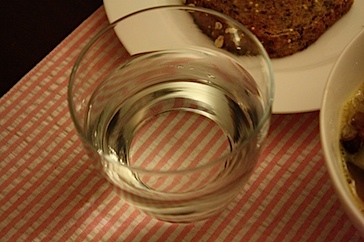 I also had more water…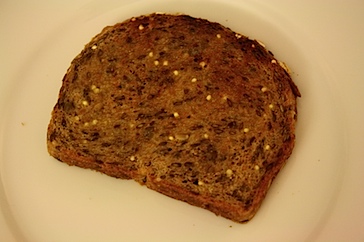 …and some GHBC High 5 Fiber toasted with a wee bit of butter.
10:00 pm – Chocolate Soy Milk – Content (5)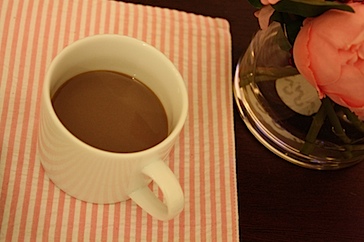 I tried to have a pear post-dinner, but it tasted…weird. It was kind of firm and flavorless? I guess I've had them in the fridge for almost 1 1/2 weeks, so maybe they're too old to eat? I dunno. I did get to have a small cup of chocolate soy milk. This stuff is soooo good!
I recently saw a delicious-looking Vegan Chocolate Cake on Get Fresh with Sara Snow and would loooove to try it out! It actually uses chocolate soy milk as an ingredient!
Calorie Summary
Calories eaten: 1585
Calories burned: 402
Net Calories: 1183
Seems low, no? I think Ellie Krieger said, in SCBR, to not eat less than 1200 calories no matter what, but I'm close 1200. The pear would have put me over…I'm sad it didn't taste right because I really wanted to eat it!
Lesson Learned
Today, I learned that there's no need to overeat in "the moment." If I feel full or start to feel full, I'll try to set any extra food aside and snack on it later if I get hungry again. If I don't have any leftovers, I'll figure out a snack later.