Click here to learn more about the weekly food challenge and how you can play along. But, basically, you just make something during the challenge week with the weekly challenge food item and add your link to this post (leave a comment with your URL and I'll add it). See, simple!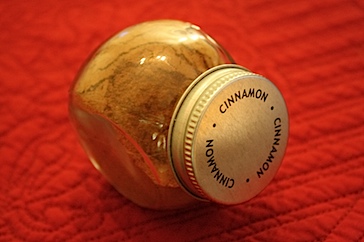 This Week's Challenge Item (2/22 – 2/28) – Cinnamon:
I'm actually slightly allergic to cinnamon (I can eat it, I just shouldn't), but it was on the list, so here goes.  Perhaps now I have a good excuse to make cinnamon rolls?  Mmm… 🙂
According to Parker-Pope, from her article "The 11 Best Foods You Aren't Eating", "May help control blood sugar and cholesterol. How to eat it: Sprinkle on coffee or oatmeal."
According to Jonny Bowden in The 150 Healthiest Foods on Earth, "Cinnamon also contains anti-inflammatory compounds that may be helpful in affecting the pain and stiffness of muscles, joints, and menstrual discomfort." Additionally, it is "really good for digestive function."
Recipe Ideas:
How to Play:
Everyone is welcome to play, but unfortunately, there's no prize this week. 🙁 I hope you'll still play along for fun, though!
Cook/prepare something during the challenge week (2/22-2/28) with cinnamon
Do a blog post about what you made
Add the Challenge banner (the muffin photo – available here – click) to your blog post, optional
Leave me a comment on this post to let me know you did your post so I can add you link to the list
Happy cooking!
The Players:
TBD – Leave me a comment with a link to your cinnamon-post and I'll add your link here.
Special thanks to everyone who played last week! 🙂