10:45 am – Coffee – Strong Feelings of Hunger (3)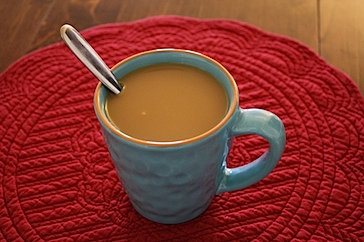 Thanks to our late night at the bowling alley and hubby sweetly taking the dog out this AM, I slept in till 10:30am today. I am so over staying up late at night and sleeping in…I always feel terrible, but at least I got to sleep in, right?
Hubby had already brewed a pot of Fresh Market Breakfast Blend and made me a mug with the usual 2 tsp of sugar and 2 tbsp 2% milk. The coffee woke me up, but I felt drowsy all day. I had been hoping to go ice skating some time today, but ice skating and drowsiness don't exactly mix. My knee was still bugging me, so it probably worked out for the best.
12:00 pm – Multi-Grain Pancakes + Vanilla Syrup – Content (5)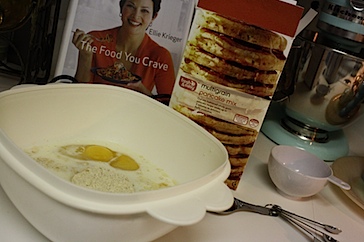 I finally talked hubby into trying the multigrain pancake mix and vanilla bean vermont maple syrup that I got from sweet Kate in my coast to coast swap awhile back. I couldn't wait to dig into them, but hubby has been dragging his feet…probably scared of the "multigrain" since he didn't like the buckwheat pancakes.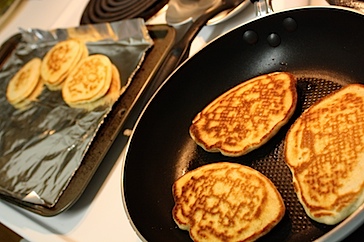 I transferred the cooked pancakes to a baking sheet in the oven set to warm. This was important since it took forever to make these at no fault of the box mix. The fault was ours. When we got our new pot and pan set, we got rid of our nice, large non-stick pan. Now, we only have this 9 incher, which is waaaaay too tiny to make a batch of pancakes. We really need a big pan or a grill pan/griddle.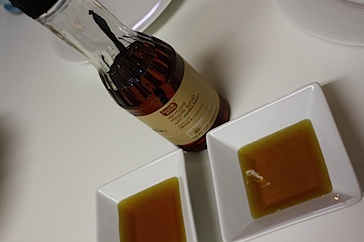 The highlight of the meal was the vanilla bean syrup! This was the start of our whole swap.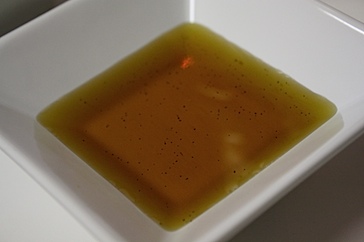 Check out those vanilla beans!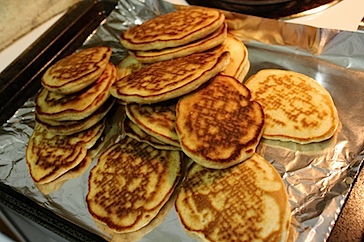 We made the smallest batch possible and it still made a ton!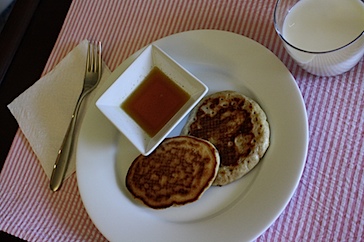 I ended up having 3 pancakes (first round was the 2 pictured) with some 2% milk.  I like to serve my syrup on the side because I don't like my pancakes (or waffles or whatever) to get soggy.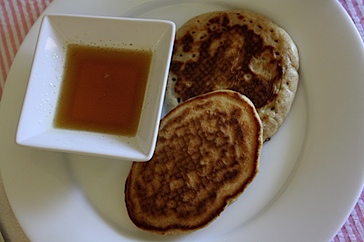 A closer look.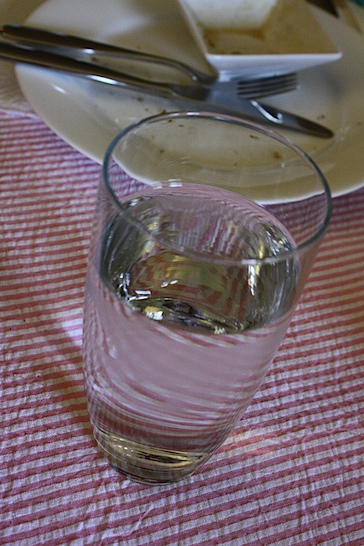 I had a big glass of water after our late breakfast.
1:15 pm – Walk with Hubby + Bailey, Strength-Training, + Stretching – A Little Sore but Good
After giving some time for food to digest, hubby and I took Bails for a 45 minute walk through a local park. When we got back, I stuck to my Week 4 SCBR changes and did 15 minutes of the strength-training exercises listed in the book and 15 minutes of stretching. The push-ups I did killed my wrist! I don't know what's up with it, but it's been bugging me a lot lately and I haven't even been making jewelry!
2:30 pm – Water – Content (5)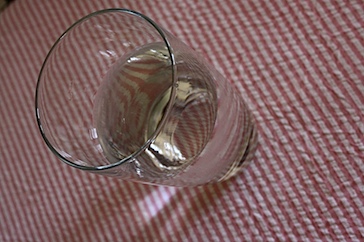 After my work-out, I downed some more water to hydrate.
3:30 pm – Veggie Pasta – Full (7)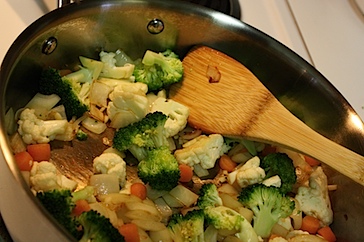 I've been wondering what to do with all the veggies around the house since they all seem to be on the verge of spoiling, so I chopped up my broccoli and stored a bit in the freezer and used the rest for a pasta dish. I was considering doing a veggie stir-fry, but hubby seemed less than interested in that option.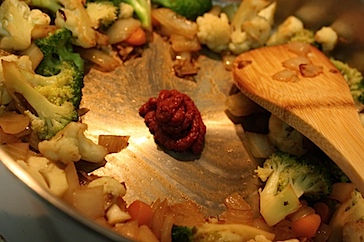 I made a veggie pasta dish based loosely off some ideas I saw on a DVR'ed Everyday Italian recipe. The sauce is made using tomato paste and pasta water, which gave the veggies and pasta a lovely red-ish tint.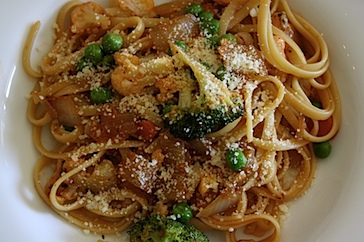 I also tossed in some frozen peas and topped the dish off with some parm.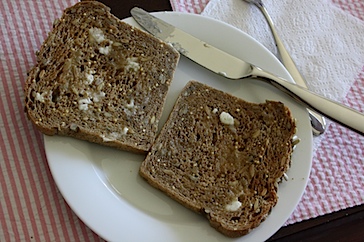 I considered using whole wheat pasta, but really wanted the texture of regular linguine, so I decided to get some whole grains from some Great Harvest Dakota toast with butter on the side.
I finished up the water from earlier with the meal.
4:00 pm – Green Tea – Full (7)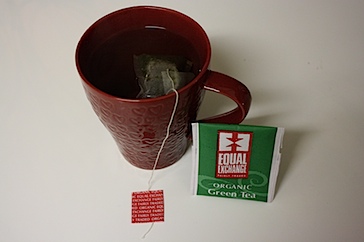 I had some Equal Exchange organic green tea post lunch with some honey.
5:00 pm – Hi-Chew Candy – Full (7)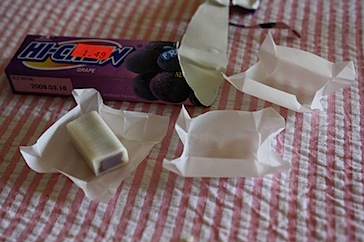 Later, I had 3 pieces of Hi-Chew candy in grape. I first had this stuff at the Japanese pavilion at Epcot last year, but you can find it at most Asian markets. I don't eat a lot of candy, but I have been passing this on the shelf and considering grabbing some and today was the day.
6:30 pm – Kashi Crackers + Chocolate Soy Milk – First Signs of Feeling Full (6)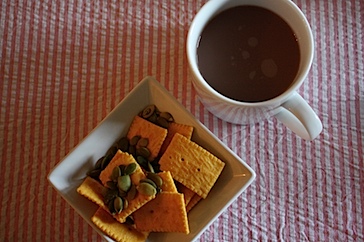 I realized late in the day whilst cuddling with Bailey on the couch watching a DVR'ed Get Fresh with Sara Snow that I hadn't had my daily snack, so I grabbed some Country Cheddar Kashi crackers and chocolate soy milk. I intended to have some pumpkin seeds, but I couldn't find any good sources for how long they were good till they went rancid, so I didn't want to take any chances and didn't eat more than about 2.
8:00 pm – Pumpkin + Chicken Pasta – Full (7)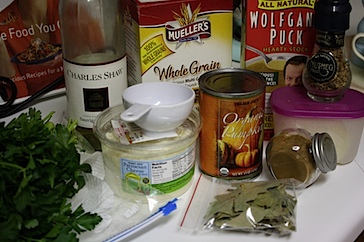 For dinner, I used up some more pantry items to cook dinner, including some frozen chicken. Thank goodness because we are basically out of food money for the month and by basically, I mean we have $0 in the food budget, but some other money in other budgets that I'm hoping to not touch.
I made Rachael Ray's Pasta Pumpkin with Sausage except I used a chicken breast instead of sausage.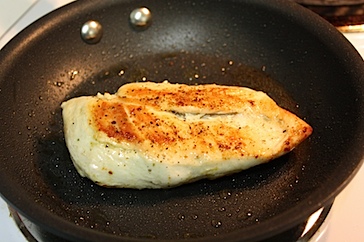 I defrosted one chicken breast and then sauteed it in salt and pepper. I let it rest after cooking and then sliced it into smaller pieces.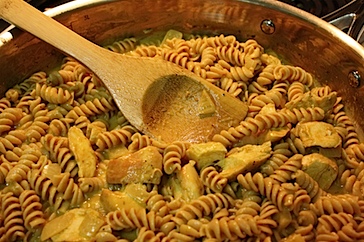 I used 1/2 a box of whole wheat rotini pasta, 1/2 an onion, 1 garlic clove and the full portions of liquids. The proportions were slightly off, but it turned out ok. I also used Herbes de Provence in the sauce since I didn't have sage.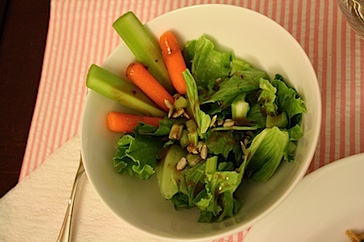 I served dinner with a side salad of green leaf lettuce, celery, baby carrots, and sunflower seeds.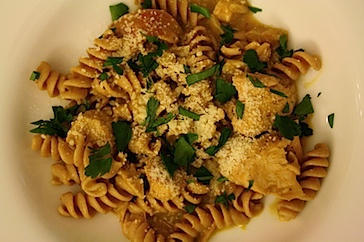 My portion topped with parm and parsley.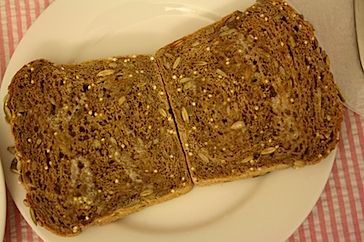 Even though the pasta was wheat, I served dinner with more GH Dakota buttered toast at the request of hubby. I only ate about 1/3 of my piece and hubby finished the rest with his seconds.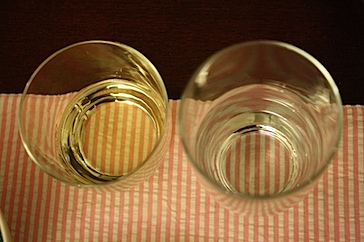 Our wine was mostly gone, but I subbed 1/2 cup of the wine requested in the recipe with water so we could have a taste with our meal. I like to drink wines with meals that have been cooked in the particular wine – the flavors balance nicely. We only had about 1/4 cup each, but it was worth it.
I also had some water.
I was craving something sweet after dinner, but didn't have time to make anything, so I went straight to blogging. I may have a cup of chocolate soy milk as my "dessert" later.
Bedtime Rituals
This week for SCBR, I'm supposed to work on setting a bedtime schedule. I've fought schedules for so long, but I'm ready for a change. I'm ready to try to work myself back into a schedule, so I'm going to try to go to bed and wake up at the same time every day. This should be interesting…I'm hoping to be in my bed reading by 10 pm, which is in 15 minutes and I still have to do my challenge post…yikes!