After leaving Trentadue Winery, we headed over to Healdsburg, CA for a snack. It was about 4:30 pm and we'd had a late breakfast, but no other food…just lots of good wine. We got a couple recommendations for restaurants in Healdsburg by the peeps at Trenadue and decided on hitting up Ravenous where we heard they had a great burger. Unfortunately, we were a tad early and the restaurant didn't open till 5!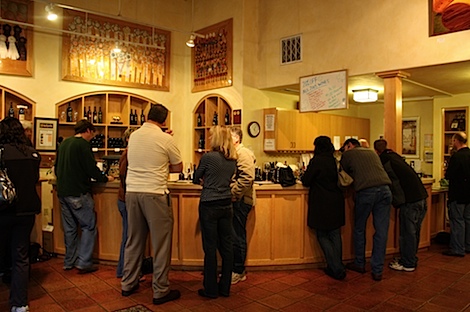 Although we were a bit hungry, we decided more wine sounded like a good idea still, plus most wineries closed after 5/6 pm-ish, so we hit up Rosemblum Cellars. Rosenblum's Healdsburg tasting room was actually in the city of Healdsburg, so the place was packed! We had to wait to get a spot for tasting. A spot opened up but the people on either side of it spread out so we couldn't fit. Luckily, the nice man behind the counter kindly asked the gentlemen to help us make our way to the tasting counter. How nice!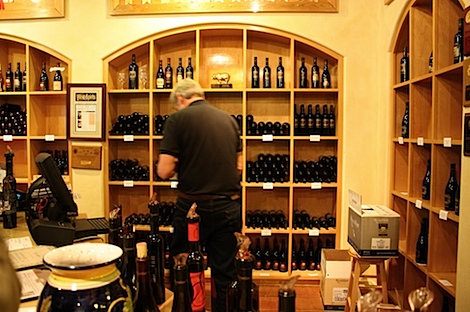 The tasting room was super cute and there was wine everywhere!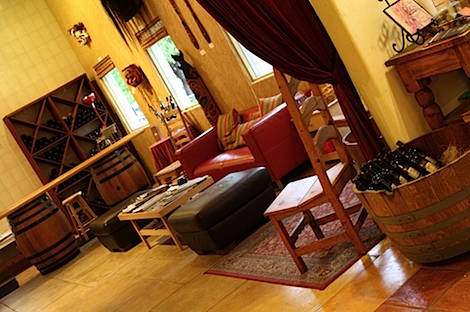 There was a cozy sitting area across from the tasting counter, but this area stayed pretty empty while we were there.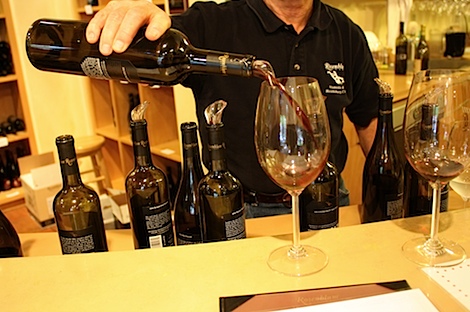 Once we got a spot at the tasting counter, it was vino time! My friend and I each got the reserve wine samplings. I was most intrigued by the wine they said was for barbecues and grilling-out parties! Those wines really did taste like they'd go great with some nice, smoky summer-grilled foods! I didn't get any bottles of these BBQ wines, but wish I did!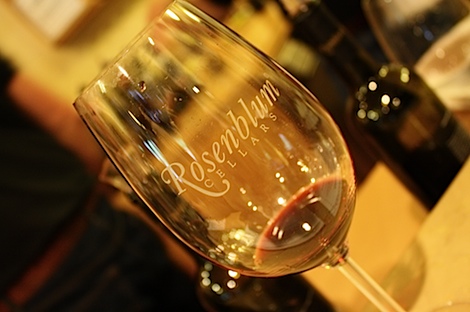 More etched-glasses! I loved how each winery had their own etched tasting glasses.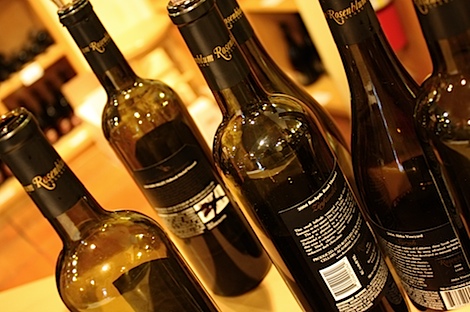 Seriously…wine everywhere!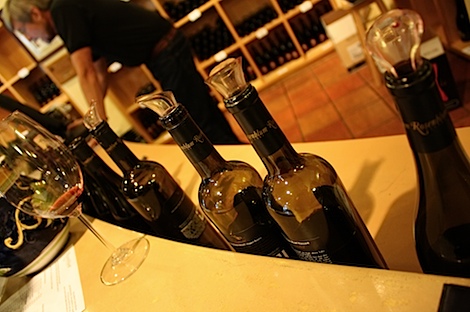 Love those pour spouts.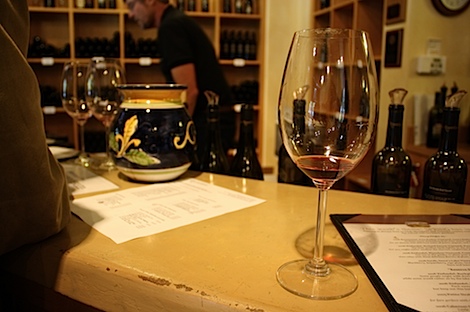 Though this place was busy, we had a good time with our wine tasting. Oh, and do you see that decorative vase-looking-thing in the background?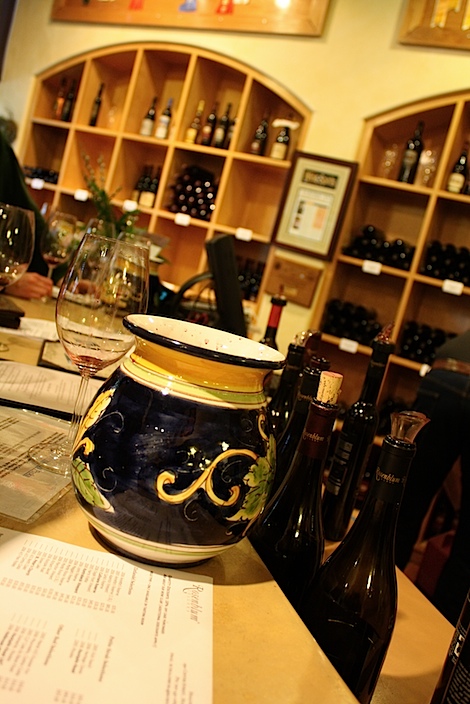 I'm talking about this thingy – the blue, green, and yellow vase. If you're not familiar with wine tasting, you may not know what this is. This receptacle is where you pour the wines you don't want to drink any more. I know…it sounds almost impossible to not want to finish your wine! But, if you're up for a serious day of wine-visiting, you can easily visit 5+ wineries, so at some point, you may wish to not finish your entire tasting glass, especially if you're driving! In that case, simply pour your wine into this vase. Done and done.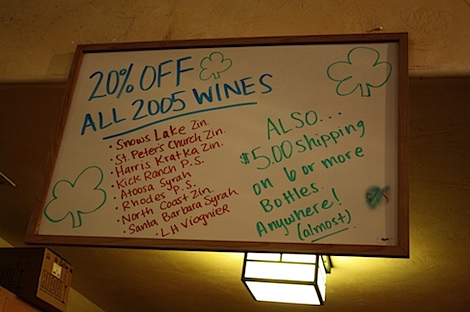 Specials.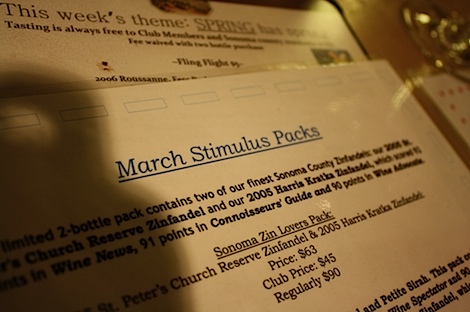 Rosenblum has a stimulus plan, too.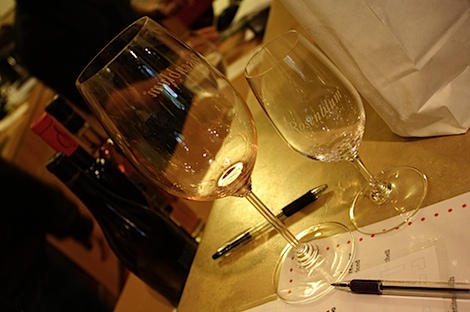 My friend and I wrapped up our wine tastings and even got to try some of their delicious dessert wines, including one that is flavored like chocolate!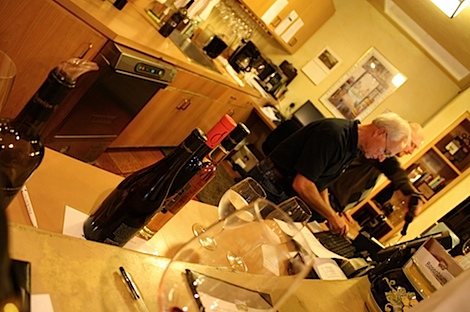 I probably would have only been able to get 1 bottle of wine, but due to luggage space, not budget. Like I said, I had budgeted for some vacay shopping. Lucky me, the winery offered $5 shipping to select spots if you purchased 6 bottles of wine or more. Now, I say I budgeted money, but I didn't budget 6 bottles worth! As it worked out, my friend got 3 and I got 3, which they let qualify my order for the shipping…yay! The peeps at Rosenblum were so nice! I picked up 2 dessert wines and 1 white. There they are on the counter while our wine helper prepares my goodies for shipment. I'll post wine details once they arrive…should be any day now!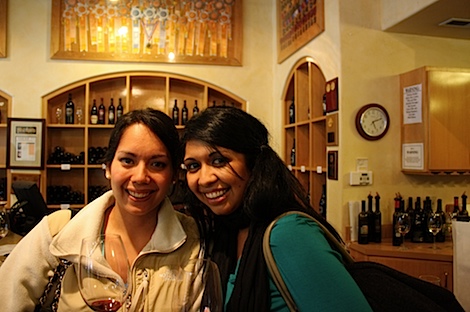 Friends at Rosenblum. 🙂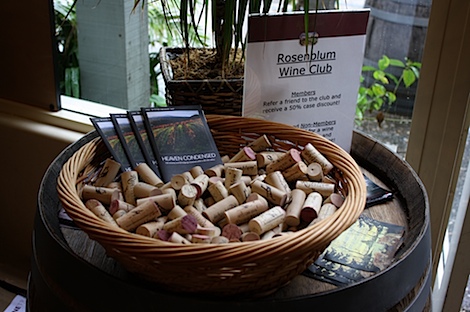 Corks by the entrance/exit. Info on the wine club, too. Each of the wineries we visited had their own wine clubs, which I didn't research, but seemed to get you free tastings and discounts on wine. If only I lived in Cali…I would be all about a wine club membership! In fact, my friend said she wants to retire in California wine country and now that I've seen what it has to offer…I want to retire there, too! It's beautiful and so relaxing! Actually, I think it would be really cool to open a cafe or my own winery there. Maybe I'll get lucky and win the lottery? *le sigh* Maybe one fine day?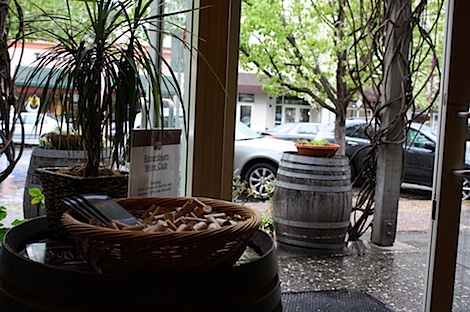 After finishing our tasting at Rosenblum Cellars, we headed back to Ravenous for sustenance. More on dinner + dessert next time!