I think a lot of making cooking easy is not having to worry about measuring things out perfectly. It's so much easier to cook when you have a general idea of how to cook something and can put it together as you like. That's how I made tonight's dinner – lasagna.
My recipe began with a simple meat sauce – ground beef browned in a pan, fat skimmed, marinara sauce added, cooked for a few minutes.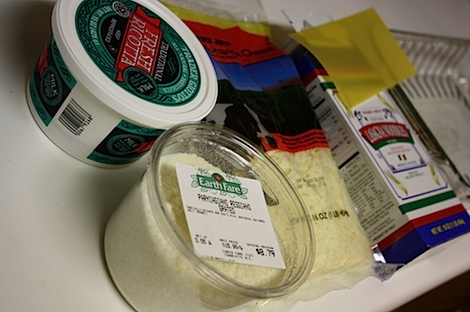 I also relied on a mixture of cheeses and some no-boil lasagna noodles. Cooking the lasagna noodles in a tradition lasagna is IMO the worst part…you have to boil a big pot of water, make sure all the noodles can fit in there, make sure they don't stick while they're cooking and make sure they don't stick afterwards by laying them out flat and touching as little as possible. Such a pain!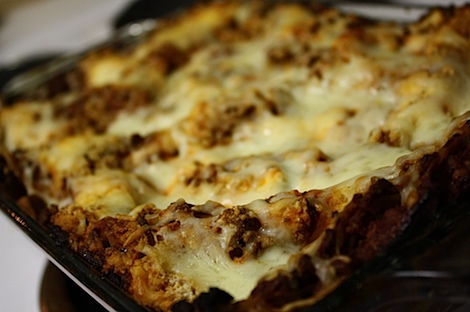 I'm not sure my lasagna was the fastest to prepare, but it was pretty darn stress-free and that was exactly what I wanted tonight.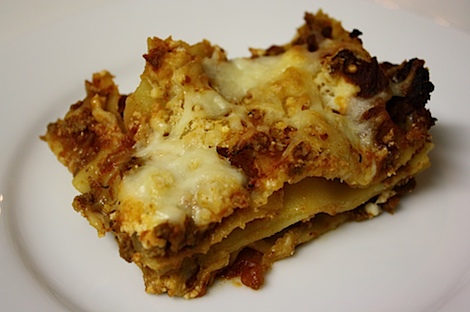 I think I may use more sauce next time, though, because I do like my lasagna a little on the saucey side. 🙂
The Chic Life's Easy Lasagna
by me
My Notes: Like I said, I wanted this to be as easy as possible, so I eye-balled a lot of stuff. Following that idea, this recipe doesn' t have a lot of exact measurements – just feel it out. Don't stress over getting this recipe exactly right if you make it. Just follow the concept and relax. Your cooking times/temps may vary if you use a different brand of no-boil lasagna noodles – check the box to see recommended cooking time/temp.
Ingredients:
Trader Joe's no-boil lasagna noodles (about 3/4 of the box)
Trader Joe's marinara sauce
Ragu's Traditional Pasta sauce
1 lb ground beef
ricotta cheese (I used almost an entire 15 oz container)
grated parmigiana reggiano or parmesan (just get a container from the store and use what you like)
grated mozzarella (just get a bag from the store and use what you like)
salt, pepper, Italian seasoning, garlic powder, onion powder
Directions:
Pre-heat oven to 375 degrees F.
Cook meat sauce: heat pan over medium heat, add ground beef, brown. Skim fat from pan. Add TJ's marinara sauce and 3/4 Ragu's sauce (add entire Ragu's bottle if you like your lasagna a wee-bit more saucy – I don't think it will make too much a difference). Add a pinch of salt, pinch of pepper, about 1 tbsp Italian seasoning, dash garlic powder, and dash onion powder. Bring to simmer and cook for additional 5 or so minutes.
Spray an 8"x11" baking pan with non-stick spray.
Layer a bit of sauce in the bottom of the pan – just enough to barely cover the bottom.
Layer 3 noodles over previous layer. Layer a bit of meat sauce over noodles – just enough to cover noodles. Add a bit of ricotta – I dolloped mine and spread it out – it won't spread out in an even layer, just try to spread it so if a piece of lasagna were cut to serve, you'd get some ricotta in that slice. Sprinkle a handful of parm/regg. Sprinkle a handful of mozzarella. Repeat 3 more times so you've used 4 layers of pasta total (no mozz on last layer). You can do more or less layers more than likely – just watch your cooking time (it may cook faster if the dish is thinner or longer if it's thicker). Do not add mozzarella to the last and topmost layer. The mozzarella will burn.
Place dish in oven and bake for 45 minutes or until lightly browned on top.
Remove dish from oven and add a couple handfuls of mozzarella (however much you want) on top and put the dish back in the oven for 5 minutes or until the cheese has melted.
Remove from oven, cut into individual portions and serve with salad and optionally whole grain bread.