After leaving Chinatown, I headed over towards Powell to buy a muni pass. My shuttle driver suggested getting one so I could use all the public transportation on a by-day basis instead of paying for each ride. It was much more cost-effective. You can get 3-day and more passes, but I only got a 1-day pass since I knew this was going to be my only tourist-y day.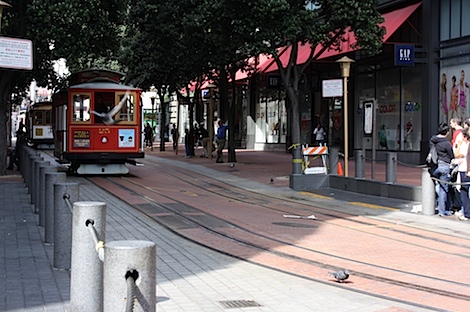 It turns out the Powell St station is one of the trolley stops.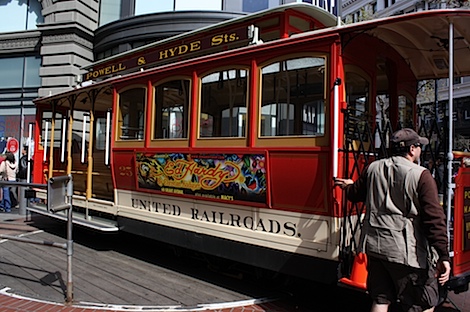 This stop is actually one of the most popular – the one that is hand-spun around by the trolley drivers and helpers and the one where people wait in line to get on the trolley to see Lombard St.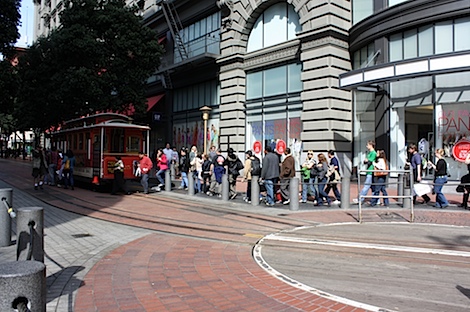 The trolley comes down the hill on the left tracks, stops on the wood circle, and is turned by hand onto the right tracks to head back up the hill. The line was about 50 deep by the time I got there, but it moved pretty quickly. I decided to hop on since I was already there – it would cross 2 things off my list I wanted to do: 1. ride the trolley and 2. see Lombard St.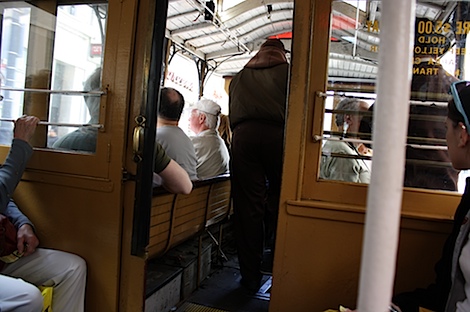 The trolley started off pretty empty like in this photo but picked more and more people up as it went down the road.
There were handles just above the bench seats where people could hang on for the ride.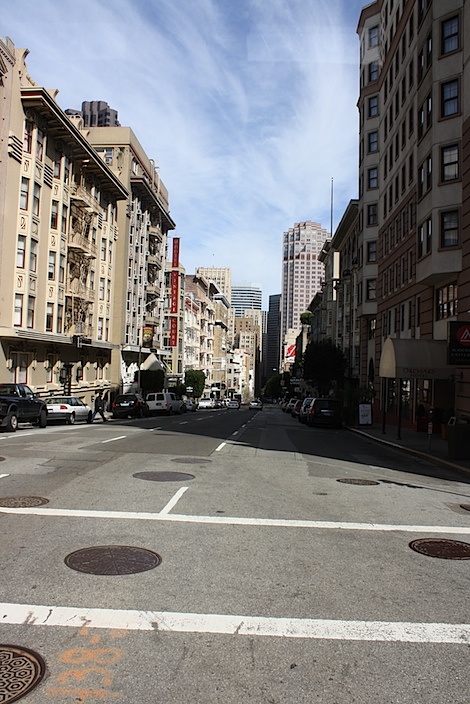 The ride was pretty scenic and very steep.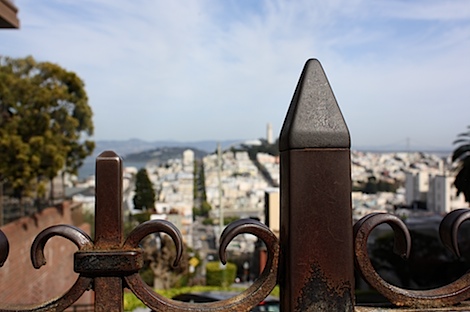 I got off the trolley at the Lombard St stop.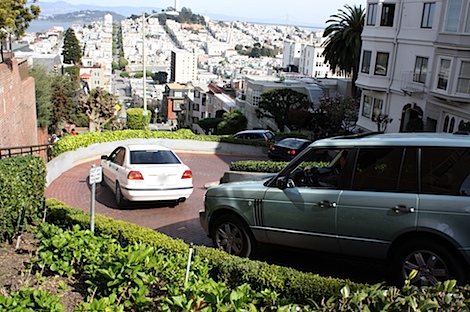 I walked down Lombard St snapping photos on my way down the steep street. Many cars drove by – about 20!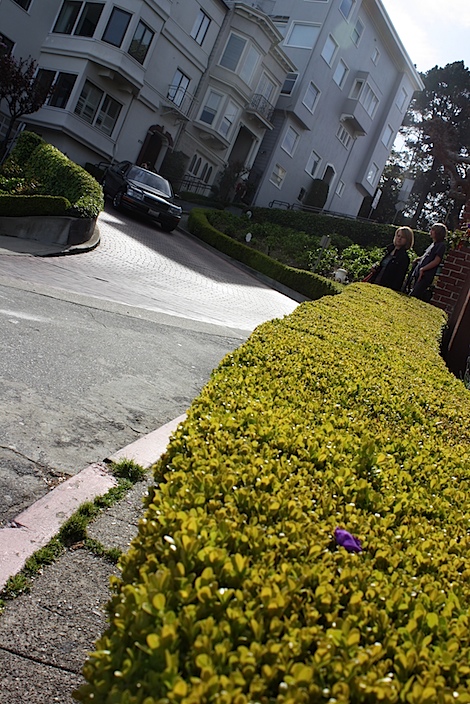 Like I said…very steep!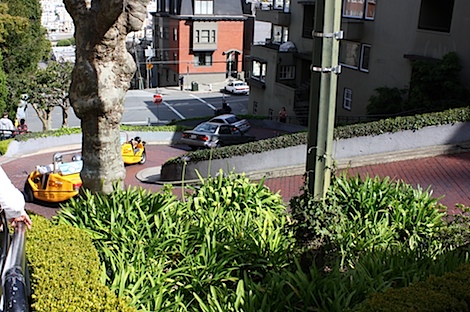 I even saw some go-cart looking things go down Lombard St.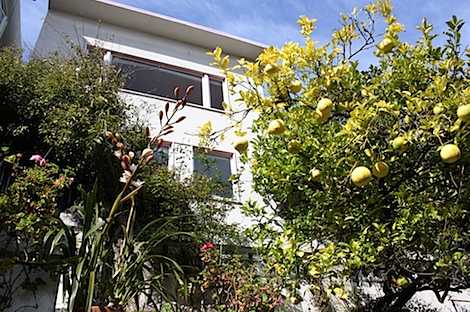 The famous flowers on Lombard St hadn't yet bloomed but there was still lots of greenery.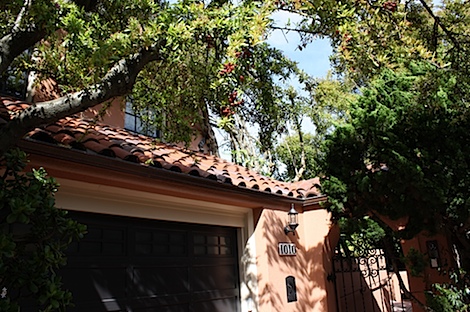 The houses were, of course, all beautiful.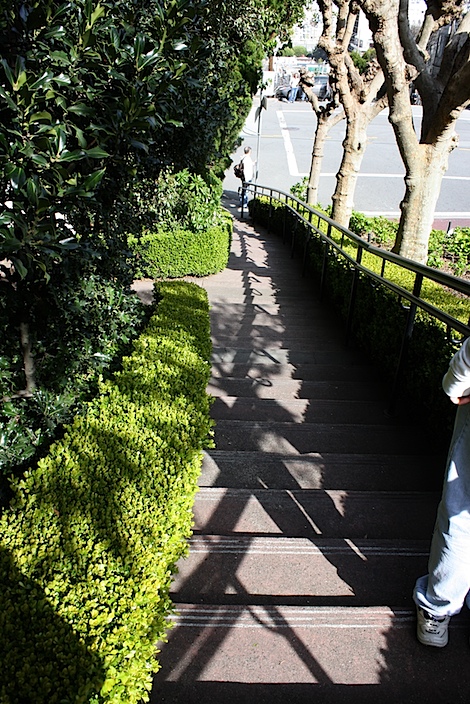 The stairs down were pretty steep, too!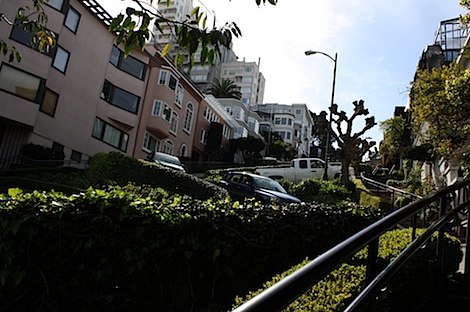 A good perspective on just how steep that road is!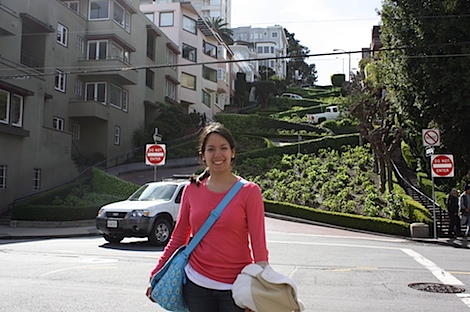 Proof I was there! 🙂
After Lombard, I headed towards Fisherman's Wharf to try to find Kara's Cupcakes. I decided to walk down FW, towards the hotel (b/c my phone was dead) and hope I passed Kara's. Turns out Kara's isn't at FW…it's at Ghiradelli Square so I just missed it (I basically headed right when I should have headed left)! I was getting pretty tired from all the walking and probably from all the travelling earlier, so I hopped on the F Bus and headed back to the hotel to charge my phone. I was so tired, I forgot to take photos at FW! Oopsie! Next time…promise.
More SF stories next post…I have a lot of catching up to do!
PS I am safely home in Charlotte…phew! That was fun but I'm glad to be home, too!