Nate emailed earlier this past week with the idea of an impromptu visit to a semi-local beer brewery, which sounded like a fantastic idea to me.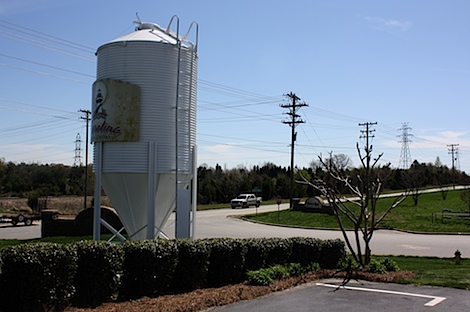 Hubby and I hopped in the car this morning and headed over to Carolina Beer Company's brewery this beautiful Saturday.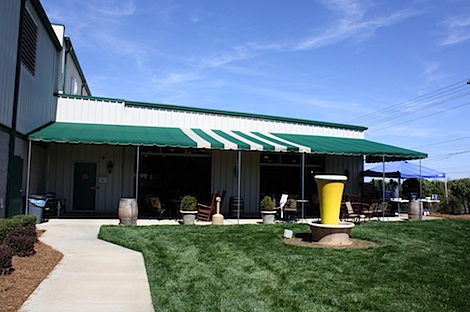 We followed the signs to the tour area, which had a nice set-up that looked much like a regular bar of pub.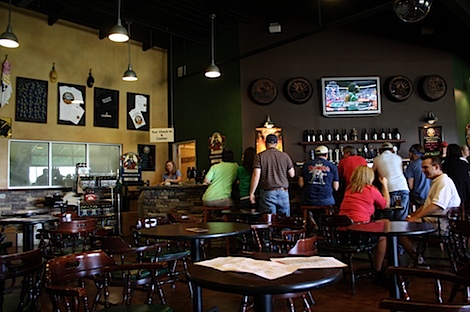 We headed inside, said a quick hi to our friends, and then headed to the bar area to buy our tour passes.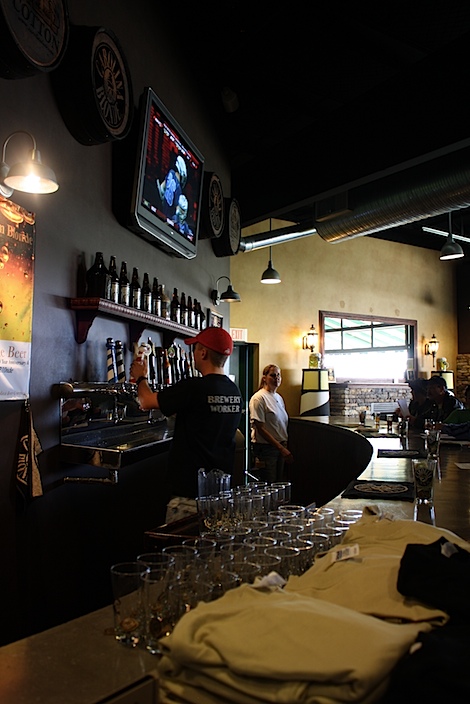 We paid $5 per person for the tour (they took credit cards), which not only got us the tour…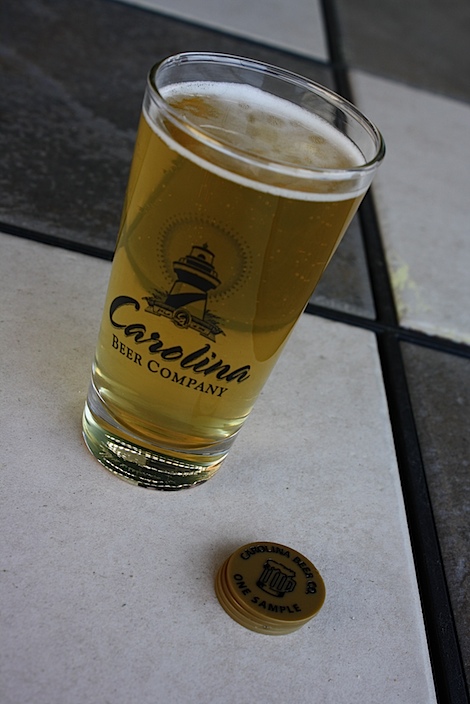 …but sampling glasses and tokens for 5 free beer samples. I decided to start off with one of their signature brews – the Carolina Blonde .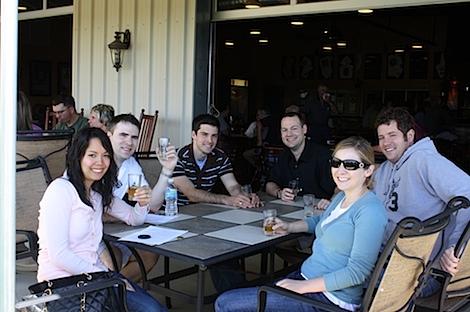 Once we had our first beer samples, we headed over to relax on the outdoor area with our friends – around the table from me – hubby (Dan), Matt (from Brew and Bake), Justin, Nate (of Yourself in Five Years), and Kate.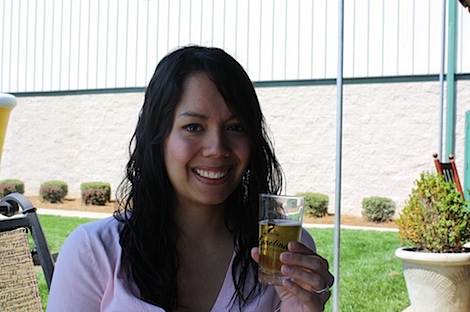 The Carolina Blonde was quite good. I'm no beer-expert, but I do know I like the lighter beers. Aren't the tiny glasses adorable? Photo credit – Kate! 🙂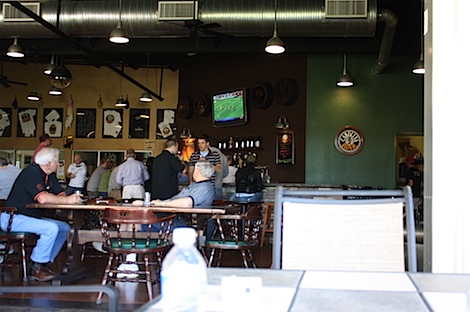 I had a nice view of the bar area.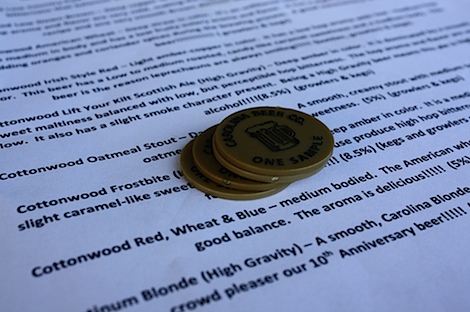 While we enjoyed some beer samples and good conversation waiting for the tour, I also got to check out the beer menu so I'd know what to get for round #2. I had 4 more rounds to go!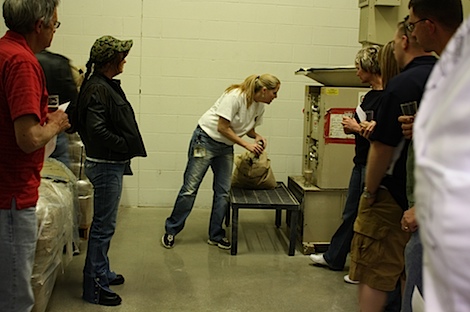 After some casual conversation on the porch, it was soon tour time! We started in their supply/storage room where they keep the barley, etc.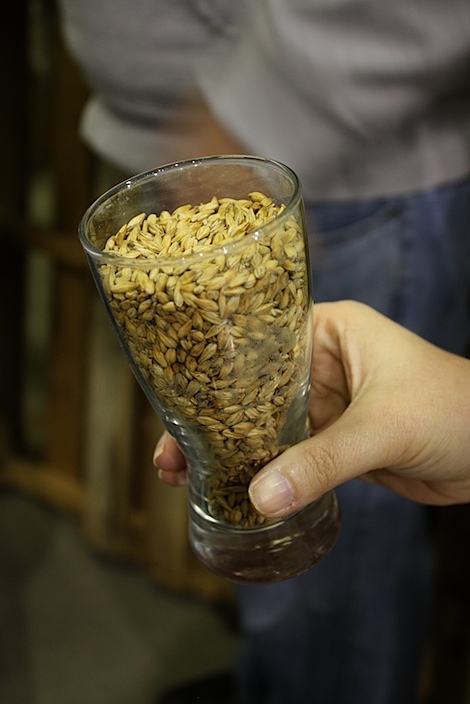 Passing around some ingredients. Thanks for being my hand-model Kate!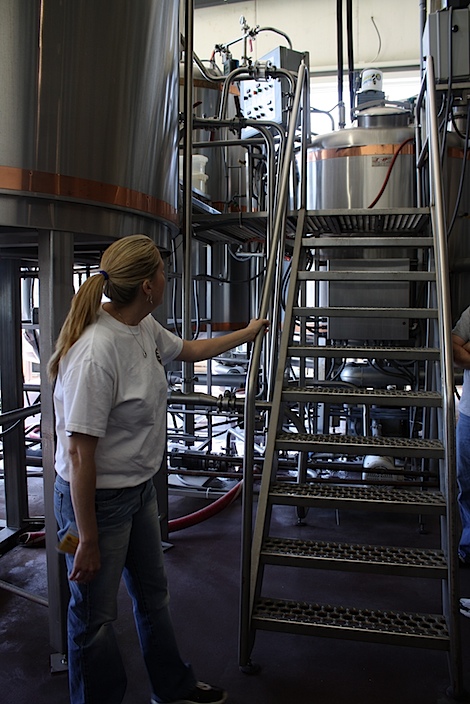 Next, it was on to the brewing room.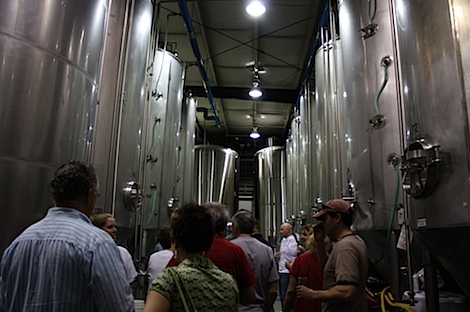 Then to the fermentation area. Those metal containers were huge!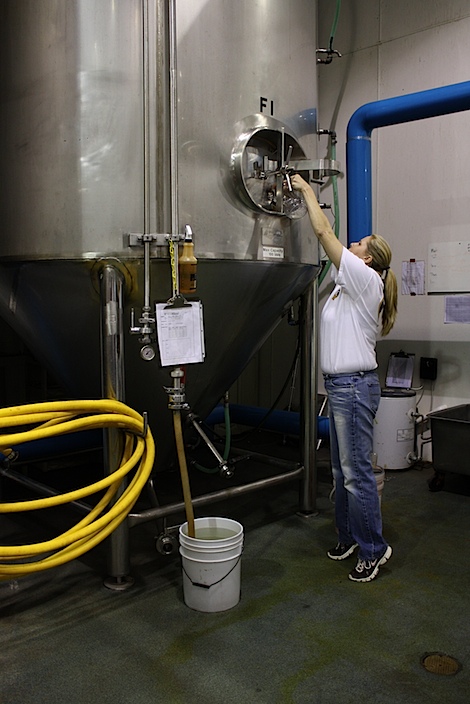 The tour lady got us some in-process beer samples.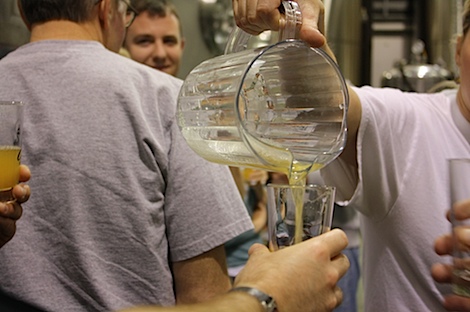 Passing out samples.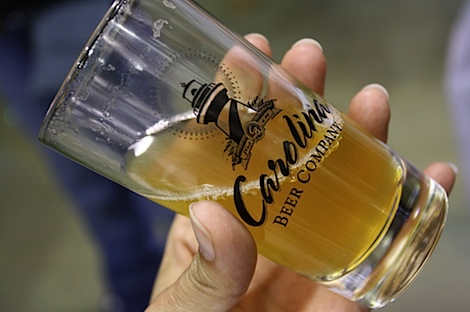 In-process beer is not as good as the finished product, but it was interesting to try.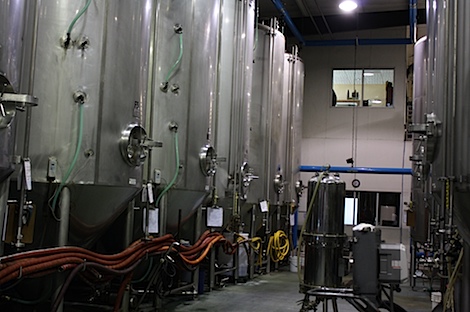 The fermentation area was the last part of the tour, so once we were done, it was back to the pub-area for more beer tastings.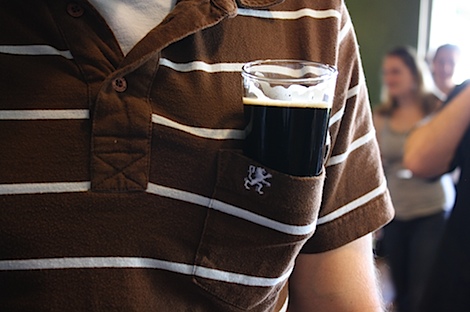 I really liked Matt's "cup-holder."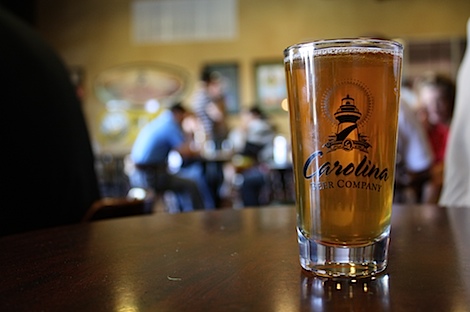 Sample #2 for me was the Carolina Strawberry Ale . I really enjoyed the strawberry flavor of the beer – it was a surprising combination for me since I don't know much about different beer flavors, but I liked it a lot.
We pulled a couple small tables together inside because we lost our nice outside table when we stepped away for the tour. The inside bar area opened out to the porch so we still got to enjoy the nice weather a little indirectly.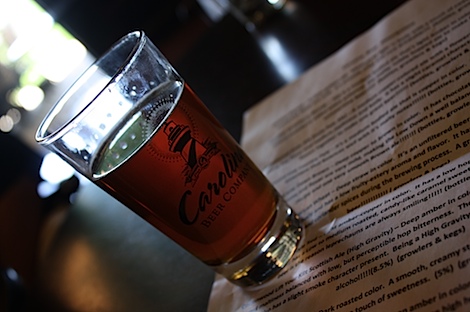 Sample #3 may or may not have been the Irish Style Red . I can't remember in which order I had my last 2 samples, so I'm just going to go with this order, which would make Sample #4 Carolina Lighthouse. Sadly for me, but luckily for Matt , I gave away my last sample token. I'm such a slow-drinker! lol I was about 1 drink behind everyone and it was time to get some food, so hubby gave my last beer tasting away, which worked out A-ok.
I'm not sure which of the brews I sampled were my fave because they were all so good, but I'm glad to know about some more tasty beers. I'd happily order any of the 4 I tried today!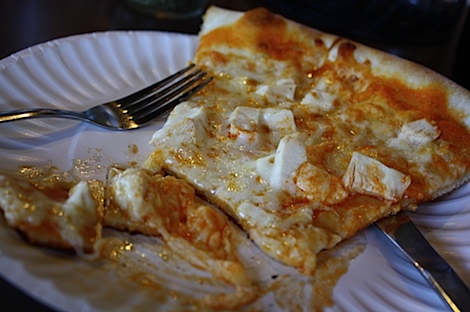 After the beer tastings, we were pretty hungry so headed south in search of food. We stopped at Brooklyn South Pizzeria since I knew you could buy pizza by the slice and everyone wanted a smaller lunch (we have dinner plans later!). Hubby and I got the Buffalo Wing pizza, which is nice and cheesy and spicy and simply delicious. I had 1 slice, and hubby had 2.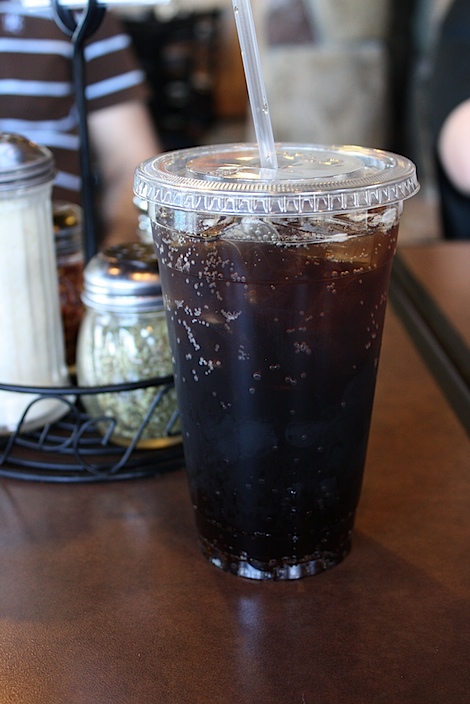 I don't normally drink much soda, but pizza is one of the types of food that I really enjoy with Coke for some reason. I had about half of this gigantic soda and gave the rest to hubby.
All in all, today was a blast! I hope we can take some more impromptu trips like this one in the near future! I feel like there's so much to see food and drink-wise in the surrounding cities and states – it would be great to check out some more out soon!