I was pretty tired after work today and event-planning and I just wanted to make something quick and simple for dinner. I got ingredients at the grocery store to make chicken fajitas because they seemed like a simple meal to whip up. I tried googling for some chicken fajita recipes for tonight's dinner, but didn't find any I really liked. Most called for marinating the chicken, but who has time for that!? I decided that fajitas seemed easy enough to wing and to make my own recipe up.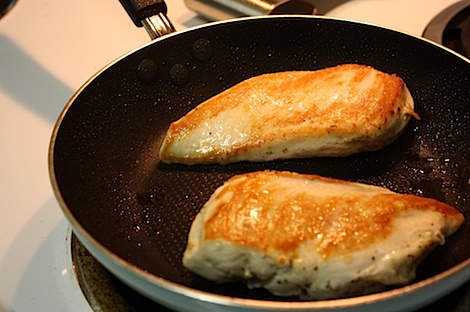 I started by browning 2 boneless, skinless chicken breasts.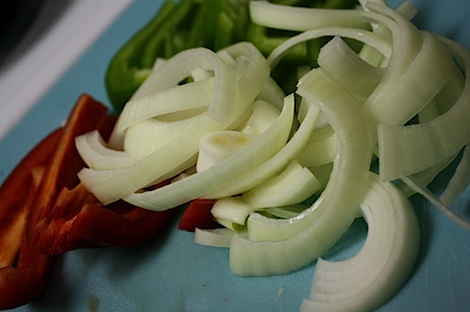 While the chicken cooked, I sliced up the green pepper, red pepper, and yellow onion.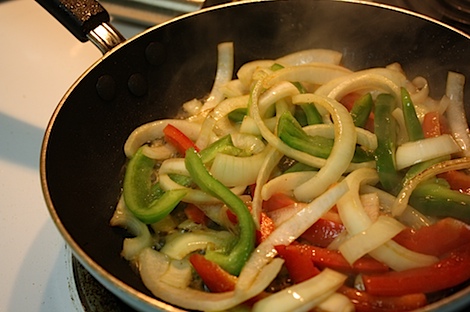 When the chicken was done browning (didn't need to be cooked through), I moved the breasts to another plate, covered them with aluminum foil and added the veggies with a little extra olive oil to the pan to saute.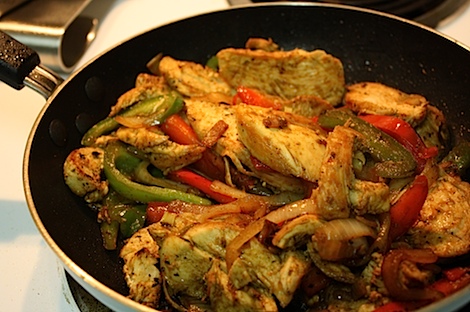 Once the veggies were getting tender, I sliced the chicken and added it to the pan with various spices. Cook chicken through and you're ready to eat!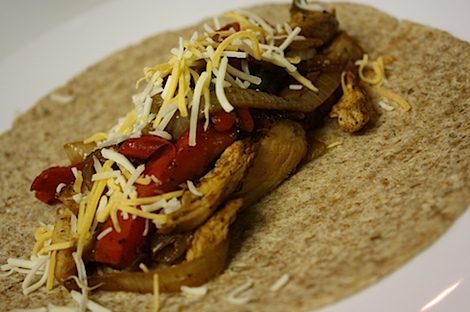 I used a whole grain flour tortilla and topped my chicken fajita with some Mexican blend cheese – hubby added salsa to his.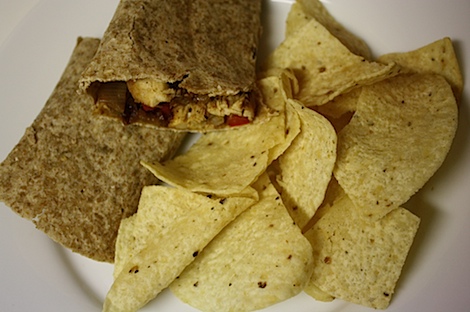 Dinner was super simple and a nice treat to throw together after a long day of work – especially sans marinade! I served the fajitas with some chips and queso from Moe's – chips and salsa probably would have been a healthier option, but we like the cheese dip!
Easy No-Marinade Chicken Fajitas
by me
Serves 2-3
Ingredients:
2 boneless, skinless chicken breasts
1/2 green pepper, sliced
1/2 red pepper, sliced
1/2 yellow onion, medium, sliced
2 tbsp olive oil
dash cumin, paprika, chili powder, cayenne pepper, garlic powder, onion powder, liquid smoke
salt, pepper
8 inch tortillas (preferably whole wheat or whole grain)
Directions:
Heat non-stick pan over medium to medium-high heat. Add 1 tbsp olive oil. Season chicken breasts with salt and pepper, add chicken to pan, and brown each side in pan, about 3-4 minutes per side. Chicken does not need to be cooked all the way through but should be almost done. When chicken is done cooking, remove from pan, place on plate and cover loosely with aluminum foil.
Add other tbsp of olive oil to pan, then veggies. Cook veggies for 3-4 minutes, till tender. I added a wee bit of water, about 1/4 cup, about halfway through to keep veggies from burning and to help cook through.
Slice chicken and add back to the pan. Add spices and salt + pepper to season.
Toss chicken and veggies till chicken is fully cooked through, spices are evenly distributed, and veggies are cooked to your liking
Spread chicken + veggie mixture over a whole grain tortilla and serve with tortilla chips, queso, guacamole, salsa, and whatever else you'd like.