7:30 am – Coffee – Content (5)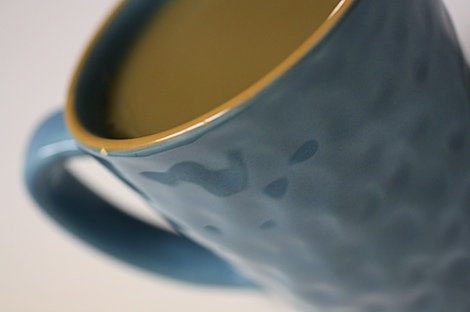 I managed to get to bed a little earlier than I have been lately, but felt just as tired as normal in the AM. I started the day with a nice cuppa Fresh Market Breakfast Blend .
9:30 am – Banana Flaxseed Oats – First Signs of Feeling Full (6)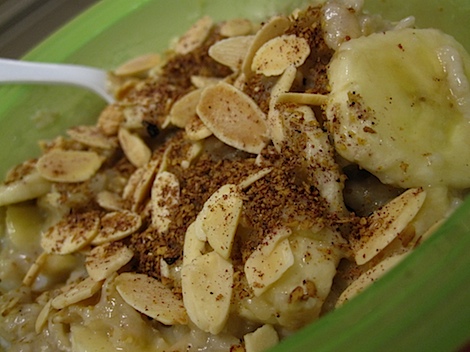 We had one organic banana leftover from this week's organic produce delivery, and it was looking pretty ripe, so I did a repeat of yesterday's breakfast today – Banana Flaxseed Oats.
2:30 pm – Heavy Hors D'Ouevres – First Signs of Feeling Full (6)
My company had its quarterly meeting today, so I left the office early and headed over to meet the group. I was so busy at work, I was hoping to grab a quick sub before heading over, but I didn't even have time for that. Luckily, my company had some faboo heavy hors d'ouevres at the meeting, so I snacked up!
I wanted to take a picture, but the lighting was so dark…darker than normal. We actually had our meeting inside a movie theater. We didn't watch any movies, but they did put our presentation on the big screen.
Anywho, I loaded up on veggies: carrots, celery, broccoli, cauliflower – all with a dabble of ranch dressing. I also had about 3 pita chips with some cheesy spinach dip, 1 slice of thin-crust margarita pizza, 1 slider, and some sweet potato chips. For dessert, I filled half a plate with fruit: pineapple, melon, cantaloupe, 1 raspberry, 1 blackberry, and some strawberry pieces.
6:15 pm – 1/2 Zumba! – Happy
My company meeting lasted until 6pm, but I decided to go ahead and try to make the majority of the class, thinking it started at 6pm and I may be able to make the last 45 minutes. Unfortunately, I forgot the class actually started at 5:45pm, so I only did half. Oh well, I figured half a class was better than no class, right?
8:30 pm – Simple Shrimp Pasta – First Signs of Feeling Full (6)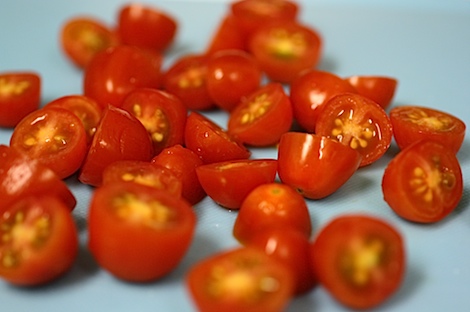 In the fridge, we had some organic cherry tomatoes that were starting to go, so I decided to finish out what I could of the carton in the form of pasta.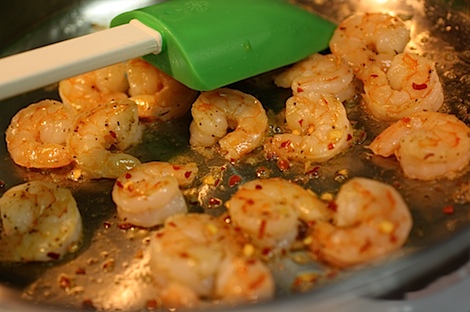 We also had some shrimp leftover from yesterday since hubby accidentally picked up too much. Hubby waited till today to peel the shrimp and I cooked them up for tonight's pasta dinner with some salt, pepper, and red pepper flakes – and towards the end garlic.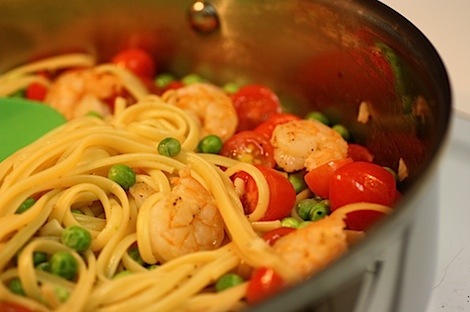 I also used some pasta water and chicken broth to make a light sauce for the dish.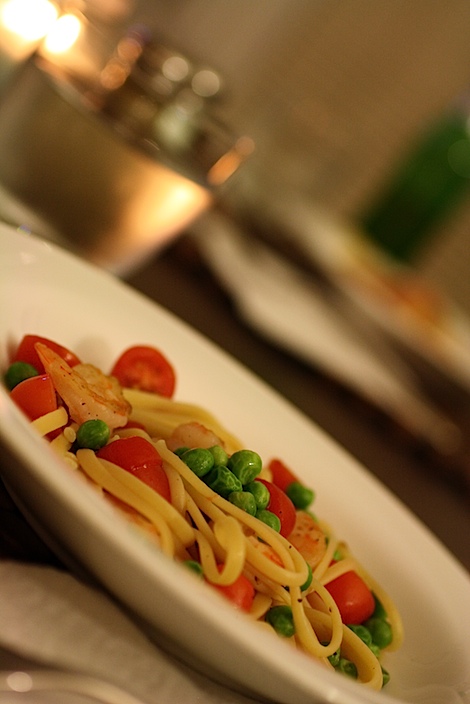 For the base, I used linguine pasta. This was a super simple shrimp pasta dish that came together quickly and used up a lot of ingredients we already had on hand. I love those kinds of meals sometimes! I started out with a small portion and waited a bit after finishing my plate to determine if I was truly hungry for seconds. I'm working on trying to eat more intuitively again since I've been reaching the "full (7)" state of my Hunger Continuum a lot lately. For tonight, I was a bit hungry still several minutes after eating my first bowl of pasta, so I grabbed just a bit more.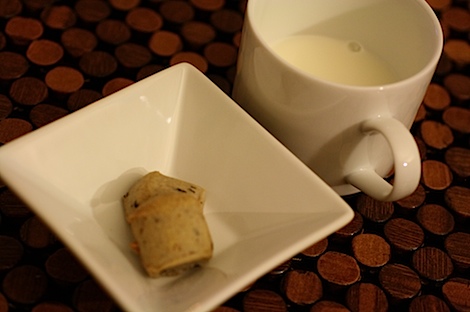 For dessert, I had 2 of those TJ's Blueberry Shortcake Bites with a wee bit of 2% milk.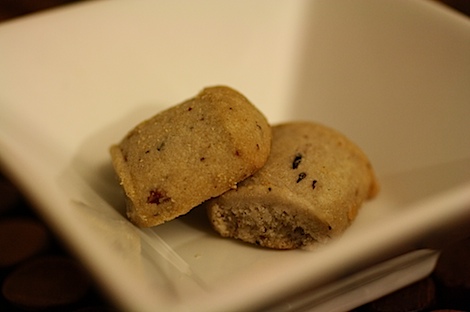 I started out with just the 2 bites and decided to get 2 more to round out the evening. They were topped off nicely by the smooth milk.
Wow…can't believe I only have 1 day left of SCBR!