After got ready for the wedding, hubby and I locked Bailey up in our hotel and got a cab into town. Our hotel room opened up to an exterior corridor, which I'm not much a fan of because they seem so much less safe. Hubby and I were so paranoid something was going to happen to Bailey. We're such worried pet owners!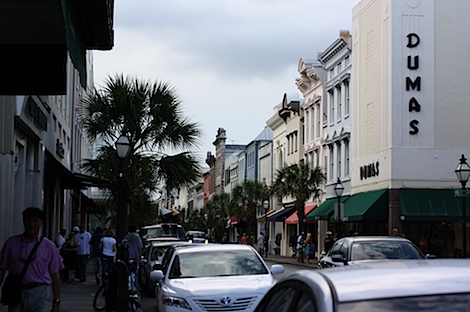 We got dropped off in the downtown Charleston area where we planned to meet up with another one of my sorority sisters, Beth, and her hubby, Peter.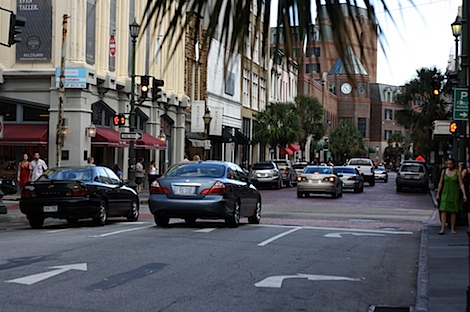 First things first, though…hubby and I swung by Williams Sonoma to pick up our wedding gift. We are such slackers! I felt kind of silly buying a wedding gift one hour before the actual wedding, but hey…I had it ready for the wedding, and that's all that counts, right?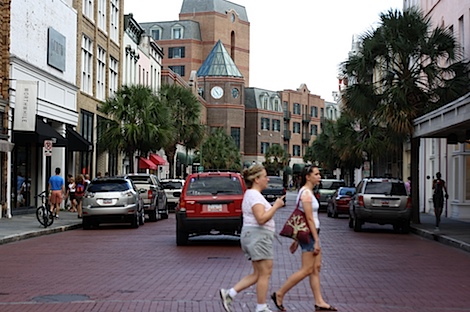 This downtown part of Charleston is so cute.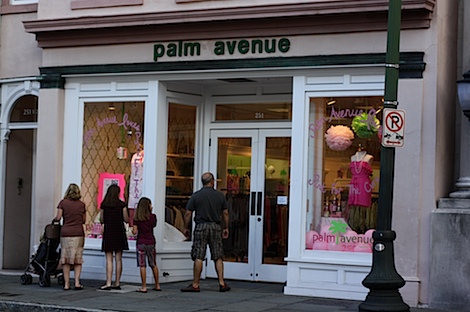 I loved all the pretty buildings – especially this pink one!
After picking up our gift, we headed over to the reception location to meet up with Beth and Peter so we could all walk over to the ceremony together.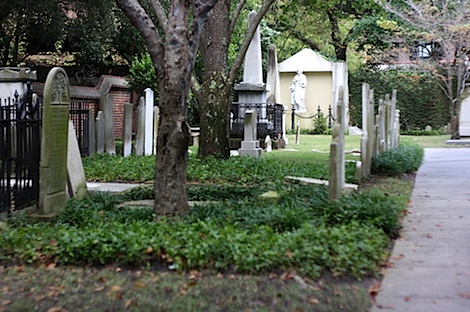 We passed a really pretty church with a very old cemetery on the way. I stopped to snap some photos but only got this one above before a side door opened and a lady with gray hair stepped out. She sort of gave me a "what do you think you are doing?" look so I blurted out something about the gravestones being pretty and decided it best to not take any more photos.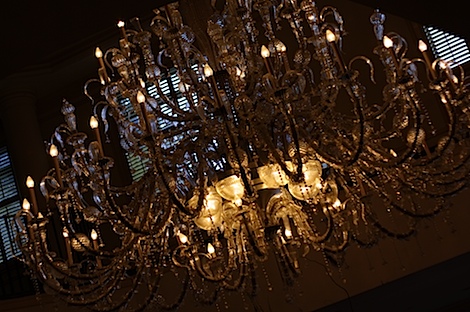 We got to the reception location early. I checked my present with the bell hop and hubby and I found a comfy seat to hang out on while we waited for our friends.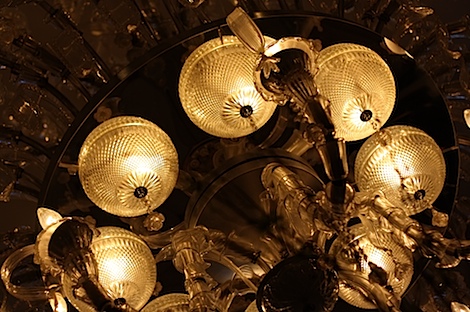 The hotel had a very large, very beautiful chandelier in the center of the lobby.
While we waited for our friends in a sitting area, a man in a snazzy suit sat down on the couch in our sitting area. I noticed he had a black folder with a Spalding sticker on it and figured he must do something with sports. Another guy walked up with a Bobcats hat on and hubby asked the men if the Charlotte Bobcats were in town. Turns out they were and they were all meeting up to head over to a game.
I didn't see all the players.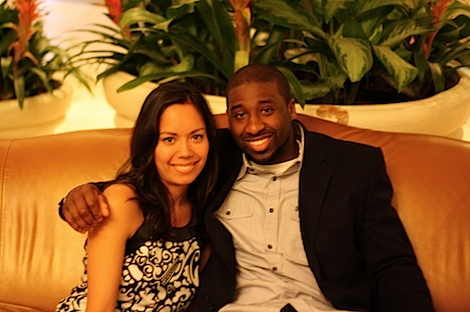 But, Raymond Felton sat down about 5 ft away from me and I couldn't resist asking for a photo. Raymond was very nice and not only let us take a photo but made small talk with us for a little bit. Hubby and I didn't tell him that hubby is a HUGE Duke fan (Raymond played for UNC). Hubby is a respectful fan…not to mention his dad went to Carolina and his mom went to Duke, and half his friends pull for one team or the other, so he's used to being around Carolina-loving people.
After we met up with Beth + Peter, hubby decided he really wanted to go back to the hotel and check on Bailey, so he caught a cab back to the hotel and I went to the ceremony with my friends. Hubby said he may come back for the reception, but wasn't sure.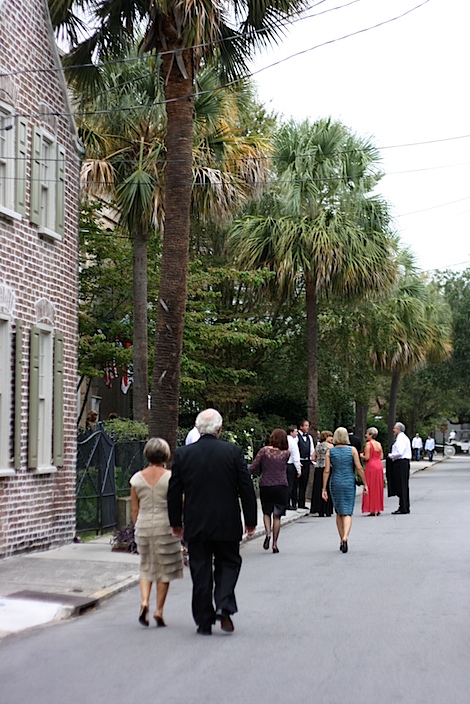 We walked several blocks over to the wedding ceremony location – an adorable little church tucked away with some houses.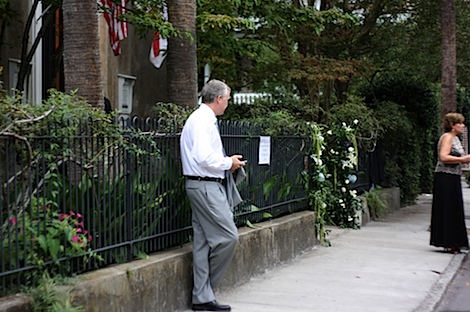 Flowers lined the entrance.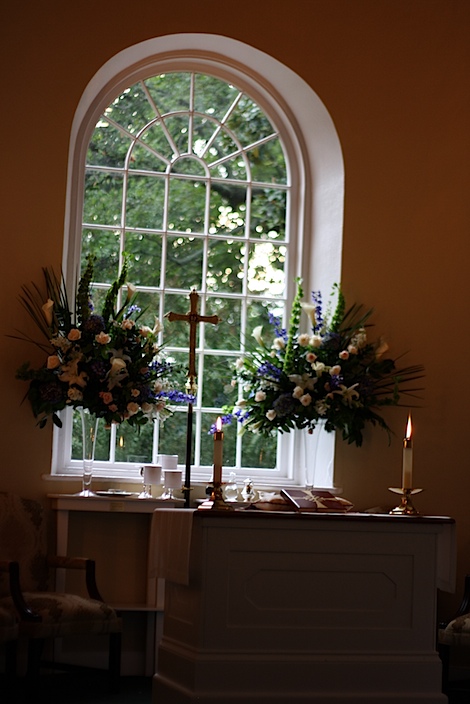 Inside the church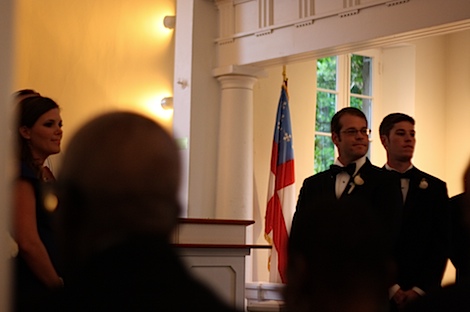 Groom waiting for his bride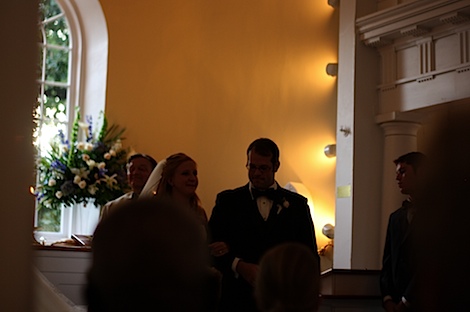 Just married! Yay! 🙂
To the reception!