After an EXTREMELY looooooooong day having a blast at the Zumba Basic 1 Workshop with Koh, the last thing I felt like doing was cook. We had already purchased groceries the day before, but I was totally not in the mood to actually cook the meal I had planned. Hubby suggested pizza but had just taken a tylenol PM and I didn't feel like driving anywhere and I knew he shouldn't be driving, so I decided to tackle a cooking project.
A little something I've been cooking up in my head – a recipe using those pretty pomegranate arils and only 5 key ingredients! I don't know about you, but I love recipes that don't require 10,000 ingredients!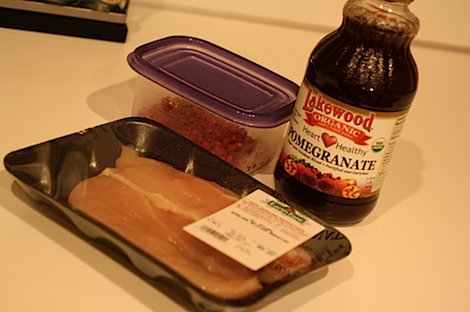 I got my main ingredients out: thin cut chicken, pomegranate juice, and pomegranate arils (previously opened).
Fresh Market sells chicken already thin cut, but I didn't see any when we went grocery shopping at Earthfare. Lucky for me, upon inquiring, the nice man behind the counter offered to slice some some chicken breasts for me. Yay!
I also found this Lakewood Organic Pomegranate juice at Earthfare to use in my reduction.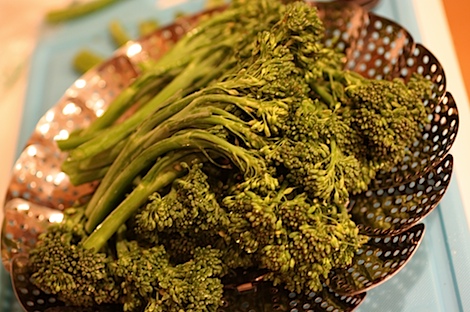 I chose broccolini for our veggie side.
Reducing the pomegranate juice.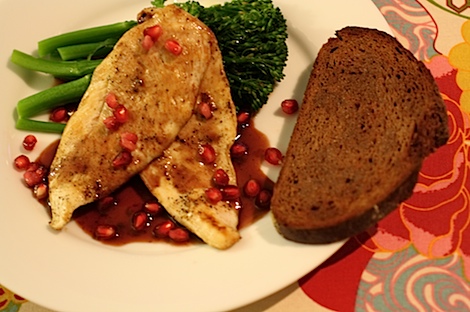 I served the chicken and broccolini with a side of toasted Great Harvest Tara's Dark Rye bread with real butter for my carb.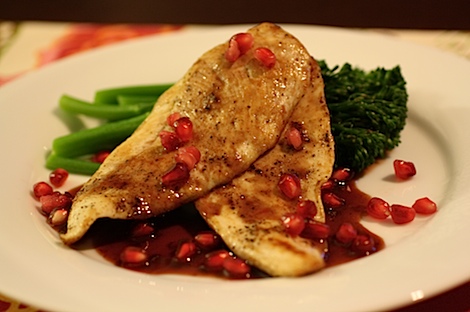 Dinner is served! Nom nom nom! I love the savory-sweet combo in the flavors of this dish. The pomegranate arils make the dish soooo pretty! I think this would be a great entree to serve at a dinner party for the looks alone!
All Natural Chicken with a Pomegranate Reduction and Steamed Broccolini
by me
Serves 2
NOTE: Hey! This meal only requires 4 ingredients (besides olive oil, butter, salt and pepper)
Ingredients:
2 all natural chicken breasts, sliced thin into 4 pieces (or pound thin instead of cutting)
1 cup pomegranate juice
broccolini for 2 – about 1 1/2 – 2 cups, rinsed and trimmed
1 tbsp real butter
1 tbsp olive oil
salt and pepper
pomegranate arils, for garnish
Directions:
Heat a medium saute pan over medium heat and put the oven on warm (or 200 degrees F). Cover a baking sheet with aluminum foil. Fill a pot with water till the level reaches about 1-2″ up the sides and cover – place over medium high heat and bring water to a boil. Season the chicken with salt and pepper.
When pan is ready, add the olive oil, spread, then add the chicken.
Cook chicken until browned on each side, about 2-3 minutes per side.
When chicken is done, add chicken to the baking sheet and place in oven to stay warm.
Remove the pan from the heat and add the pomegranate juice (careful, it may splatter juice, which may easily stain). Once all juice added, return pan to heat. Bring to boil and reduce to simmer. Cook until juice is reduced by half (may still be a bit liquidy).
Meanwhile, when you think there's a few minutes left for the sauce to cook, add the broccolini to a steamer basket and then to the pot of water. Re-cover. Steam for 3-5 minutes. While broccoli cooks, melt butter (I put mine in a mug and zap in the microwave for about 45 seconds).
Assemble! Place the broccolini on a plate, drizzle butter over broccolini, top with the cooked chicken, drizzle reduction over the chicken and garnish with the pomegranate arils.
Serve with good hearty toast and enjoy!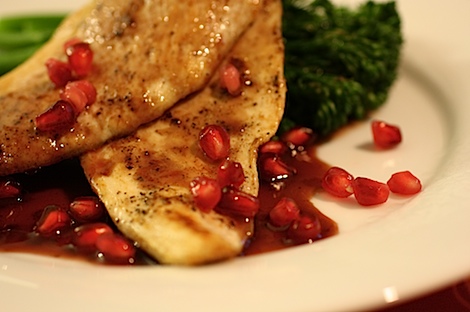 Pretty to look at – delicious to eat! Five key ingredients or less!