Did you know November is National Pomegranate month? I didn't until I read about it at pomwonderful.com
My friend Megan recently requested I help her figure out how to open a pomegranate. Since I'm a big fan of the pomegranate, I was happy to help.
It turns out that pomegranates are quite easy to open! Not quick, but easy – yes!
I purchased a nice, organic pomegranate at Earthfare with some help from one of their employees. The nice man explained that although the organic version was much smaller, it had the same amount of seeds (the edible part), so I opted for the organic option.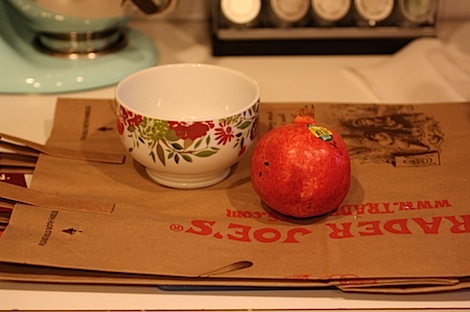 The nice man also suggested I open my pomegranate over 2 paper bags since the pomegranate juice stains easily. I took his advice by using two Trader Joe's paper bags.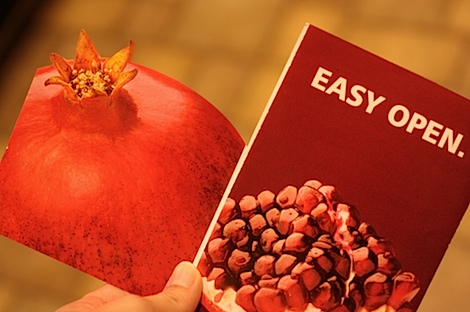 I found a nice How-To Guide from the most-awesome POM Wonderful peeps. I'll share their how-to (in italics) along with some of my photos from my morning adventure.
1 – Cut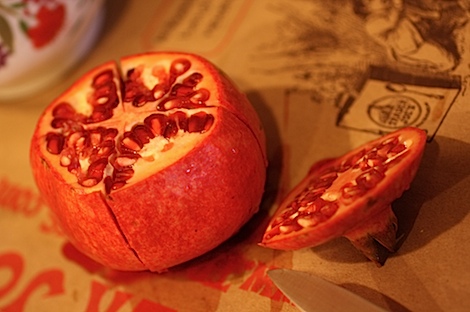 With a sharp paring knife, cut off the top about a 1/2 inch below the crown.
2 – Score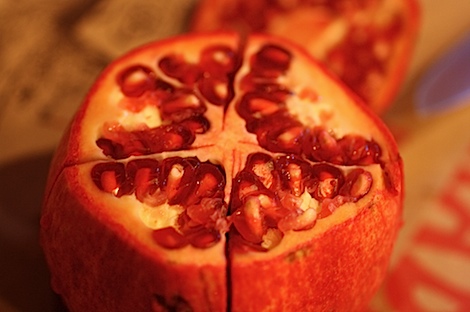 Once the top is off, you'll see four to six sections. WIth your knife point, score the skin at each section. (Here's where things get juicy!)
3 – Open
Separate the pomegranate at each score, so that you have individual sections.
4 – Loosen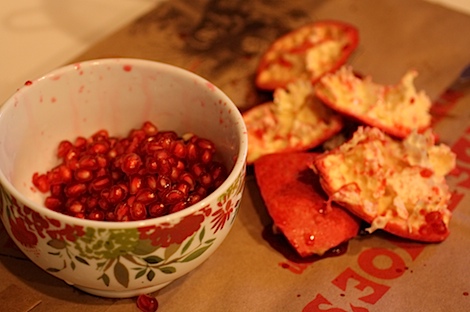 Over a bowl of water, use your fingers to loose the "arils" (the flesh-covered seeds) and drop them into the bowl. The arils will sink to the bottom. (Go slowly here or you'll flick pomegranate juice all over your countertop, walls, and possibly yourself! Note – I totally forgot to put water in my bowl. Doh! I just added some water to the bowl when I was done to get to the next step.)
5 – Scoop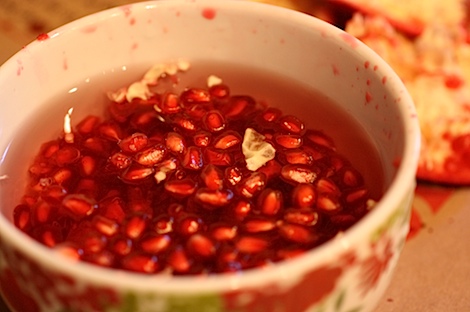 Use a spoon to scoop out the pieces of white membrane that have floated to the top.
6 – Strain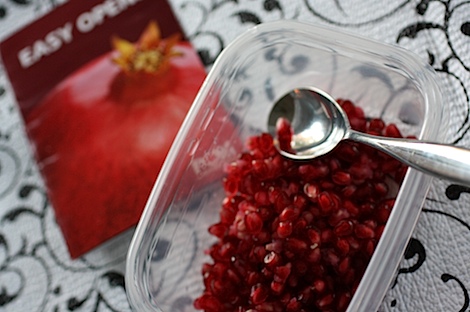 Pour the remaining liquid through a strainer. Place the arils in your favorite dish and enjoy!
Thanks to POM Wonderful for the tutorial!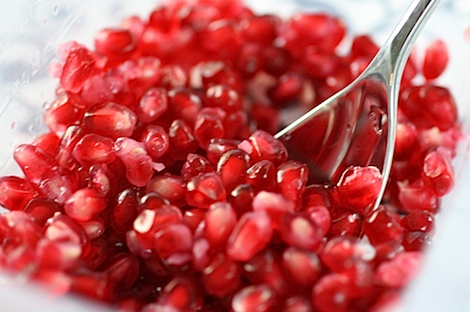 Pomegranates may not be the fastest thing to prepare, but they are easy and delicious.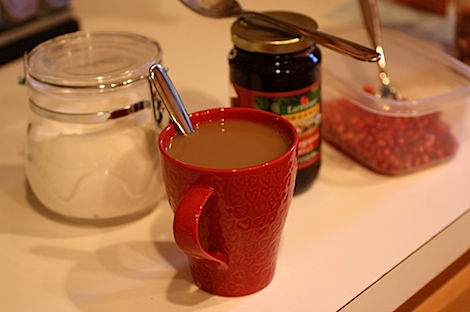 I decided to put my pomegranate arils in my breakfast this morning. But not until after sipping on some Dunkin Donuts home-brewed coffee with vanilla-sugar.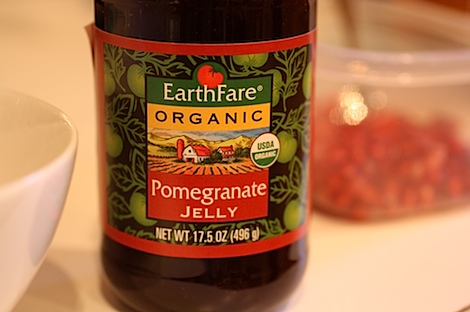 I used some Earthfare Organic Pomegranate jelly to make my oatmeal extra pomegranate-y. I wanted to use some POM juice, but I forgot all week to pick some up! I'm hoping to make some this weekend.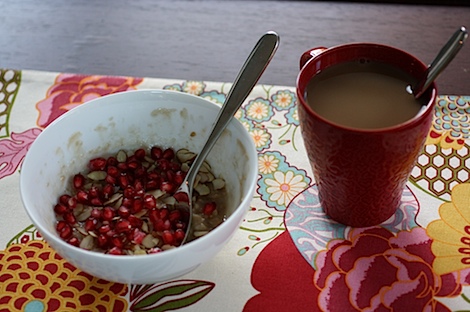 All together on my new placemat from Pier One!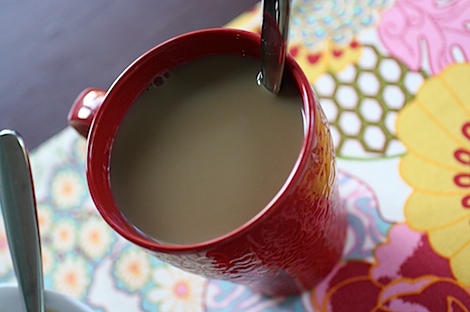 Coffee + Vanilla Sugar = Delicious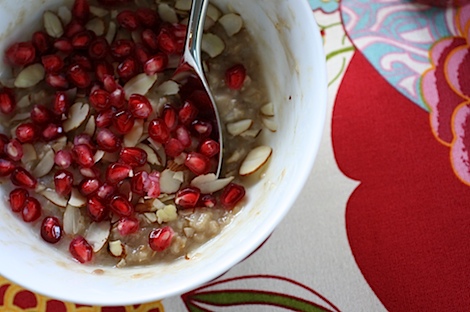 Pomegranate Oatmeal
Pre-cooking ingredients:
1/4 cup water (use Pomegranate or POM juice if you have it)
1/4 cup skim milk
1 tsp pomegranate jelly (if not using Pom-y juice above)
pinch flaxseed
Microwave for 1 minute, stir, 1 more minute
On top:
sliced almonds
organic pomegranate arils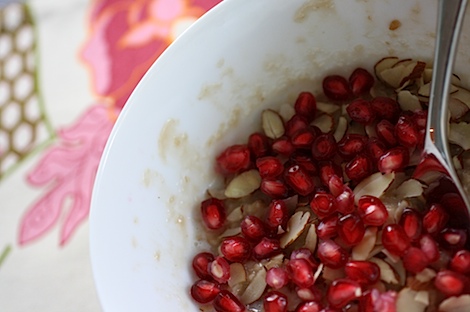 So pretty…and tasty!
I thought at first that crunchy pomegranate seeds may be odd with creamy, tender oatmeal, but then I figured that the arils would be as crunchy as the nuts I usually put on top. I thought the pomegranate arils on my oats were pretty darn tasty and i even liked the texture combo of the soft + crunchy.
I have some dinner plans with the rest of my arils (you'll see!), not to mention, I'd LOVE to toss some of the arils in salads and on top of yogurt.
Foodbuzz Festival
I'm so bummed that I'm not going to make it for the first ever Foodbuzz festival in San Francisco! A#1, I totally meant to apply to their recipe contests. I'm not saying I thought I was going to win, but it would have been nice to have submitted something. I suppose there's always next year?
I hope all the festival participants have a fun time and safe travels!
Top Secret Saturday Project
Although I'm sad I won't make the Foodbuzz festival, I do have something pretty big in the works for tomorrow. I actually had my "project" already scheduled, so I would have had to do a lot of re-scheduling had I decided to go to Foodbuzz last minute. I'm pretty excited about tomorrow…it's gonna be AWESOME!
I have more to post for tonight, but not enough time! I gotta go get ready for tomorrow.
Any guesses as to what I'll be doing tomorrow? 😉