I woke up today suuuuper achy from all the exercise yesterday. Although I tried to drink a lot of water since I basically exercised for a few hours yesterday, I don't think I quite had enough. I decided to immediately down a small glass of water before moving on to breakfast.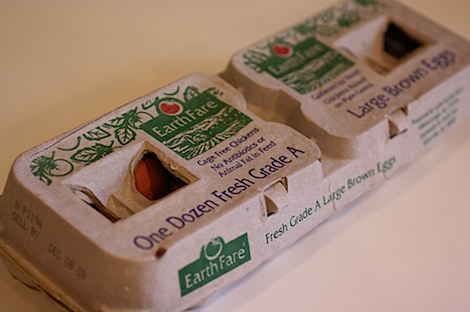 I also woke up rather ravenous and wanting to eat…a LOT! Luckily for me, I had just picked up some Cage-free brown eggs from Earthfare the day before.
I am getting sooooooo much better at making fried eggs! Bout time! I used non-stick spray in my non-stick pan and lightly seasoned the eggs with salt and pepper.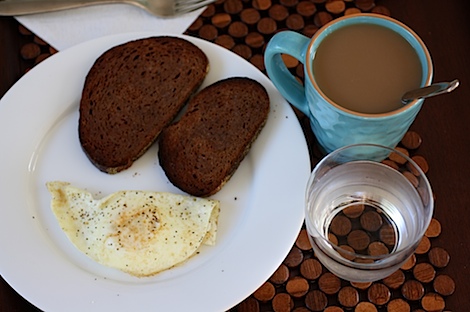 I served the fried egg with more water, coffee, and TWO pieces of Great Harvest Tara's Dark Rye bread toasted under the broiler and topped with real butter. Hubby donated our toaster (we needed a new one anyways), but luckily I remembered I could use the broiler to make toast.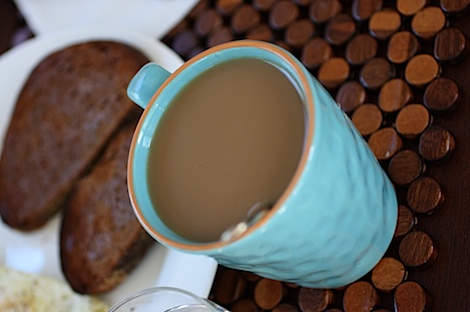 Mmm…cooooffffffeeeee.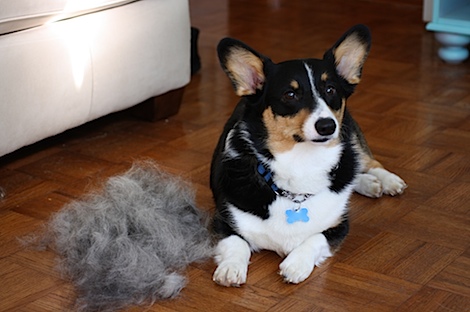 I decided Bailey needed another turn with the FURminator and got another mini-doggie off of him. He almost looks embarrassed in this photo…lol.
After breakfast, furminating, and blogging, hubby and I headed out to Lowes to do some shopping for stuff for our house.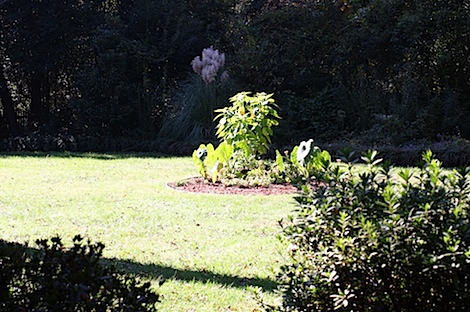 The weather outside was just perfect! Blue skies and lots of sun and warm temps, but not too hot. As we were getting into our car, I couldn't help but notice how beautiful our backyard looked all sunlit. I know it may not look like much to most people, and I certainly haven't put any work into it myself, but I LOVE it!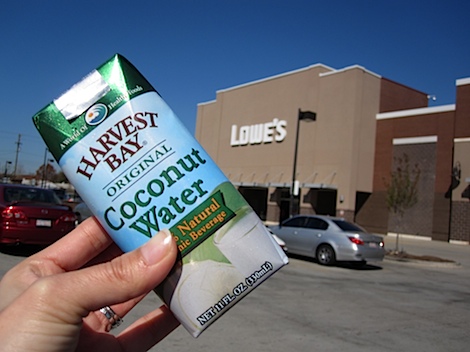 I brought a coconut water in hopes it would help re-hydrate me.
We got a TON of stuff at Lowes, including a new efficient toilet, some light switch covers, a new doormat, and some other randomness.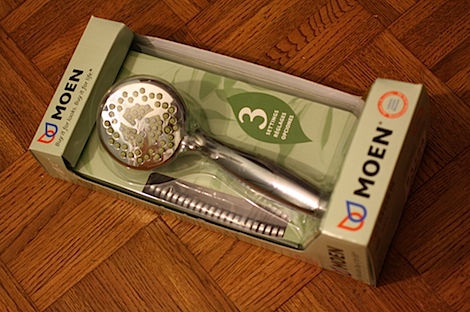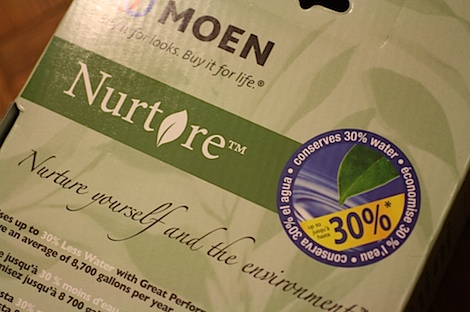 We also got a new shower head by Moen – Nurture – it's supposed to conserve 30% water. Not sure how you measure that, but I'll have to hope it's true.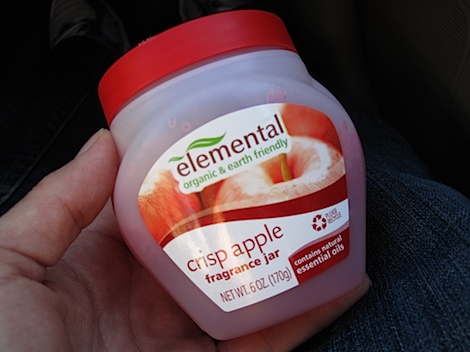 Oddly enough, one of the things I was most excited to find at Lowes was this car freshener – elemental organic & earth friendly fragrance jar in crisp apple. I first discovered these when my friend had one of these in her car and I noticed that it smelled sooo gooood! I had to have one! I couldn't find one, so she bought me one a couple years ago, but I've had a hard time finding them since. I was so happy to find another today and I love that this product is organic & earth friendly.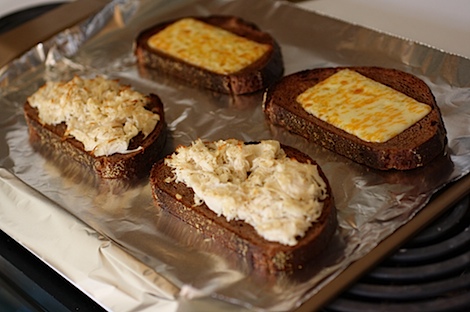 After Lowes shopping, we came home to drop off our purchases and make a quick lunch. I made sandwiches using Earthfare Basil turkey and co-jack cheese on Great Harvest Tara's Dark Rye toasted under the broiler.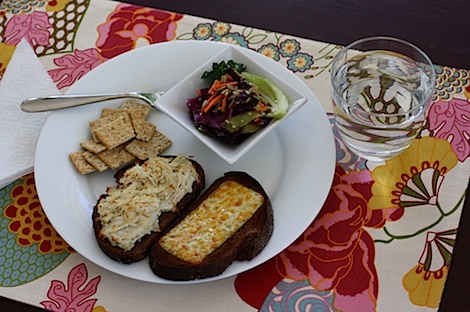 I served my sammie with Kashi TLC crackers in Toasted Asiago with the rest of the Earthfare Live Green s alad that I didn't finish at the zumba workshop yesterday.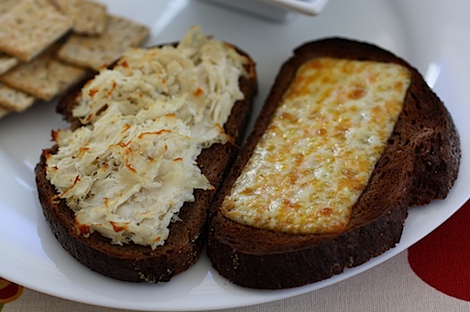 Nom…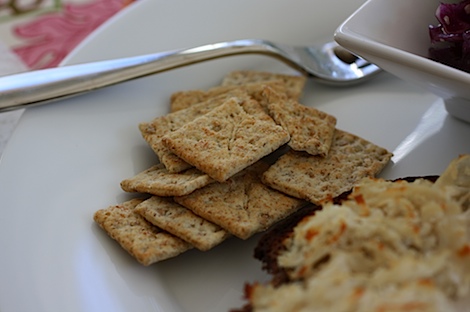 …nom…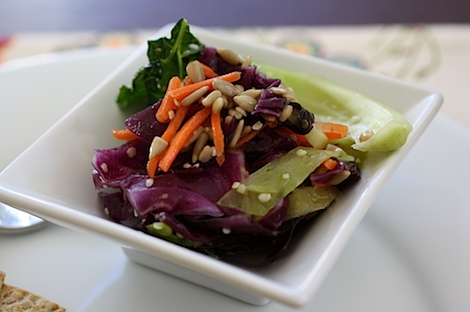 …NOM! Great lunch!
I even got to watch some figure skating while I was noshing on lunch. I watched Brian Joubert win the gold medal – he had a great performance!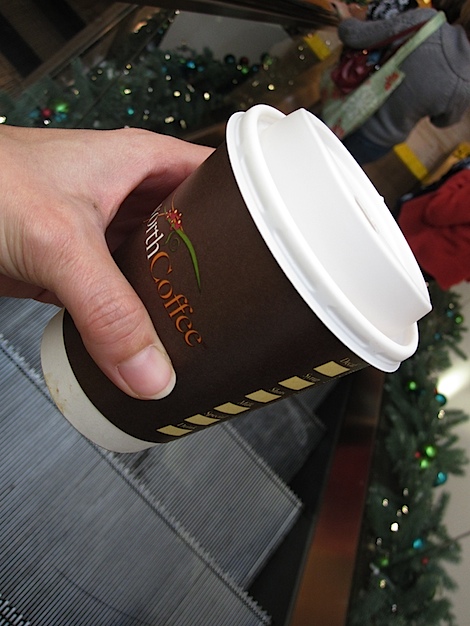 After our late lunch, hubby and I headed to the mall to do some more house-stuff shopping. I was still feeling pretty groggy, so hubby got me a pumpkin spice latte to help me wake up.
We found some interesting things, including some curtains (finally!) we are thinking are a good possibility, but didn't buy anything major.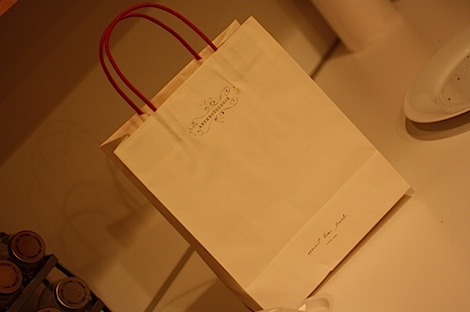 I did manage to get myself a little something-something I've been waiting for a house to buy.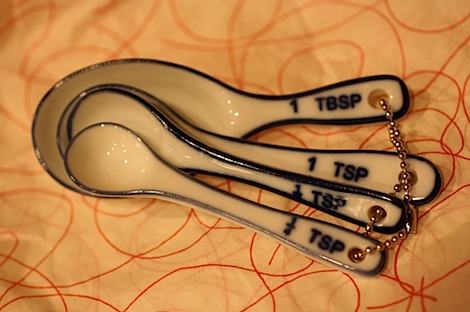 Measuring spoons a la Giada DeLaurentis from Anthropologie. They are so cute! I've loved seeing them on Giada's cooking shows and now I will love using them when I am doing my own cooking! Now I just need to find some prettier measuring cups. Any suggestions on measuring cups (guess I should check out the options at Anthropologie, huh)?
Next up: Project Bathroom Cabinet Mini-Makeover