Once hubby and I got home from his mother's house, we took a little time to relax and settle in. Soon enough, though, I was ready to get cooking.
We weren't sure what to make, but I decided the rainy day called for chili. Ellie Krieger's 3 Bean and Beef Chili (click recipe name for link), which I made with mostly organic ingredients and grass-fed beef.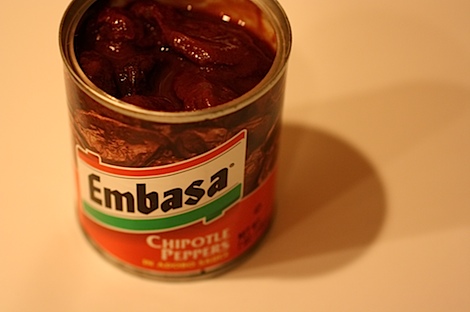 After a quick trip to Earthfare (where I picked up more than just ingredients for dinner…per the usual…lol) and then to Harris Teeter (since Earthfare didn't have chiles in adobo), I had everything I needed to get started.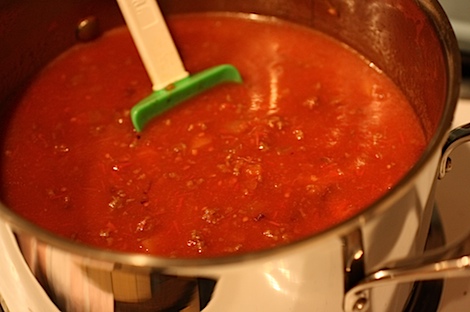 While the first phase of my chili cooked away on the stove….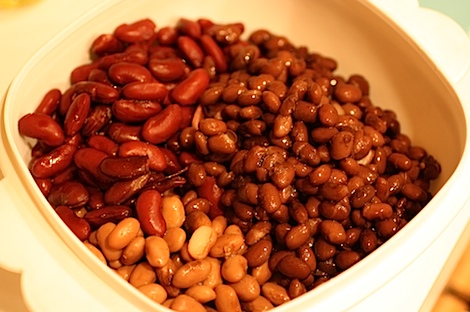 I rinsed the 3 beans for the chili and got started on the cornbread.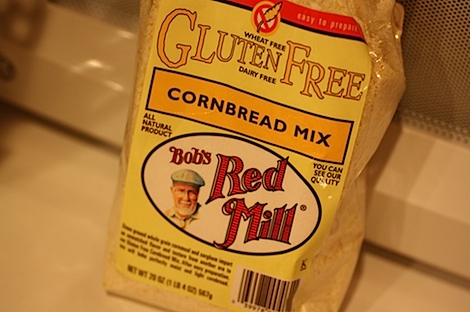 I found this yummy Gluten Free Cornbread Mix by Bob's Red Mill at the store. I used to use Jiffy mix, but upon comparing ingredient labels (which I'm doing more and more these days), I determined this one seemed more nutritious. The first ingredient is whole grain cornmeal (the other options started with various flours).
I used Earthfare organic milk and cage-free, no anti-biotic brown eggs, with canola oil to make my cornbread.
The recipe called for a 9″x9″ baking pan, which I didn't have, so I used an 8″x11″. I set the cooking time for 5 minutes less than suggested, since the mix was more spread out in the slightly larger pan, but it ended up taking about the same time. I'd still check mine early if you try this size substitution.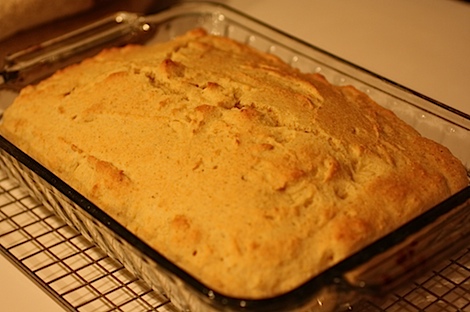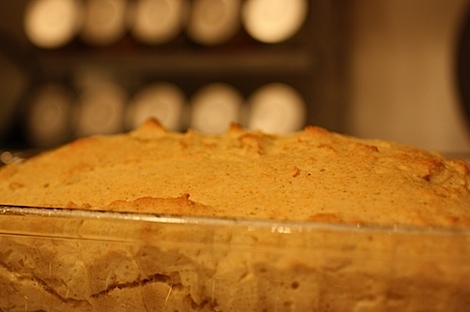 I thought the cornbread would even out during baking, but it remained a bit lumpy. Guess I'll have to flatten it out better next time.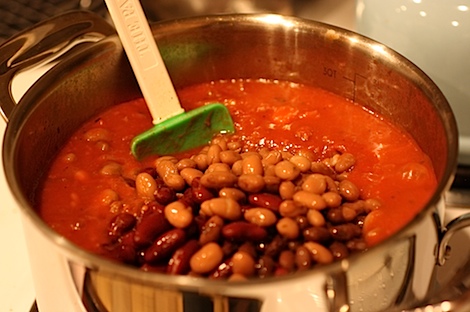 Adding beans.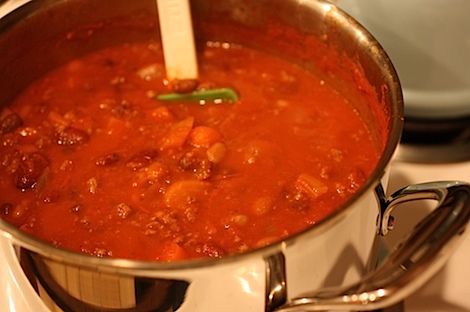 Wrapping up.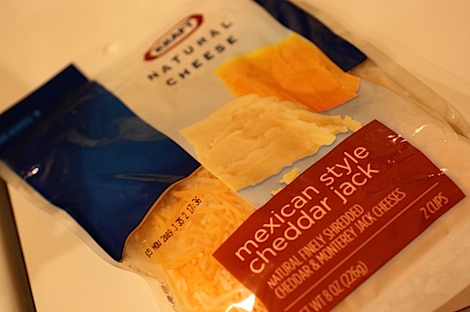 Kraft Natural Cheese in Mexican Style Cheddar Jack to top.
And, dinner is seeeeeerved….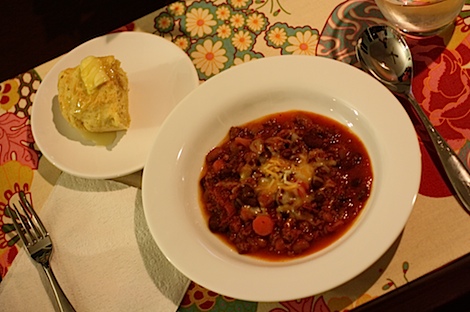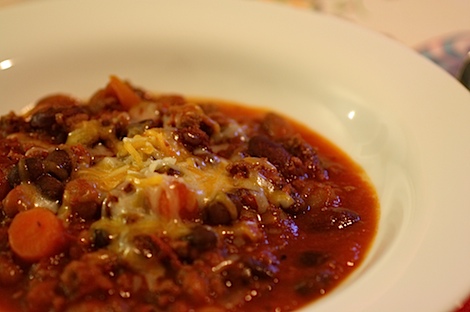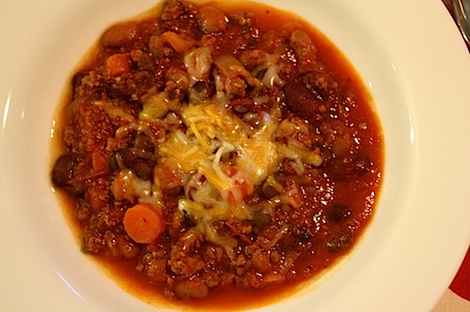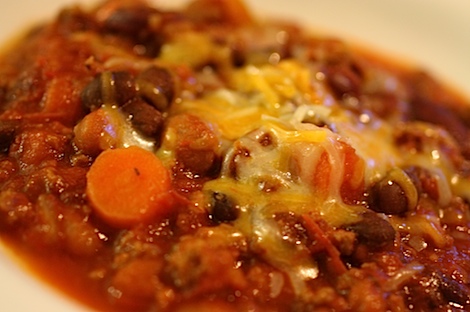 This chili was so DELISH! Nice and smoky without being too hot.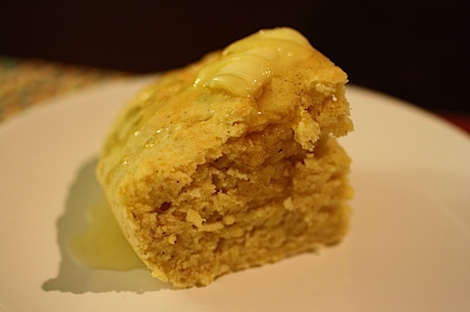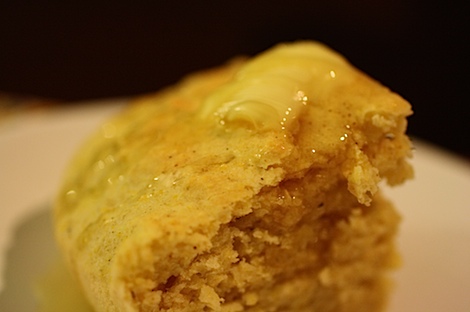 The chili went perfectly with my Bob's Mill GF cornbread, topped with a tiny dab of organic butter and drizzle of local honey.
Wow, this cornbread was AMAZING! So thick yet tender and tasty. I think this is the BEST from the box cornbread I've ever had. Maybe best cornbread ever, who knows?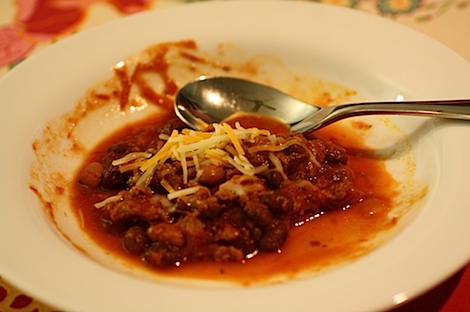 Seconds on chili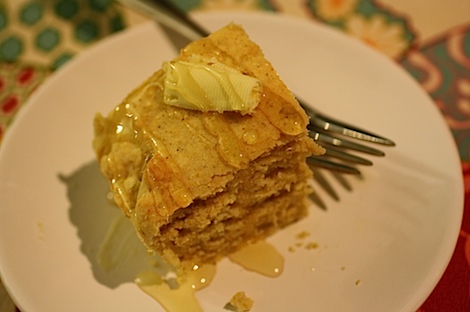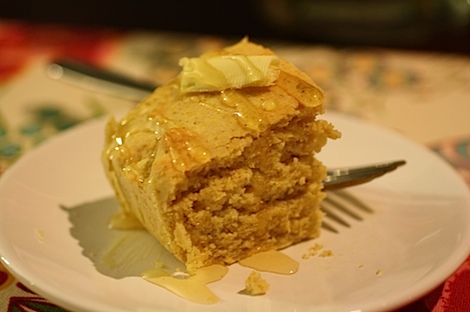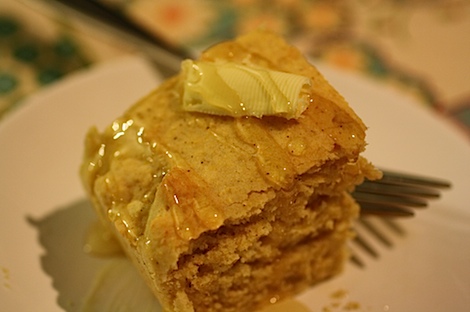 Seconds on cornbread too!
So impressed with both dishes from dinner tonight – they are both KEEPERS!
Post dinner, I had 2 TJ's Dark Chocolate Wedges with a wee bit of Earthfare Organic 2% milk. Yum yum!
What's the best chili recipe you've ever tried? How bout best cornbread (can be a mix)?