Hubby and I headed to Durham to see his mom for her birthday Friday night.
We stopped by Cracker Barrel on the way. I got Chicken and Dumplings with corn and greens.
I only managed to eat about half my entire plate. Guess I ate too much for lunch, eh? I did save room for one of their famous biscuits with some honey.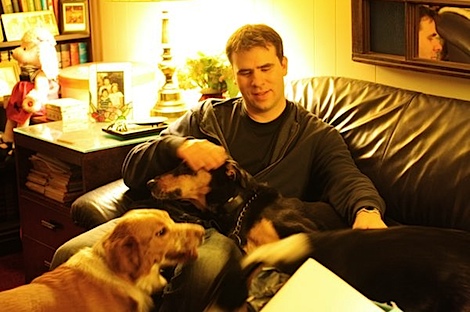 We got to my MIL's place later and hubby made nice with the dogs before we headed off to bed.
On Saturday morning, we had a nice eggs and bacon breakfast – I also had a half english muffin.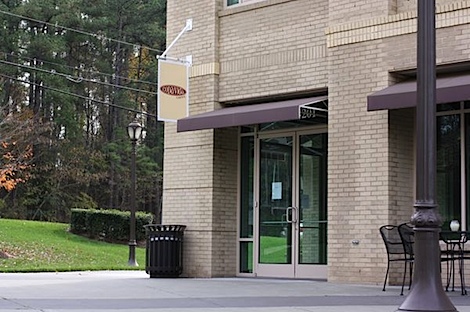 Though I had a cup of coffee in the morning, I asked hubby to stop by Copa Vida. I had the best latte ever there awhile back and vowed that this, along with dim sum, would be one of the spots I tried to hit up each time we were in town.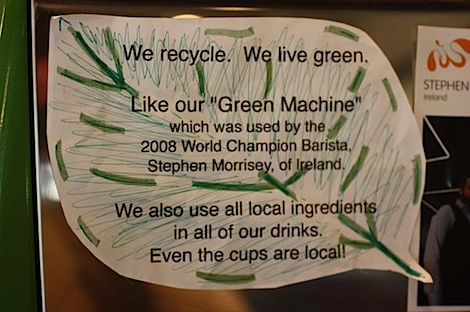 I love Copa Vida for the coffee and for the fact that they use as much local as possible, which includes milk from a local creamery – Homeland Creamery.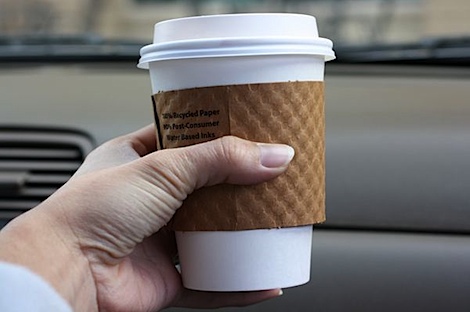 Turns out they were out of HC whole milk, so I went skim to stick with the local milk. It was very good, but I missed my whole milk! I'll be back, though. Hopefully, they have it next time. Oh and PS I found out this business is family owned. Love that!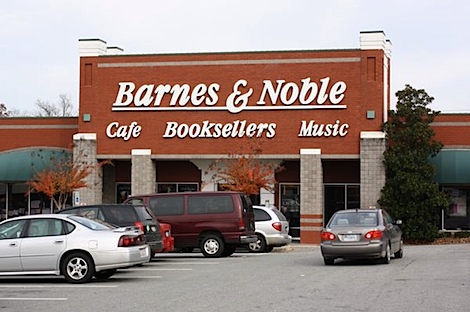 Next, we hit up Barnes & Noble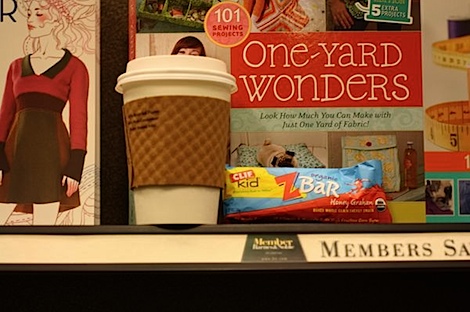 I took my coffee in and cracked open a Clif Kid Zbar in Honey Graham whilst browsing the craft books. Ahh…How I LOVE craft books! I think I like looking at them more than actually using them sometimes! lol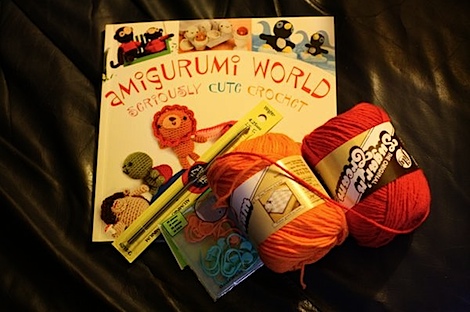 We also swung by Michael's, so by the time we got home, I had some real goodies: Amigurumi World Seriously Cute Crochet, 3 balls of yarn, stitch markers, and 2 crochet hooks.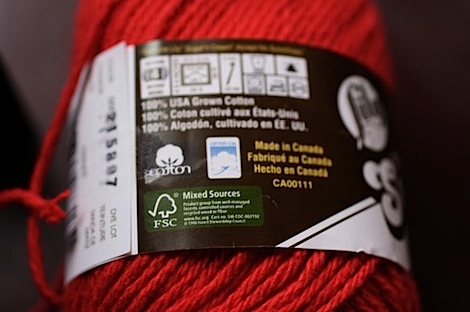 The yarn, Sugar 'n Cream, is made with cotton grown in the US. It's apparently made in Canada, which seems kind of weird…why not grow and make in one place? But anywho, the yarn was affordable and I liked how it was 100% cotton.
I started a new project.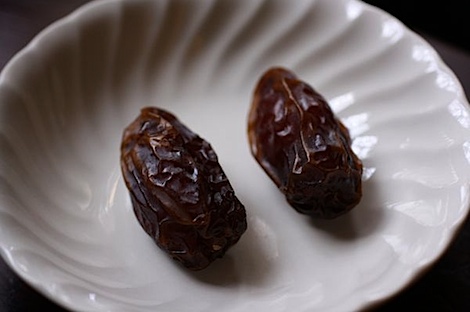 And snacked on some dates before heading out to the movies.
Me, hubby, my MIL, and hubby's brother went to see The Blind Side. Wow, what a great and inspirational movie! Has anyone else seen it? What did you think?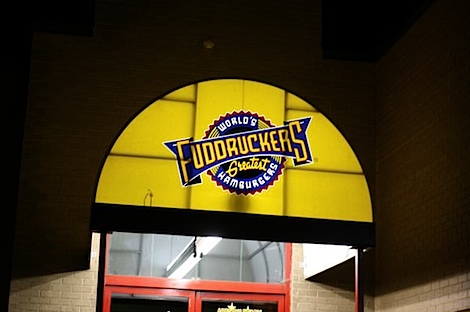 After the movie, we hit up Fuddruckers.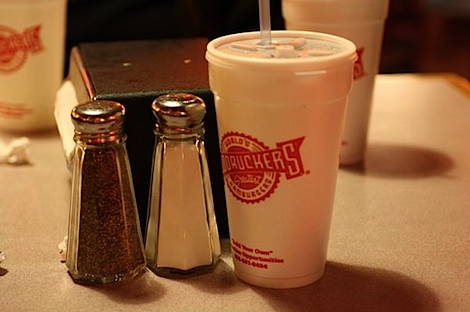 I got a "suicide" to drink. Did anyone else drink those when they were kids? A "suicide" is a drink, which is made when you have a self-serve soda machine and you just mix up a bunch of different sodas. For some reason, I always think of getting them at Fuddruckers. Call it tradition.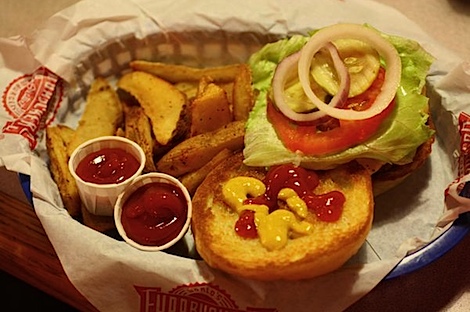 For dinner, I had a kid's meal – small burger (topped with lettuce, tomato, onion, pickles, ketchup, and mustard) & small fries. I actually am getting more and more skeeved out by buffet style restaurants and all the toppings here are served buffet style – you get to pick your own. So, once I had topped my burger, I was off to the restroom to wash my hands. I know…I'm weird like that.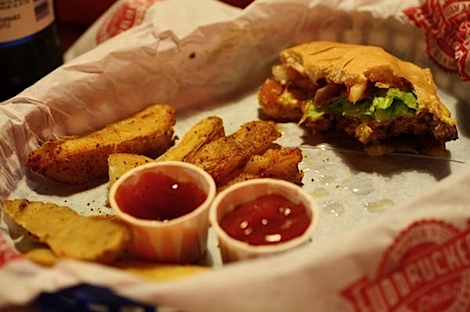 I didn't quite manage to finish mine, but hubby helped me out with the burger, thank goodness! Sheesh, I can't even eat a kid's meal!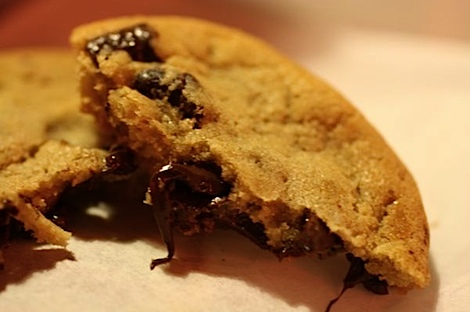 My meal came with a cookie, so I got chocolate chip.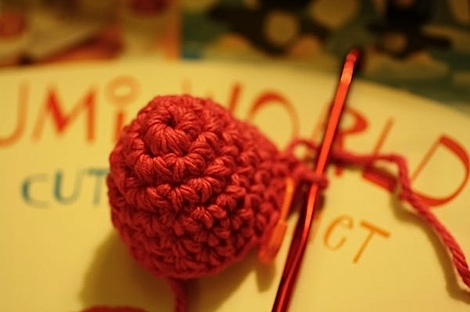 When we got home, I was back to crocheting…I started a new project, though.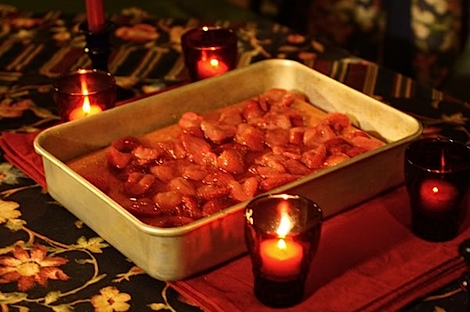 My MIL made her own birthday cake. She insisted. She made a margarita cake topped with defrosted-frozen strawberries and a pretzel crust. I was too stuffed from dinner to have any.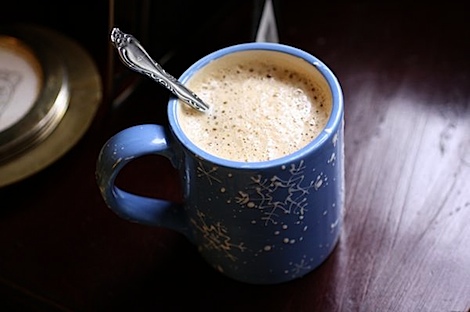 In the AM on Sunday, I slept in till 9:30am and then had some coffee upon waking up – this is my fave mug at my MIL's house – the snowflake mug.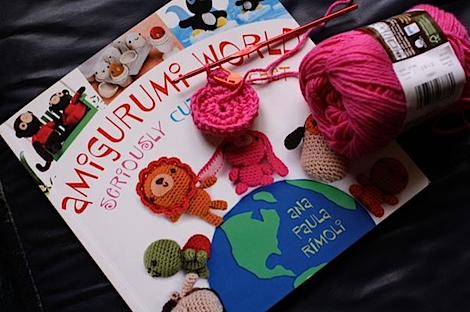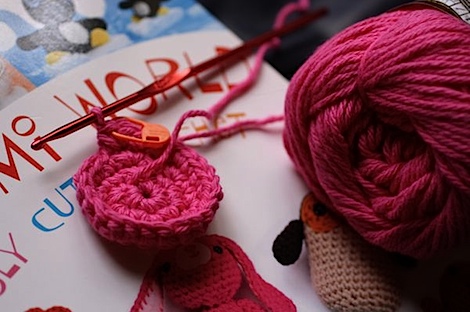 I worked more on project #2 – hot pink yarn this time.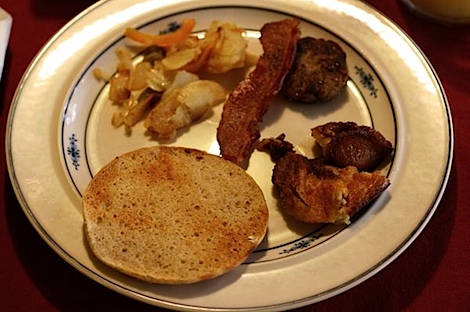 Brunch – potatoes/onions/peppers, bacon, turkey sausage, french toast, 1/2 toast.
The dogs played all weekend long.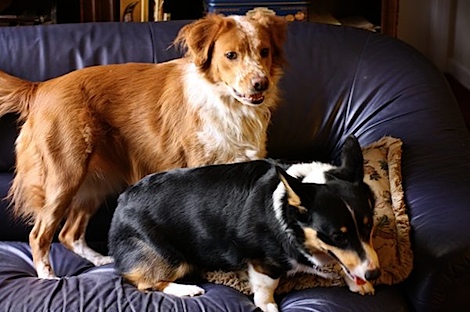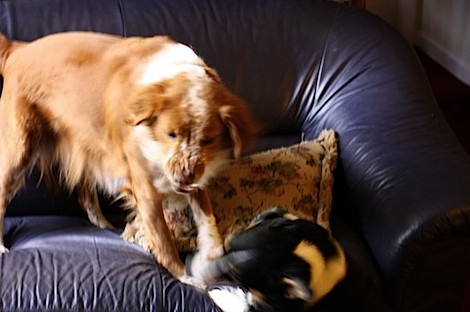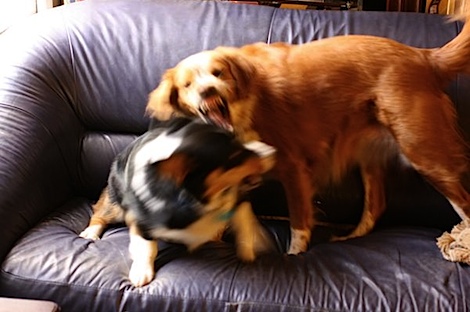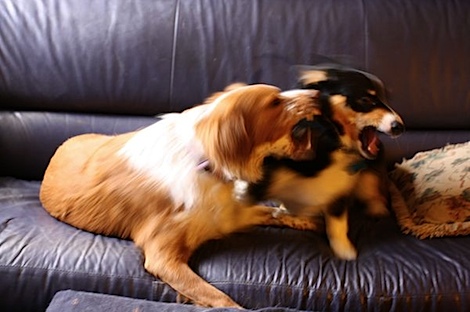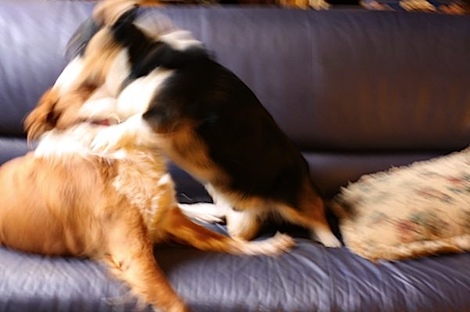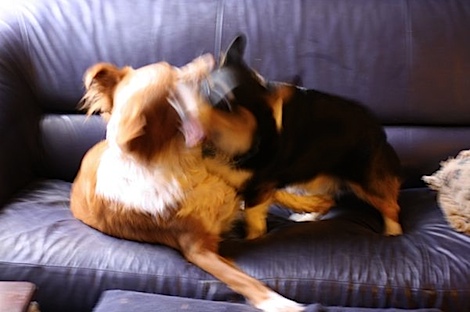 They look so vicious!
After our late brunch, hubby blew his mom's leaves off the front yard and then we were off.
On the way back, I knew I'd need some food before getting home, but after much searching on my iPhone, I couldn't find any healthy options! wth! So hard to eat healthy on the road when you haven't packed your own snacks! Grr…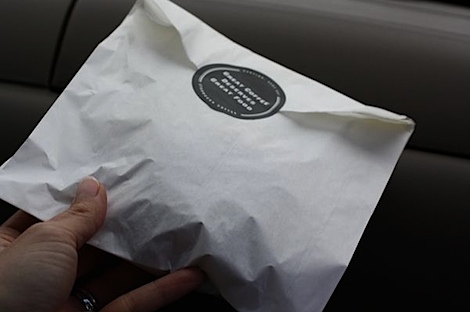 Luckily, I remembered that Starbucks has some pretty healthy options and I knew where one was on the way home.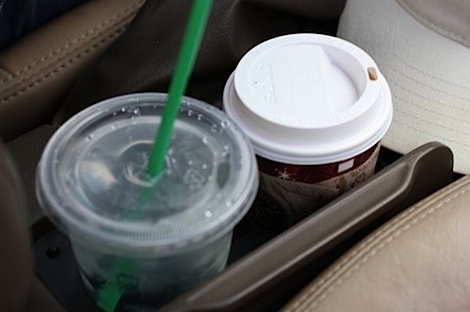 We swung by and picked up some ice water and a tall coffee…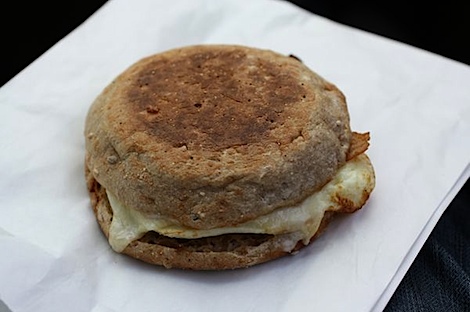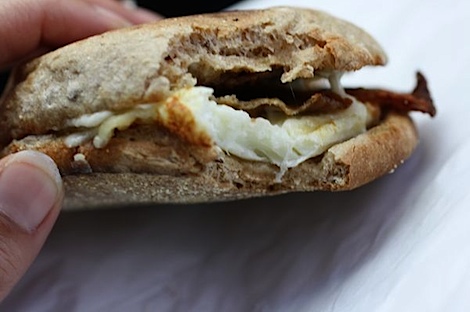 …and a breakfast sammie with turkey bacon, egg white, and cheese on a whole wheat english muffin. I think I saw a flaxseed in my muffin! I wanted the spinach feta wrap, but they were out, so this one hit the spot. I wasn't terribly hungry, so this worked out great!
Before we knew it, we were home sweet home!
So good to be home again…even if ours is still in disarray.
Did you do anything fun this weekend?