I woke up wanting a great breakfast, and oatmeal was calling my name.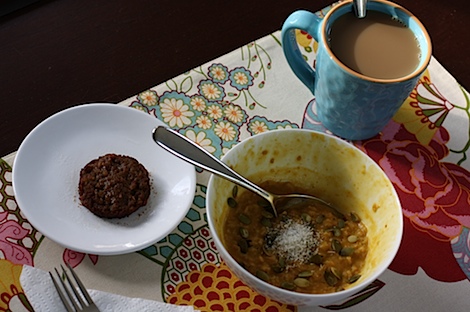 I had pumpkin oatmeal with a Morningstar "sausage" and Dunkin Donuts (home-brewed) coffee with vanilla sugar and skim milk.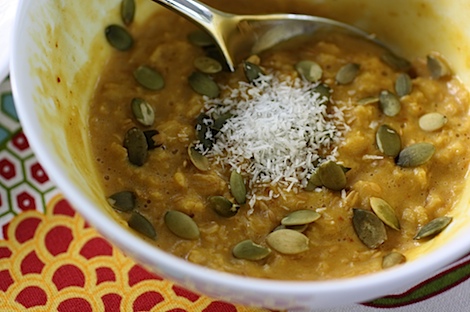 In my oats – organic canned pumpkin, pepitas, vanilla sugar, organic unsweetened coconut, skim milk. Delish!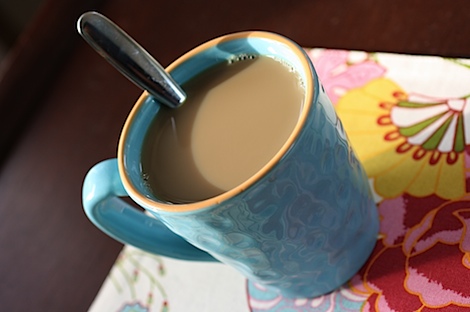 Sun-splashed coffee. Sunlit things make me happy.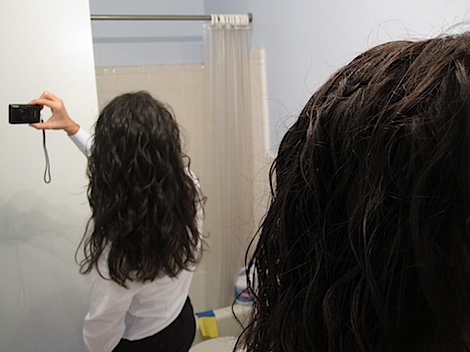 I decided to do a couple things for Flaunt It Week (#flauntitwk in twitter), starting with my hair. When I was a kid, my hair was stick straight. When I was a teenager, my straight car started to get really frizzy. I had no clue what was going on, until I let my hair air dry without brushing after a trip to the pool. To my surprise, it started to curl. I didn't know what to do with it. I had only ever styled it "straight" up to that point.
For a long time, I hated my curly hair. I didn't know how to style curly hair so I just ended up with frizzy "straight" hair I was constantly trying to make stick straight (and not doing such a hot job at it either!). Over the years, I took tips from hair stylists and fashion/beauty mags and I've learned how to style my hair both curly and straight. I've learned to work whichever look works best for a particular event or day or type of weather. Over the years, I've learned…dare I say it…to LOVE my hair!
So, today, for Flaunt It Week, I rocked my curly hair out! I didn't spend 10 hours styling my hair and I'm sure it won't be making any magazines any time soon, but it's my hair and today I owned it.
Do you have something like this that you want to flaunt this week?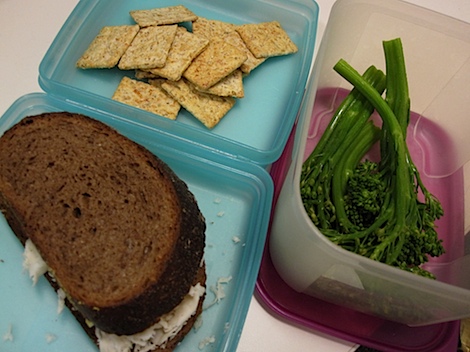 Lunch – turkey sammie on rye with leftover steamed broccolini and kashi crackers.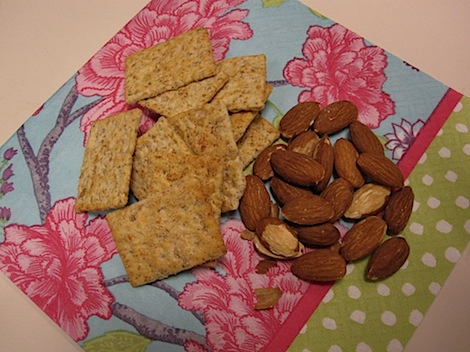 Pre-zumba snack – more kashi crackers and almonds (along with an unphotographed Raw Organic Food Bar – won for free on twitter).
I headed to zumba after work.
Before my injury, I was doing zumba 3 to 5 times a week. Post injury, I go once or twice a week. As a result, I've gained a couple of those pounds back that I lost earlier in the year, but I'm not stressing it too much since I feel like I'm at a pretty good weight/size regardless.
Nonetheless, whether or not you're considered "skinny" doesn't mean that you don't feel self-conscious about stuff. For example, I LOVE to dance in my sports bra at zumba. Firstly, it's freakin hot in zumba and secondly, it's pretty comfy and free-feeling. However, there are days when I want to dance in my sports bra but I leave my tank top on because I start to feel self-conscious about myself when I think about dancing in my sports bra, especially when you've just gained a couple pounds. But you know what, no one will remember that girl who danced in her sports bra at zumba in 10 years and besides that, life is too short to worry about what a room full of people you don't know think about you!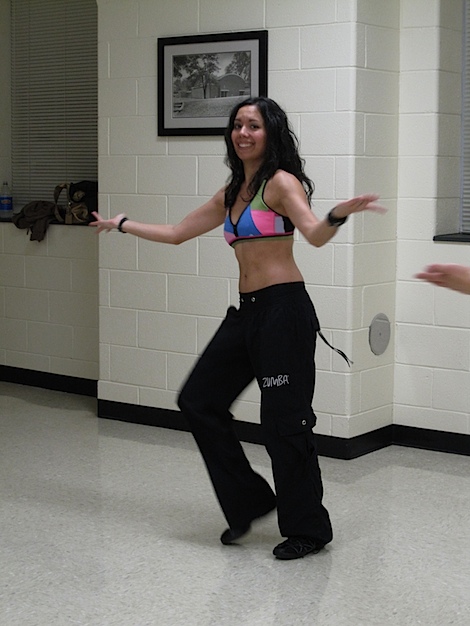 (not sure what kind of look that is…I think Kat was asking me about my flash or something…lol)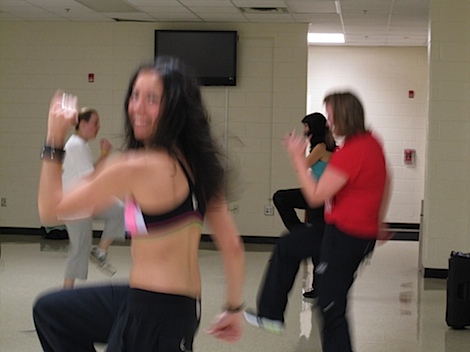 So, my second thing I did this week for Flaunt It Week was unapologetically dance in my sports bra tonight.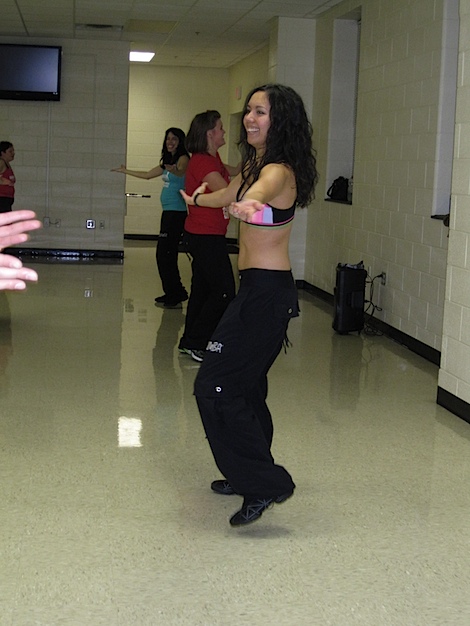 I had a blast! It's an awesome feeling to free your mind of worry and just LIVE. Thanks to Kat for the action shots and to Kat and Megan being my photographers!
At the end of class, I showed our main head instructor the choreography I did to Britney's I'm a Slave 4 U. I wasn't sure what she'd think, but she liked it! Yay yay yay! We did end up modifying a couple moves with some of the other instructors, but overall I'm thrilled because the core of my choreography is still there. So pumped! We may even get to do the dance in class soon!
I was so busy working on choreography that I totally forgot to stretch (beyond what we do in our cool-down song). I hope I don't feel that tomorrow!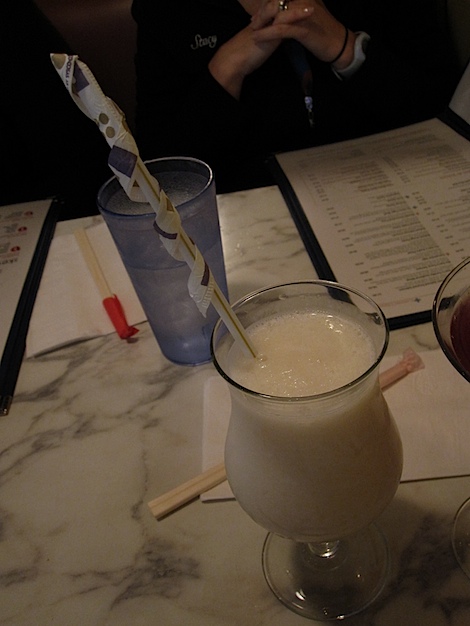 Post zumba, I went with the girls to get sushi. Check out the fancy straw-wrapping on Stacy's drink!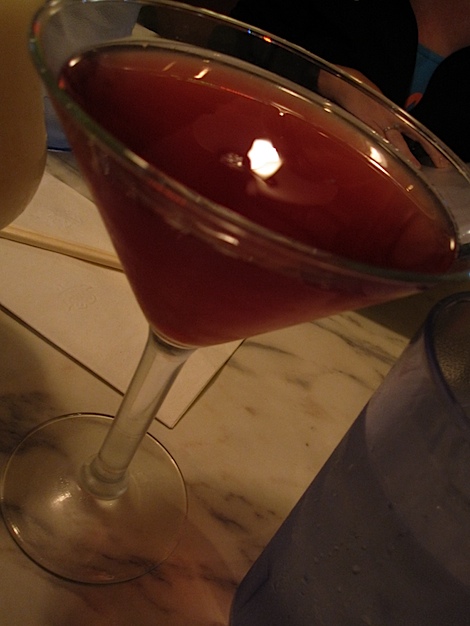 Celebratory drink for my successful choreography – pomegranate sakitini.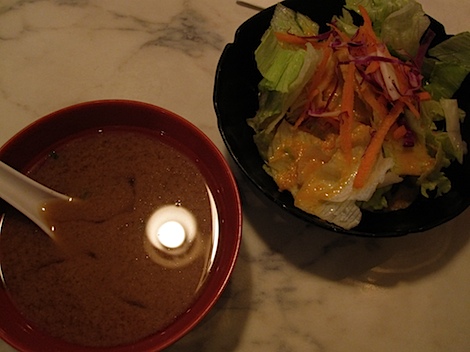 Dinner starter – miso soup and salad w/ ginger dressing. Yum and yum.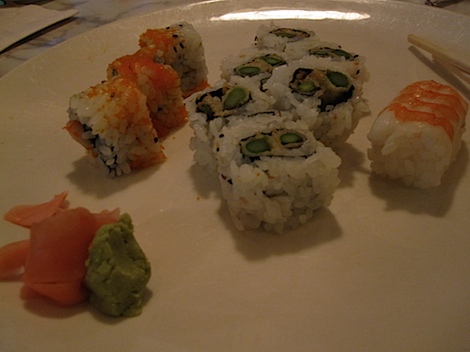 Sushi dinner – california roll with masago, tempura asparagus roll, and one ebi. I ended up taking 4 pieces of the asparagus roll home to hubby who promptly downed my leftovers.
Flaunt It Week
I want to make sure people understand where I'm coming from on Flaunt It Week. Like I've said before, this isn't about being arrogant but about allowing yourself to be confident.
We are so hard on ourselves all the time (at least I am and a lot of my friends are, so I'm guessing we're not the only ones). I think we deserve to allow ourselves to be happy with ourselves. This week, I challenge you to free yourself from worry and to focus on the good in you and the things you love about yourself and own it!
If you've got it, flaunt It!
What/how will you flaunt this week?