Today was my last day of on-site meetings. The good part was twofold
since everyone visited my hometown, I didn't have to worry about catching a plane home
I was in charge of food again today!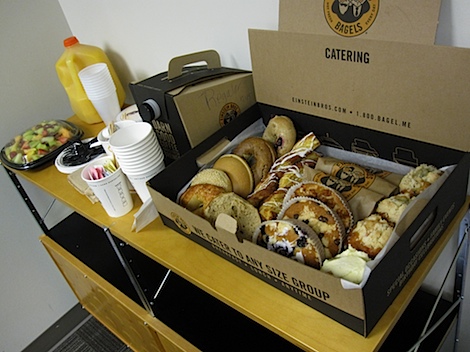 I wanted to get an oatmeal bar, but as much as I think everyone likes oatmeal, thanks to all the health food blogs I read, I think the oatmeal lovers are more scarce than I would like.
Instead, I stuck with my business client's recommendation of bagels and sweets from Einstein. We also got fruit salad, coffee, and OJ.
THey actually arrived to the office 10 minutes before me (I was running a tad late), but they were able to just drop our order off and come back for the receipt later. Phew!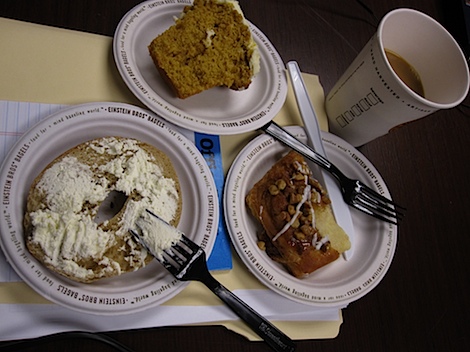 I had some coffee and 1/2 grain bagel with cream cheese, 1/2 cinnamon-pastry-thing, and 1/2 pumpkin muffin. I was glad I got a sampling – they were all so good!
I braved some iPhone photos during my meeting to sneakily capture lunch: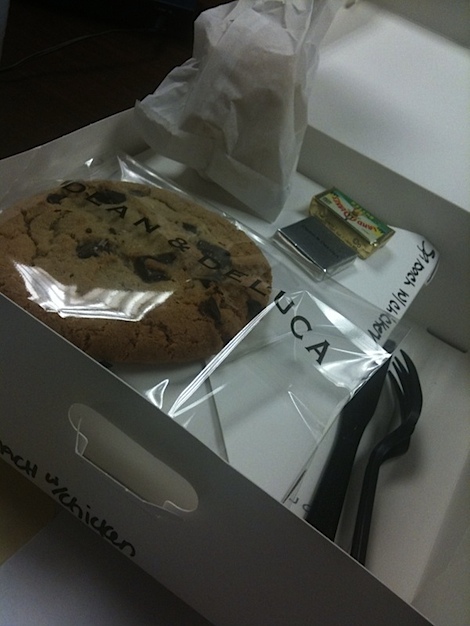 I ordered catered sandwich and salad boxes from Dean & Deluca. The boxes were so cute! They had everything we needed – napkins, fork/knife, mint, cookie, and main event.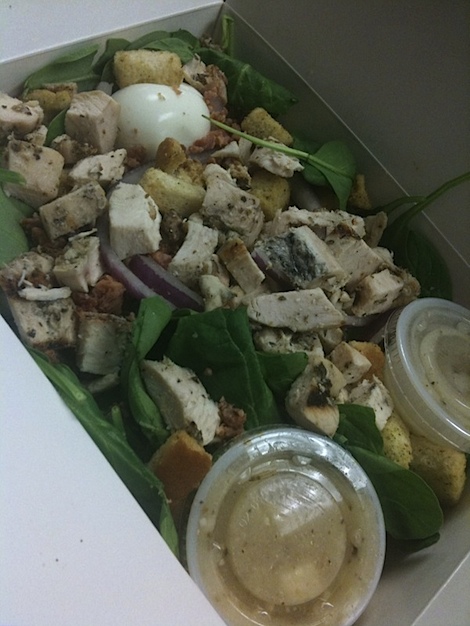 I got a spinach salad with feta vinaigrette and bacon, chicken, red onion, croutons and mushrooms. I didn't eat the croutons and only tried a couple bites of mushroom, but the salad overall was really tasty – especially that dressing!
After work, I ran some errands at Target and then hubby and I hit up Rooms To Go – The Outlet to furniture shop. I hardly found anything I liked. We tried negotiating on a buffet, but they didn't want to come down a BIT! As if! So, we decided to take off.
I made hubby stop by Pier 1 and they actually had some cute stuff. I found some pretty red bowls that I may have to go back and get and I found some nice dining room tables, a pretty headboard and an AWESOME winged chair (the style I'm going for in my formal living room). We didn't find any curtains unfortunately, but I did buy two new placemats!
After shopping, hubby made a surprising recommendation – a Vietnamese restaurant I've been asking him to go to for the last month or so. He finally caved! haha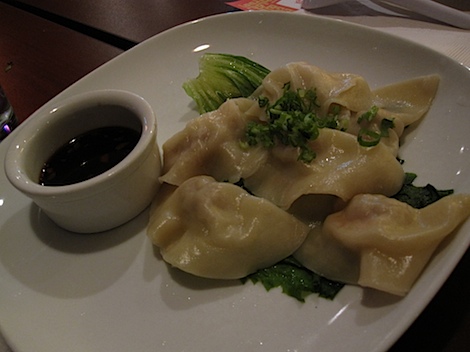 We started with some steamed dumplings. I guess they make these from scratch here because when I asked what the filling was, he mentioned being able to customize it. That's a first!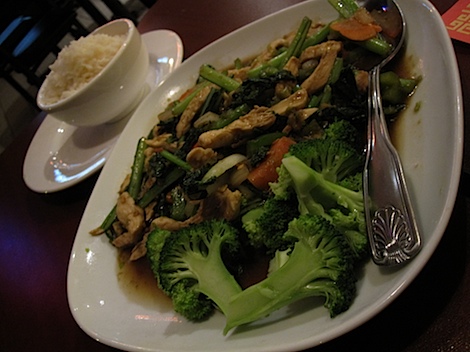 For our entree, we split the Lemongrass Chicken with added tendergreens.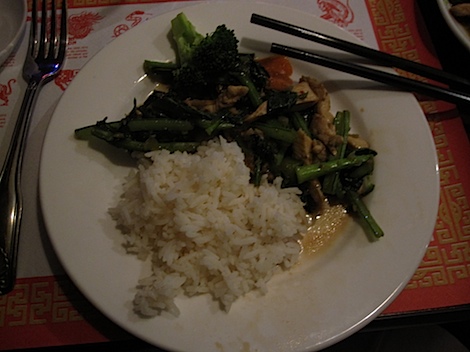 My plate. It was awesome! I added a couple more bites of chicken and veggies. The chef came out to ask how we liked our food and mentioned that it was "home-cooked" and "healthy." Good thing since I've been a bit indulgent over the last couple days!
After dinner, I decided to show Bailey his new "toy".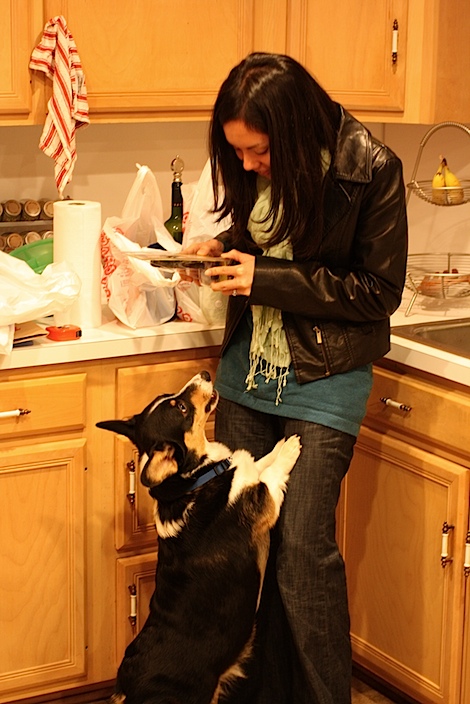 He knew it was something for him, but I don't think he was sure just what.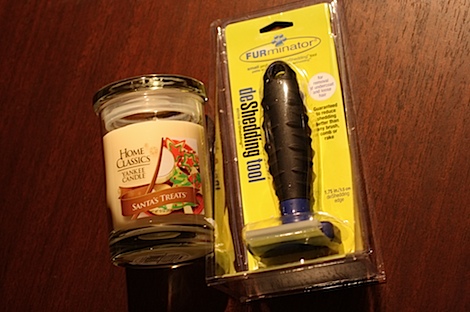 Besides a couple other things, I picked up a new Yankee Candle in "Santa's Treats" and the "FURminator".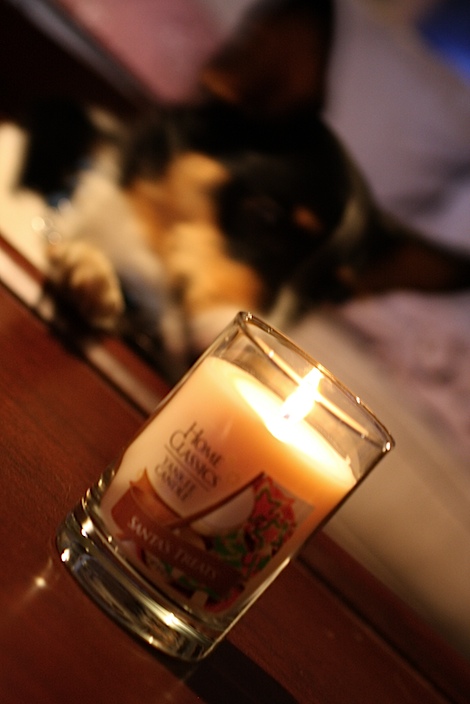 My house is not smelling "home-like" enough for me with the wimpy candles we've gotten so far, so tonight, I decided to bring in the "big guns" – Yankee Candle. I'm enjoying the smell of fresh-baked cookies as I type!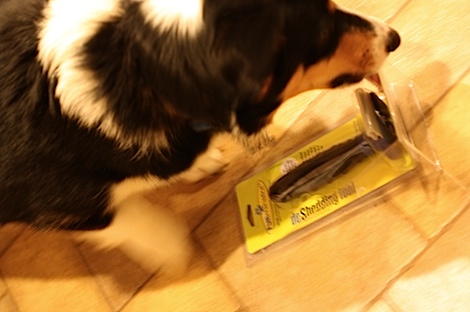 Bailey was very curious about the FURminator. So was I! I couldn't wait to open it and experiment. A friend told me recently that the brush worked really, really well, so I wanted to see just how good it was.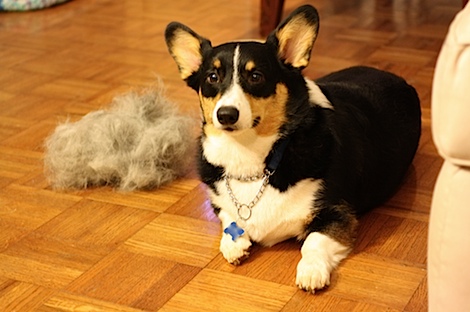 It turns out the FURminator really does work well. The brush really seemed to pull a lot of Bailey's under-hair. I'm hoping this brush will help us keep our house clean by preventing his hair from getting everywhere.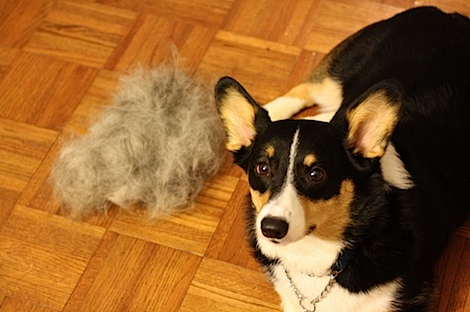 The brush wasn't cheap, so I'm hoping it's a worthwhile investment. So far, so good! I think I pulled a mini-Bailey off him tonight in hair alone!
Does any one have fun plans for the weekend?