Since we didn't get done window shopping until nearly 9pm, we had to do another dinner out.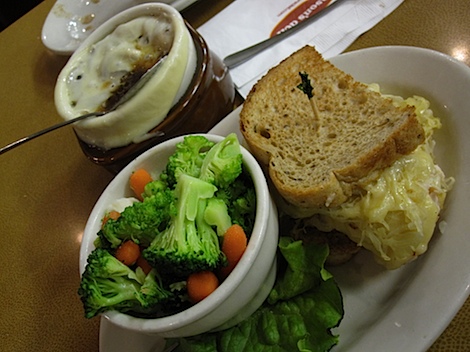 We hit up
Made fried eggs for me and hubs for bfast.
I had mine candlelit with some GReat Harvest Honey Whole Wheat toast with Earthfare organic pomegranate jelly and coffee.
Post breakfast, I worked on my other bathroom to give it a mini makeover.
I washed out the cabinets and applied more of that pretty decorate paper.
Bailey inspected my work and gave me the A-ok. Not sure what to do about that stain in the back of the cabinet, though. I couldn't scrub it away!
With my cabinets ready to use, I decided to organize my beauty products.
I got all my beauty products out and was SHOCKED at how much I have. Granted some were free samples from when I wrote reviews for a popular online review web site, but still!
I'd really like to work on simplifying my life overall and I see a lot of room for improvement here.
I sorted out products that were expired or almost empty and tossed them.
I grouped what was left, organized them into caddies and placed them in my newly made over cabinets.
AFter the bathroom/beauty product prjoect, I broke for lunch: toasted turkey sammie and edamame with water and OJ.
I met our new neighbors during lunch:
Mr. and Mrs. Squirrel! Aren't they cute?
Not as cute as this guy, though!
Since I had today off, I wanted to spend the ENTIRE day cleaning and organizing but hubby had other plans, so after lunch, hubby and I headed out for some more shopping for the house.
On the way to the stores, we stopped by a local bakery to pick up a snack – I had 6 donut holes and a bite of hubby's cinnamon swirl roll. They were delish, but didn't sit quite well on my stomach.
We hit up the Habitat ReStore, but didn't find anything. 🙁 While we shopped around, I started feeling dizzy and icky, so decided hot tea sounded good. Luckily there was a coffee shop next door.
Check out their mug chandelier.
I got some lovely Moroccan Mint with honey. yum!
Next up, we hit up Bed Bath and Beyond.
We liked these curtains but weren't ready to buy them.
I thought this candle had a great message: "Everyday holds the possibility of a miracle."
Hubby and I found some stuff we liked but decided to get them when we were ready to make a big trip of it (we have a 20% off our entire purchase coupon – not easy to find).
Since it was almost 9 pm by the time we were done shopping, we had to do another dinner out. Man, all this shopping is taking all my organizing and cooking time away! Grr…
We went to Jason's Deli for dinner and I got a turkey reuben, French onion soup, and steamed veggies.
pic
I liked how the soup was served in a real bowl.
http://www.jasonsdeli.com" target="_blank">Jason's Deli and I got the turkey reuben, French onion soup, and steamed veggies.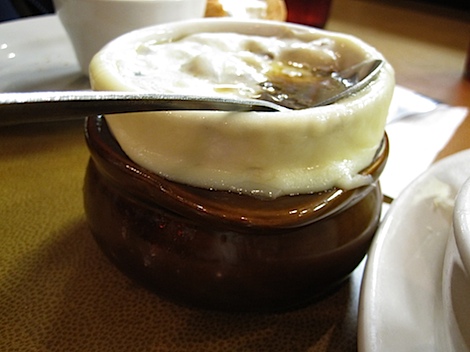 I liked how they served the soup in a real bowl.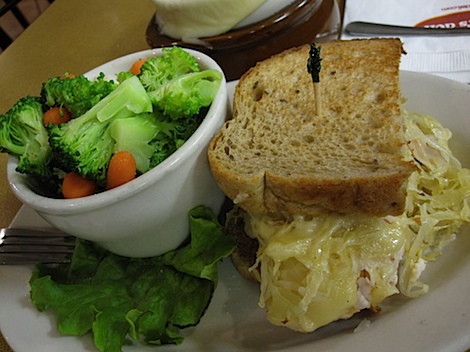 I was really impressed with our dinner. The soup was awesome, the veggies were not overcooked, and the turkey reuben was really tasty (oh the tangy sauerkraut!). Not as good as this one I had in MN, but things you love are never as good as the original version you fell in love with, no?
Did you know sauerkraut is good for you? According to this web site, sauerkraut is:
an immune booster
a cancer fighter
a digestive aid
and a flu fighter (need this this time of year!)
Who knew! Check out this article for details.
I've been craving dark chocolate – just a tiny piece – every night this week. I MUST get some next time I hit up the grocery store.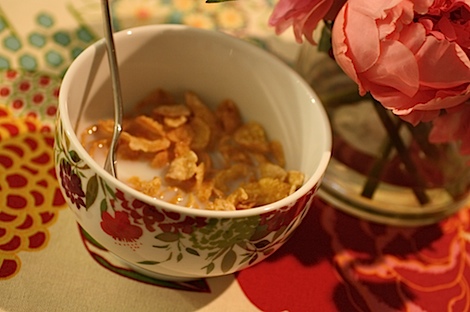 Since my sweet tooth was calling, I had some of hubby's Frosted Flakes with skim milk. Not as good as the whole grain cereal I normally top with honey and chia seeds, but that's what I get for not re-stocking our pantry yet.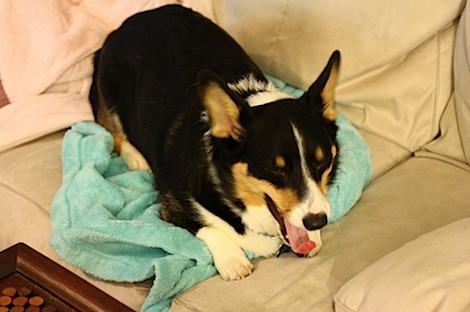 Well, we're pretty tired over here, so we're off to bed.
Today's Tidbits
G'night!