Well, this week has been pretty crazy at work with every day full of 6 hours of conference calls and a big deliverable due tomorrow. Oh and I have to present said deliverable in front of 25 of our project's stakeholders. Yippee!
Anywho, I'm currently sipping a nice glass of Orvieto white wine, which I picked up on my way home from work at Trader Joe's. *sip, sip sip* time to blog!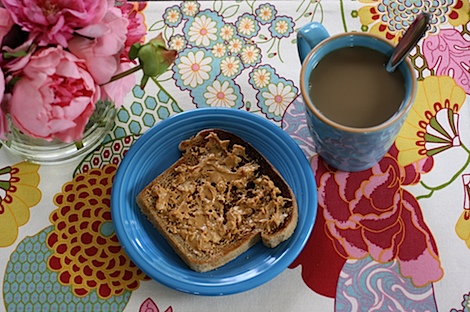 Due to my blogastrophe last night with my publisher deleting my hours worth of posting last night, I woke up running a bit late. Seems to be the norm lately!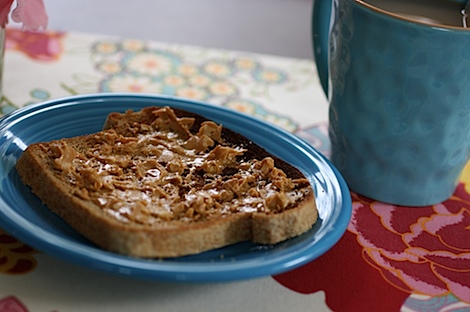 I toasted up some Great Harvest Honey Whole Wheat bread in our broiler (still haven't gotten a new toaster!) and topped it with some Barney Butter. My chia seeds are, unfortunately, packed away soooomewhere, so I couldn't add them as per normal. I also enjoyed the last of our Dunkin Donuts coffee. I liked it ok, but MUCH prefer my fave – Fresh Market coffees. That Larry's coffee stuff is pretty good, too!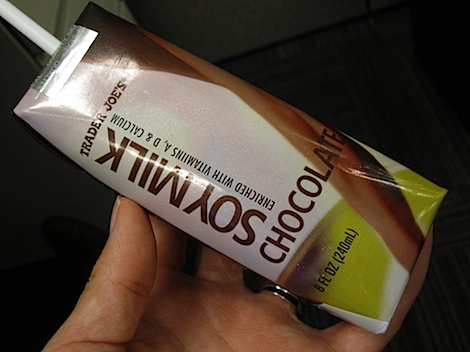 Early morning snack – Trader Joe's Chocolate Soy Milk…oh so good!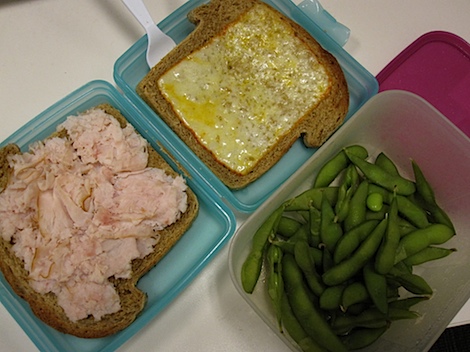 Lunch: toasted turkey sammie and edamame. SOOO GLAD that I made extra edamame yesterday so I had a veggie to take to work.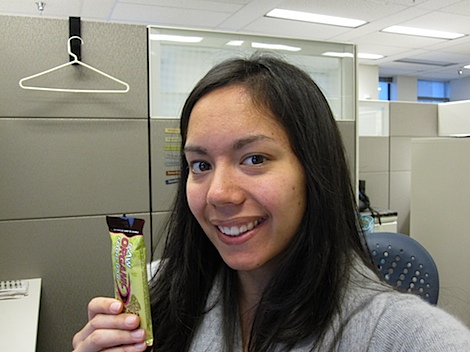 Moi sans makeup with an afternoon snack – Raw Organic Food Bar in Chocolate Coconut (won free on Twitter).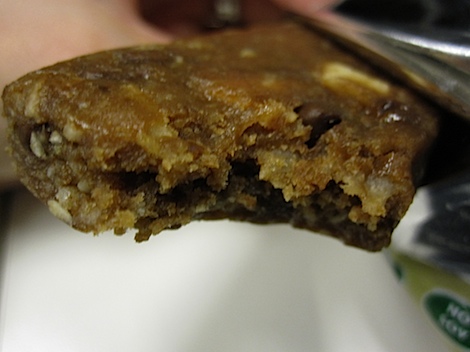 These bars are addicting!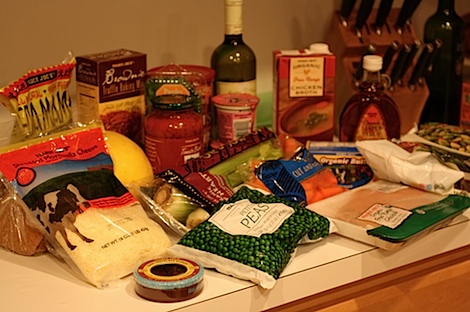 I FINALLY took a nice re-stocking trip at Trader Joe's. I got all kinds of good stuff:
frozen edamame, peas, green beans, mixed soybeans/red pepper/corn
mozzarella cheese
dark chocolate triangles
truffle brownie mix
rolled oats
yogurt
Orvieto white wine
free range organic chicken broth
organic free range boneless skinless chicken
maple syrup
organic celery
organic baby carrots
spaghetti squash
gluten free marinara sauce
organic butter
parsley
So glad to have some veggies and food back in the house! I got almost all the ingredients I needed to cook dinner: Rachael Ray's Chicken & Dumplings – perfect for the icky rainy weather we've been having lately.
Trader Joe's didn't have any biscuit mix, so I swung by Harris Teeter but I couldn't find ANY biscuit mix that didn't have TRANS FATS. wth!
I was going to cave and grab one of the trans-fatty boxes when I decided NO! I will not give in! I will make my OWN biscuits FROM SCRATCH. Take THAT trans fats!
I used this recipe (click) to make from scratch biscuits using the white-wheat flour I had from a previous Trader Joe's trip.
Pictures from cooking: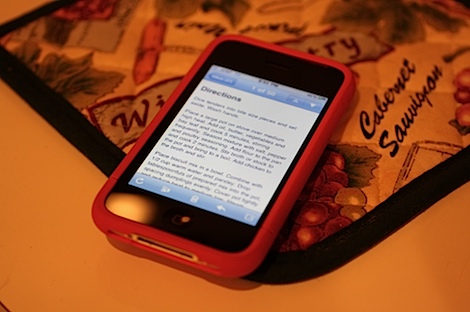 I put my recipe on my phone so I wouldnt have to print it out. Go green!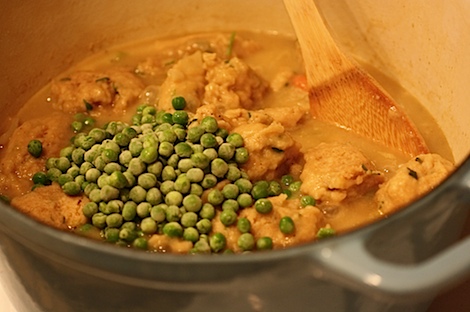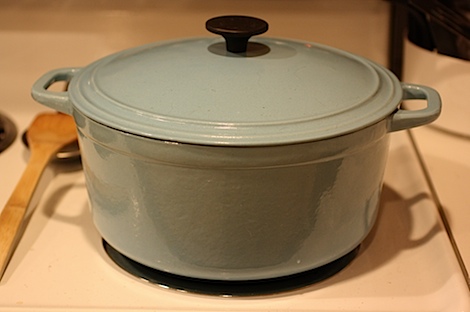 While my dumplings simmered away, I got started on dessert…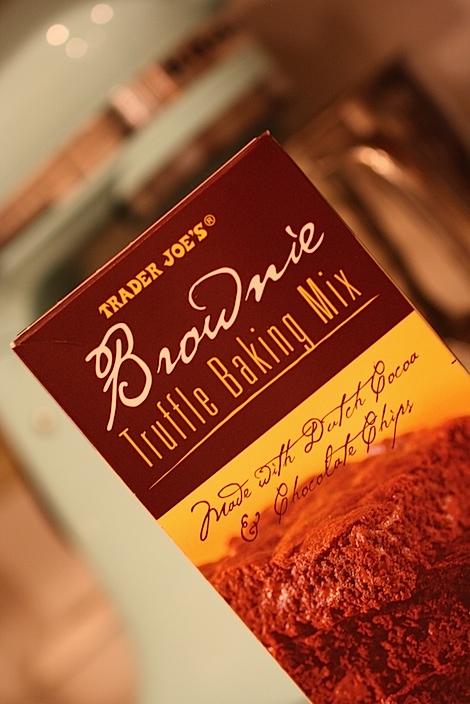 Trader Joe's Truffle Brownies!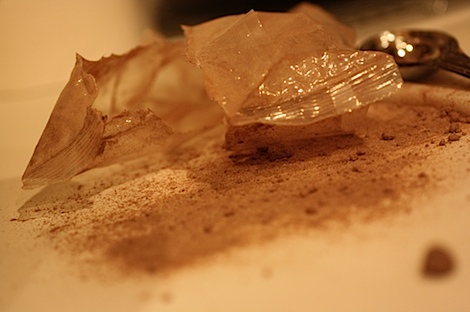 I made a bit of a mess when the bag of mix EXPLODED all over the counter!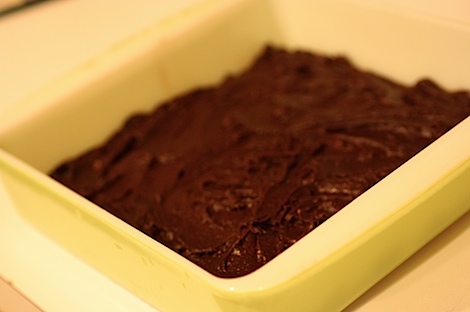 I placed the brownies in the oven just before sitting down to enjoy dinner.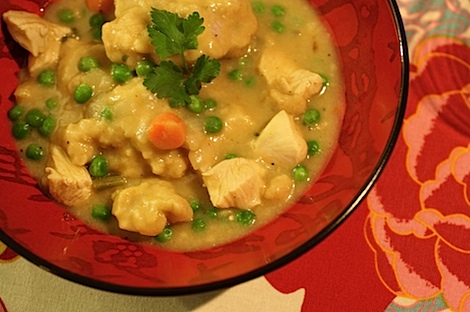 You likey my new bowls!? I do!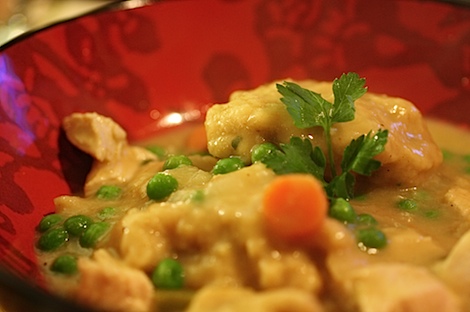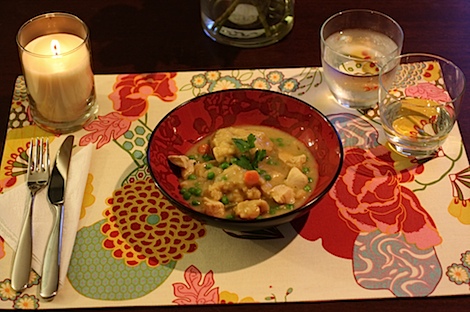 Candle lit dinner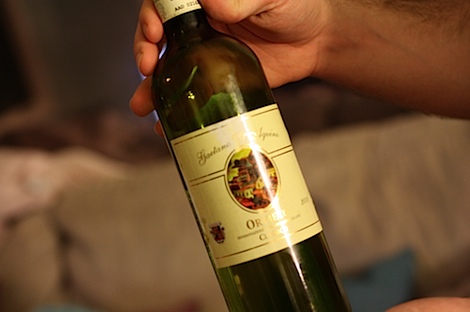 Orvieto – VINO! Yum!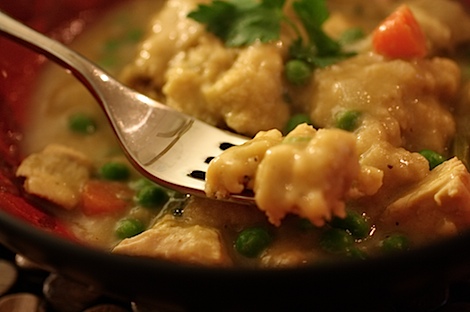 Up close and personal. Just before my first bite. I think this is my favorite photo from the post!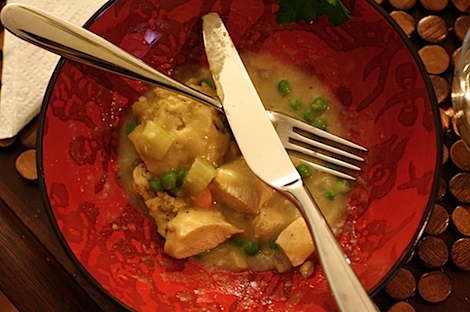 Seconds.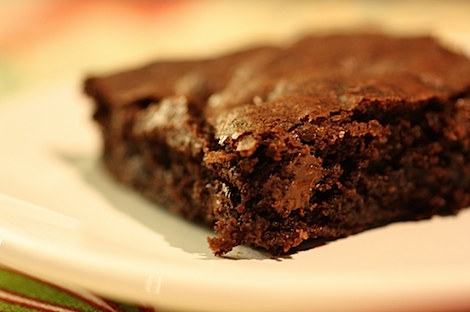 Hubby brought me a brownie while I was catching up on last week's Flash Forward on my computer. What a DOWNER last week's episode was! So sad! He didn't have to do that! (FF watchers, you know what I'm talking about – the Celia episode). This show is really getting good…I think I'm addicted! Oh and that last scene! Wow. I can't wait to see this week's episode!
Randomness
In other randomness, I got an email saying a friend had tagged a photo of me on Facebook. I went to check it out and was pretty shocked by what I saw. It was a photo from when I was in college and I barely recognized myself. This is me back when I still had my Freshman-20…or was it 30? I can't remember, but here it is:
Then (college):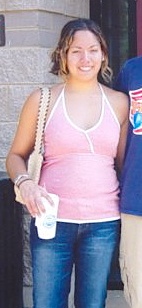 Now (Flaunting it for Flaunt It Week):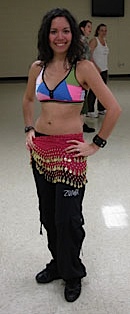 Thank goodness for zumba! So weird to see old pictures of yourself sometimes, no?
Flaunt It Week

Speaking of Flaunt It Week, we had some more most-awesome submissions on Twitter (use #flauntitwk):
G'night!
(Please, ecto, I beg you…please don't delete my post tonight!)