I'm working on not sleeping in even though I'm on a stay-cation.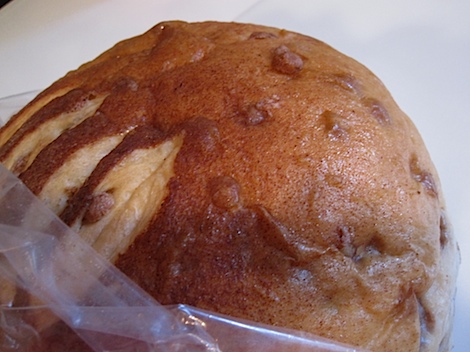 I couldn't wait to break into our cinnamon chip bread.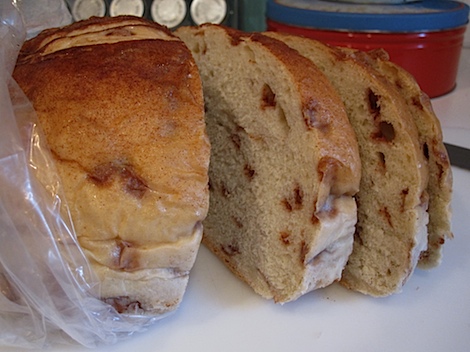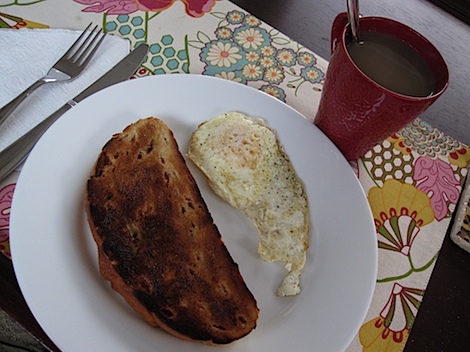 I made a quick breakfast of oven-broiled toast with real butter and a fried cage free egg with coffee – 1/2 Christmas Blend + 1/2 Peppermint Creme.
How-to Multi-task Errands
I love to multi-task it when I'm doing errands. I feel like, when done correctly, I can get so much more accomplished than when I take things step by step.
Step 1 – create a list of tasks.
Step 2 – note whether a task takes a short duration or long duration and which ones need 100% attention (vacuuming) and which ones can be left alone (laundry)
Step 3 – start a long duration, no-attention-needed task. While Task 1 works, do some of the shorter tasks. When Task 1 needs your attention again, work on it or complete it, and repeat Step 3.
Continue till you've completed all the errands you'd like.
Example:
Today, I had the following on my task list:
a load or laundry – long – no-attention
groom Bailey – short – attention required
find a recipe for my new blender – short – attention required
lunch – short – attention required
mop bathroom 1 – short – attention required
mop bathroom 2 – short – attention required
sew a fabric gift – long – attention required
design business cards – long – attention required
I multi-tasked some of my errrands:
I started by putting my laundry in my washing machine.
While my laundry ran, I turned Food TV on in the background. I sketched out some ideas for business cards. I consulted my Martha Stewart cleaning bible to see the best way to mop my bathrooms. I groomed Bailey. I noticed a meal on Quick Fix Meals with Robin Miller that used a blender to make a yummy tomato sauce. I printed the recipe (click for recipe).
When my laundry was done with the wash cycle, I hung the hang-dry clothes, moved the rest to the dryer and got the dryer going.
While my clothes dried, hubby surprised me by bringing a friend over to show them the house. I was utterly and completely embarrassed by the state of the house, but helped hubby give our friend a tour. After our friend left, I mopped both bathrooms. Next, I had lunch. I started pre-washing my fabrics for my craft project. I watched a blue heron fly across my yard and into my neighbor's yard. I browsed my new cookbooks and selected recipes to try out in the next week, possibly for Eat in Month Challenge.
Then, it was time to fold my laundry.
Next on the agenda:
iron/fold cleaned craft fabric
rug shopping
basement furniture shopping
plastic bin shopping
sorting + organizing in the house
maybe some other stuff…we'll see how productive we are
Dear Bloggers…
Please…PLEASE…stop saying "Viola!" when you mean to say "Voila!" A "viola" is a musical instrument. "Voila!" is said when you want to express something like "Ta-da!" Not everyone does this, but I've seen it on so many blogs…you know who you are. 😉