Here's an SAT question for you:
The people in this video are to singing as I am to ? Got it? Maybe? More on that in a minute.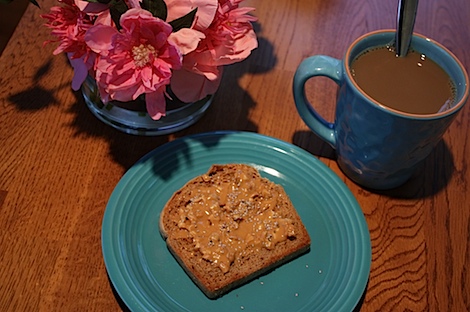 I was running late this morning, so breakfast was quick – spelt toast with Barney Butter and chia seeds and Earthfare House coffee.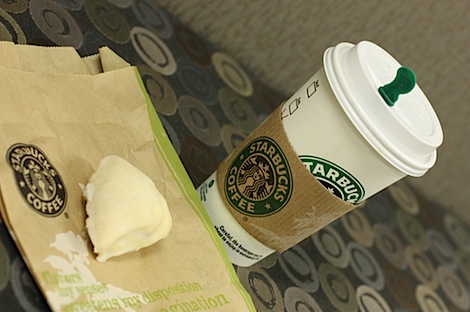 Now that EIM is over, I just had to hit up an old fave…STARBUCKS! Ok, so it wasn't Monday, but I worked from home yesterday, so Tuesday was the first day I could go.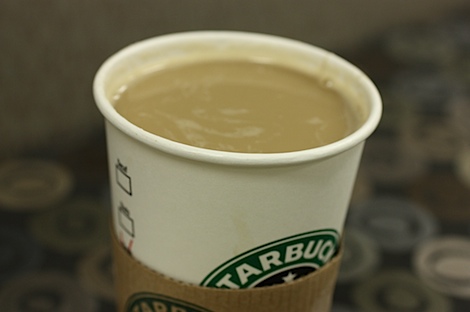 I got a vanilla soy latte…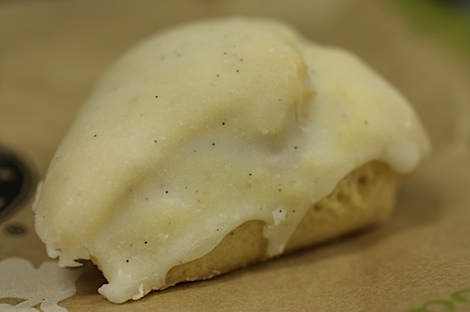 …and a mini vanilla scone. Can't believe this little thing has 140 calories in it!
I got tasked with something at work today that's already a couple weeks behind. It's due next Friday…yikes! Wish me luck!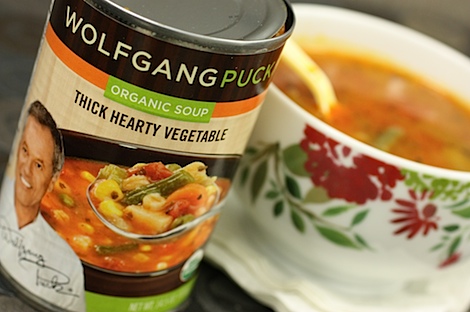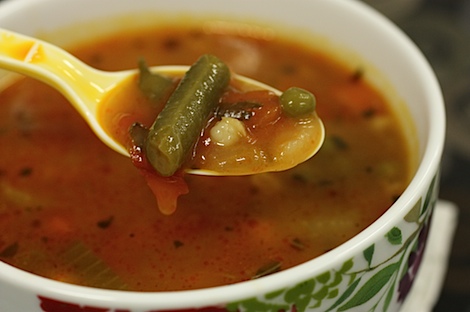 Since I was running late, I didn't pack much of a lunch. I heated up a can of Wolfgang Pucks Organic Thick Hearty Vegetable soup. I hardly ever eat canned soup and today was a reminder why. Don't get me wrong, this was a great soup for canned soup…I just prefer homemade. Guess I need to make a big batch and get some stowed away in our freezer.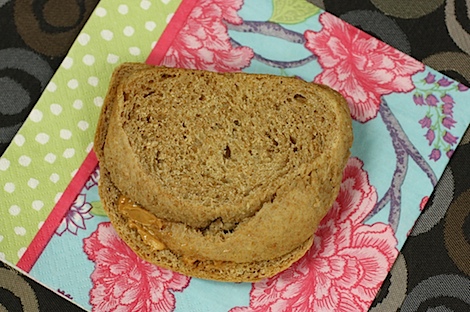 And I had a Barney Butter and organic pomegranate jelly sammie on spelt bread with chia seeds.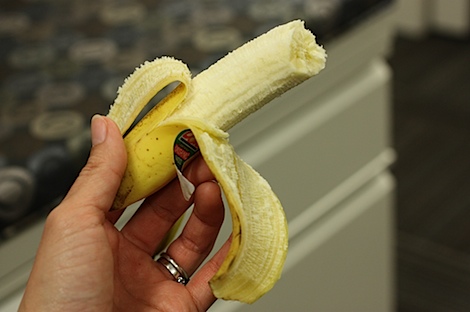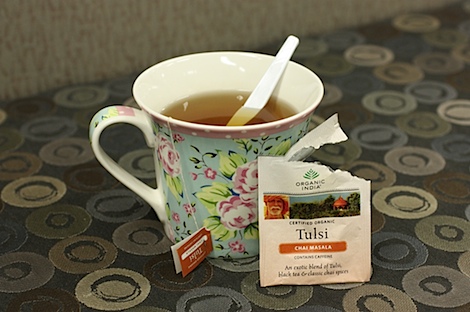 Afternoon snacks included an organic banana and some Chai Masala Tulsi tea with sugar. (need to get some honey for my cubicle!)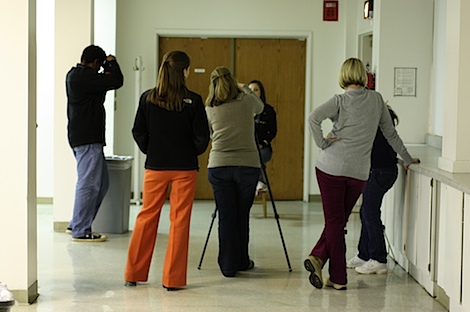 Had a wonderful session of photography class after work today. I am half way done with classes already! I can't believe I'm half way through already! I want my classes to go on forever!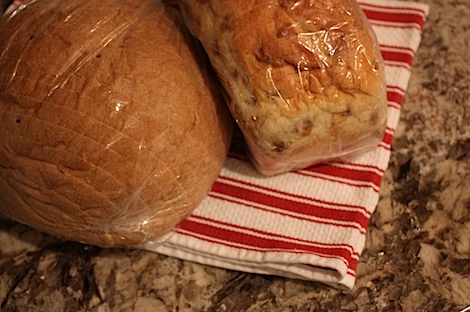 Hubby picked up some Great Harvest bread for us today – honey whole wheat and cinnamon chip. Mmmm…can't wait to make french toast and/or a sweet breakfast casserole with this stuff!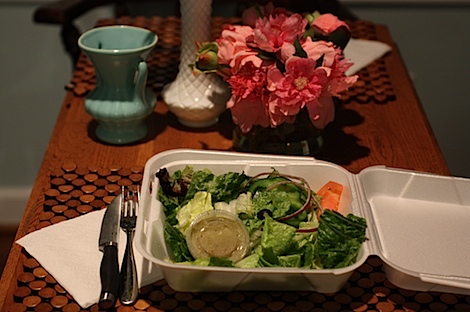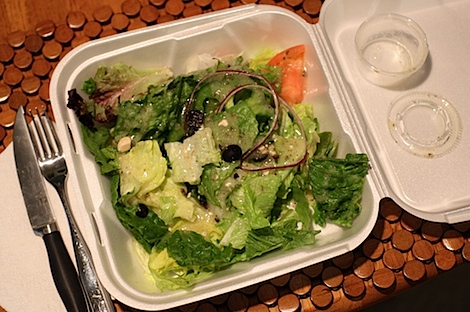 Hubby ordered takeout from our fave pizza place, which I picked up on my way home.
We started with a side salad, which we shared.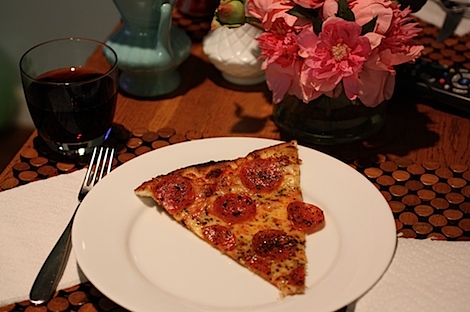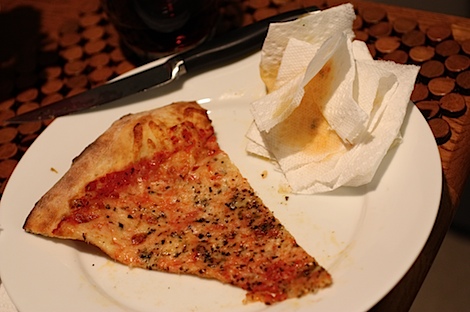 Then, it was on to the pizza! 1 slice of pepperoni and 2 slices of cheese. And yes, I'm a pizza blotter. 🙂
*
*
*
Ok, so back to the American Idol analogy. You know how there are all those people who are on American Idol who think they're really really good at singing but are actually really bad? I'm starting to wonder if I'm a delusional photographer. I don't think I'm an expert by any means (hello, I'm taking a photography class! Not teaching it!) but I thought I was pretty good.
So, I submitted some photos to Tastespotting.com and Foodgawker.com. Alas, they were all declined.
Submission Attempt #1 – Waltz of the Ice Cream Sundaes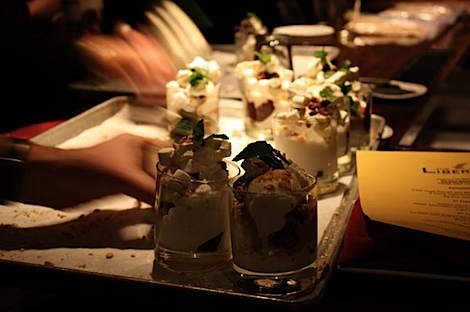 Tastespotting: lighting
Food Gawker: Low lighting and/or underexposed
My take: When I take pictures of food, I try to not only capture the food, but the atmosphere and experience. This photo was taken at an intimate beer dinner tucked away in the cozy downstairs area of a local restaurant. The mood was casual and the lighting was low. I like the motion blur of this photo…and the darkness. 🙂 I think it helps tell the story.
Submission Attempt #2 – Spinach + Cheese Strata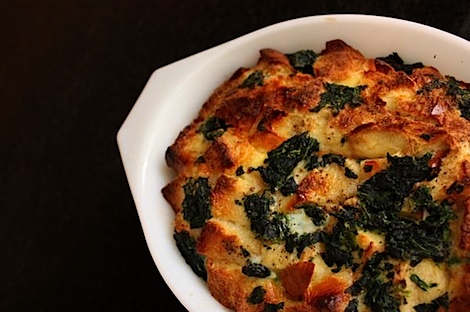 Tastespotting: composition
Food Gawker: Dull/unsharp image
My Take: I think this is a good photo. Perhaps I'm delusional after all? heehee
Submission Attempt #3 – Spinach + Cheese Strata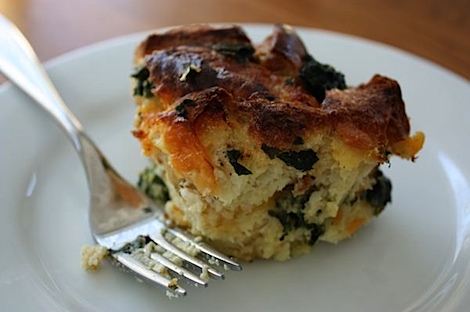 Tastespotting: composition. appears dark. fork is distracting
Food Gawker: Lighting/exposure issues
My Take: I took this photo in my sunroom using natural light. I don't like overexposing my photos. I like them a tad on the dark side. Maybe that's wrong? But if it is wrong, I'm not sure I want to be right.
Guess slightly darker images are part of my style or something, which apparently doesn't mesh well with TS and FG. They seem to like things a bit washed out looking, like this and this and this and this. And when I say overexpose, I mean that in my sun room with full natural light, I had my light meter completely zeroed out when I took my last strata photo. To lighten my images, I'm going to have to push the light meter above the middle mark, thereby overexposing, maybe just a tad.
Of course, I did see some dark images on both sites, like this and this.
And I'm not hating on those photos I linked to above…they are great photos! I'm just trying to figure out where I went wrong.
Well, it's like the song, I get knocked down, but I get up again, you're never gonna keep me down!
I'm going to keep trying. Some people may get discouraged by rejection. I like that TS and FG both give you feedback on why they didn't accept your photos. If you can take that criticism and learn from it, then it just helps you become a better photographer, whether you choose to apply it or not. 😉
*
*
*
Btw, I got a tweet from Tastestopping.com today. They are a site for people who are rejected by TS and FG and other similar sites. So, if you've been decilned head on over. I think I'm going to submit my photos…maybe tomorrow? In my "free time." haha.
*
*
*
I still have to do my Fitness Challenge post!!
Oh and I've got a couple more Bake Sale payments to round up before I can do my recap post…sorry for the delay!
G'night!