I haven't really made oats since before my kitchen reno really got underway. You may remember I didn't have a kitchen (no stove, no sink, no countertops) and then after that, we were storing all our stuff in other rooms of the house, making me want to dirty up pots and pans as little as possible.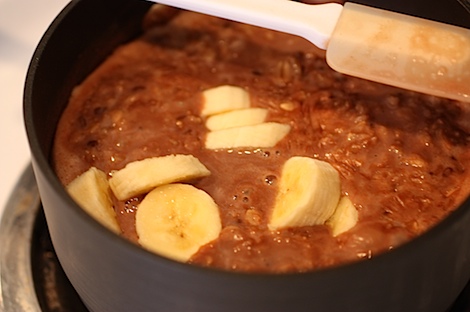 Well, now that we're starting to fill our cabinets again, I'm ready to enjoy oatmeal again! Hooray! I've really missed them!
I offered oats to hubby who surprisingly accepted (he eats them once in awhile but they're not his fave), so I made them more geared towards something he'd like – chocolate-y!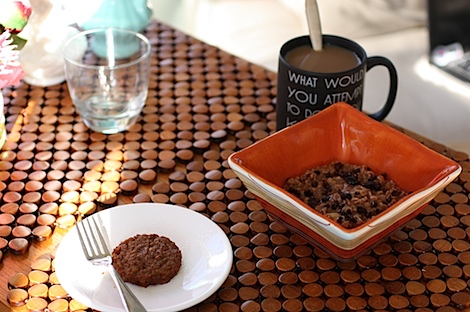 On top of missing oats, I'm feeling a bit under the weather today, so I thought oats would be great fuel for my body to try to get well.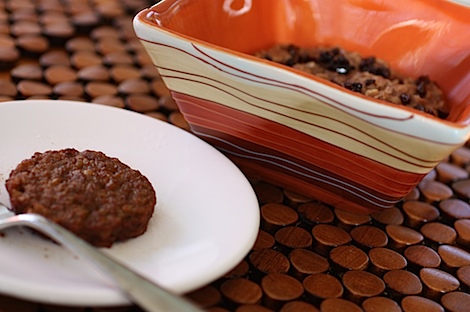 I had a Morningstar "sausage" to get some protein.
Btw, do you like my new bowl? I got it from a swap party with Kath! Thanks Kath! I love it!
I know these oats may look decadent, but I really didn't add a lot in the way of sweetener. I like to try to let my fruits be my sweeteners whenever possible.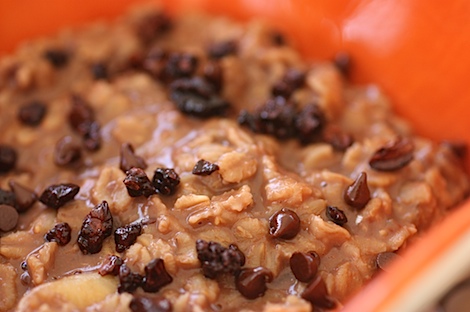 Chocolate Banana Oatmeal for Two
Pre-cooking ingredients:
2/3 cup water, 2/3 cup milk
1 tsp flaxseed
1 tsp chia seed
1 tsp unsweetened cocoa powder
1 sliced banana (stirred in at the end of cooking to warm through)
Cooked stovetop till thickened.
Post-cooking ingredients:
A light sprinkling of mini semi-sweet chocolate chips
Navitas Naturals cacao nibs (free sample)
NOTE: I sprinkled sugar on top of hubby's b/c he likes it sweet 🙂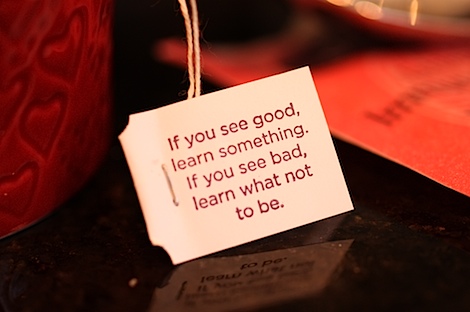 Yogi tea quote: "If you see good, learn something. If you see bad, learn what not to be."
First mug of tea: Yogi tea – Echinacea Immune Support with local honey.
On today's agenda:
WFH
Drink as much liquid as possible.
Rest
What do you do when you feel yourself starting to get sick?