Happy Chinese New Years! This year it's the year of the tiger!
Though I'm not Chinese, I like to celebrate the holiday by eating dim sum!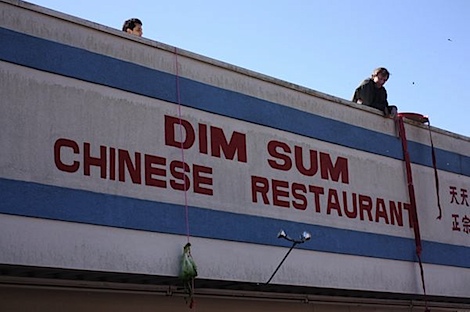 Hubby and I had intentions of hitting up one of our local dim sum restaurants, actually named Dim Sum, early, but made it "late" (late for dim sum that is) around 11:30am.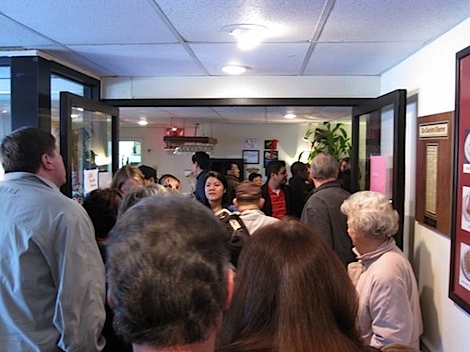 It was packed!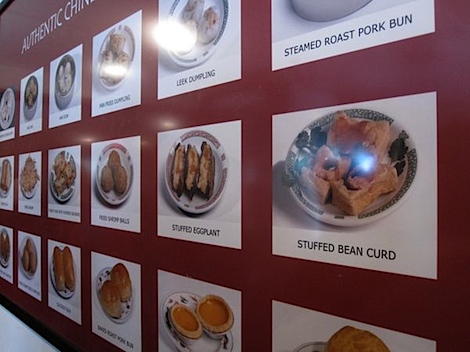 I looked over the visual menu on the wall while we waited.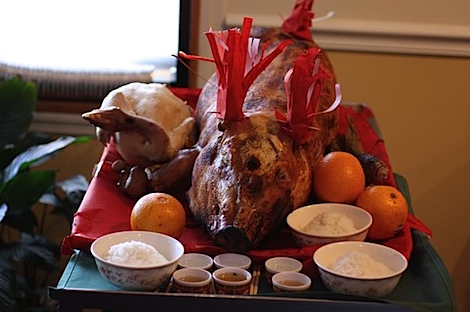 I managed to get a photo of this, too, while we were waiting. I don't know what it is, but it was part of the celebration. It appears to be a cooked pig, chicken, some tea, some rice, and some oranges.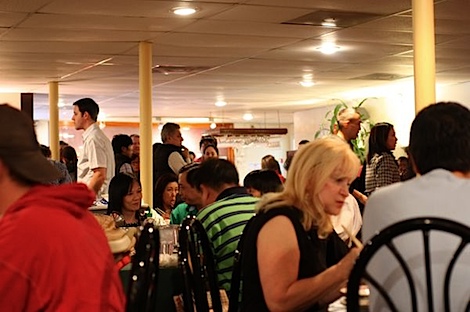 Hubby and I waited for awhile before getting our seats.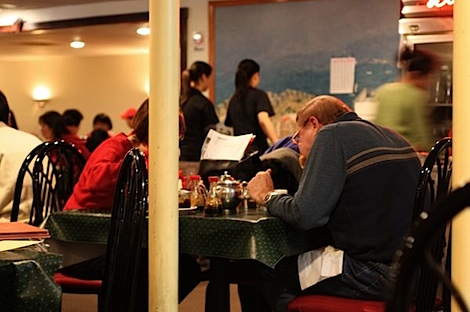 It was crazy busy inside! There were people running around everywhere.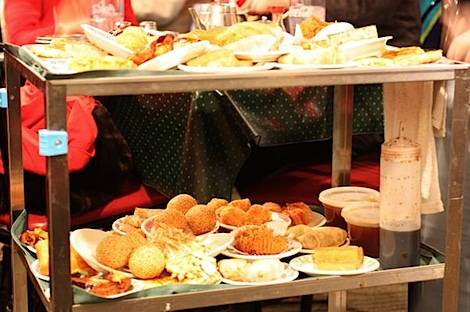 The good part about going to a dim sum restaurant when it's really busy is that there's high turnover in the food, meaning the food you get will be fresher and hotter and who doesn't like that?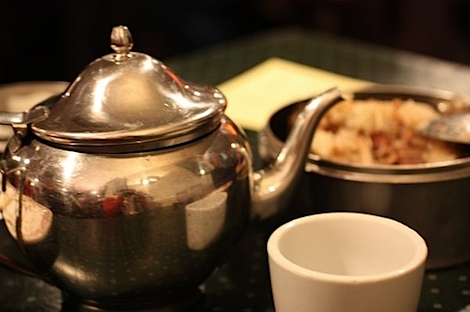 I ordered tea to drink. I have no idea what kind I got. I asked for Jasmine but the lady said something else back to me and I just decided to go with it.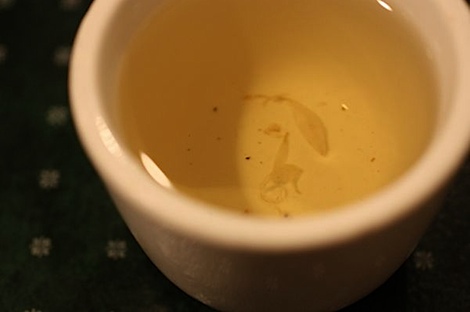 Whatever it was, it appeared to have little petals in it.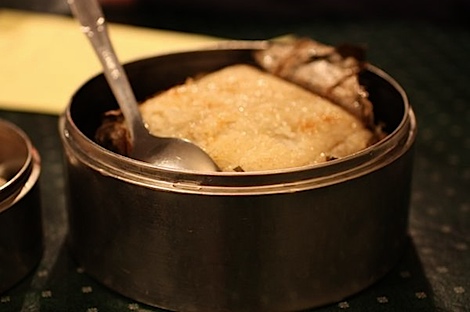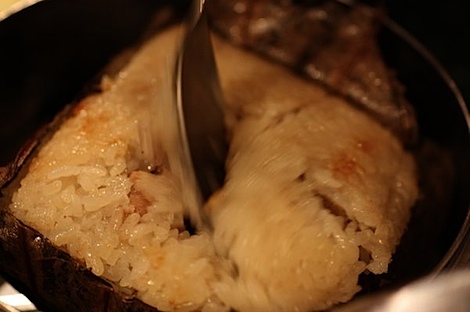 We got everything super fast – from drinks to food. Literally, I ordered our first 3 dishes within just minutes of sitting down.
We started with some sticky rice and meat steamed in a lotus leaf. I love the flavor you get from the leaf. It reminds me of the flavor of tea.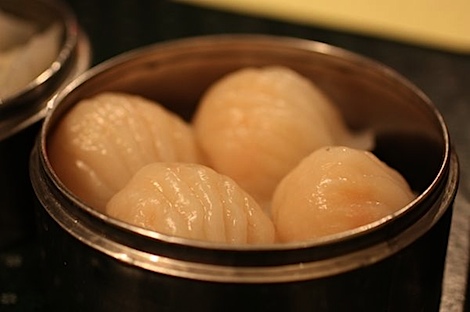 We also got another of my faves – Har Gow (steamed shrimp dumplings)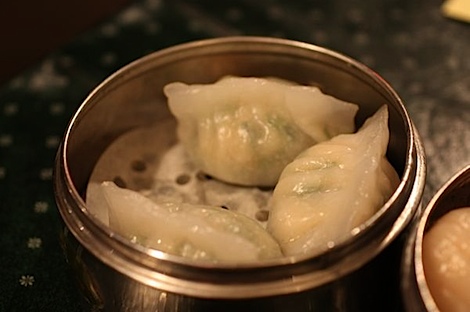 We tried something new – Steamed Leek Dumplings (actually tasted same as the Har Gow but with leek)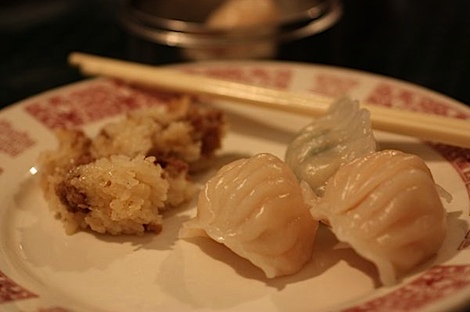 Yum!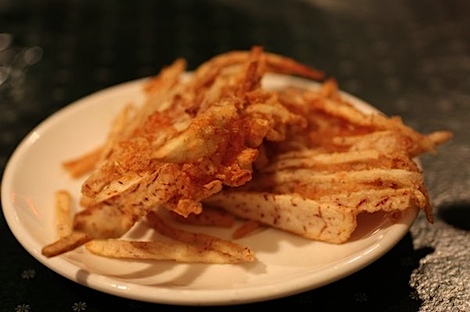 We next got some shrimp fried with taro root.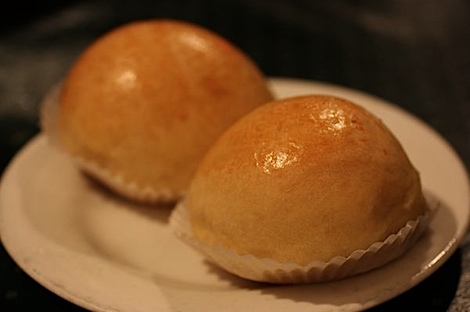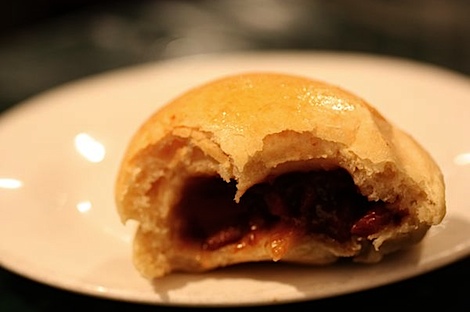 I special ordered baked BBQ pork buns with my waitress – these babies can sometimes be hard to get and I wasn't messing around. I wanted my baked pork buns!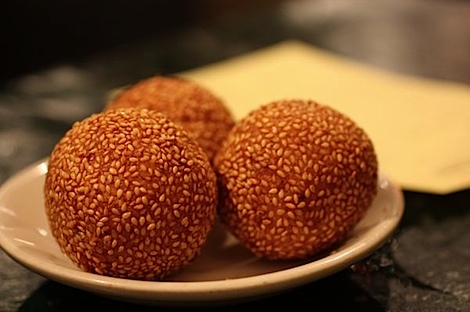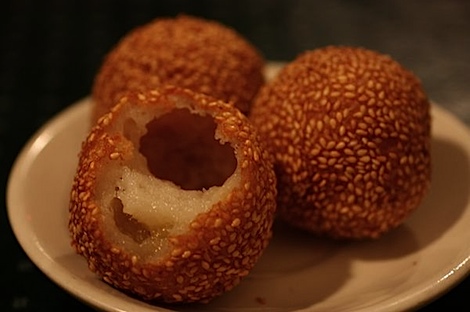 For dessert I got some sesame balls. I was pretty full by the time we were done so I only managed to eat one of these and got the last two to go.
We really wanted some Chinese broccoli, but we were too full by the time the cart with it finally came around. Oh well…next time!
Outside they had some special festivities for the holiday…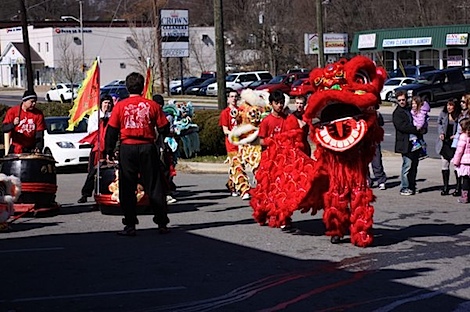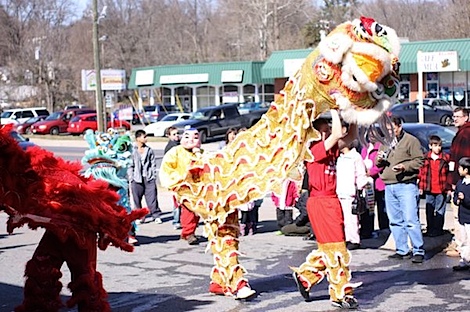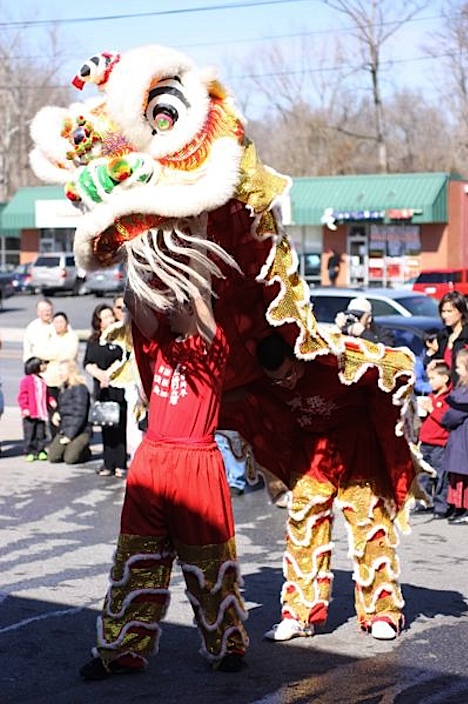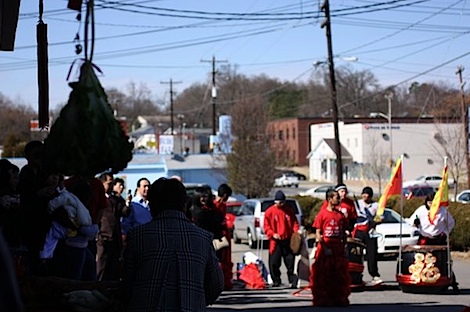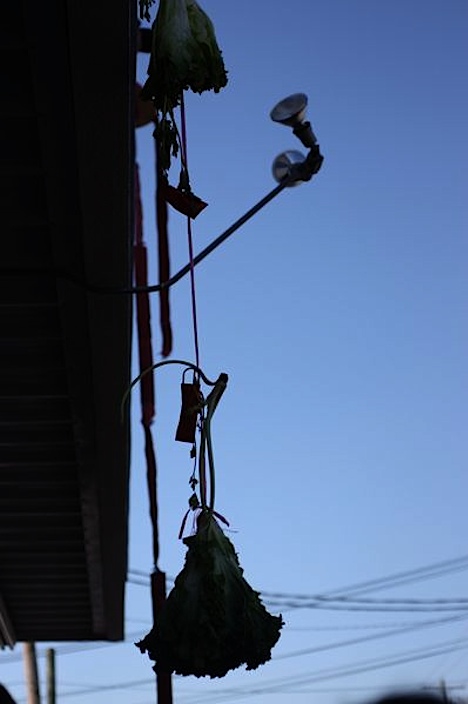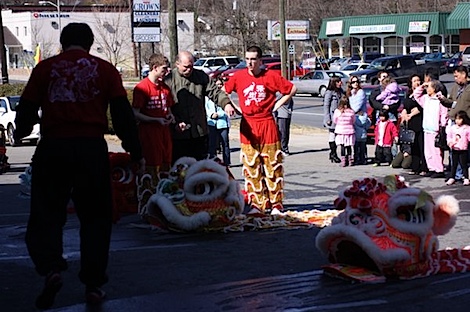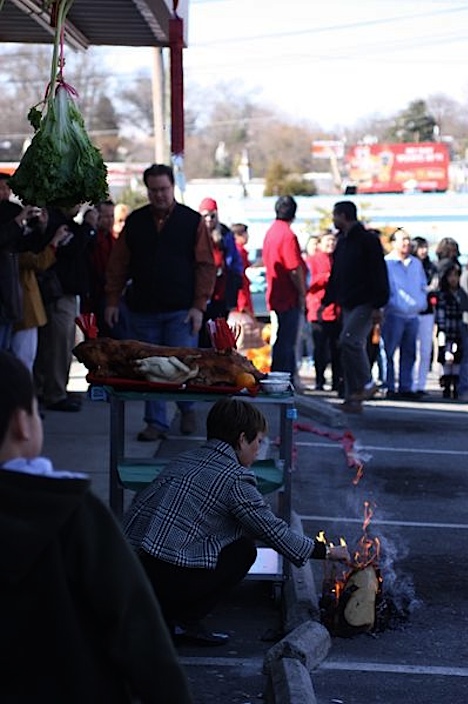 The cart with the pig and other food items made an appearance outside and this lady lit a fire in front of it. Considering how much I like dim sum I really should research this more so I can better explain. 🙂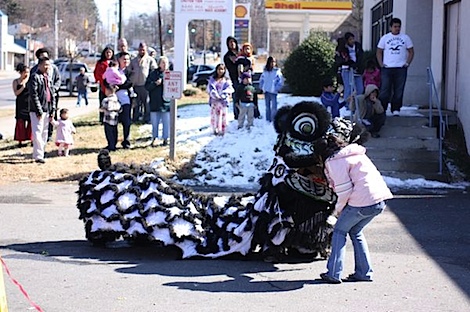 I watched this little girl "feed' this black and white dragon something – it looked like paper. After eating the paper, the dragon got very happy and fluttered it's eyes and danced around. Very curious!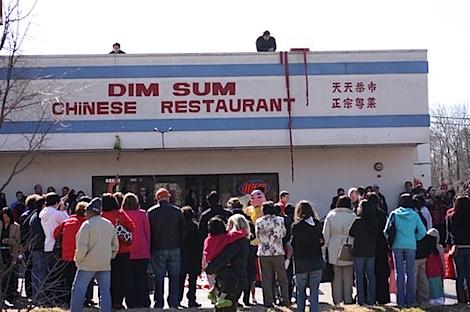 There was quite the crowd enjoying the show.
After leaving dim sum, hubby and I headed out to watch Avatar, this time in 3-D. Wow…3-D has really come a long way! I remember when it used to have the red and blue lines. 😆
The theater was freezing cold, though! I felt like an ice cube!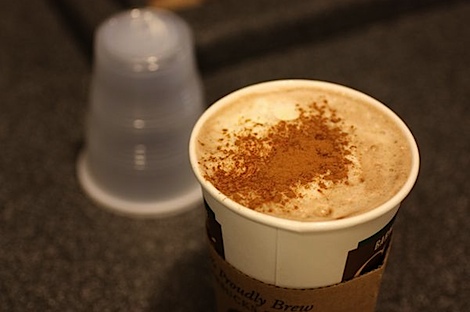 '
Hubby and I hit up Barnes & Noble to warm up with hot drinks. I got a tall soy hot chocolate and sprinkled the top of it with cinnamon.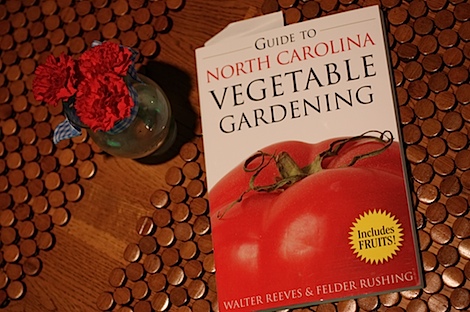 I tried to talk hubby into us getting each other books for Valentine's since we were trying to keep the $ down, but he said he didn't want a book. I even found a good home brewing book! 🙁 But, I at least still got one – Guide to North Carolina Vegetable Gardening.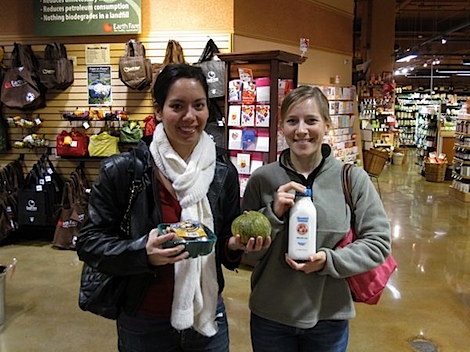 Hubby and I ran into Kath and Matt! We saw them again at Earthfare, too, when we went there to get groceries.
Kath found a K squash and is trying some local milk I've been dying to try. I can't wait to hear how she likes it so I know whether or not to get some.
So nice seeing friends randomly!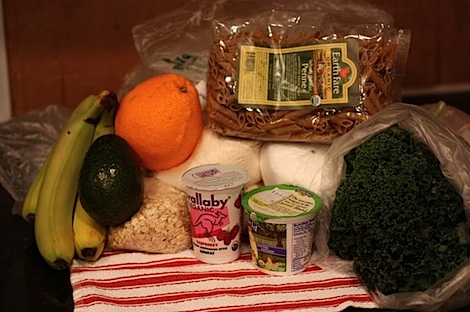 Got some good stuff. I hit up the bulk bins to stock up on salt, organic sugar, rolled oats, and stoneground organic spelt flour. We also picked up an avocado, some bananas, an organic orange, some organic kale, yogurts, and whole wheat penne pasta (plus 2 frozen Kashi meals on sale and not pictured).
Gotta get started on dinner. Ta-ta!
What is your favorite dim sum dish?