I have so many ideas for Chic Energy Bite flavors to share with you love The Chic Life readers, but for now I have the second one I've attempted. First I brought you the Currant Crave flavor, now I bring you…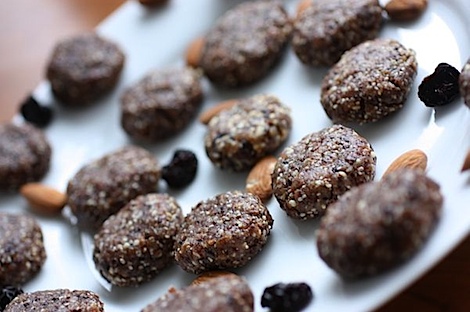 Chic Energy Bites – Cheerful Cherry
Ingredients:
1 cup pitted dates
1/2 cup cashews
1/2 cup almonds (I used raw, whole)
1/2 cup dried cherries
1 tbsp chia seeds (ok to omit)
Directions:
Place all ingredients into a food processor.
Process mixture until ingredients are chopped into tiny bits and the mixture starts to stick together. (At first the mixture will appear very dry. As you keep going, the mixture will become more sticky, though it won't come together like a ball of dough). Start/stop and use the pulse as you go. Check it often if you're unsure about consistency. Also, before you start forming discs, you can make a mini ball to test the mixture holds together ok. Mine was ready after about 2 1/2 – 3 minutes worth of processing in 30 second intervals, stopping to check consistency each time.
Carefully remove blade from food processor.
Pick up about 1tbsp worth of mixture, press/squeeze firmly together (this one was more crumbly than the currant version) into a ball and flatten slightly to a disc shape.
Enjoy!
NOTE: Makes about 20 bites. Store in an airtight container.
Materials gathered.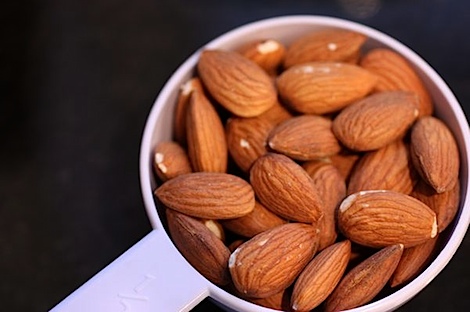 Raw almonds.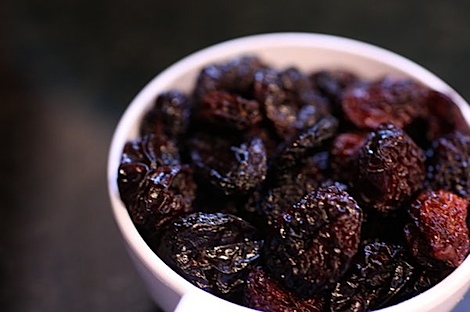 Dried cherries.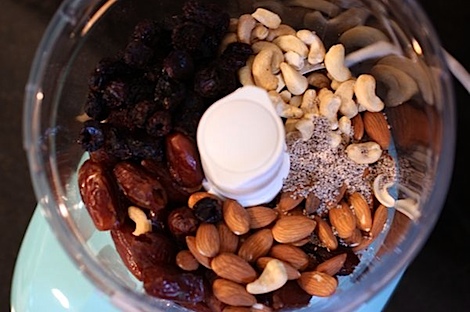 All in.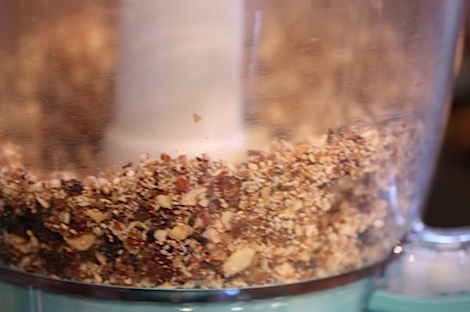 Not processed enough – nuts and dried fruits are too large. Keep processing!
Tip: This mixture turned out a lot more crumbly than the currant flavor. For the currant bites, I was able to roll them into balls and then flatten to discs…these needed to be pressed and squeezed firmly together, but they still held up together once they were formed. I had to press the edges a little extra as they tended to want to crumble or break up a bit, but I worked them together nicely.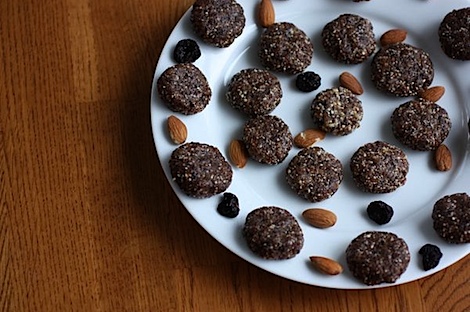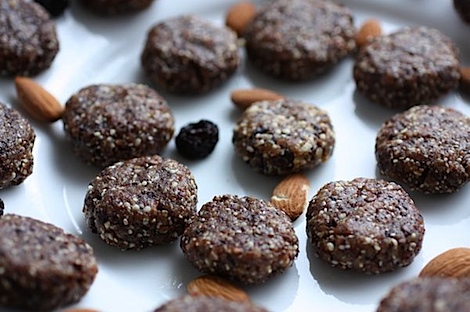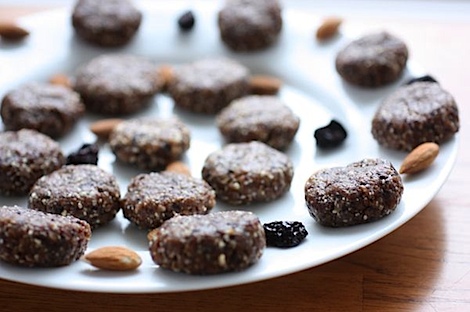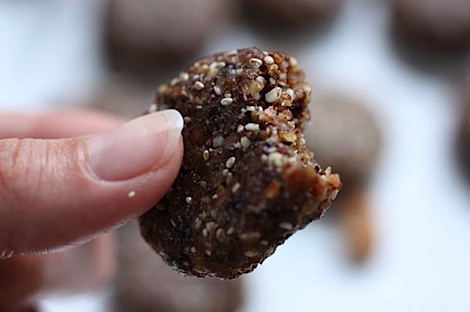 Bite meet mouth. Nom nom nom…
The combination of fruit and nuts make these great for a pre-workout or general energy boost snack.
To enjoy:
Eat them straight up (for breakfast, a snack, or even dessert)
Use them as an oatmeal topping
Chop them up over Power Toast
Make a dried fruit and nut sammie by placing on a whole wheat dinner roll
Like currants? Try my other flavor – Currant Crave.