Happy Hump Day! Any new readers to The Chic Life blog out there? Welcome!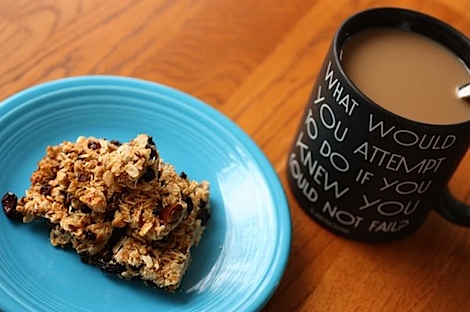 I had my oatmeal pot ready to go to cook up a batch of oats, but then I changed my mind deciding my homemade granola bars needed to be eaten and that they would be faster, too.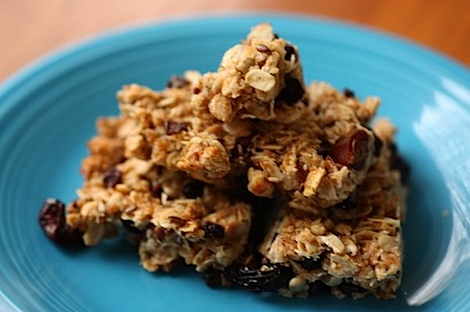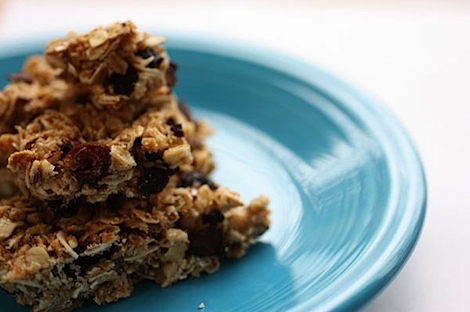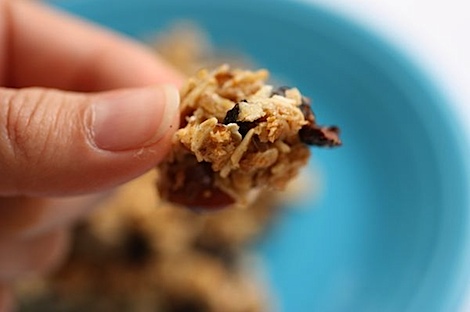 I think the toasted coconut in these bars gives them extra oopmh! They're so flavorful!
*
*
*
I started on Project Hydrate earlier than yesterday by starting on my pink bottle around 9:45am.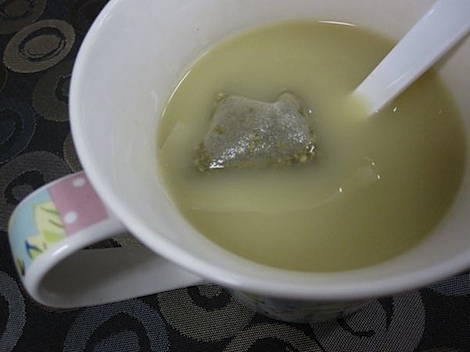 I had a yerba mate latte around 10am. So yummy!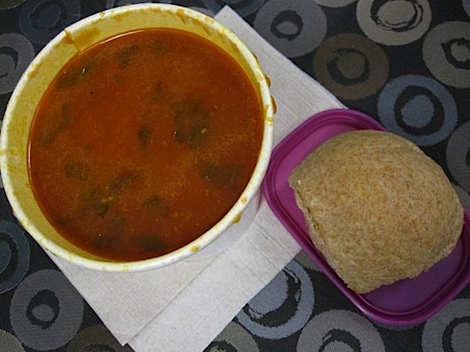 I got stuck on phone conferences today and super-sweet hubby brought me some food: tomato basil soup from Earthfare.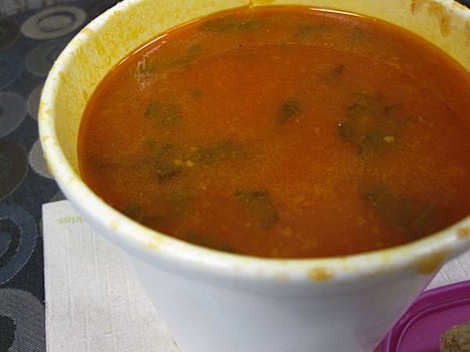 This stuff was capital-a-mazing! There were some nice chunks of real tomato and the fresh basil and parsley were sooo good in the soup.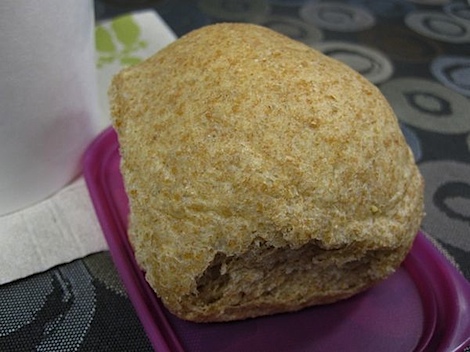 I brought a Great Harvest honey whole wheat roll from home.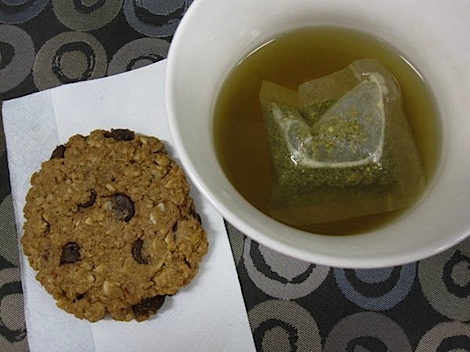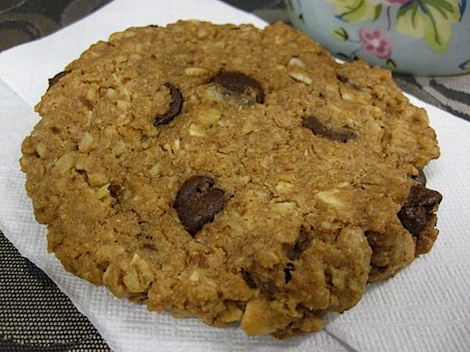 Hubby even brought me dessert – one of my faves – vegan whole wheat chocolate chip cookie! Why are these things so good!? I enjoyed dessert with some more yerba mate tea, sans sweetener this time.
Thank you hubby, you rock!
I had some Tulsi tea around 12:30pm. Guess I forgot to photograph it. Doh! But, yes, I managed 3 cups of tea…go me!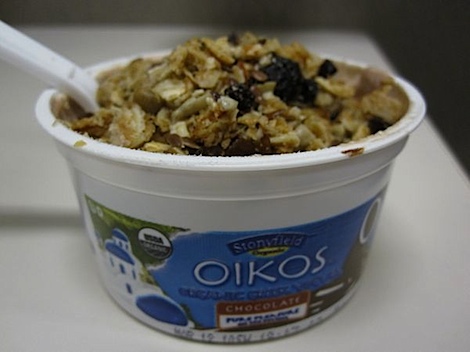 Chocolate Oikos and homemade oops granola.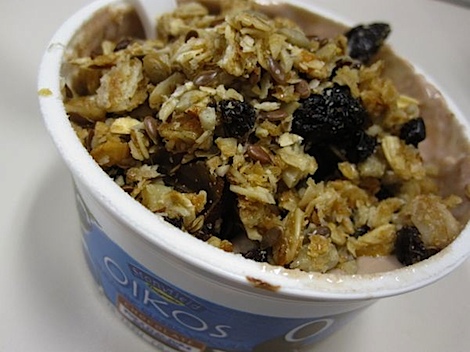 I had late meetings and wanted a snack around 5pm, but I also had dinner plans to get Mexican for a company dinner around 6:30pm. I thought about skipping the snack but then figured it would be better to be slightly filled up with healthy yogurt and granola than starving and ready to fill up on Mexican later.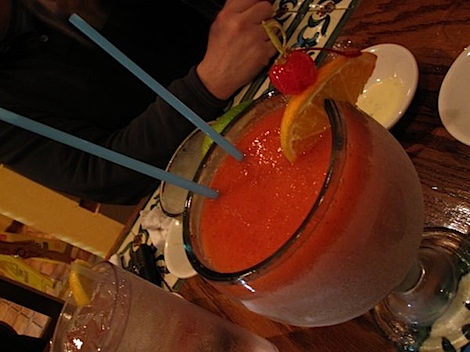 At dinner I ordered a strawberry margarita. It was HUGE!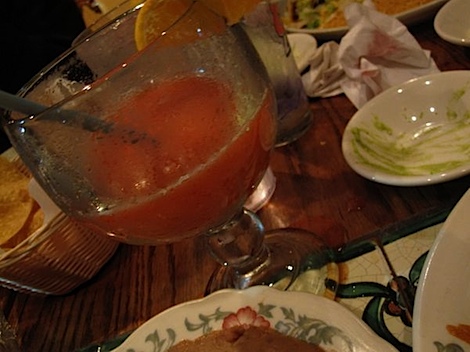 I talked a co-worker into splitting the drink with me.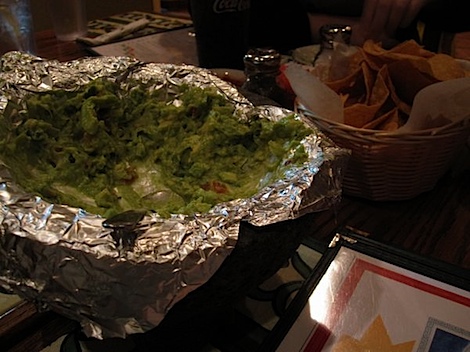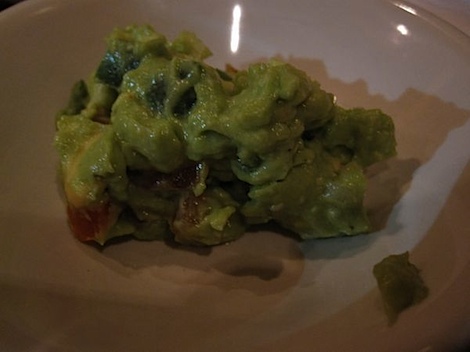 I got some guacamole (about 2 tbsp if I had to guess), plus about 1 tbsp salsa. I didnt count the chips I ate but I didn't over do it (probably thanks to my yogurt snack).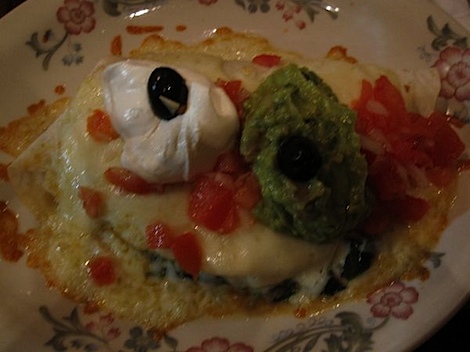 For my entree I got the spinach and cheese quesadilla. I kind of expected a tortilla folded in half and cut into triangles, but instead I got this. Though unexpected, I really, really liked all the ooey-gooey cheese.
Too bad I only ate about 1/3 of this…maybe.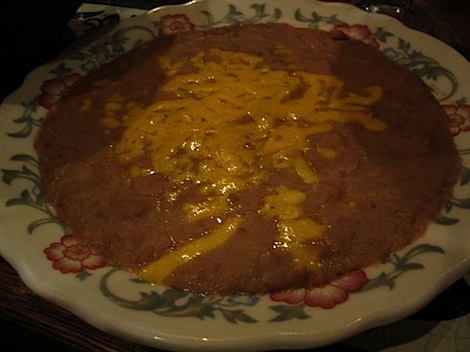 The quesadilla I ordered was an appetizer, which didnt come with rice and beans. So, I ordered a side of beans. They were delicious, but I barely made a dent in them. I maybe ate 1/4 of this.
Luckily hubby seems pretty happy to have so many leftovers!
Healthy Eating Tidbit: My late snack trick seemed to work. I went to dinner hungry but not starving so I was able to enjoy my food without consuming huge quantities of it. I prefer to fill up on the healthy stuff and eat the more decadent in smaller quantities.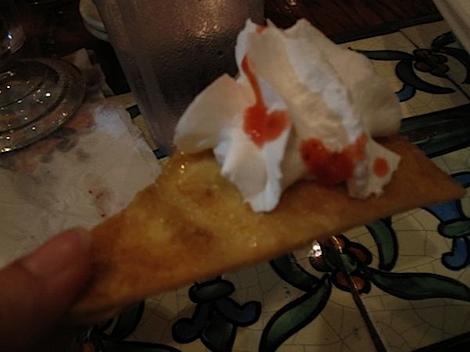 Oops, almost forgot – a sopapilla bite for dessert. I love sopapillas – fried sugary dough. Not so good in large quantities or frequently eaten, but so good once in awhile. Though I think On the Border may have the best sopapilla with a slightly thicker dough with a nice chewy texture and lovely honey sauce….mmm….
Tidbits
I've been considering switching to all-natural, organic beauty products. Check out this post by Alicia Silverstone over at The Kind Life with some good options.
I added a new page – Green! My Green page is all about going green in big and small ways. Click here to check it out.
Would anyone be interested in doing a guest post about vegan/vegetarian/pescatarian eating? Maybe recipes or tips for those new to a meatless diet? Email me at thechiclife at gmail dot com.
Project Hydrate Day #3
I was able to get started earlier on my water intake for Project Hydrate, which was helpful. It was cold in the office today, so I upped my hot tea intake by one cup, but ended up drinking a bit less water. Overall, I think I did better than yesterday at least. 🙂
Consumed:
Finished pink bottle (4 cups) around 3pm
Had 3 cups of hot tea (each cup more than 8 ounces – total maybe closer to 3 8-ounce cups)
DIdn't touch my turquoise bottle 😳
Had half a strawberry margarita – not counted towards total
Had some water at dinner, but not much, maybe a 1/2 cup?
Btw, if you're on twitter look for my #projecthydrate hash tag and feel free to use it yourself. There's a similar tag floating around under #waterlogged, too! 🙂
How are you doing with Project Hydrate so far? Btw, it's not too late to join if you're interested! Leave me a comment if you want to join in on the fun.
Does anyone have a recommendation on organic bath & body products?