Need an idea for a meatless Friday meal during the Lent season? Here's a wonderful recipe from Angela! Get your ingredients tonight so you're ready to go tomorrow. I can't wait to try these myself! 🙂
*******************************************************************
Hi everyone!
My name is Angela and I am the writer of Oh She Glows and Green Monster Movement. I was delighted when Diana asked me to do a guest post talking about one of my favourite meat-free recipes. I knew immediately what I would select.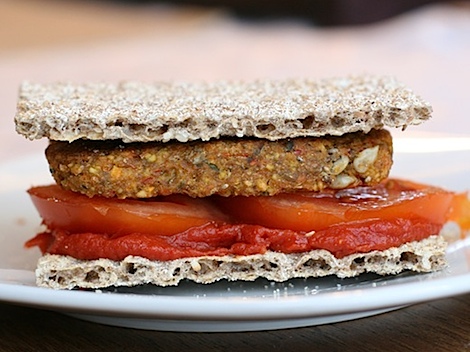 These veggie burgers are the best veggie burgers I have ever tasted and are a hit among everyone who tries them out. My own meat-loving husband goes crazy over these whenever I make them. I hope you will enjoy them as much as we do! Just be careful…they are gone in a jiffy too!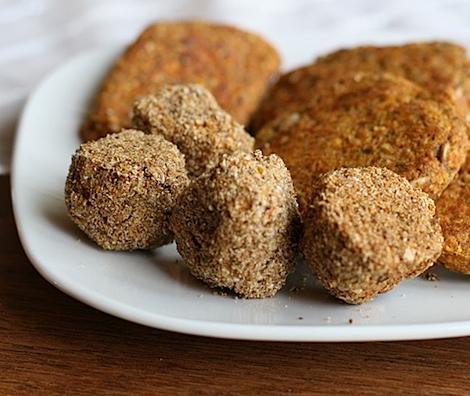 In A Jiffy Spelt Veggie Burgers
Ingredients:
1 cup cooked chick peas (of beans of your choice)
1 small carrot, peeled and chopped into large pieces
1 small sweet onion, peeled and chopped up into large pieces
1/2 Red pepper, chopped into large pieces
1/4 cup spinach, washed
1/2 t dill (dried or fresh- I used fresh pureed dill)
1/2 t dried basil
1/4 t fine grain sea salt
tiny dash of cayenne
1 clove minced garlic, optional
1/4 cup sunflower seeds (so amazing in this burger!)
1 T pumpkin seeds (pepita)
1 T chia seeds
3/4 cup spelt flour (or flour of your choice)
Directions: Preheat oven to 375F and line a baking sheet with parchment paper (or spray with oil). Place all ingredients except the seeds and flour into a food processor. Process until mixture is blended well, stopping to scrape sides if necessary. Remove mixture and place into a large bowl. Add seeds and stir well. Now add the spelt flour (or flour of your choice) in 1/4 cup increments, stirring well until blended. Shape patties and bake for 15 mins at 375F, flip and bake for another 10 minutes.
Makes 8 small patties.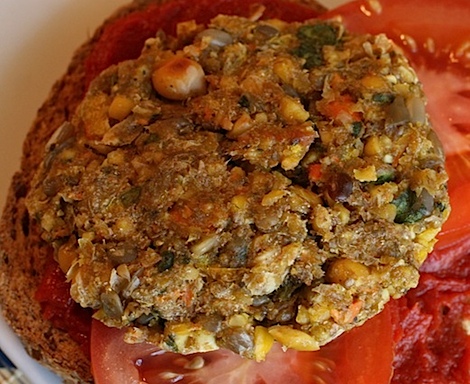 [Recipe adapted from Diet, Dessert, n Dogs. For nutritional info, see here.]
Thank you Diana for allowing me to share my recipe on your fabulous blog.
Have a great day everyone!
Angela
*********************************************************************
Thank you so much Angela for sharing your recipe with us! I hope lots of people try this one out. I know I will! 🙂
Photo credits for this post: Angela / Oh She Glows