Our Meatless 4 Lent (M4L) Guest Post series continues with another wonderful meatless-Friday meal idea from the most-awesome Kath of Kath Eats Real Food.
Take it away Kath! 🙂
—————————————————————————–
Hey Veg Heads!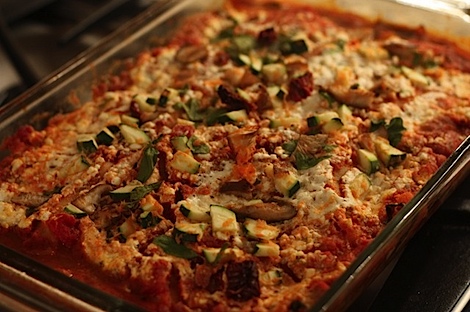 I'm here to share a recipe for a fabulous whole wheat vegetarian lasagna. Full of flavor thanks to fresh veggies and chewy sun-dried tomatoes, this is the best lasagna I've ever had – meat and all included! Cottage cheese leaves the layers moist and vegetables stay crisp tender. Don't leave out the sun-dried tomatoes – they are the key!! Serve with a green salad 🙂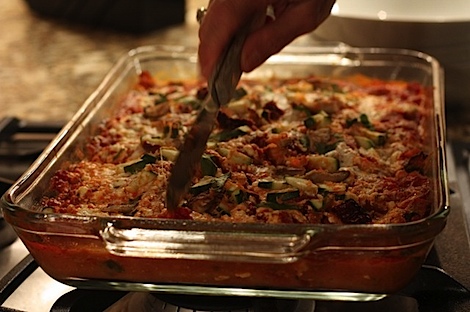 The Best Vegetable Lasagna
Ingredients
3 cups pasta sauce (like Classico Spicy Tomato and Pesto)
16 ounces 2% cottage cheese
1/2 cup grated parmesan
9 whole wheat lasagna noodles
8 ounces mozzarella cheese
Approximately 4 cups mixed vegetables (I used spinach, carrots, sundried tomatoes, and zucchini)
Preheat oven to 400*. Spray 11 X 8 glass casserole dish.
Combine cottage and parmesan cheeses.
Place 3 uncooked noodles in pan.
Cover with 1 cup pasta sauce, 1/3 cheese mixture, 1/3 vegetables, and 1/3 mozzarella.
Repeat 2 more times.
Cover tightly with aluminum foil and bake one hour.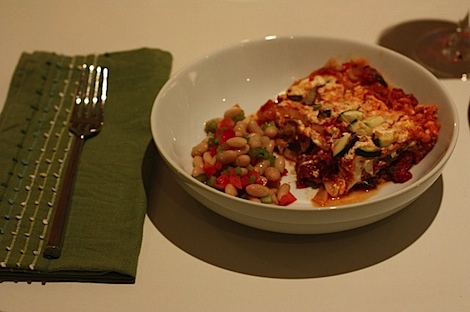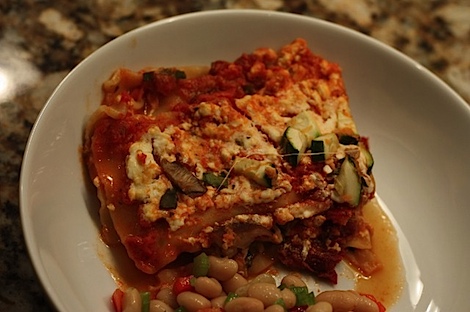 Makes about 8 servings, ~350 kcal per serving.
—————————————————————————–
NOTE: Photos courtesy Katheats.com
Yuuuuum! Looks tasty! Thank you so much Kath for sharing one of your recipes with us! I am definitely going to be trying this one out soon!
To find other fabulous meatless meal ideas, check out the other Meatless 4 Lent (M4L) Guest posts by clicking here or clicking on the "M4L Guest Post" tag (see right sidebar).
Is anyone else going meatless on Fridays? Maybe on another day of the week? How bout meatless for Lent like me? 🙂