I had 2 containers of Plain Oikos that expired yesterday staring me down in the fridge. Being a bit paranoid, I decided it best to not eat the yogurts plain, however, I figured if I used them in something for baking, maybe they would be ok? I decided to try a muffin recipe that Stonyfield mailed me awhile back for breakfast today since I was WFH.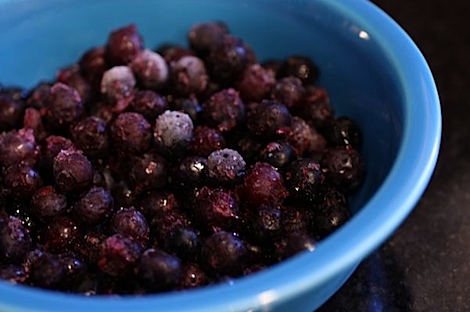 I put 1 cup of frozen blueberries on the counter to defrost slightly while I showered and got ready.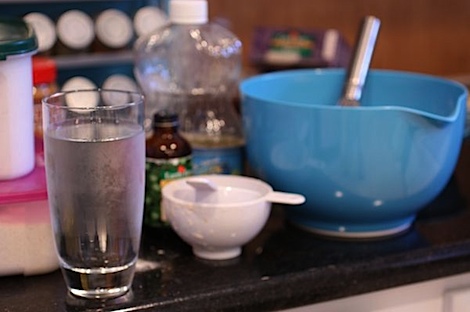 Then, it was time to get my bake on! Even though I was busy mixing, I made sure to pour myself some water for Project Hydrate. 😉
And I totally used half spelt flour because spelt flour is awesome.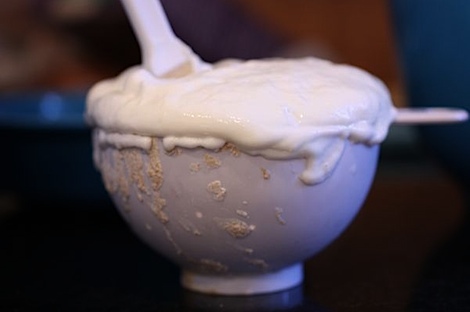 I tried mixing the yogurt and baking soda in a measuring cup to save a bowl (and clean up time) but it started puffing up! Guess I should have used a bowl! lol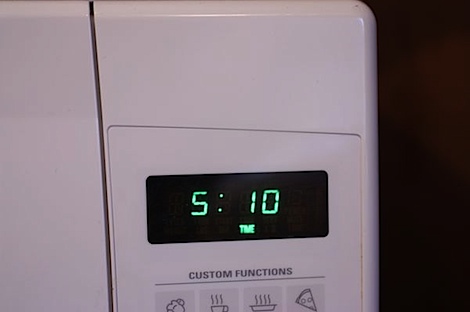 Also, even though I was home today, it didn't mean I had eons of time. I still had to get to work! So, to try to keep myself moving quickly, I set a timer for 15 minutes in an attempt to whip the muffins up completely in 15 minutes.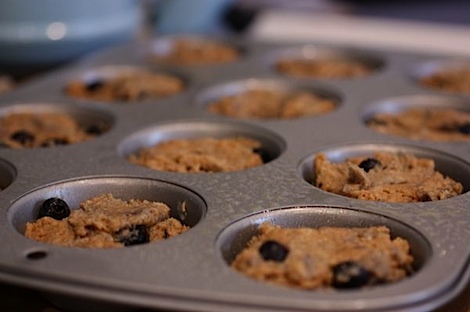 It was more like 20 by the time I got the muffins in the oven, but I still think I did a pretty decent job. The batter was thick and I filled the muffins nearly full.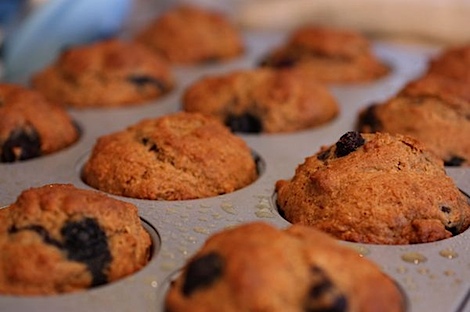 Baked up.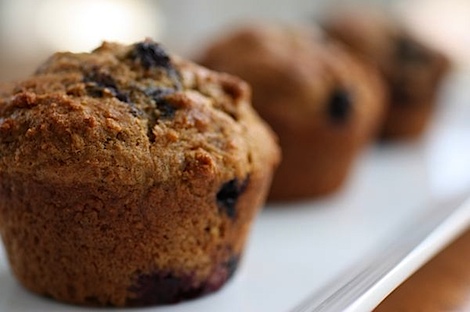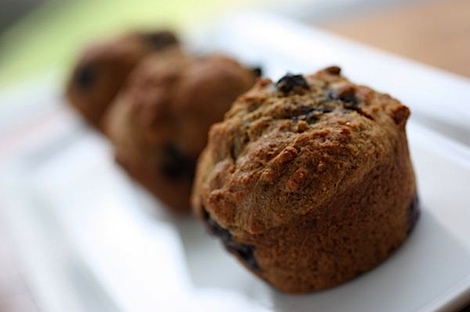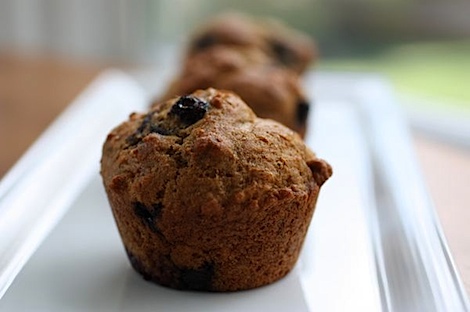 It was such a nice treat to have homemade muffins for breakfast during the work-week!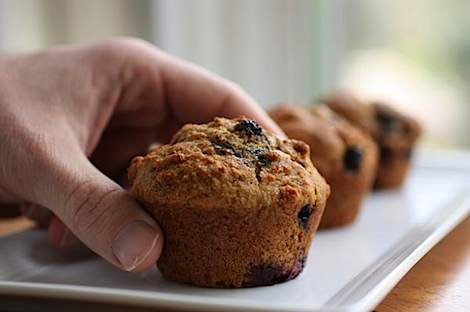 Hubby snuck in while I was taking pictures to get some eats.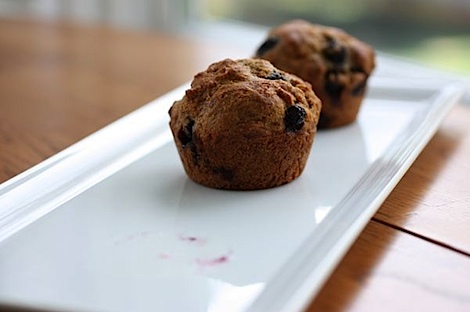 …and then there were 2.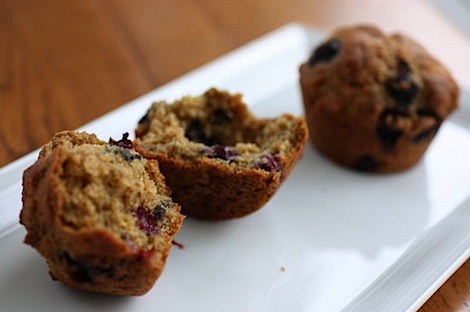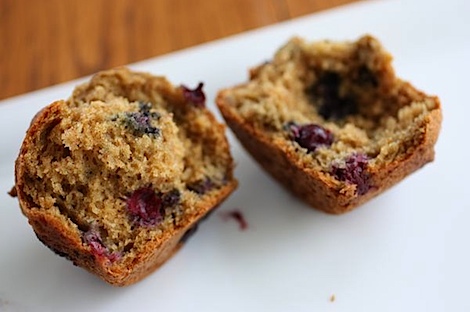 I used to eat muffin mixes with quasi blueberries all the time, but real blueberries are definitely the way to go!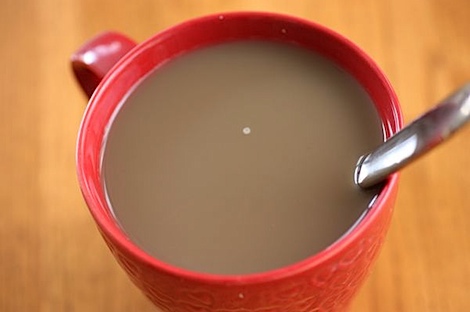 Perfect with coffee!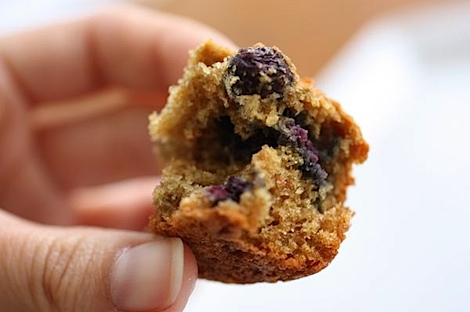 Yum! I downed 3. The first 2 were awesome and I waited a bit to gauge my hunger before deciding to go in for a third. I felt a little over-full afterall, but figured I could use the carbs for a workout later.
Spelt Blueberry Muffins
Adapted from a Stonyfield recipe
Ingredients:
1 cup white wheat flour
1 cup spelt flour (or sub flour of choice)
2 tsp baking powder
1/2 tsp salt
1 cup Plain Oikos (or plain yogurt)
1 tsp baking soda
1 egg
1/2 cup vegetable oil
1/2 cup sucanat (or sub sugar of choice)
1 tsp vanilla
1 cup fresh or slightly thawed frozen blueberries
Directions:
Preheat oven to 350 degrees F and prep a 12 cup muffin tin with non-stick spray (or liners)
Whisk together flours, baking powder & salt in a medium bowl.
In a small bowl combine yogurt and baking soda.
In a large bowl, beat egg, then add oil, sugar, and vanilla and stir to combine.
Alternate adding the flour and yogurt mixtures to the egg mixture until combined (do not overstir).
Gently fold in blueberries.
Pour/spoon batter into muffin tin (my cups were almost full to the top).
Bake 23-28 minutes until golden brown on top and a toothpick inserted in center comes out clean.
Cool and enjoy!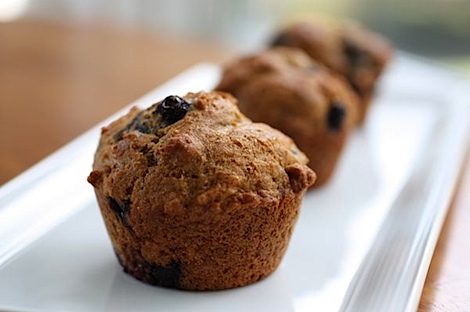 Makes 12.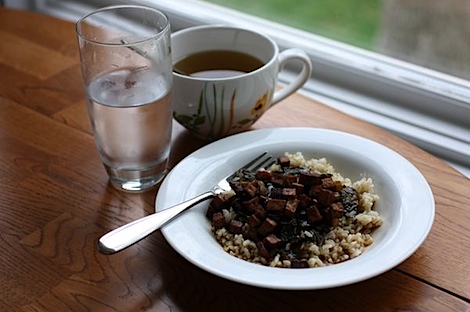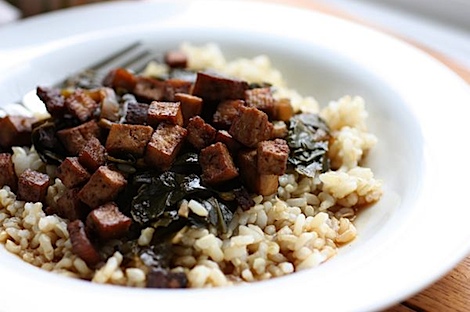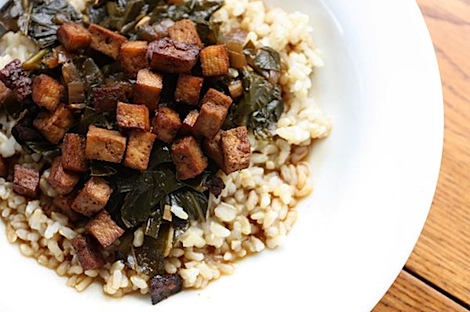 I had leftovers from last night's Asian-inspired tofu/collard green/brown rice dinner.
WHen I put the leftovers up, they looked so small like they weren't worth saving. Turns out they made a full other meal. Glad I saved them!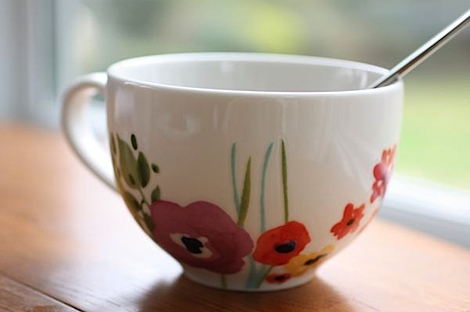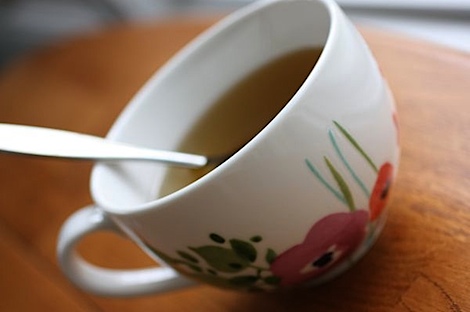 Yerba mate tea. Yes I bought the matching mug!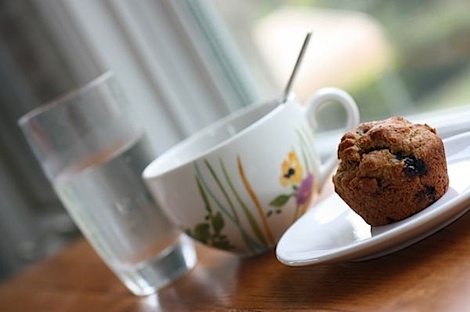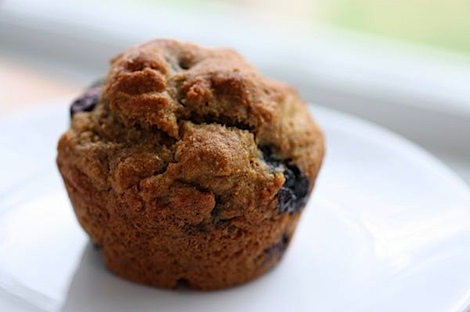 Tulsi tea and another muffin.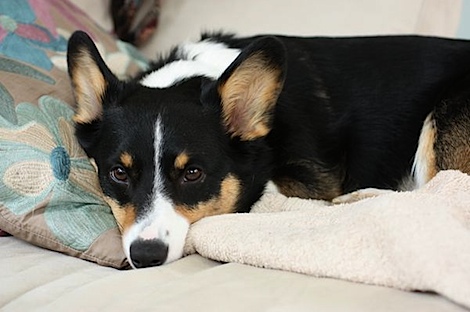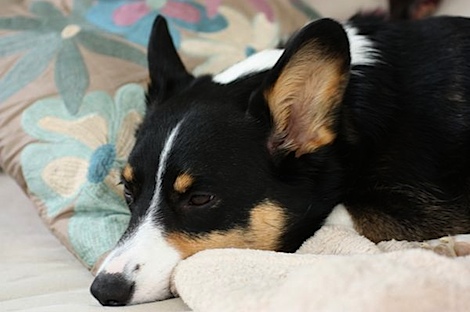 Sleepy Bailey.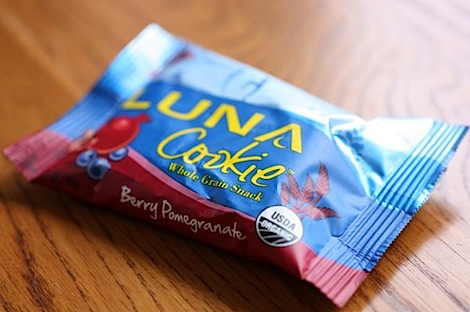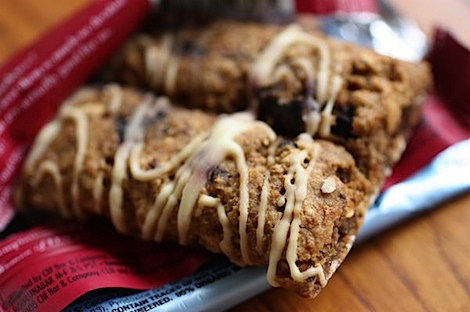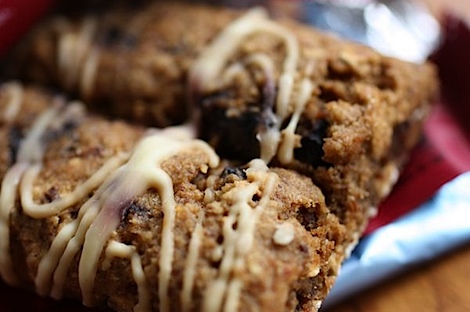 I'm fueled up and ready for ZUMBA!
Though I'm usually feeling pretty drained by the end of a long work week, I still love to end my week with a fun, energetic and upbeat workout!
I'm ready to get my dance on!
Be sure to check out my latest guest post – a vegetarian lasagna recipe by Kath!
And, fun discussions going on on my Facebook page.
Oh, and a BIG announcement coming up Monday! I can't wait to tell you…so much fun stuff in the works! 😀
Lastly – attention bloggers- anyone interested in participating in an "Official De-lurker Day" to coax our shy readers into coming out and saying hey on some blog comments?
Reader Question: Do you look forward to workouts at the end of the week?