I've received two questions related to beauty and make-up, but rather than just answer in words, I thought I'd do a whole blog post so I can really answer them well.
Here are my Formspring questions:
you're beautiful! What is your skincare regime?
Hi! What kind of skin products and makeup do you use? Do you like to use organic?
First off, thank you to the first commenter! I'm so flattered! 🙂 And for the second, I'm not currently using organic products, but I would like to find some to start using.
A Quick Background
I should probably provide a quick background to me and skin health before I dive straight into my fave beauty & makeup products. I grew up with a big problem with acne. My acne woes first hit me when I was in middle school and only got worse and worse. At first, I tried every product I could in hopes one would work. I tried all the popular 90's brands – OxyClean, Neutrogena and some others I can't remember off the top of my head – even multiple products by the same brands. None of them worked. I started seeing a dermatologist who would do these crazy freezing-mist treatments and even tried some pill solutions that worked decently but not great. My acne was really hurting my self esteem and sef confidence. Finally, in high school, I went on Accutane to help clear up my skin. For those not familiar with Accutane, Accutane is a very serious pill prescribed by dermatologist for serious acne issues that permanently changes your skin. You can read more about Accutane here on Drugs.com.
So, because of my background with acne and skin problems, I am VERY particular about the products I use. I try to use gentle ones and I try to use them sparingly.
As far as my skin type, I'd say it's combination – oily in the T-zone but dry otherwise.
Products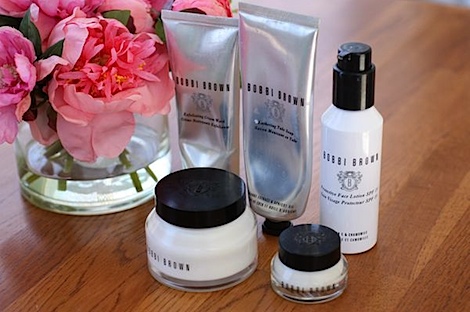 After trying a flurry of various skin and beauty products, I finally found one that I liked: Bobbi Brown's protective face lotion SPF 15. It seemed as though it was light enough to not weigh down my skin or add extra oil but also moisturizing enough to actually work. Though the product was expensive, I felt it was worth it to know that I found a product I liked rather than wasting money purchasing product after product that wasn't getting the job done.
After being so happy with the first Bobbi Brown product I tried, I started trying some of the others and found they were all also quite amazing – gentle but effective.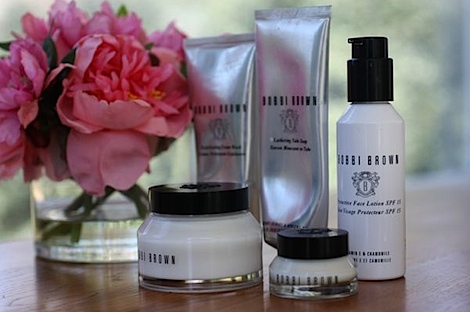 Here are the Bobbi Brown products I use:
Protective Face Lotion SPF 15: Not only is this a great everyday lotion that actually moisturizes your skin without feeling heavy, it also has SPF 15. I'm always worried about sun block breaking out my skin, but with this lotion, I don't have to worry about it. I get my moisturization and sun protection in one happy package. Purchasing tip: I buy this in November or December when they have the larger holiday sizes. They last me an entire year so I only have to repurchase every fall/winter.
Hydrating Face Cream: After using the face lotion for a year or two, I tried the hydrating face cream and fell head over heels in love with it. This cream is actually my all-time-favorite for face moisturization. I use it every day. I actually use this as my primary cream ad the lotion on occasion now. The cream feels luxurious going on and I can feel it helping my skin gain moisture without being the least bit heavy. Some lotions you can still feel on your skin hours after you put it on like a oily film, but this one feels like nothing immediately upon application. My skin just feels hydrated and refreshed. Purchasing tip: I buy this in November or December when they have the larger holiday sizes. They last me an entire year so I only have to repurchase every fall/winter.
Hydrating Eye Cream: Just like the hydrating face cream – my skin feels hydrated without being weighed down.
Lathering Tube Soap: Whenever I need to remove my make-up or if my skin needs a good cleansing, I turn to this tube soap. It gently cleans my face without making my skin feel completely stripped.
Exfoliating Cream Wash: Jojoba beads gently exfoliate your skin without harshly scratching your face. Gentle enough to use every other day. NOTE: I can't find this on their site. I think they may have stopped production of it. Gah!
Skincare Regime
First thing in the morning, I rinse my face with warm water. My dermatologist told me a long time ago that people with acne mistakenly think that they need to use tons of cleansers on their skin but they actually can irritate your skin and make it worse. So, following that advice, I try to just use water.
Every other day (about 3 times a week), I will use the Exfoliating Cream Wash when I'm in the shower, applying with gentle circles and rinsing with warm water.
Next, I apply Bobbi Brown's Hydrating Face Cream (OR I apply the Protective Face Lotion – if I think my skin doesn't need a lot of moisture or if I know I'll be in the sun a lot, since it has SPF 15).
As for makeup, some days I wear it, some days I don't. When I do, I almost never use foundation/powder/concealer or any other face make-up, because I think it clogs my pores and causes breakouts. When I wear makeup, I typically wear eye make-up and blush. When I do use face make-up, I try to use something light like Bare Escentuals.
If I did put face make-up on (or if my skin needs a good cleansing, like I've been outdoors sweating all day or something), then at the end of the day, I'll use the Bobbi Brown Lathering Tube Soap to remove my make-up or just for a good cleaning. Otherwise, I typically just rinse my skin with warm water.
Depending on how my skin feels afterwards (if it feels like it needs more moisture), I'll apply more Hydrating Face Cream.
Every once in awhile, I remember to use the Hydrating Eye Cream. I know, I know…I should use this every night. When I use it, I apply it lightly with my pinky just under my eyes.
I don't really use masks or deep treatments. I wouldn't mind doing one every once in awhile, but I haven't found any I love and I try to irritate my skin as little as possible, so I just stick with what I know works.
Trying Something New? Try Samples First
If you're interested in trying a new skin product, I highly recommend going somewhere where an expert can talk to you. I like the make-up counters at the mall because the people in each area specialize with that product and probably hear a lot of customer feedback. Also, places like that or Sephora will typically give you a sample size so you can test out the product on your own. I recommend trying the sample out a few times so you can see how your skin reacts over time. If you just use it once, you're probably not really going to get a good gauge.
I would definitely see if you can get a sample – especially considering how expensive many skincare products can be.
Questions? Comments? Suggestions?
So that's it. I try to keep a pretty simple beauty routine. Does anyone have any follow up questions or comments?
Do you have a beauty product you recommend? I'm especially curious to hear if you have an organic product you love, but if you just have one you're infatuated with, why not leave it in case your tip may help another reader? If you're leaving a suggestion, please try to leave your skin type or any skin issues along with the product you recommend – that way others with the same skin type will know what to look for.
Cheers! 😀
PS I'll be covering makeup in another post.