Hey guys! I'm kicking off a very exciting new post series here on The Chic Life – Featured Reader Friday!!! Every Friday (or every other Friday), I'm going to feature one of YOU here on The Chic Life blog! If you're interested in being featured, make sure you're a fan of my Facebook page – I'll be gathering names there. 😉
Without further adieu…I now bring you our FIRST EVER featured reader!
————————————————————————————–
Name: Layla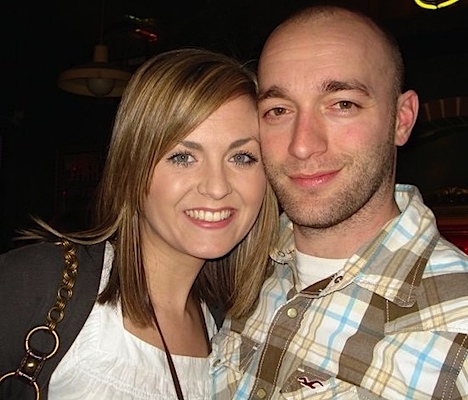 (Layla and her hubby Josh)
If you have a blog, what's the name/URL?
I do, but I haven't posted regularly, so it's kind of boring! http://damnyoumuffintop.blogspot.com
Where You're From
Originally from TN, currently in Atlanta, GA
Why do you read The Chic Life?
I can't remember how I stumbled upon it, but I love reading The Chic Life! I use it for exercise inspiration, recipes, and I used Project Hydration as motivation to improve my water intake. I just really like the writing style, the pics (especially of Bailey!) and the upbeat, positive attitude that Diana has. I think she definitely puts a fun spin on eating right and exercising, instead of making it something that has to be done.
Favorite Exercise or Exercise Routine
I haven't found my groove with exercise yet… I'm too all over the place at the moment. I am a fan of the 30 Day Shred DVD, and I love free weights. My husband and I are going to start running more regularly, and I'm joining a local boot camp that meets three days a week, which I'm really looking forward to.
Favorite Thing to Eat for either Breakfast, Lunch and/or Dinner
Breakfast: During the week, my favorite oat bowl! Sunday breakfasts with the husband are waffles made with Trader Joe's pumpkin pancake and waffle mix, maple syrup, maple sausage and espresso. I love to snack on oranges, Larabars, sweet potato chips by Food Should Taste Good, chocolate Oikos, and I drink a LOT of coffee and loose tea. (And not enough water, ever! I do try, though.)
Hobbies or Hidden Talents
I love to read, both books and blogs! I'm a vintage shopper extraordinaire, and I love writing. Hidden talents…. I can touch my nose with my tongue, even though I think that's more gross than talented, lol!
Describe Your Favorite Plate/Bowl
I eat the same oat bowl every day, I love it and can't bring myself to try something new! In it – old fashioned oats, organic raisins, unsweetened shredded organic coconut, Bob's Red Mill ground flax, and a tablespoon of almond butter. I only break from this on Sundays when my husband and I actually get to have breakfast together.
Favorite Quote
"No one can make you feel inferior without your consent" – Eleanor Roosevelt
Best Advice You Ever Received
Take a moment before every major decision and say "Will this change my life? Will I regret it?" If the answer is yes, you will regret it, then move on and don't look back. Having no regrets is the key to a happy life.
What Makes Your Life Chic?
My healthy decisions, first and foremost.
————————————————————————————–
Thank you so much Layla for participating in my first ever Featured Reader Friday! And thanks to my Facebook friends for helping me come up with some of the questions. You guys rock!
Remember to check out my Facebook page if you're interested in being featured. 🙂