Wow, this week has been crazy!
Here's my work phone conference schedule from just Wednesday:
9-9:30am
11-12pm
11:30-12:30pm
12:30-1pm
1-2pm
2-3pm
3:30-4pm
4-4:30
5-6pm
Yikes!
Hubby's been on a serious roll with the cooking this week. Who knew getting a grill would mean he'd get so into cooking?! Go huuubby! It's ya birthday!
Sorry for not posting yesterday, but here are some highlights from the last two days: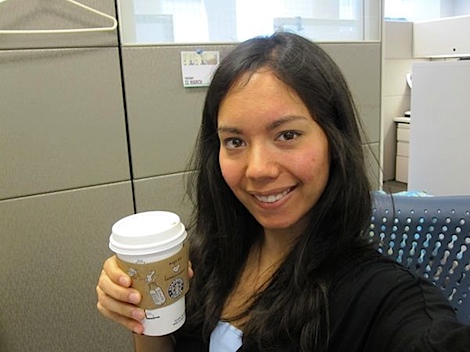 I celebrated Starbucks Monday on Tuesday. Don't worry, it doesn't mean I had two Sbucks Mondays…just one a day delayed.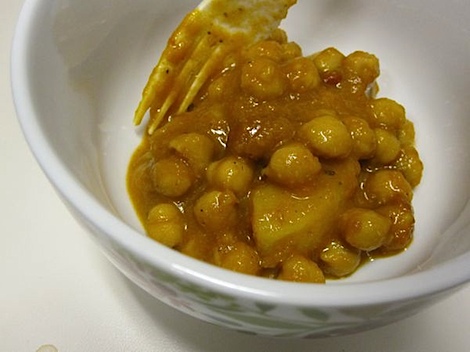 My friend (who's from South India) made me some homemade Chana Masala. Homemade people! Score!
I totally owe her some sweets now for realz!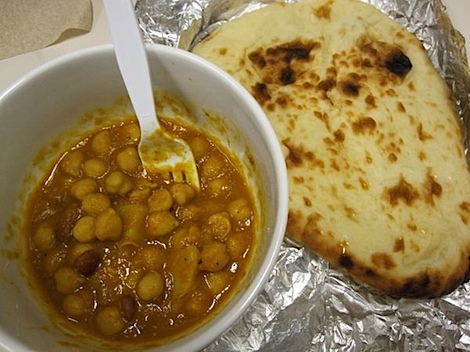 I hit up a local Indian restaurant to get the perfect accompaniment – naan!
Man this stuff was good! I must get the recipe from my friend! Btw, she cooked her chickpeas from dry in a pressure cooker. I think I need a pressure cooker so I can do the same! I'd like to start cooking my beans from dry instead of using canned beans.
As for dinner…
Hubby's on a Roll!
With my week being extra hectic, hubby has really stepped up to help with dinner by finding recipes and cooking up two dinners in a row!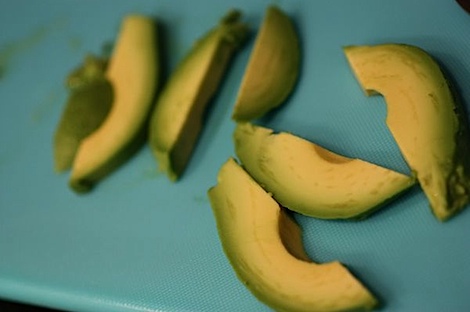 We finally found a pretty green avocado! Hooray! 🙂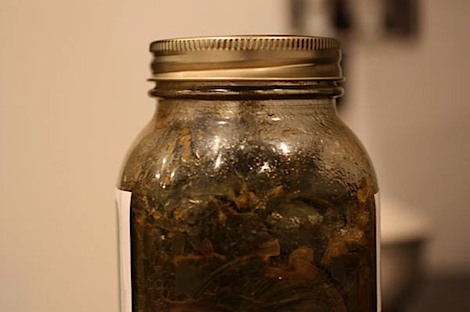 And we also dug into those KW Collards we picked up recently. We heated up enough for both of us and barely made a dent in the container! This stuff is a great deal at 8.99 for as many servings as it looks to provide!
As for the taste – it's soooo good! Most people think collards arent good when they're not cooked with meat, but these vegan collards are full of flavor and even have a spicy kick!
For those in Greenville, SC, KW Collards will be doing a sampling at The Wild Radish at 161 Verdin Road this Saturday, June 5th. I'm not sure at what times, but I'm sure you could call the restaurant to find out. Definitely stop by for your sample!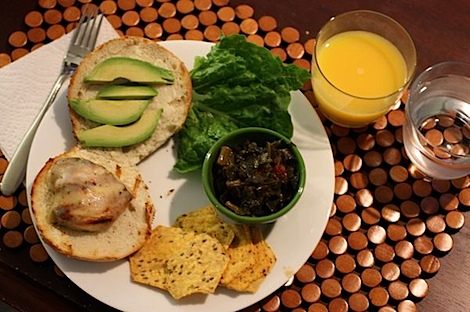 So what did hubby cook first? Chipotle Grilled Chicken with avocado and romaine, KW Collards, and Food Should Taste Good (*) Cheddar chips (which are all GONE! Hubby downed them FAST! 😆 )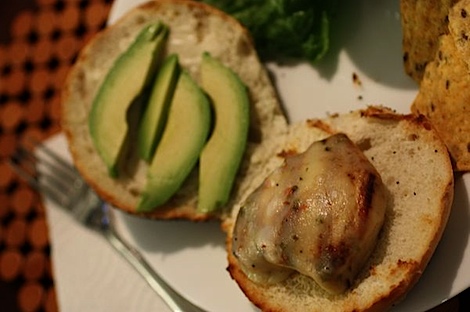 Yum!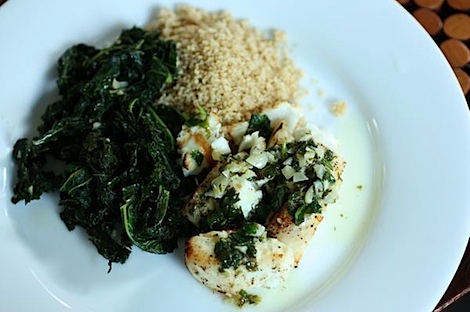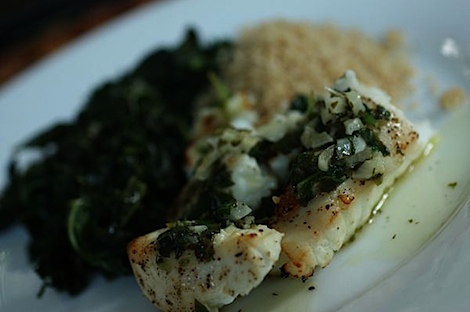 Meal #2 – Grilled Halibut with Cilantro Garlic Butter (click for recipe). Wow – I'm not sure I would have picked something like this out myself because I'm not a big seafood person. However, I LOVED this! The fish was not fish-y – it was nice and tender and flaky. The sauce was great – simple but flavorful.
I made sauteed kale with a splash of marsala wine and whole wheat cous cous for the sides. Nooommmm!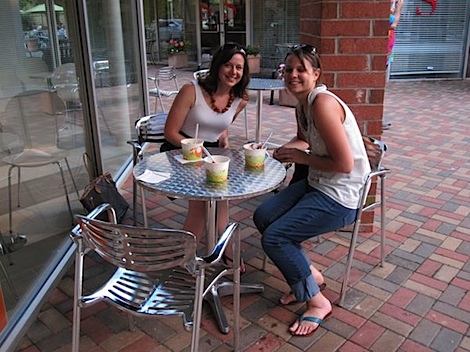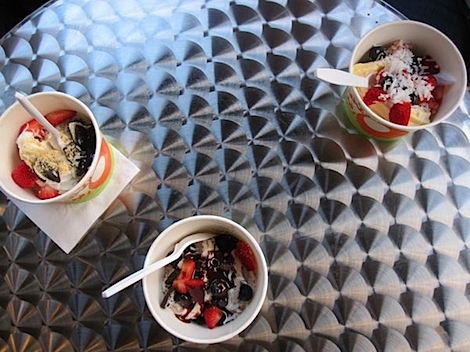 Tonight, I met up with Michelle and Jessie for FROYO at Yoforia! Man is froyo the new latte or what?!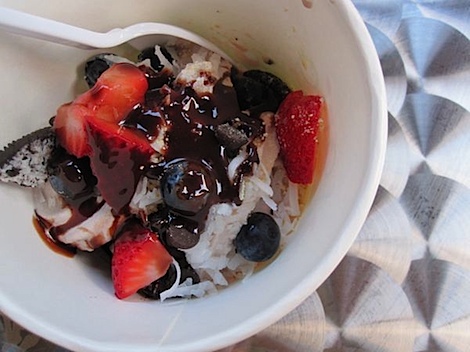 The last few times have been all fruit so tonight I decided to go to the dark side…chocolate that is!
I got cookies & cream and ferrera roche froyo and topped it with strawberries, blueberries (gotta have some fruit), oreos, chocolate chips, coconut and chocolate syrup. Wow – so tasty! I still think the fruit based flavors/toppings are my fave, but I gotta switch it up once in awhile so I don't get sick of this stuff!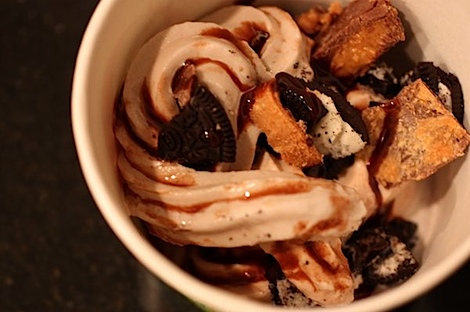 I made sure to bring hubby home some froyo – basically the same as what I got with some substitutions.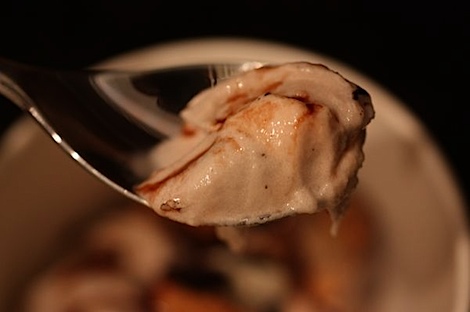 He may or may not have let me have a bite of his. 😉
I wonder what hubby will make tomorrow?! Oh wait…we have plans to go OUT with some special friends. Hooray!
Plus, fun plans for a cookout on Saturday…and the good news for me…after racking my brain, I think I've come up with the perfect cookout dessert! Can't wait to share! 🙂
Does your SO cook? What's his/her signature dish or fave thing to make?