Compared to the rest of this weekend, Sunday was boooring.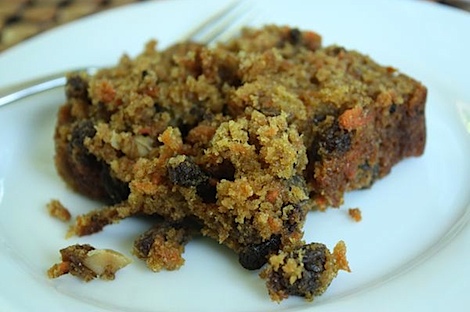 Breakfast was no-cook thanks to Kath who gave me a remnant tea loaf in Carrot Raisin. I ate most of the raisins but not quite all of them. I had a lovely slice with some hot coffee.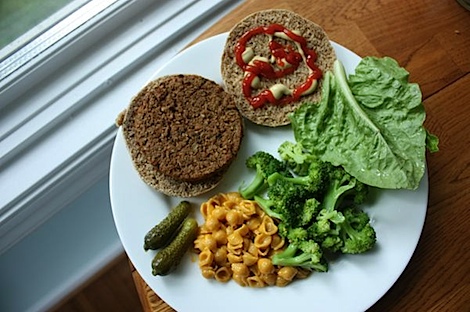 For lunch, I made stuff from the pantry/freezer plus some of the fresh veg we picked up yesterday at the farmer's market.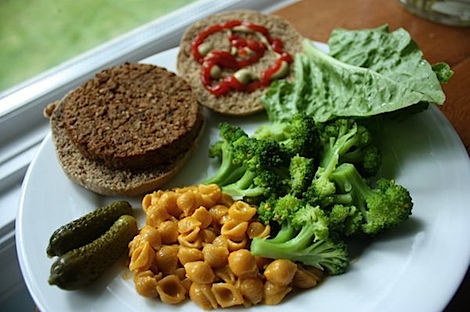 Amy's all American veggie burger, WW roll (also thanks to Kath), Annie's mac and cheese, steamed organic broccoli with a drizzle of real butter, plus pickles, romaine, ketchup and mustard.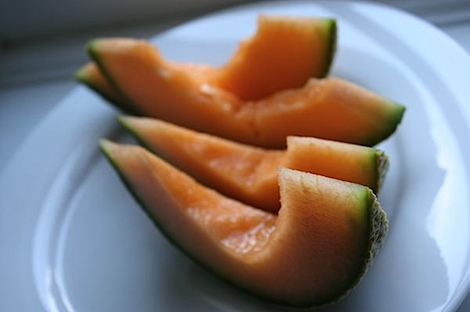 Organic cantaloupe for lunch-dessert. So refreshing on a hot day like today!
Hubby and spent most of the day doing things around the house and yard. I tied up my tomato plants (boy they're getting BIG!), we planted some hydrangeas, did laundry, cleaned up around the house and other typical housework stuff.
We even made time for a special Sunday dinner: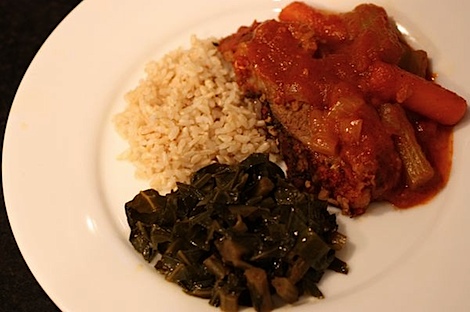 This is one of our fave dishes. We've probably repeated this one more than any other from Food TV. For tonight, we used the grass-fed beef brisket we got at the market yesterday.
To go with dinner, we had some brown rice and more KW Collards. Everything was fabulous!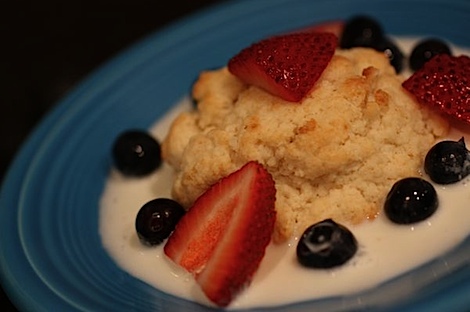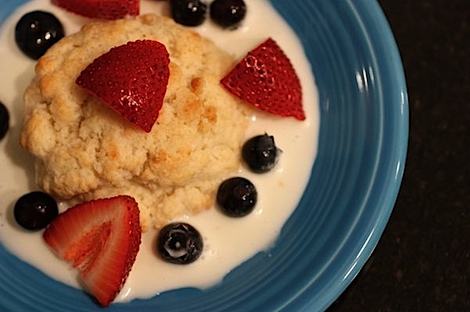 We even had leftovers of dessert from last night – Berry Shortcakes. I tried to make more whipped cream using half and half but it didn't ever fluff up! So, I turned my Amaretto-scented cream into a sauce instead, sort of like Tres Leches style. I still prefer whipped cream, but it was good to make some lemonade out of tonight's lemon.
No Prep Day Sunday for me tonight. I was thinking of making my marinated kale (I still owe you guys the recipe!) but I'm out of sesame seeds and it just doesn't seem the same without them.
Do you have a traditional Sunday dinner? What makes your Sunday dinner special?