When I found out a bunch of my local friends were signing up for a race in town, I decided to go support them as a spectator and as their official photographer. 😉
Why didn't I run? Well…as most of you know, I'm not really into running. I've considered doing Couch to 5K before, but never actually started it up.
And another confession: I'm afraid I won't be able to finish a race…of any length! Not a 5K, 10K…who knows? I'm worried I'll tucker out…or be the last one. Eek! Races are scary to me.
Not to mention thanks to my injury last year, I'm also slightly concerned I may hurt myself if I push myself too hard.
Reading all the running blogs makes me wish I was a runner, but I've never actually tried it out because of FEAR! 🙁
Anywho, today I was more than happy to offer my moral support and photography skillz. 🙂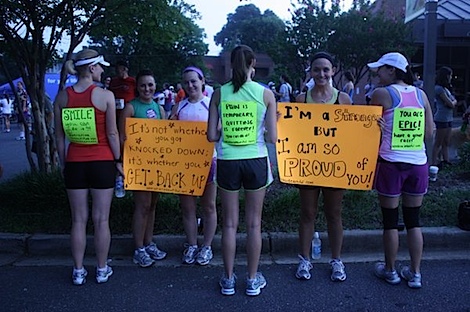 Everyone was geared up in their Operation Beautiful signs Caitlin and I made the other night.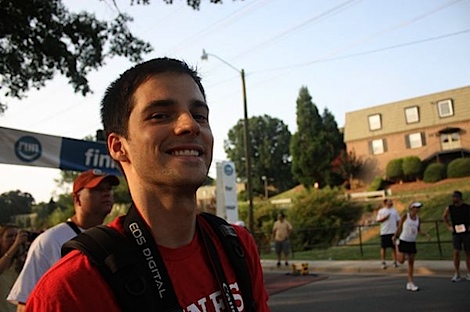 I paired up with Matt to take photos and cheer everyone on.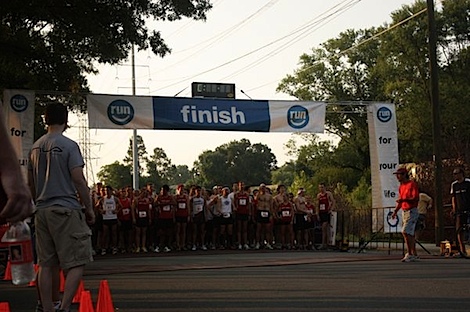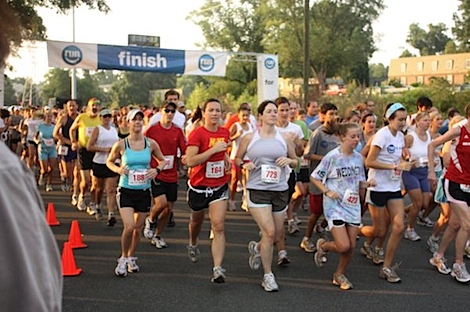 We waited at the start and next thing we know…they were OFF!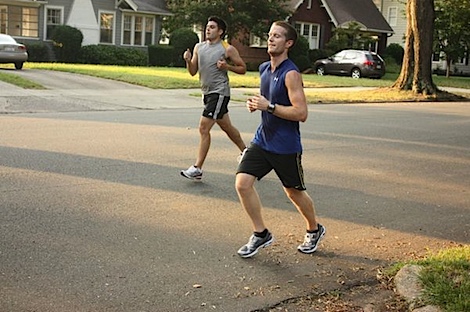 We got pictures of almost everyone. Here's Casey – the first to pass us.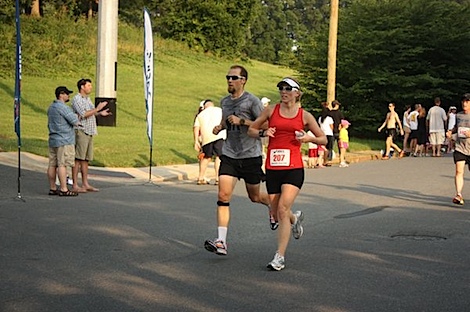 Jen + Jeff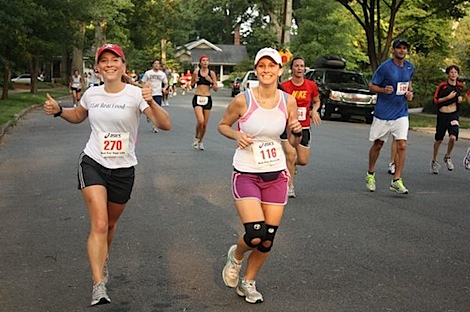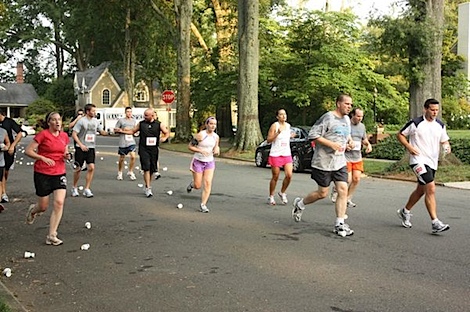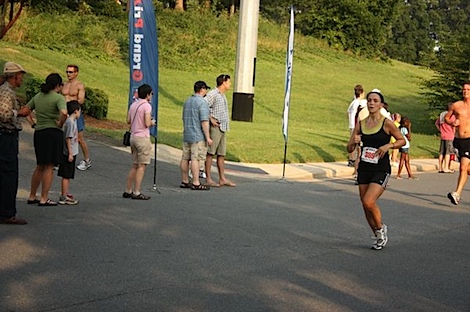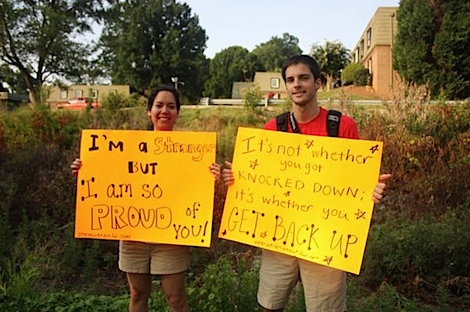 Matt and I held signs of encouragement for the runners. We got great response to our signs and lots of smiles! 🙂
So glad I was at the race today to share my support and take lots of photos!!
After checking stats and getting snacks, we headed back to Caitlin's place for brunch.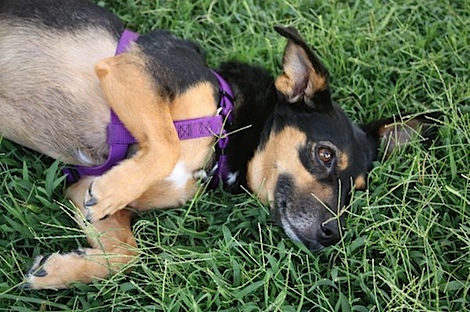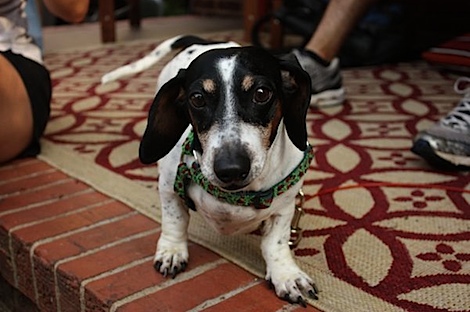 We got to hang out with Maggie and James.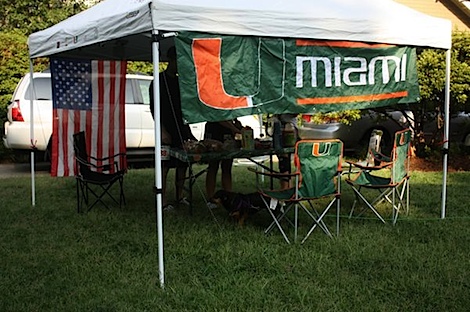 They set up their tailgate tent.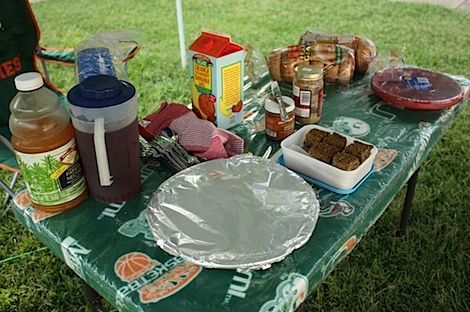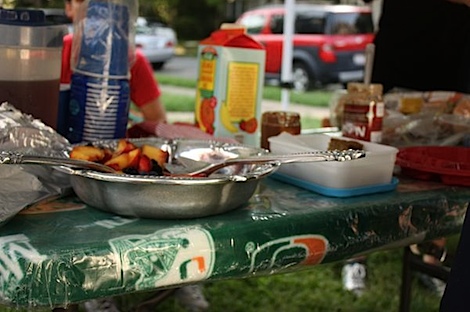 Eats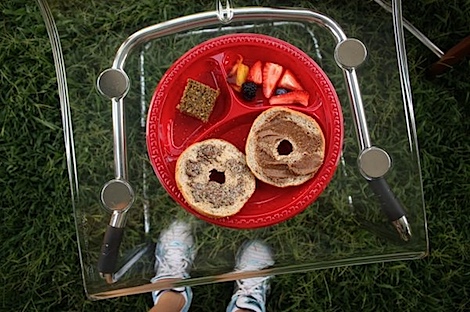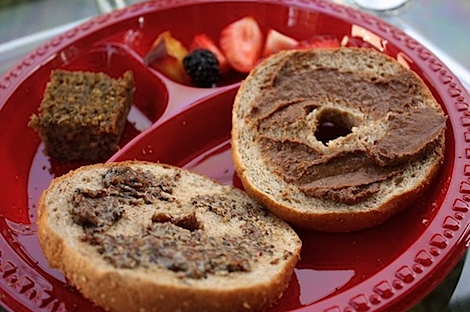 I had a bagel with some peanut free nuttzo and some mocha naturally nutty, plus a bar that Emily and Casey made (I believe they're posting their recipe soon) and some fruit salad.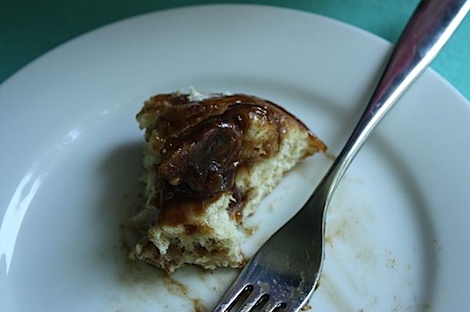 Guess who saved me some of his pecan sticky bun when I got home? Hubby did! So sweet of him. It was really tasty. He picked it up when he went to the farmers market all by himself! I'm so proud. 🙂 I don't think he'd ever been to a farmer's market before meeting me and now he's off and shopping their on his own. Too cool!
***
As for the race, if reading running blogs and hearing all the stories of the 5Ks, marathons and other running events didn't make me wish I was a runner, today surely did!
I'm big on doing things that scare you. I think it's true what doesn't kill you will only make you stronger so I always like to tackle things that terrify me. Even zumba scared me when I first started! I have a feeling I may be signing up for a 5K or something in the next year-ish. Who knows?
First, I'll try running with the girls tomorrow. Eeks! I'm scared! lol
Any first time running tips for me?