I had more afternoon snacks to try to energize for my first public zumba class with my dance fitness company.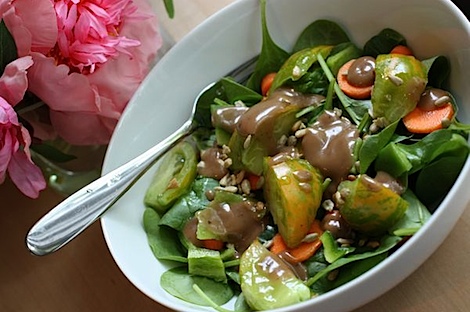 Salad: organic baby spinach, organic carrots, organic green bell pepper, Green Zebra tomatoes from my garden, sunflower seeds, rosemary balsamic dressing.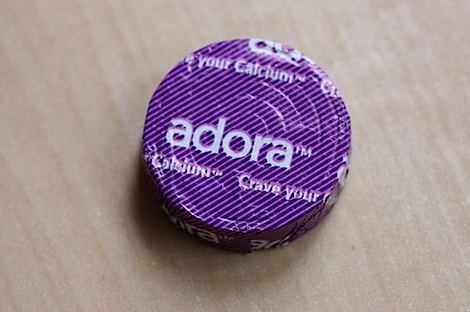 Adora calcium disc (free sample from HLS).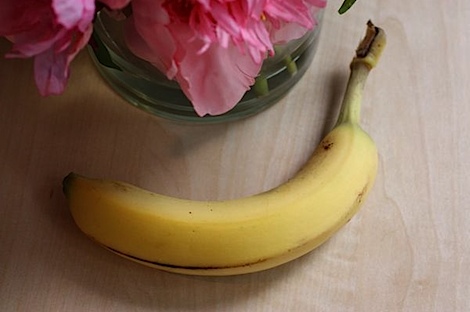 Banana…which I put into…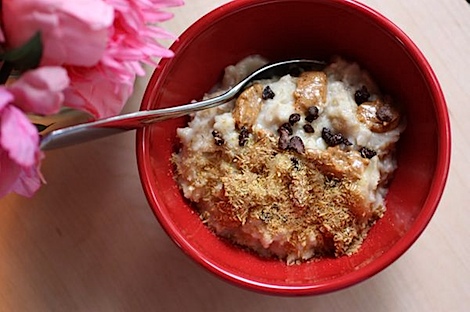 Oats!
Perfect workout fuel.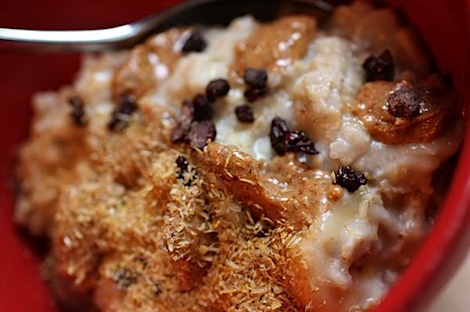 In the mxi: rice milk, water, rolled oats, banana, flaxseed meal, Naturally Nutty white chocolate cherry PB, cacao nibs, and flaxseed meal.
***
The snacks and hydration worked pretty well, but I was still feeling sooo darn TIRED!
After ending my last phone conference around 5pm, I found myself nearly asleep on the couch cuddling with the Bails-monster. I snapped myself out of it with the realization that I needed to get ready for class STAT!
Hubby suggested I put some music on, which I thought was a great idea. I turned on my Zumba class smart playlist.
How to Create an iTunes Smart Playlist
Have you made a smart playlist in iTunes before? It's really cool. Just open up the info for songs you want to group and put in a common phrase like "zumba" – I like to use the Comment field. Go to File -> New Smart Playlist and select "Comment" (or whichever field you used for your tag) leave the next drop down = "contains" and enter your tag, i.e. "zumba" in the last box. Leave Live Updating checked and click ok. Your new smart playlist will contain all the songs you tagged and will add new songs as you update their Comment, etc. field info.
I've used this technique for my zumba class song organization, but I've also used it to make playlists, like one I made recently 100% Lady Gaga (just set the smart playlist to find all instances where artist contained "lady gaga".
Anywho, the songs definitely helped pump me for my BIG Zumba class!
***
The weather was rainy and yucky and the traffic was horrendous. Not to mention when I pulled into the parking lot I realized that my playlist was messed up and I had to re-create it using an On-the-Go playlist. Gah! The stress!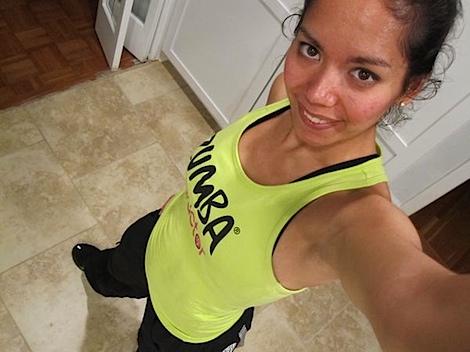 I pushed the thoughts of fatigue out of my mind and focused on giving my participants the best class I could.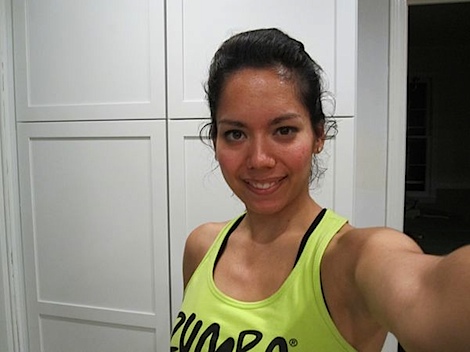 I busted out 2 new songs, never done before (in public classes at least):
Ain't No Other Man – Christina Aguilera
Desi Girl – Dostana
I think class loved them, and I know I had fun doing them. The Desi Girl one is especially happy and joyful. You can't help but smile just listening to it.
And I had 2 special guests in class – Michelle and Jessie who brought her mom! Too cool! I was so thankful for their support, and I was so happy to have so many excellent participants and friends in class. Great first class. Total success!
***
Post class, I really wanted to get some celebratory food, but after staying late to chat, the restaurant I really wanted to visit was closed! 🙁 I was so lost after that…I couldn't figure out what I wanted to eat.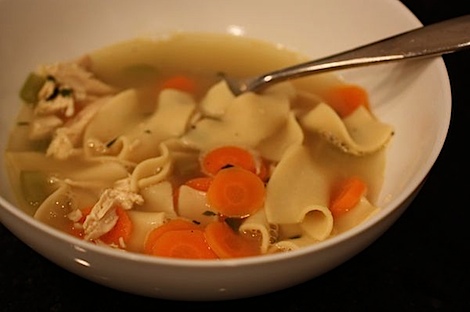 So…I just went home and re-heated the last of our chicken noodle soup from the other night. It didn't seem like it would hold up as well with freezing.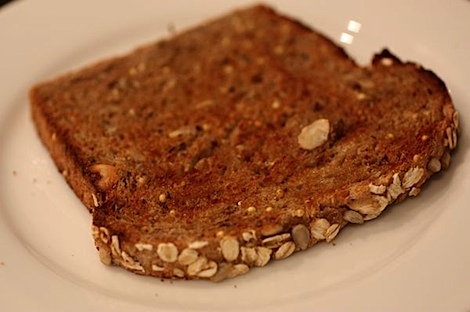 And soup just wouldn't be complete for me without a nice piece of good, whole grain bread. I toasted some Whole Grain Goodness with real butter on top.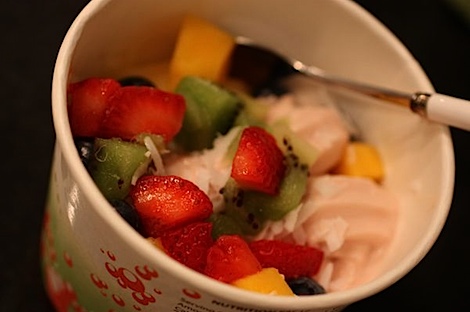 As for celebratory eats…I def got some froyo. I got plain tart and pomegranate with lots of fresh fruit and plenty of my fave – coconut!
Funny how your taste buds change so much over time. I used to HATE coconut. I liked the flavor, but never the flakes. Now they're my favorite topping for froyo and I even like coconut in smoothies and on my oats!
What song makes you smile?