ROASTED CHICKPEAS!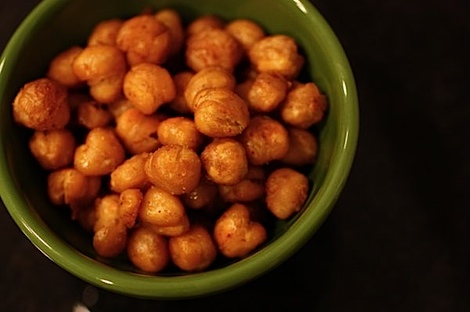 Golden…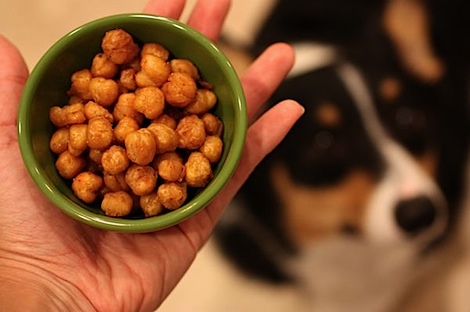 Spiced…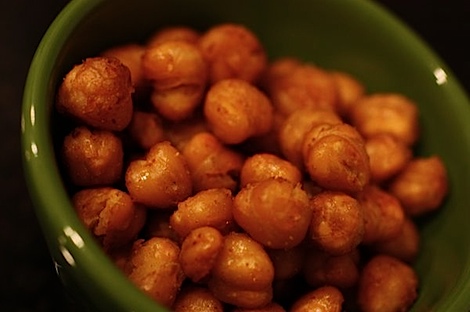 Oven-toasted…
Chickpeas! Man these things are good!
I first served them at brunch a few weeks ago and haven't been able to stop thinking about them. To me, they make the perfect snack food and seem so much better than popcorn.
I totally whipped up a batch of these to nosh on whilst catching up on Drop Dead Diva.
They're great for snacking on whilst watching TV or a movie or to put out during a dinner party or otherwise entertaining. Best part…the leftovers make an excellent salad topper for lunch the next day!
Spiced Roasted Chickpeas
Adapted from Claire Robinson's recipe
Note: make a double-batch if you're entertaining
Ingredients:
1 18-ounce can chickpeas, drained, rinsed
1 1/2 tbsp extra virgin olive oil
1/2 tsp cumin
1/2 tsp paprika
1/2 tsp salt
dash garlic powder (up to 1/4 tsp)
dash chili powder
dash onion powder
dash cayenne pepper (add to spicy taste but careful – it's H-O-T!)
Directions:
Pre-heat oven to 400 degrees F. Cover a baking sheet with aluminum foil or parchment paper.
In a medium bowl, combine and whisk together olive oil and spices.
Add chickpeas and stir to combine till all chickpeas well-coated.
Spread chickpeas evenly in baking sheet.
Bake for 25-30 minutes, turning chickpeas once halfway through cooking.
Let cool 5-10 minutes till safe to eat and serve.
Enjoy!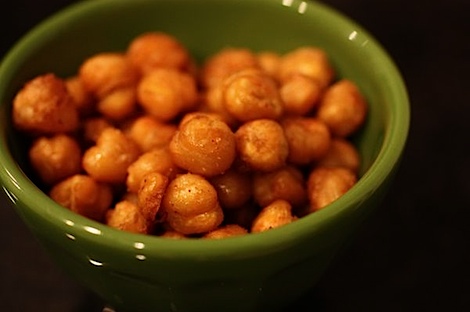 Nom nom nom!