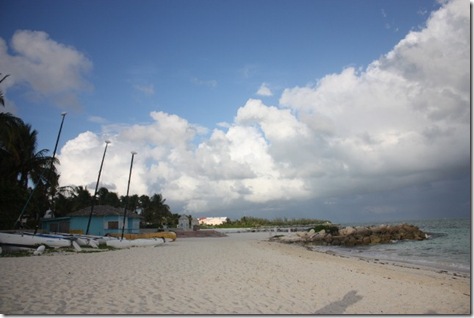 We lucked out with yet another beautiful day of weather on Sunday – our last day of my 30th birthday celebration trip.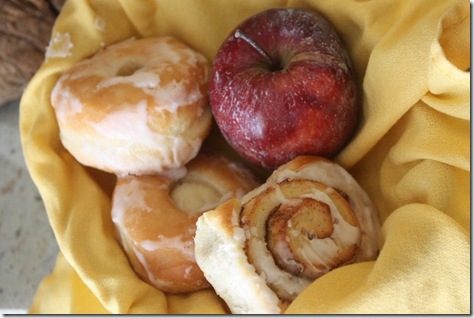 Our hotel greeted us with another delicious basket of pastries and fresh fruit. We've been eating these for a couple of breakfasts to save money.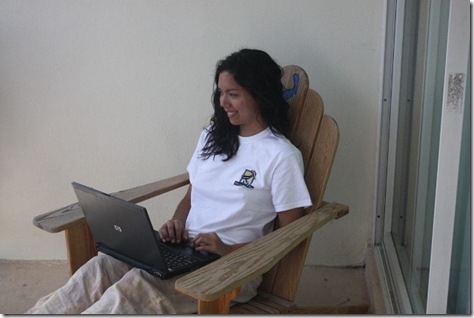 And I've been blogging outside on our patio, which has a gorgeous view of the bay.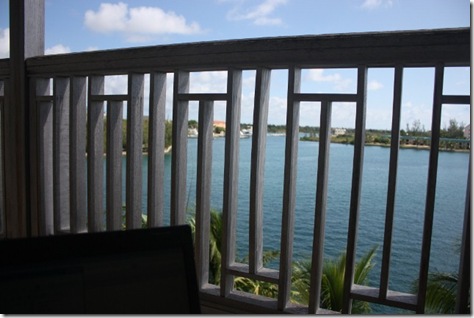 View from my blogging chair. GORGEY!!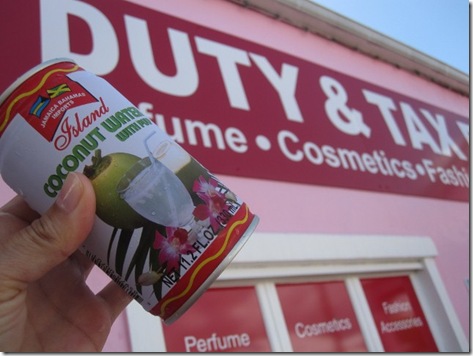 Hubby and I set out for an outdoor activity after breakfast. But not before first stopping by a local drug store for sunscreen and coconut water. This one was made with pulp, which gave the drink an interesting texture. I think I prefer straight up coconut water, still.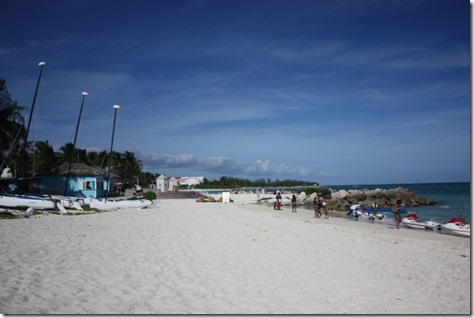 Hubby and I hit up the activity booth on the beach in front of the Radisson. We originally wanted to go kayaking through the National Park, but at $80 a pop, we decided to try something else. We went snorkeling!
I wish I could have taken my DSLR down there with me, but alas, I have no photos from that trip. But I can tell you they take you out on a boat to a ferry that is docked at sea. On the ferry, you get your snorkel mask, flippers and optional life jacket (which I recommend so you can just float around and be lazy…hehe). Then you jump off the boat and stick your face in the water and VOILA! Beautiful fish surround you. Some come so close you can almost reach out and touch them. If you're lucky, you'll spot a starfish or two. I saw fish of all colors – tons of yellow and black/yellow striped fish, plus some really pretty turquoise-ish-pink ones. I've heard a hurricane a few years ago destroyed a lot of the coral reef, but you could see a lot of it growing back, which was really nice to see. And if you take your life jacket off, you can even dive under water so long as you're careful to not touch the coral reef. The diving was my favorite part.
The snorkeling was for as unlimited – they'd take you in by boat whenever you were ready. I'm not sure how long hubby and I stayed out, but it was pretty neat that they were so flexible.
Next time we may try a new beach/water activity:
parasailing
kayaking
jet skiing
Those all looked like such fun!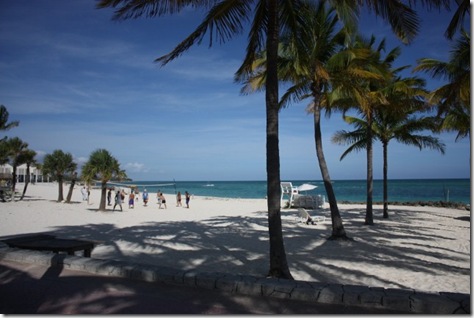 As our boat took us back in, just as we were pulling up to the shore, I thought I saw someone I knew from back home. I couldn't help but stare at the young girl thinking she looked like a fellow zumba instructor's daughter.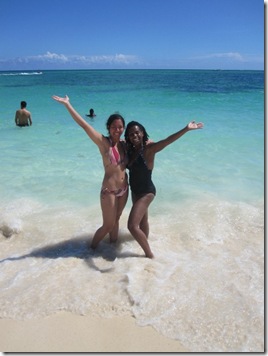 But when I saw Alicia, I knew that I had just randomly stumbled upon a friend from back home. How awesome!? She was on a cruise for her birthday with her daughter and mom and they had stopped in Freeport for a few hours. Not that Freeport is that big but I still can't get over how cool it was that our boat back from the snorkel trip drove up right where they were enjoying the beach.
Of course, being the instructors that we are, we decided to do a little dancing on the beach. 🙂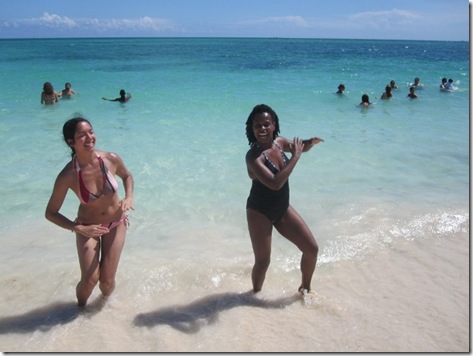 After our dancing fun, I bid Alicia a happy birthday and headed out with hubby in search of eats for lunch.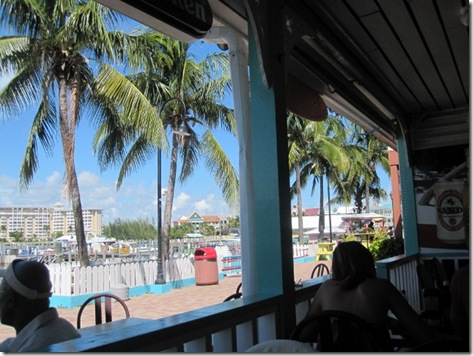 We got a seat on the bay at Le Med and enjoyed lunch al fresco.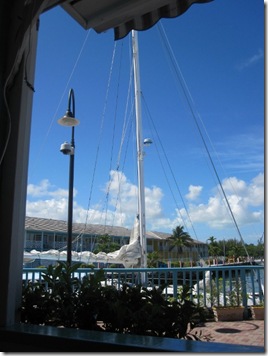 The weather was perfect – not too hot, not too cold with a light breeze. I could have sat there all day.
Hubby liked the restaurant because he could catch the football game on their TV.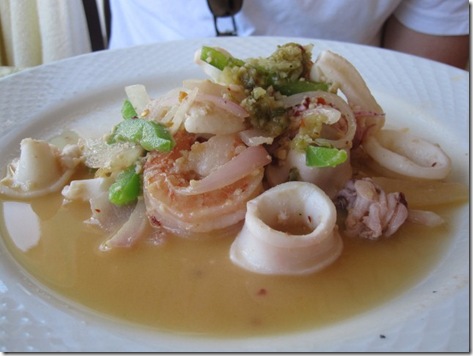 Hubby got the grilled shrimp and calamari.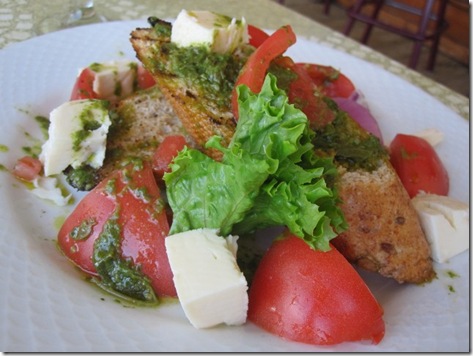 I went with whole wheat bruschetta which had a pesto sauce, mozzarella and tomatoes. The presentation was really pretty but the cheese tasted off so I didn't eat it. The waitress was really nice and offered to sub in some feta and asked if I wanted something else, but I was ok with the bread and tomatoes.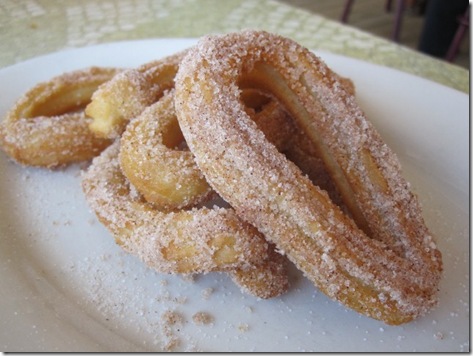 Hubby and I also split another fave of mine – churros! These were horseshoe shaped and really tasty.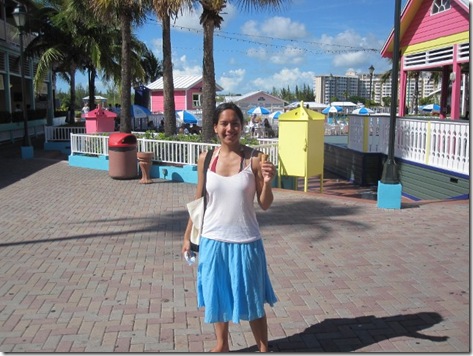 And as if we didn't have enough sweets, we also got ice cream. Coconut for me and cookies and cream for hubby.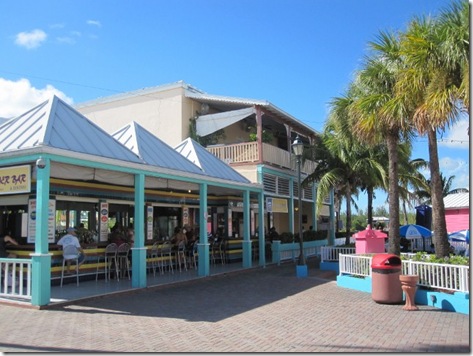 We walked around the market a bit and shopped in a couple boutiques.
I also got a fresh-made lemonade to cool off.
More beach fun ahead!