Well, Eat in Month officially kicks off today, and today started out with a bit of a challenge. I hadn't seen my friend Megan in a couple weeks due to crazy holiday schedules and we discussed yesterday about catching up over coffee. I remembered just as I was falling asleep last night that (silly me!) we couldn't get coffee OUT because of Eat in Month!! Whoops!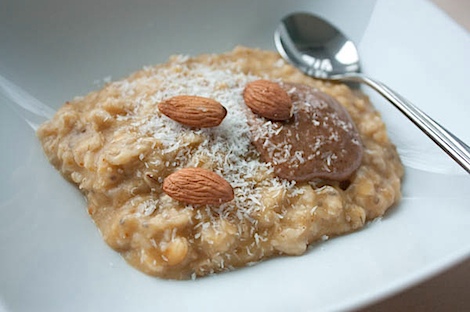 So, I invited her over for an oatmeal breakfast instead. 🙂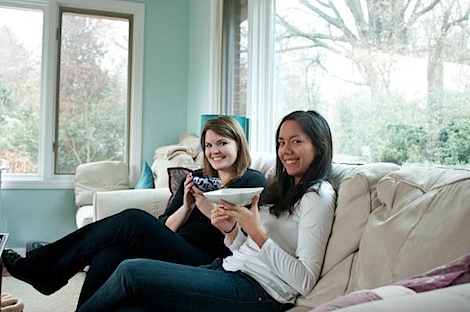 And you know what….I think the oatmeal breakfast was way cooler than coffee would have been out. It was certainly cheaper, too!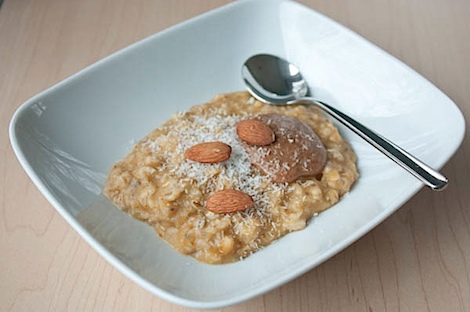 We had pumpkin oats with various toppings. I put coconut flakes, homemade almond butter, and raw almonds on top. I don't really care for full-sized almonds on top of my oatmeal. I think they're too large and the texture is too chunky. But, I was feeling lazy and didn't feel like chopping them. hehe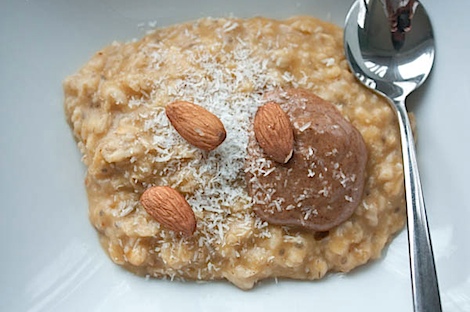 Next time…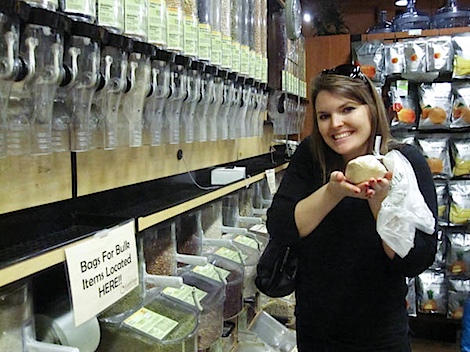 After breakfast, Megan and I hit up the grocery stores to stock up for Eat in Month. We stopped by Trader Joe's first but they were closed! I wasn't as much surprised they were closed (since a lot of places are closed on New Year's Day), but they didn't even have a sign up. We were hopeful nothing bad was wrong since it didn't seem normal sans signs and all.
Anywho, we ended up hitting up Earthfare next. I got a few pantry items and we definitely hit up the bulk bins yo! See my how-to on bulk bins below.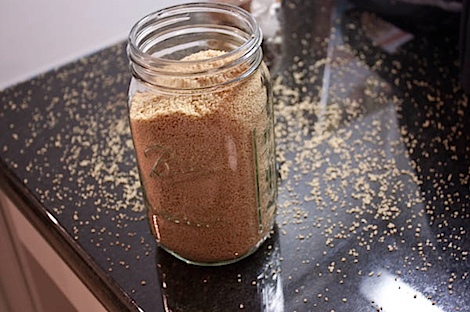 I made a bit of a mess pouring some whole wheat cous cous into a mason jar. Oops!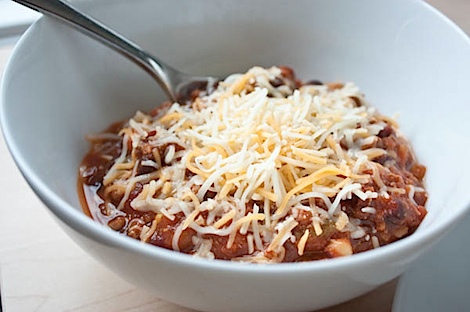 And instead of grabbing lunch out, we ended up coming back for leftover chili…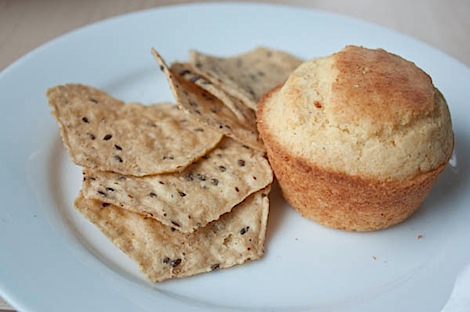 …chips and corn muffins.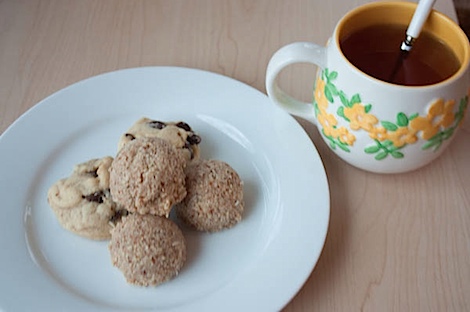 We also had hot tea and dough balls and macaroons. It was perfect for the rainy day. We also got sucked into a Lifetime movie. Gotta love those. 🙂 Now, you certainly don't get movies and coziness when you're eating out!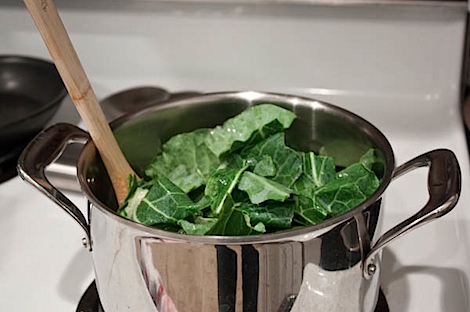 For dinner, hubby and I had a traditional New Year's eve dinner – collard greens and…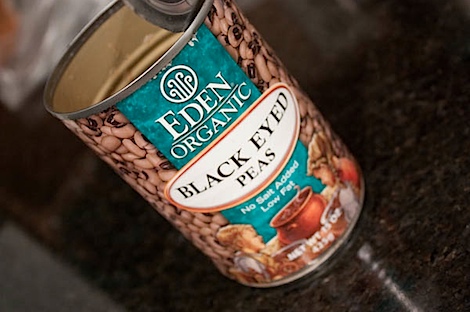 …black eyed peas.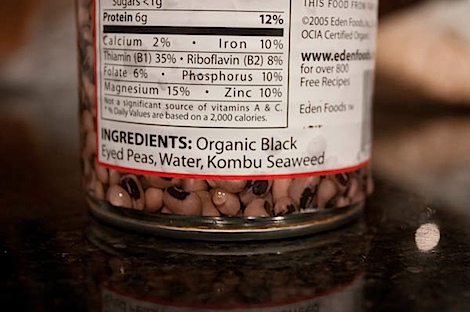 I must show you…I thought this was really cool. The Eden organic brand of black eyed peas is cooked with kombu! Beans cooked with kombu are supposed to be easier for your body to digest.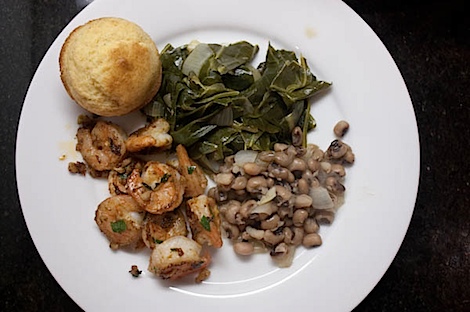 We also made Rachael Ray's 4 minute shrimp (an easy recipe for you Eat-In-Monthers – book mark it!)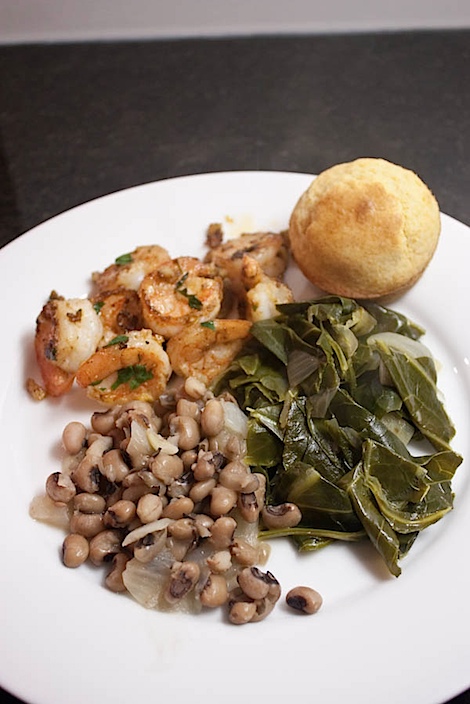 Dinner was fab! Great meal to start off the new year!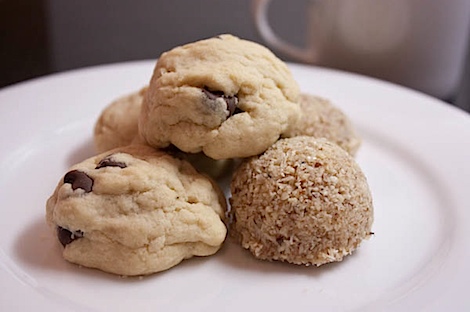 Dinner was made better with delicious desserts – more dough balls and raw, vegan coconut macaroons. Gosh, I need to get the recipe for these guys posted!
Bulk Bins How-To in 3 Steps
I thought I'd take a minute to write up a quick how-to on bulk bins. If you've never shopped bulk bins before, they could be a little intimidating. They're not as easy as picking a box off a shelf. But really, they're not that much more difficult. Here's how it works.
Step #1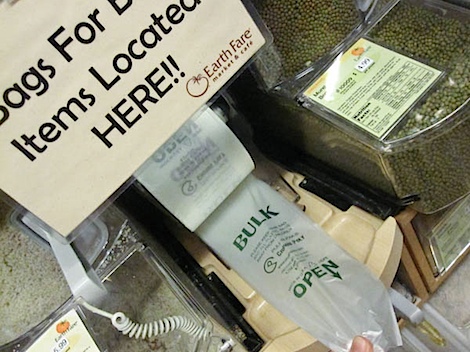 Grab a bag. Sometimes they are large open-topped or with ziploc tops. They're usually spread out around the bulk bins.
Step #2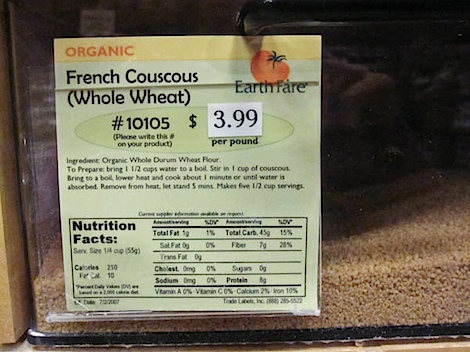 Locate the item you want to purchase. Fill your bag as much as you want. If you're testing out a new product to see if you like it, I recommend getting just a little that way you don't waste your money if you don't like the product. If you know you like it, you can stock up more.
For the items that pour down, be careful and just ease the door open a bit so you don't pour the food all over the floor (yes, I speak from personal experience…lol). Also, make sure the bag is completely covering the opening spout so you don't have the same issue.
Be sure to note the bin # of your food item and make a mental note of it.
Step #3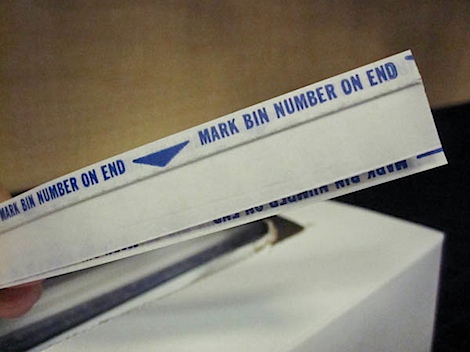 Now, find the twist ties or labels, whichever your store uses to identify bulk bin items. Write the bin # of your product on the tie or label.
That's it…you're done! You can weigh your bag if you want, but I usually just eyeball how much I need.
Bulk bins are a great way to 1. Sample new items 2. Save money (less packaging = less cost for vendor) or 3. Be green (less packaging = less waste)
Eat in Month Tips
Recipe Sharing – Let's collaborate! I've started some discussions on my Facebook page where we can share our favorite recipes! Please take a look at my Facebook page for recipe ideas and feel free to leave your favorite recipes, too!
Twitter Sharing – If you're on Twitter, please use the hashtag #eatinmonth to check for eating ideas and post your tips, recipes, and eats. By sharing what you're doing, you'll help the rest of us! 🙂
More tips coming tomorrow and the rest of the month!
And it's not too late to join us for Eat in Month – click here to view details!
***
Did you eat anything special today for New Year's?