I have a fabulous new dessert recipe to share with you guys – Irresistible Healthy Coconut Macaroons Recipe!
I tried looking for a recipe for macaroons over at the Queen of Macaroon's web site – The Fitnessista! Her macaroons are totally amazing, but they're also a secret, I guess, because I didn't see the recipe on her site. So, I made one up.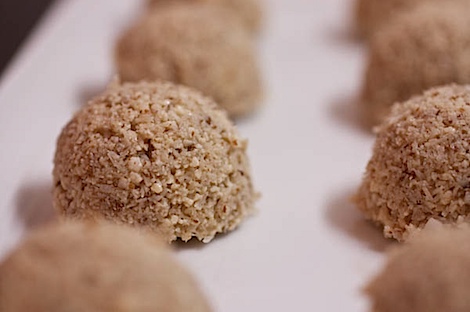 These guys are so easy and even more tasty! You'll really savor every sweet, chewy bite!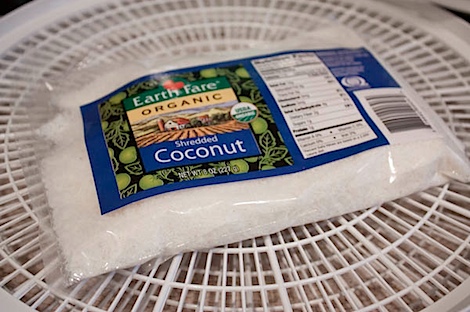 The main ingredient is obviously coconut. I used (finely) shredded organic coconut (that had already been dedhydrated according to the ingredient list)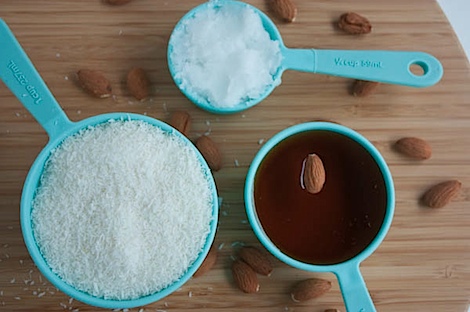 You'll also need: raw almonds, agave syrup, brown rice syrup, and coconut oil. It's a pretty short ingredient list. You could probably substitute another liquid sweetener for the brown rice syrup, but they help keep the mixture together, impart a chewy texture on the macaroon, and help keep the overall flavor from being overly sweet.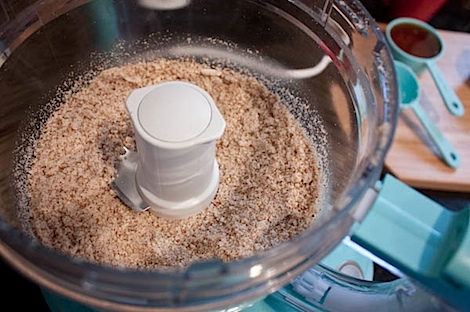 You could use almond flour instead of almonds, but I am more likely to have almonds on hand and almond flour just seems so expensive!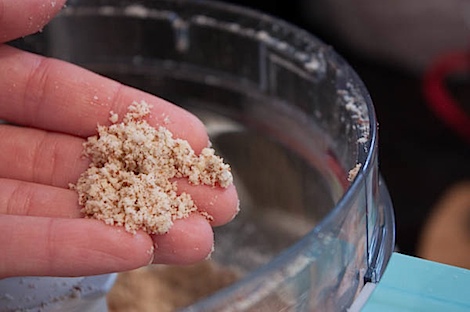 You just process them a minute or two until they are finely ground (see photo above) to a flour-like texture. Don't process the almonds too long or you'll have almond butter. hehe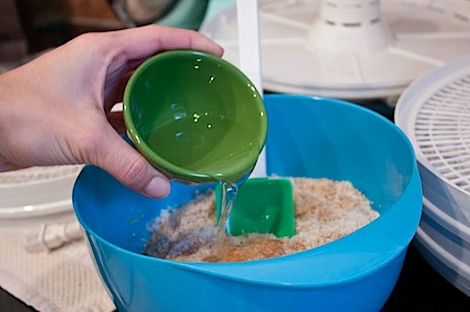 You'll want to make sure you melt your coconut oil so you can easily mix it into the other ingredients.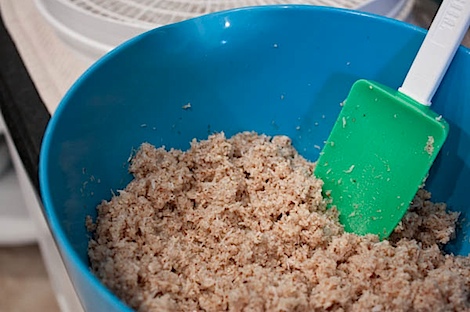 So, besides processing some almonds and melting some coconut oil, you really just mix everything together.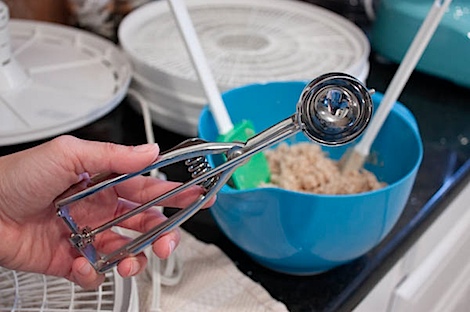 You'll need a small ice cream/sorbet scoop. I measured mine and it's 1-inch deep (this is the same scoop I use for my dough balls).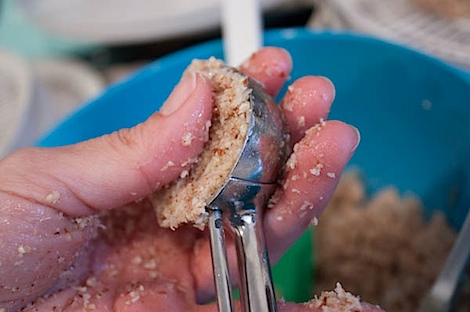 Scoop the mixture and press it into the scoop with your fingers to get a more solid shape. My scoop has a clicker on the side that helps remove the mixture from the scoop. If you have one, too, be sure to take a minute to re-form the macaroon after removing it from the scoop (so the macaroon is well-stuck together and nice and rounded on top).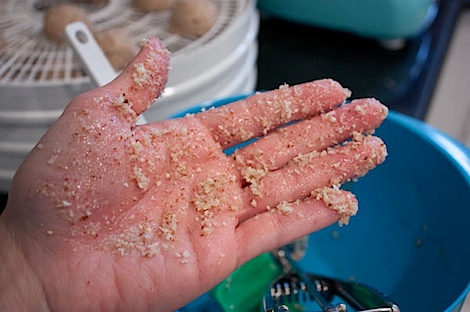 Your hands may get a little messy in the process. 🙂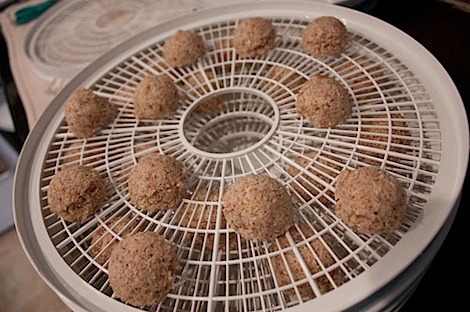 Now, just place in your dehydrator – well-spaced out.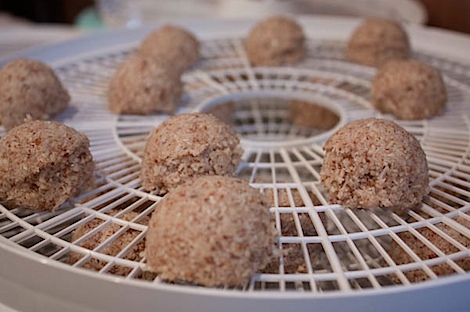 Dehydrate for 8-12 hours depending on your machine, how fast it works, and how tender you want the outside and inside.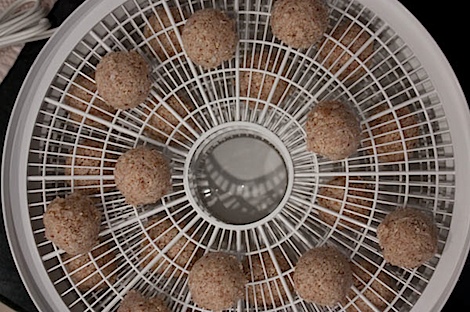 I did one batch at 8 hours and 1 at 12 hours and both were fantastic. The first was just softer overall, but the second was still soft and chewy on the inside.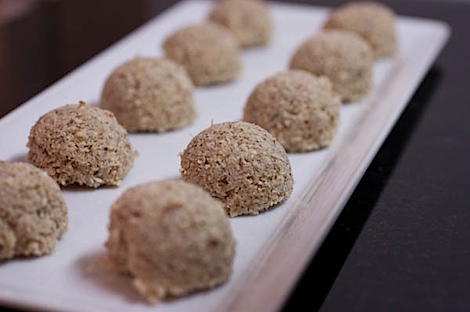 These coconut macaroons may be pretty healthy ingredient wise, but they sure don't taste healthy. They just taste delicious to me!
Print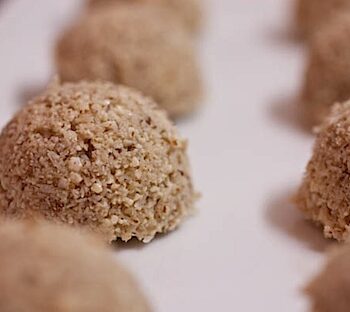 Irresistible Healthy Coconut Macaroons Recipe
Author:

Prep Time:

20 mins

Cook Time:

8 hours

Total Time:

8 hours 20 mins

Yield:

1

0

1

x
---
Description
I wanted to create a macaroon that was chewy, delicious, and just lightly sweet. So, I came up with this Irresistible Healthy Coconut Macaroons Recipe. You could probably add more sweetener or substitute something more sweet for the brown rice syrup, but I think these guys are great just the way they are. The brown rice syrup gives these macaroons a nice chewiness. As for the sweetener, I considered using maple syrup, but wanted to use something with less flavor – thus the agave. The macaroon flavor secret is the combination of both vanilla and almond extracts. Try dipping the macaroons in chocolate for a more indulgent treat.
*Raw, Vegan, and Vegetarian*
---
2 cups

shredded coconut (finely shredded, not long flakes)

1 1/2 cups

raw almonds processed in a food processor to flour consistency, about 1-2 minutes (or use almond flour/meal)

1/2 cup

agave syrup

1/4 cup

coconut oil, melted

1/4 cup

brown rice syrup

1 tsp

vanilla

1 tsp

almond extract

1/4 tsp

salt
---
Instructions
Combine all ingredients in a large bowl and mix till all ingredients are evenly combined.
Using a small ice cream scoop (1-inch deep), scoop mixture, pressing mixture into scoop to tightly pack. Remove macaroon from scoop, press together to create a well-formed macaroon with a rounded top. (it may get a little wonky when you remove it from the scoop, so just carefully re-form).
Place macaroons, well-spaced, on dehydrator trays.
Dehydrate for 8-12 hours, depending on how fast your machine works or how you like the texture of your macaroons.
Allow the macaroons to cool and enjoy!
---
Notes
Tip: If you have the ingredients – make a double batch! You can share some with friends…if you don't eat them all yourself!
Cooking Note: The directions below are for raw, dehydrated macaroons. You could probably bake them, too, if you don't have a dehydrator. I'm guessing you could use a 300 degree F oven for maybe 10 – 15 minutes, though I haven't tested this theory yet.
NOTE: I made two batches – one at 8 hours and one at 12 hours and liked both just fine. The 8 hour batch came out all around tender. The 12 hour batch is a little tougher on the outside and super-tender on the inside.
Recipe Card powered by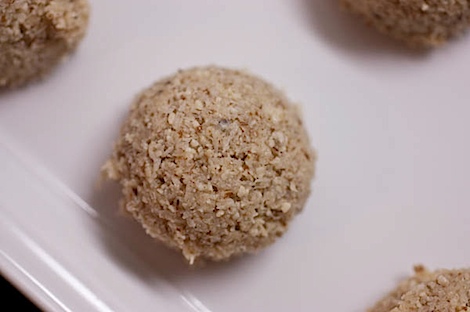 Try to not eat all the macaroons in one sitting! They really are irresistible! 😉 Hope you enjoy this Healthy Coconut Macaroon Recipe. Thanks for stopping by!