I absolutely LOVED reading everyone's comments on yesterday's post about not waiting for Friday. You guys rock!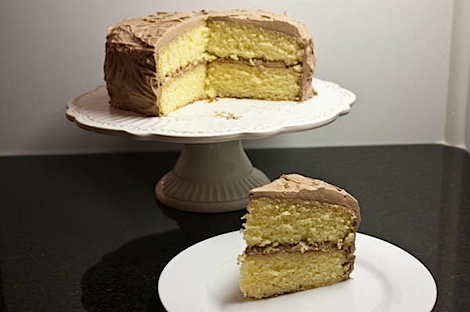 Anywho, we celebrated hubby's birthday tonight (even though it was yesterday) and what birthday would be complete without cake. But more on that in a minute.
***
Hubby and I have spent many-a-year celebrating special events in. We like cooking special meals at home just as much as we do going out. It's more cost-effective, but can also be more personal and meaningful to celebrate with special dinners cooked at home. Don't get me wrong, we love to celebrate by dining out…we just don't do all our celebrations at restaurants. Thusly, doing Eat In Month during hubby's birthday month isn't too big of a deal for us.
In fact, if the way to a man's heart is truly through his stomach (and I think there's something to this old wives tale people), then this was the meal that hooked hubby – his birthday meal. Hubby's birthday meal is typically comprised of my dad's famous steak recipe, potatoes, and a veggie. I pretty much always do roasted potatoes and asparagus – two of hubby's faves. I've basically been cooking the same thing every year since we first started dating. Sometimes the classics never get old. 🙂
***
I ended up not leaving work till 5:45pm and still needed to go the grocery store to get everything for dinner. I had plans to make a full dinner and even bake a birthday cake from scratch! Yikes.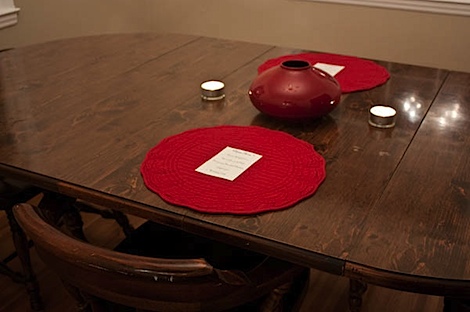 Because of my late schedule, the decor was kept minimal.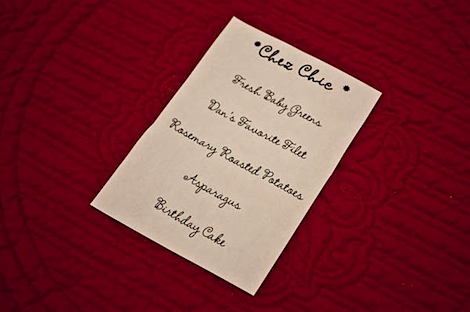 I did manage to print menus.
Menus are one of my favorite touches to add to a special meal in to make it seem more personalized.
The term "Chez" is one I learned in French class in high school. Supposedly "Chez" is commonly used for restaurant names in France. I usually title my menus "Chez Diana", meaning "from the house of Diana", but tonight I went for a Chic theme. 😉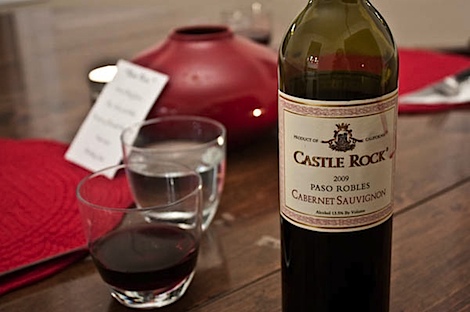 I scored this bottle of wine at $5 off at the grocery store – Castle Rock Cabernet Sauvignon (from France). Hubby and I really enjoyed the wine.
For many of hubby's birthday meals, I try to do an appetizer course, like pan-seared shrimp or baguette and brie, but tonight I kept things simple again.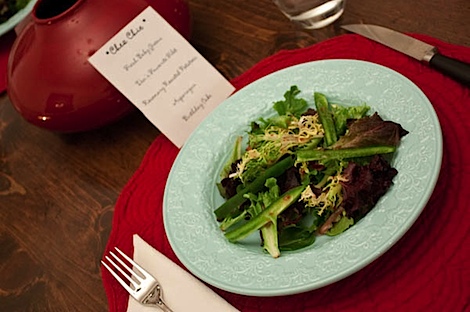 We just had a baby green salad (since hubby likes baby greens way more than spinach) with lots of green bell pepper (hubby's fave raw veggie).
And for the main event – filet tips a la Dad, rosemary roasted potatoes, garlic asparagus.
We got the steak from a new local butcher shop in town, The New York Butcher Shoppe, and hubby commented that he really liked the steak. I was really happy with it, too. It was nice and tender and you could taste the quality.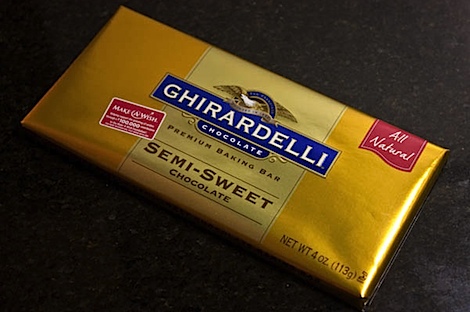 Dessert was homemade yellow birthday cake with homemade Ghiradelli chocolate buttercream frosting.
Remember to use your parchment paper under the cake trick when you're frosting. I think I learned this one from Sandra Lee.
I may have just happened to lick all the parchment pieces as I removed them from the cake stand.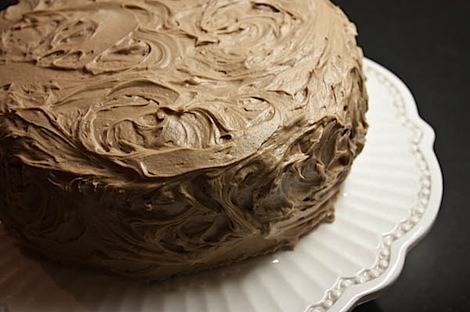 Fini!
Well, a birthday cake is never done without candles, right? I put 3 + 2 candles on there for hubby's 32nd birthday. (We didn't have 32…lol).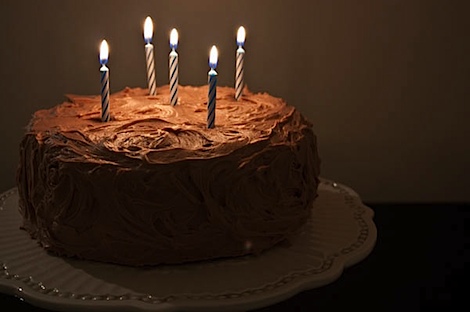 Mood lighting for the big blow out!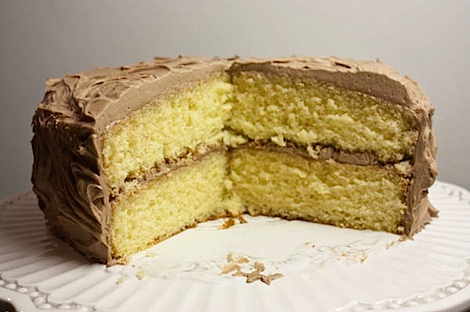 I used this cake recipe, except I subbed 4 eggs for 8 egg yolks. And I made a double batch of this chocolate butter cream using Ghiradelli chocolate squares.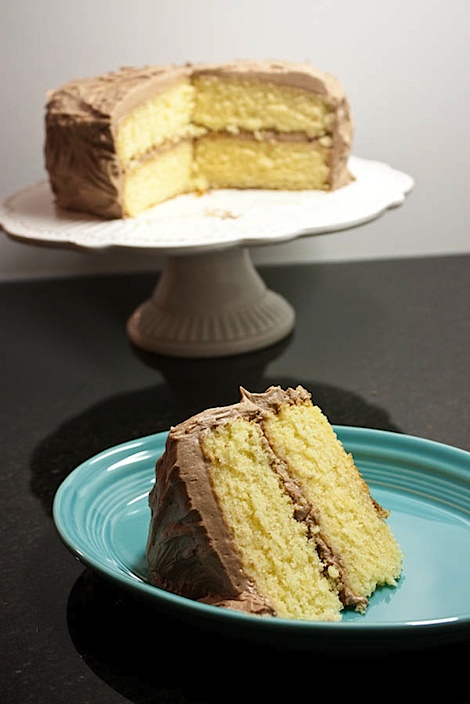 Both recipes were fabulous, though I do have plans to develop my own Not So Sweet versions. 🙂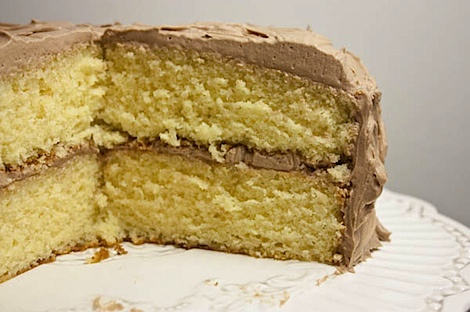 I thought the cake was nice and moist and the frosting was really good, too.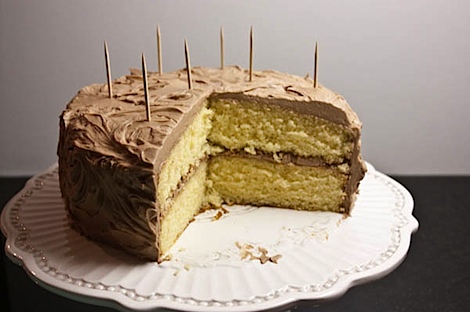 Remember to use your toothpick trick when you're wrapping up your cake. Stick toothpicks in the top.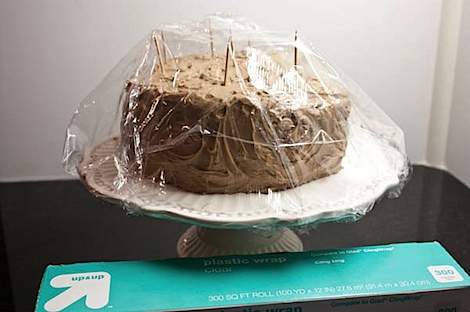 Then, cover with saran wrap, draping over toothpicks. This will keep saran wrap from sticking to the frosting and pulling it all off when you remove the wrapping.
Do you like to celebrate special events in or out?